The global PEGylation proteins market size accounted for USD 1.74 billion in 2022 and it is projected to hit around USD 4.92 billion by 2032, poised to grow at a CAGR of 10.95% over the forecast period 2023 to 2032.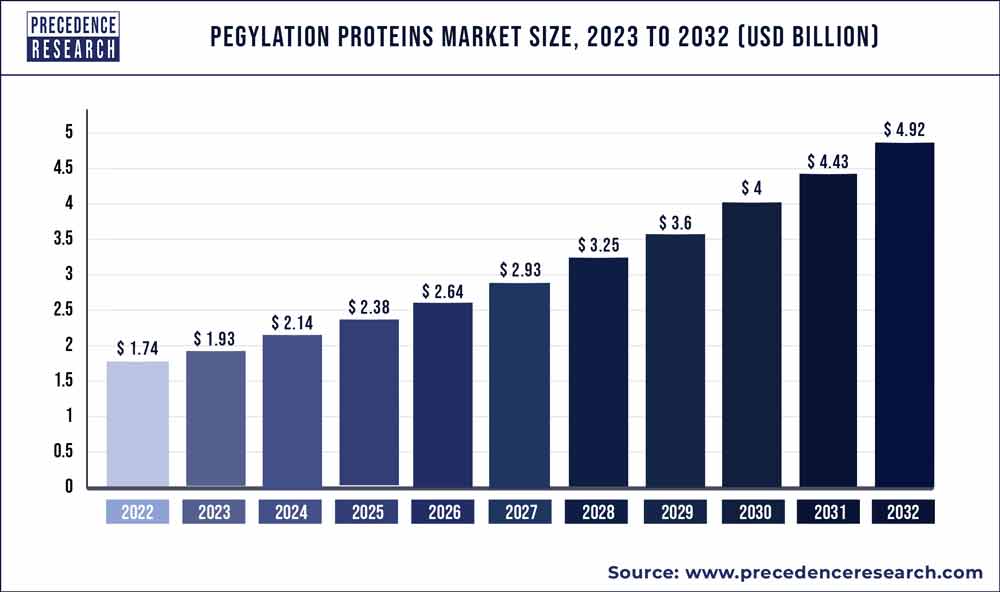 Access our Premium Real Time Data Intelligence Tool, Visit: Precedence Statistics
PEGylation is the joining of polyethylene glycol polymer chains to molecules, such as drugs, therapies, or vesicles, using covalent and non-covalent means. The need for PEGylation is likely to rise during the anticipated time frame, along with the prevalence of chronic illnesses and the accessibility of new, potent treatment choices. These factors will all contribute to the industry's expected large growth.
Key Takeaways:
North America has accounted revenue share of 35% in 2022.
By end user, the pharmaceutical & biotechnology companies' segment has held revenue share of 42% in 2022.
By protein type, Colony-Stimulating Factors (CSFs) segment has generated revenue share of 33% in 2022.
By Product & Services, consumables segment has captured revenue share of 64% in 2022.
The cancer application segment is expected to grow at a CAGR of 13.5% from 2023 to 2032.
Growth Factor:
PEGylated protein therapies are anticipated to have significant market expansion during the projected period globally, primarily because of rising PEGylation demand, an increase in the prevalence of chronic illnesses, and the availability of potent new medication candidates. Additionally, PEGylated compounds have various benefits such a longer half-life, lesser toxicity, less immunogenicity, and more proteolytic protection, all of which contribute to the market's expansion.
The rise in biologics investments, the rising incidence rates of chronic illnesses, and the preference for protein-based treatments over non-protein-based ones are all contributing to the growth of the PEGylated Proteins Market during the forecast period. During the anticipated time, the elements are anticipated to propel the worldwide PEGylated Proteins Market. The use of protein-based medicines has increased because of advancements in molecular biology engineering and biotechnology.
The need for hormones, vaccinations, growth factors, enzymes, monoclonal antibodies, and other treatments has been rising during the past few years. The therapeutic benefits, such as specificity together with enhanced activity, have greatly boosted biologic availability and awareness among the afflicted population. However, expanding market opportunities, top-selling biologic medications about to lose their patent protection, and unrealized potential in developing nations all present promising growth prospects.
The rising incidence of chronic diseases such as rheumatoid arthritis, renal disease, and cancer.
Significant advancements in PEGylated Protein procedures, which are projected to boost the growth of the global PEGylated Protein Market, have enabled the production of more stable and non-immunogenic medications.
A large variety of PEGylated drugs are already available and have successfully demonstrated both their medicinal and financial value.
Report Scope of the PEGylation Proteins Market
| | |
| --- | --- |
| Report Coverage | Details |
| Market Size in 2023 | USD 1.93 Billion |
| Market Size by 2032 | USD 4.92 Billion |
| Growth Rate from 2023 to 2032 | CAGR of 10.95% |
| Largest Market | North America |
| Base Year | 2022 |
| Forecast Period | 2023 to 2032 |
| Segments Covered | By Product & Services, By Type, By Application and By End User |
| Regions Covered | North America, Europe, Asia-Pacific, Latin America and Middle East & Africa |

Key Market Drivers:
Pegylated proteins are being employed more often and for a wider range of purposes.
Major advancements in PEGylated Protein procedures, which are projected to boost the expansion of the global PEGylated Protein Market, have made it feasible to manufacture more stable and non-immunogenic pharmaceuticals. The method has significant use in the treatment of cancer given the dramatic growth of cancer patients. According to estimates from the World Health Organization (WHO), cancer claimed the lives of 9.6 million people globally in 2018. The protein from the CCN family can be used to treat blood cancer after being PEGylated.
Key Market Challenges:
Challenges in isolation and purification.
Depending on the structure of the protein and the desired purpose, the complex process of PEGylation of proteins can be done in a variety of methods. Covalent or non-covalent interactions occur between proteins of interest and inert PEG strings. The purification of the PEGylated protein is a necessary step that is mostly carried out through chromatography, electrostatic interactions, or molecular sizes. Many PEGylated drugs are used to treat diseases such as anemia, renal disease, multiple sclerosis, hemophilia, and cancer.
Key Market Opportunities:
The global cancer rate is increasing.
A considerable portion of deaths is due to cancer, which is the second biggest cause of mortality. The incidence of cancer is significantly greater in developed nations than in underdeveloped ones. It is projected that as a result of population expansion, age, and an increase in known risk factors, recognized risk factors will become more prevalent in these emerging countries. Only in industrialized nations is lung cancer one of the leading causes of cancer-related mortality in males, whereas breast cancer is the leading cause of cancer fatalities in poor nations.
Segments Insight:
Product & Services Type Insights:
The market is split into consumables and services based on products and services. The services sector demonstrates the market's sizable revenue share. With PEGs of different molecular weights, PEGylated protein services are accessible in both linear and branched forms. Due to their chemical instability, rapid blood circulation, and propensity to elicit an immunological response, peptides, and proteins typically have restrictions on their potential to be employed therapeutically. PEGylated proteins are becoming more widely used in consumables.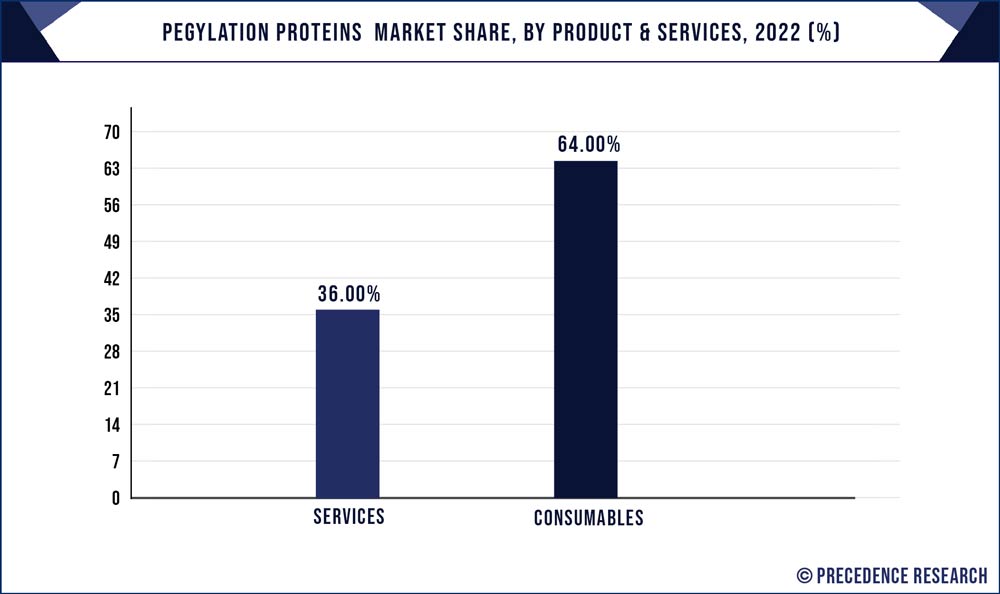 Consumption of PEGylation consumables, such as kits and reagents, is constant due to ongoing research activities, product development, the desire to create better medications, and the requirement for drug delivery systems, all of which contribute to significant revenue creation. The existence of significant businesses with a wide range of product offerings is another factor promoting the segment's growth. Throughout the projection period, the consumables category is anticipated to continue to grow at a constant CAGR.
Type Insights:
Colony-stimulating factors, interferons, erythropoietin, recombinant factor VII, and others are the different types of products available on the market. The optimistic expansion rate of the market is being shown by erythropoietin. An increase in the prevalence of chronic illnesses such as end-stage renal disease, cancer, HIV, and neurological disorders is what is causing the market for erythropoietin medications to grow. People with cancer, HIV, and renal illness can be treated for severe anemia with medications that resemble erythropoietin (EPO).
Application Insights:
According to the Application, the market is segmented into segments for gastrointestinal disorders, cancer, autoimmune diseases, hepatitis, multiple sclerosis, hemophilia, and others. For the other segments, the market is demonstrating a healthy development rate. Other conditions are covered in the others section, including protein medication delivery.
Due to the increasing prevalence of chronic diseases, it is projected that the market for PEGylated Proteins would expand. PEGylated proteins increase a substance's stability in the body, which enhances a medicine's activity in comparison to a conventional drug.
The dominance is due to the use of protein-based therapies in the treatment of cancer and the rising prevalence of cancer globally. Due to the PEGylation procedure, the market for therapeutic pharmaceuticals has benefited from developments like increased specificity, stability, and drug distribution. This method makes it feasible to create more stable and non-immunogenic treatments.
For instance, the US FDA authorized PharmaEssentia Corp.'s mono pegylated interferon Buscemi in November 2021 to treat polycythemia vera, a rare kind of blood cancer. Cancer is ranked as the second most common cause of death in the US, according to the American Cancer Society. By 2022, it is predicted that there will be more than 1.9 million new cases of cancer in the United States. The category is anticipated to rise as a result of the growing incidence of cancer, ongoing research projects, technical advancements, and the hunt for secure and efficient protein-based therapies.
End User Insights:
The market is segmented into pharmaceutical and biotechnology companies, contract research organizations, and academic and research institutes based on the end-user. The market share leader and anticipated to grow at the greatest CAGR throughout the projection period is the pharmaceutical & biotechnology firms segment. This is due to the rise of therapeutic items brought about by diverse drug discoveries and helpful government laws.
A further indication of the dominance of pharmaceutical and biotech firms in this sector is regulatory support for the approval of new products. For instance, Amneal Pharmaceuticals, Inc. got clearance in May 2022 for the biosimilar drug Fylnetra, also known as Neulasta, which is used to treat neutropenia in chemotherapy patients. Contract Research Organizations accounted for a substantial revenue share in the sector (CROs).
The increased need for outside assistance with contract research and the production of medicines has led to an increase in the number of CROs. Additionally, CROs are becoming a need for the biotechnology and pharmaceutical sectors because of the simple procedure and FDA clearance.
Regional Insights:
North America accounted for more than 35% of revenue share in 2022. The market in the North American area will be driven by the rising use of biologic pharmaceuticals for the treatment of chronic illnesses, such as erythropoietin, monoclonal antibodies, and interferon, as well as rising governmental and private sector expenditures in current initiatives. Additionally, PEGylated entities are typically accepted by the food and drug administration of the United States and are non-toxic, water-soluble or hydrophilic, non-antigenic, and non-immunogenic.
Because of these characteristics, PEGylated proteins can stay in the body for a longer period, which leads to less frequent dosing and higher patient adherence to therapy. The effective use of PEG molecules in biopharmaceuticals and the advantages that come with it have intensified research efforts for PEGylation technology, which are anticipated to dominate the market over the projection period.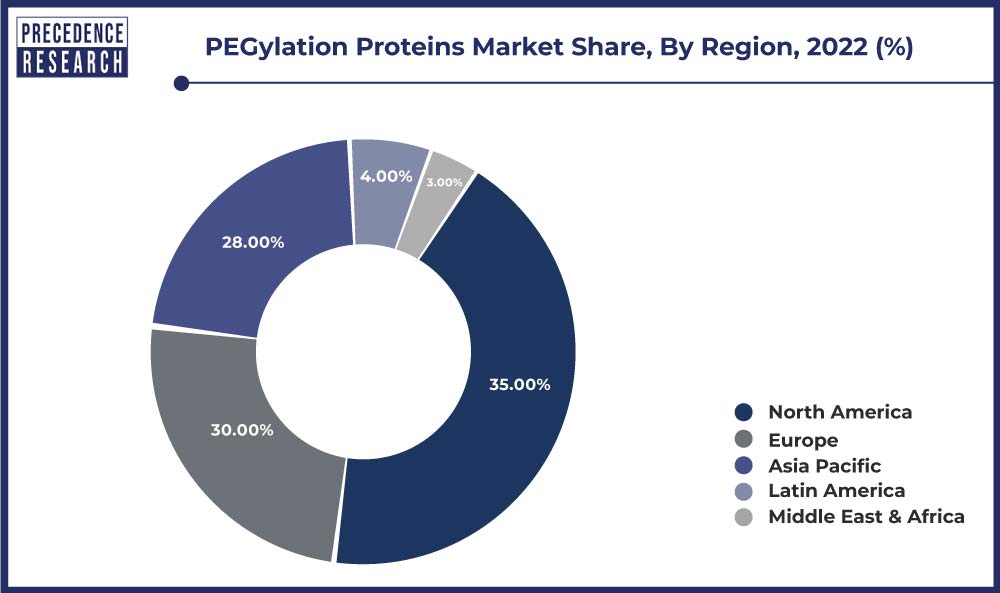 In addition, the existence of major companies, the high incidence of chronic diseases in the area, the developed healthcare infrastructure, and the rising awareness of cutting-edge treatment alternatives among Americans are some of the major factors responsible for its significant market share. According to data from the Canadian Cancer Society published in April 2021, over one in two Canadians will be diagnosed with cancer at some time in their life.
One in every four Canadians can die from it, even though males are more likely to get it (45%). Therefore, it is anticipated that increased research and development activities would fuel market expansion in the area over the course of the projected period because of the rising incidence of chronic illnesses.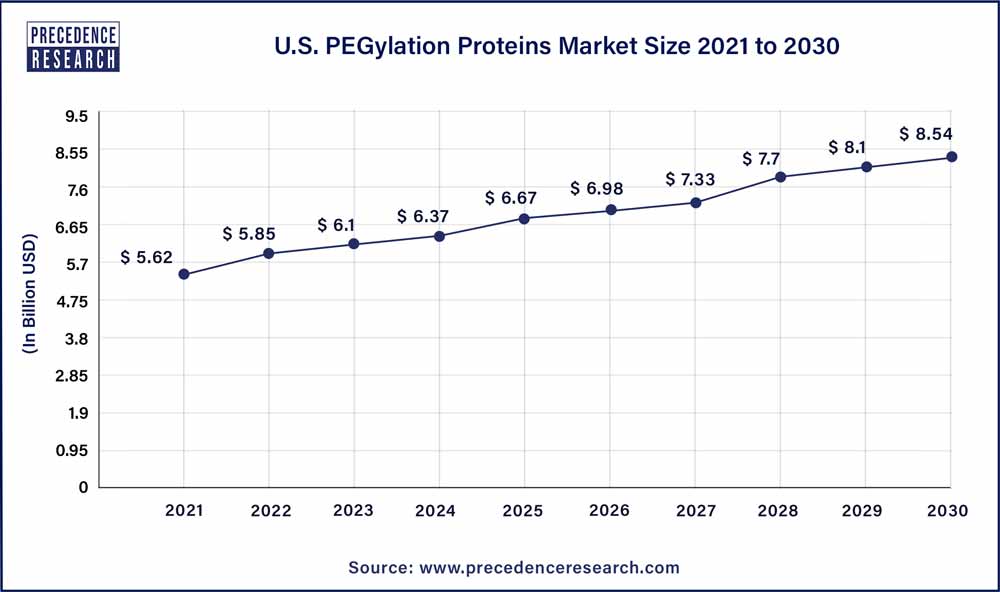 Additionally, it is anticipated that the high frequency of chronic illnesses and the growing geriatric population would both have a significant impact on the development of the market under study. The American Cancer Society predicts that 79,000 new cases of kidney cancer would likely be detected in the country in 2022, with 50,290 cases affecting men and 28,710 cases affecting women. Kidney cancer is among the top 10 malignancies in both men and women.
The lifetime risk of kidney cancer in men is 2.02% or one in 46. The lifetime risk for women is around 1 in 80 (1.03%). As a result, the market is projected to develop due to the increasing frequency of chronic illnesses in the area.
Recent Developments:
In November 2022, Thermo Fisher Scientific finalized the purchase of The Binding Site Group, a specialized protein firm located in the UK that offers diagnostic tools and solutions to laboratories and physicians throughout the world. Thermo's current specialty diagnostics business was expanded by this purchase.
In August 2022, Mecaro's Chemical business was acquired by Merck Group, the parent firm of Merck Millipore. Mecaro specializes in producing heater blocks and chemical precursors for semiconductors. The semiconductor solutions portfolio of Merck is improved by this purchase.
Key Market Players:
Thermo Fisher Scientific, Inc.
Abcam plc.
Enzon Pharmaceuticals, Inc.
Merck KGaA
Celares GmbH
Profacgen
Creative PEGworks
NOF America Corp.
Aurigene Pharmaceutical Services Ltd.
Laysan Bio, Inc.
Segments Covered in the Report:
(Note*: We offer report based on sub segments as well. Kindly, let us know if you are interested)
By Product & Services
By Type
Colony-stimulating Factor
Interferons
Erythropoietin
Recombinant Factor VII
Others
By Application
Cancer
Autoimmune Diseases
Hepatitis
Multiple Sclerosis
Hemophilia
Gastrointestinal Disorders
Others
By End User
Pharmaceutical & Biotechnology Companies
Contract Research Organizations (CROs)
Academic & Research Institutes
By Geography
North America
Europe
Asia-Pacific
Latin America
The Middle East and Africa