The global E-commerce logistics market size was estimated at USD 315.8 billion in 2022 and it is projected to surpass around USD 2,412.87 billion by 2032, expanding at a CAGR of 22.6% during the forecast period 2023 to 2032.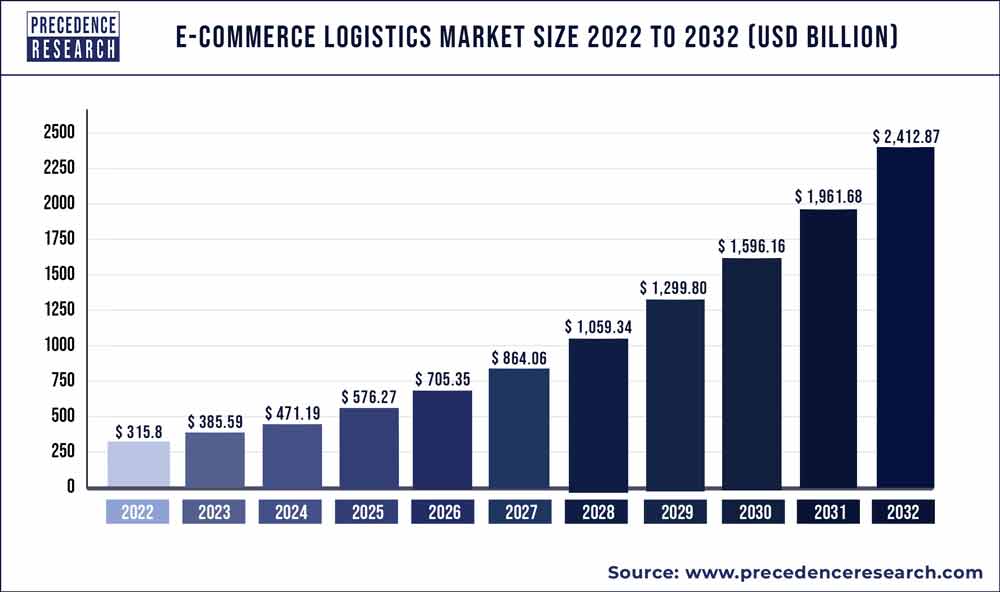 Access our Premium Real Time Data Intelligence Tool, Visit: Precedence Statistics
Key Takeaways:
Asia-Pacific generated more than 43% of revenue share in 2022.
By Service Type, the transportation segment accounted for more than 41% of revenue share in 2022.
By Service Type, the warehousing segment is expected to expand at a remarkable CAGR of 18.7% from 2023 to 2032.
By Type, the forward logistics segment contributed more than 69% of revenue share in 2022.
By Type, the reverse Logistics segment is expected to grow at the fastest CAGR over the projected period.
By Operation, the domestic segment led the market with the highest market share of 35.8% in 2022.
By Operation, the international segment is expected to expand at the fastest CAGR over the projected period.
By Vertical, the apparel segment contributed more than 29.9% of revenue share in 2022.
By Vertical, the consumer electronics segment is predicted to grow at a notable CAGR of 19.9% between 2023 and 2032.
By Model, the 3PL segment led the global market with the largest market share of 69.1 % in 2022.
By Model, the 4PL segment is expected to grow at a remarkable CAGR of 17.8% between 2023 and 2032.
Market Overview:
The e-commerce logistics sector denotes the specialized branch within the logistics industry that addresses the distinct requirements of online retailers and their customers. It encompasses an array of services, including storage, order processing, shipping, and final-mile delivery. This market has witnessed substantial growth in tandem with the surge in online shopping, driven by the imperative for swift, economical, and reliable delivery solutions.
E-commerce businesses and logistics service providers continually innovate to meet the evolving expectations of consumers, rendering it a vibrant and competitive arena marked by technological advancements, operational efficiencies, and customer-focused approaches.
Growth Factors:
The e-commerce logistics sector, a niche segment within the expansive logistics domain, has surged in response to the remarkable upswing in online retail. It encompasses an array of services, including warehousing, order fulfillment, transportation, and critical last-mile delivery, all meticulously tailored to cater to the distinct needs of digital retailers and their discerning clientele. This market has undergone substantial expansion, primarily propelled by the pressing need for efficient, punctual, and cost-effective delivery solutions.
Several pivotal trends and drivers are propelling the growth of the e-commerce logistics market. Firstly, the relentless proliferation of online shopping, particularly accelerated by the seismic impact of the COVID-19 pandemic, has stoked the demand for resilient logistics solutions. Secondly, the realm of technological innovation, featuring automation and data analytics, has brought forth a metamorphosis in supply chain operations, optimizing efficiency and curbing costs. Thirdly, the burgeoning expectations of consumers for same-day and next-day delivery have induced logistics providers to channel resources into last-mile solutions. Lastly, the global reach of e-commerce has engendered a surge in cross-border shipping, necessitating heightened international logistics prowess.
While the e-commerce logistics market offers substantial growth opportunities, it also faces notable challenges. One key challenge is the need for scalable and flexible infrastructure to accommodate fluctuating demand patterns. Additionally, maintaining high service levels while managing the complexities of last-mile delivery can be a logistical challenge. The competitive landscape is intense, with many logistics providers vying for market share, resulting in margin pressure. Finally, sustainability concerns are mounting, necessitating eco-friendly logistics practices to reduce the industry's environmental footprint.
Amidst these challenges, significant business opportunities abound. Logistics companies can focus on developing advanced technologies like artificial intelligence and IoT to enhance tracking, improve demand forecasting, and optimize route planning. Leveraging data analytics can lead to better inventory management and customer service. Expanding into underdeveloped markets, especially in emerging economies, offers growth prospects. Additionally, investing in sustainable logistics practices, such as electric vehicle fleets and eco-friendly packaging, can help meet evolving consumer preferences and regulatory requirements.
In conclusion, the e-commerce logistics industry continues to flourish as online shopping becomes increasingly ubiquitous. While it faces challenges related to scalability, last-mile delivery, competition, and sustainability, these challenges also present opportunities for innovation and growth. As the industry continues to evolve, businesses that adapt to changing consumer expectations and embrace technological advancements will be best positioned to thrive in this dynamic sector.
Report Scope of the E-commerce Logistics Market:
| | |
| --- | --- |
| Report Coverage | Details |
| Market Size in 2023 | USD 385.59 Billion |
| Market Size by 2032 | USD 2,412.87 Billion |
| Growth Rate from 2023 to 2032 | CAGR of 22.6% |
| Largest Market | North America |
| Base Year | 2022 |
| Forecast Period | 2023 to 2032 |
| Segments Covered | By Service Type, By Type, By Model, By Operation, and By Vertical |
| Regions Covered | North America, Europe, Asia-Pacific, Latin America, and Middle East & Africa |

Market Dynamics:
Driver:
Rapid growth of E-commerce
The meteoric rise of e-commerce stands as a pivotal catalyst propelling the dynamic expansion of the e-commerce logistics market. As consumers increasingly embrace online shopping, the demand for logistics services that are both efficient and dependable has surged. E-commerce has undergone a profound metamorphosis, characterized by year-over-year sales escalation, and this trajectory shows no signs of relenting. This surge is chiefly attributed to the allure of convenience, the vast array of product choices, and competitive pricing offered by digital retailers.
As more enterprises and individuals pivot toward digital platforms for their shopping requisites, logistics firms find themselves compelled to adapt and innovate in order to meet the ever-escalating need for timely and cost-effective deliveries. Furthermore, the global span of e-commerce has expanded, giving rise to cross-border trade and shipping. This international dimension further amplifies the imperative for resilient logistics solutions capable of navigating intricate customs regulations and orchestrating long-haul deliveries. In essence, the rapid ascent of e-commerce has established an ecosystem wherein logistics providers play a central role in ensuring that products reach consumers' doorsteps efficiently, thereby igniting the growth and transformation of the market.
Restraints:
Last-mile complexity
Last-mile complexity stands as a formidable restraint on the growth of the e-commerce logistics market. This intricate and multifaceted challenge arises primarily from the intricate nature of delivering packages directly to consumers' doorsteps. Navigating congested urban areas with unpredictable traffic patterns, ensuring timely and accurate deliveries, and managing returns create a logistical labyrinth that significantly increases operational costs and, in turn, restrains market growth. Moreover, the expectation for rapid deliveries, including same-day and next-day services, intensifies the pressure on logistics providers to streamline last-mile operations, often requiring substantial investments in technology and infrastructure.
The need for precision and efficiency also leaves minimal room for error, making it imperative to employ advanced tracking and routing systems. Additionally, consumers' growing demand for flexible delivery options further complicates the last-mile landscape, with preferences for time windows, parcel lockers, and alternate delivery locations. Consequently, last-mile complexity not only strains resources but also challenges logistics providers to strike a delicate balance between cost-effectiveness and meeting consumers' high expectations, presenting a substantial hurdle to overall market growth.
Opportunities:
Cross-border expansion
The cross-border expansion represents a significant opportunity within the e-commerce logistics market. As the e-commerce landscape transcends national boundaries, logistics providers have a unique chance to capitalize on the growing global trade of goods. Offering seamless cross-border solutions can attract international e-commerce businesses seeking to reach new markets and customers. This expansion opportunity is amplified by the increasing consumer demand for products from around the world. E-commerce companies are actively seeking reliable logistics partners capable of managing the intricacies of international shipping, customs clearance, and compliance with varying regulations.
Furthermore, with the rise of online marketplaces and the globalization of supply chains, logistics providers can establish efficient international distribution networks. Leveraging these networks can enable faster delivery times and lower shipping costs, further enhancing their appeal to e-commerce clients. Overall, cross-border expansion is not only a means to tap into lucrative international markets but also an avenue to demonstrate expertise in navigating the complexities of global logistics, positioning logistics companies for sustained growth and success in the ever-expanding E-commerce Logistics market.
Impact of COVID-19:
The COVID-19 pandemic significantly accelerated the growth of the e-commerce logistics market. Lockdowns and social distancing measures drove a surge in online shopping, placing immense pressure on logistics providers to meet heightened demand. Companies invested in technology, automation, and last-mile delivery solutions to keep pace. Supply chain disruptions and increased safety protocols also posed challenges. However, the pandemic underscored the critical role of logistics in e-commerce, fostering innovations like contactless delivery and driving e-commerce's continued expansion. The industry's adaptability and resilience during the crisis have reshaped logistics practices, setting the stage for long-term growth and evolution.
Segments Insight:
Service Type Insights:
According to the Service Type, the transportation sector has held 41% revenue share in 2022. The transportation sector commands a substantial market share within the e-commerce logistics industry primarily due to its pivotal role in the supply chain. The swift and dependable movement of goods is of paramount importance in ensuring products reach consumers punctually. As the e-commerce sphere experiences rapid expansion, there is an amplified demand for expedited and trustworthy delivery services. Transportation companies have responded by expanding their vehicle fleets, optimizing delivery routes, and embracing innovative technologies such as GPS tracking and route planning software. These strategic moves have empowered them to cater to the ever-increasing volume of e-commerce shipments, solidifying transportation as a dominant and indispensable segment in the market, essential for both meeting customer expectations and sustaining the sector's continued growth.
The warehousing sector is anticipated to expand at a significant CAGR of 18.7% during the projected period due to its fundamental role within the supply chain. It functions as the linchpin for accommodating the diverse range of products necessitated by the burgeoning e-commerce industry. Warehouses are pivotal in ensuring timely order processing, efficient inventory management, and seamless order fulfillment, all of which are paramount in meeting the heightened expectations for swift and accurate deliveries. Furthermore, they serve as critical hubs for consolidating and distributing goods, underscoring their indispensable nature in the intricate web of logistics operations. As e-commerce's relentless expansion continues, the warehousing segment remains a cornerstone, solidifying its prominent growth in the market.
Type Insights:
Based on the Type, forward logistics is anticipated to hold the largest market share of 69% in 2022. The forward logistics segment commands a significant share in the market due to its integral role in the e-commerce supply chain. It encompasses crucial functions like warehousing, order processing, inventory management, and transportation, all essential for efficient product movement from seller to customer. With the rapid growth of online shopping, companies prioritize streamlined, cost-effective, and timely delivery processes, which the forward logistics segment primarily addresses. Additionally, this segment's innovations in automation and technology optimization have further cemented its dominance, making it pivotal in ensuring smooth e-commerce operations and customer satisfaction, thus holding a major market share.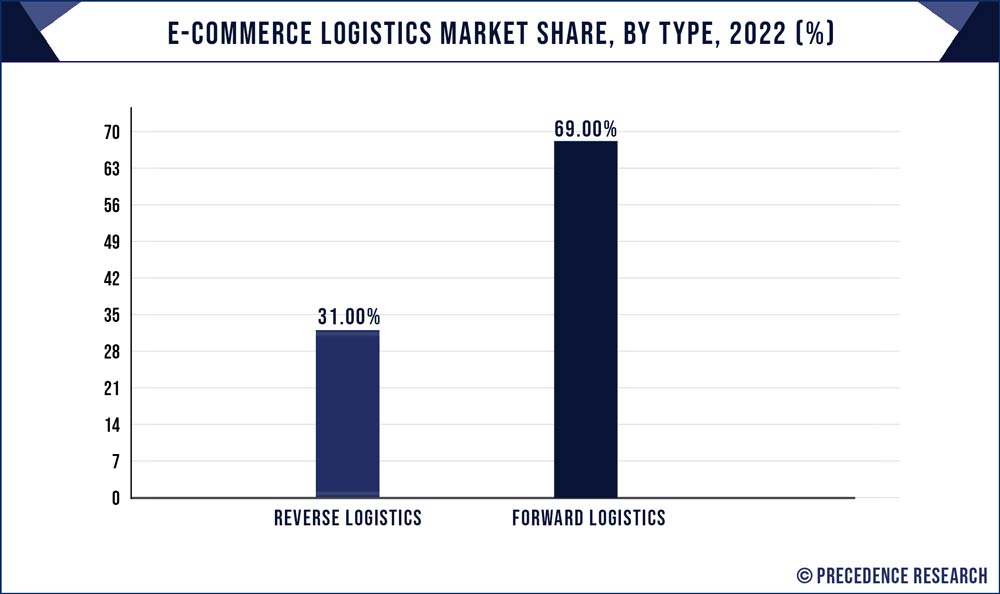 On the other hand, the reverse logistics sector is projected to grow at the fastest rate over the projected period. The reverse logistics segment holds significant growth in the market because of its crucial role in addressing returns, exchanges, and product recalls, which are inherent to the e-commerce industry. As online shopping grows, so does the need for efficient processes to handle returned merchandise, refurbishment, or disposal. Additionally, sustainability concerns drive the emphasis on recycling and reusing products, further elevating the importance of reverse logistics. Companies invest in robust reverse logistics capabilities to enhance customer satisfaction, reduce waste, and optimize value recovery, making this segment a pivotal component of the E-commerce Logistics market.
Operation Insights:
In 2022, the domestic sector had the highest market share of 35.8% on the basis of the operation. The substantial prevalence of the domestic sector within the E-commerce logistics market is underpinned by several crucial determinants. Firstly, the sheer magnitude of domestic e-commerce transactions dwarfs their international counterparts, furnishing an extensive and readily accessible customer base. Secondly, the operational dynamics of domestic logistics tend to be more streamlined and cost-effective in contrast to the complexities associated with cross-border logistics, rendering them an enticing option for logistics enterprises aiming to capture a substantial market share. Additionally, the proximity of shorter delivery distances translates to swifter shipping times, impeccably aligning with the burgeoning consumer appetite for expeditious deliveries. Lastly, the presence of well-established infrastructure, coupled with an intimate grasp of local regulations and consumer inclinations, bolsters the overall efficiency and viability of domestic logistics operations, solidifying their preeminent standing within the market.
The International segment is anticipated to expand at the fastest rate over the projected period. The International segment holds a major share in the E-commerce Logistics market due to several factors. First, the globalization of e-commerce has led to increased cross-border trade and shipping, driving demand for international logistics services. Second, expanding into untapped markets and serving international clients offers substantial growth opportunities. Third, international e-commerce often involves complex customs procedures and regulatory compliance, making logistics expertise invaluable. Additionally, as e-commerce businesses aim to reach a global customer base, they rely on logistics providers with established international networks and capabilities, consolidating the International segment's prominence in the market.
Vertical Insights:
The apparel segment held the largest revenue share of 29.9% in 2022. The apparel segment holds a substantial share in the e-commerce logistics market due to several key factors. Firstly, clothing is a staple consumer product, driving consistent demand. Secondly, the fashion industry's rapid adoption of e-commerce has pushed the logistics sector to cater to this niche with specialized solutions. Additionally, the need for size and style options, along with frequent returns, necessitates efficient and flexible logistics services.
The consumer electronics sector is anticipated to grow at a significantly faster rate, registering a CAGR of 19.9% over the predicted period. The consumer electronics segment commands a significant growth in the e-commerce logistics market due to several key factors. Firstly, consumer electronics are highly popular and frequently purchased online, driving consistent demand for logistics services. Secondly, these products often require specialized handling and packaging to ensure safe delivery, making logistics expertise crucial. Additionally, the fast-paced nature of the industry demands efficient supply chains to keep up with product launches and updates. Lastly, the global reach of consumer electronics brands necessitates international shipping capabilities, further cementing the segment's prominence growth in the E-commerce Logistics market.
Model Insights:
The 3PL sector has generated revenue share of 69.1 % in 2022. The 3PL (Third-Party Logistics) segment commands a significant share in the market due to its specialized expertise and comprehensive services. E-commerce businesses often rely on 3PL providers to efficiently manage their supply chains, warehousing, order fulfillment, and last-mile deliveries. This outsourcing allows e-commerce companies to focus on core activities while leveraging the experience and infrastructure of 3PL providers. Additionally, 3PLs offer scalability, enabling businesses to adapt to fluctuating demand, reduce operational costs, and expand globally, making them a preferred choice and a major player in the E-commerce Logistics market.
The 4PL sector is anticipated to grow at a significantly faster rate, registering a CAGR of 17.8% over the predicted period. The 4PL (Fourth-Party Logistics) segment holds a significant market growth due to its comprehensive and strategic approach to logistics management. 4PL providers offer end-to-end supply chain solutions, overseeing multiple 3PLs (Third-Party Logistics) and integrating various logistics functions seamlessly. This approach optimizes efficiency, reduces costs, and enhances overall supply chain visibility and control. Businesses increasingly seek these holistic solutions to streamline operations, adapt to market dynamics, and focus on core competencies. As a result, the 4PL segment has gained prominence as a preferred choice for organizations aiming to achieve supply chain excellence and competitive advantage in the evolving logistics landscape.
Regional Insights:
The Asia-Pacific e-commerce logistics market size was valued at USD 135.79 billion in 2022 and is projected to surpass around USD 1,020.72 billion by 2032, growing at a CAGR of 22.4% between 2023 and 2032.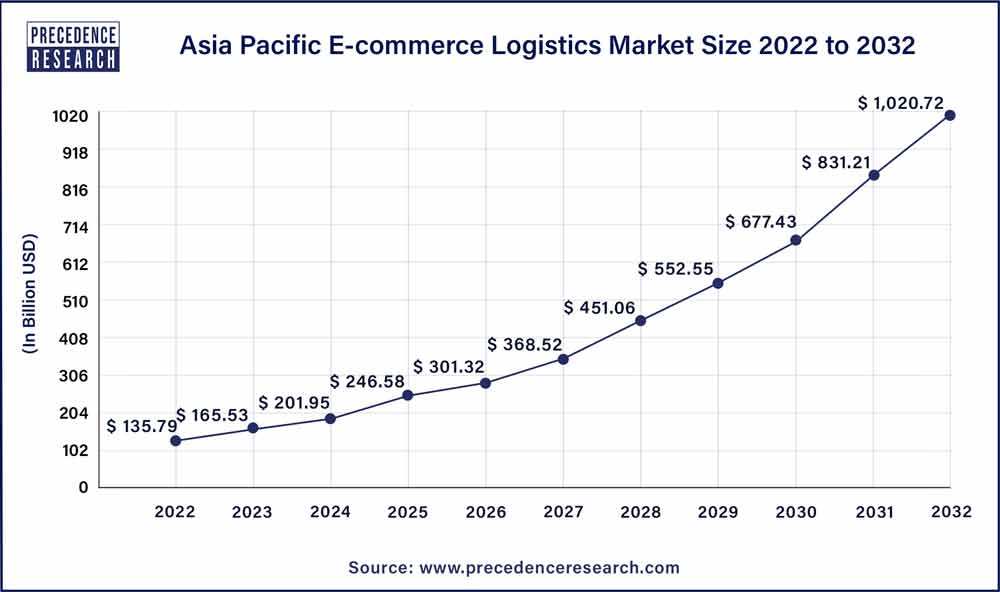 Asia-Pacific has held the largest revenue share 43% in 2022.
The region is home to the world's largest and fastest-growing e-commerce markets, including China and India, where a burgeoning middle class and increasing internet penetration drive online shopping. The vast consumer base and high e-commerce adoption create a constant demand for logistics services.
Additionally, Asia-Pacific's robust manufacturing capabilities make it a hub for global supply chains. This strategic location, combined with the expanding cross-border trade, further amplifies the region's importance in the E-commerce logistics market, solidifying its dominant position.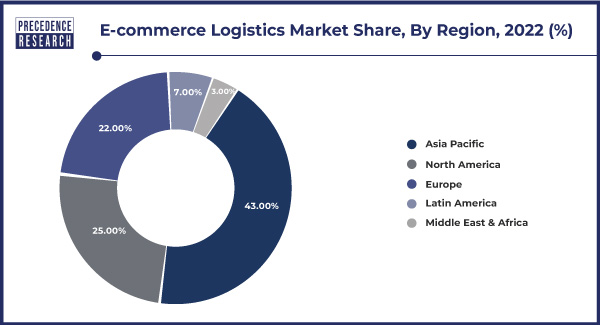 North America is estimated to observe the fastest expansion.
The region boasts a mature e-commerce ecosystem, with a high level of internet penetration and consumer adoption of online shopping. Additionally, the presence of major e-commerce giants and a robust logistics infrastructure has spurred market growth.
North America's well-developed supply chain networks and the propensity for consumers to expect fast and reliable deliveries further contribute to its dominance.
Moreover, continuous technological innovation and the implementation of efficient logistics solutions have solidified North America's position as a major player in the global E-commerce Logistics market.
Recent Developments:
In Nov 2022, CEVA Logistics announced a multi-year contract extension with ASOS to handle e-commerce fulfillment, warehousing, and inbound and outbound services for ASOS.
In October 2022, Aramex PJSC announced the acquisition of USA Shipping, LLC (MyUS), a global technology-driven platform involved in cross-border e-commerce. The acquisition aimed to strengthen Aramex's cross-border express business, providing strong revenue growth.
In September 2022, DHL acquired a major stake in Monta, a Dutch e-commerce specialist aiming to serve mid-sized and small webshops in e-fulfillment and online sales. The partnership focussed to strengthen DHL's core logistics business.
In July 2022, DHL, a global leader in the logistics industry announced to invest EUR 560 million in DHL Parcel UK, its e-commerce operation. The investment aimed to deliver better infrastructure and facilitate digital logistics.
In January 2022, FedEx Corp. collaborated with Microsoft Corp. to develop a cross-platform for e-commerce called "logistics as a service" for brands, merchants, and retailers to improve their competitiveness in the e-commerce space.
In June 2021, XPO Logistics secured a multi-year contract with Electrolux Logistics SAS to manage its logistics operations in France. They further aimed to work on Electrolux's direct-to-consumer e-commerce website.
Key Market Players:
FedEx Corporation
DHL International GmbH
Aramex International
XPO Logistics Plc.
United Parcel Service, Inc.
Gati Limited
Kenco Group, Inc.
Clipper Logistics Plc.
Agility Public Warehousing Company K.S.C.P.
CEVA Logistics
Segments Covered in the Report:
(Note*: We offer reports based on sub-segments as well. Kindly, let us know if you are interested)
By Service Type
Transportation
Warehousing
Others
By Type
Forward Logistics
Reverse Logistics
By Model
By Operation
By Vertical
Apparels
Consumer Electronics
Automotive
Healthcare
Food and Beverage
Others
By Geography
North America
Europe
Asia-Pacific
Latin America
Middle East and Africa