The global electric vehicle battery recycling market size was valued at USD 2.8 billion in 2022 and is expected to reach around USD 42.48 billion by 2032, growing at a high CAGR of 31.3% during the forecast period 2023 to 2032.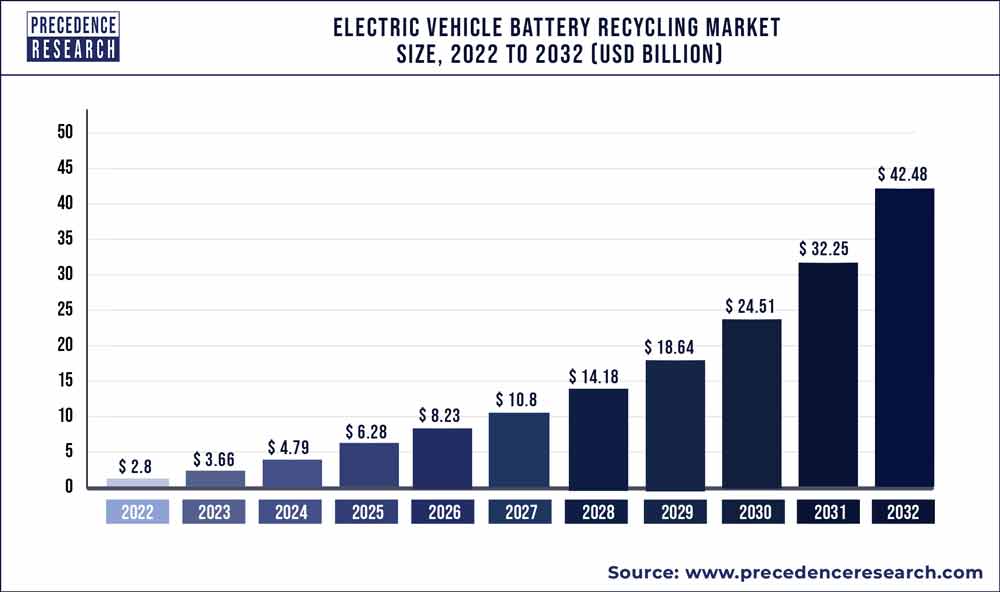 Access our Premium Real Time Data Intelligence Tool, Visit: Precedence Statistics
Key Takeaways:
The lithium-ion battery segment accounted for 46% of revenue share in 2022.
The lead-acid battery segment had a significant market share of over 30% in 2022.
By application, electric cars held a 39% market share in 2022.
In 2022, Asia Pacific held a sizeable market share of over 51%.
The electric vehicle battery recycling market is made up of companies (organisations, single proprietorships, and partnerships) that sell electric vehicle battery recycling products and services used for recycling electric car batteries. Lithium-ion batteries are the most popular form of battery used in electric vehicles (EVs), and recycling these batteries allows for the recovery of important minerals such as lithium, manganese, cobalt, and nickel. These minerals are then utilised to manufacture fresh batteries. Mechanical and hydrometallurgical recycling technologies are used, and these battery treatment techniques have been developed for high safety, sustainability, and a high recovery rate.
Lead-acid batteries, lithium-ion batteries, and other types of electric vehicle batteries are the most often recycled. Lead-acid batteries are rechargeable batteries with a low energy-to-volume ratio and a high energy-to-weight ratio. They have a lower energy density, a long life, and are very inexpensive. The separation of lead metal from the batteries is a laborious procedure in the recycling of these batteries. For usage in commercial electric cars, advanced high-power lead-acid batteries are being developed. Pyrometallurgical, hydrometallurgical, and other procedures are employed in many vehicle types such as passenger automobiles and commercial vehicles. Electric automobiles, energy storage systems, electric buses, and other applications are among them.
Increased electric vehicle sales are likely to drive the growth of the electric vehicle battery recycling market in the coming years. Electric vehicles (EVs) are vehicles that are partially or entirely powered by electricity and feature a battery that drives an electric motor. electric vehicle batteries include important minerals that may be recovered by recycling end-of-life electric vehicle batteries and utilised to make new batteries for electric vehicles. For example, the International Energy Agency, a Paris-based autonomous international body, estimates that global sales of EVs, which comprise fully electric and plug-in hybrid vehicles, will reach 6.6 million units in 2021. In addition, the total number of EVs on the road worldwide in 2021 was 16.5 million. As a result, the growth in electric car sales is increasing demand for the electric vehicle battery recycling industry.
Report Scope of the Electric Vehicle Battery Recycling Market
| | |
| --- | --- |
| Report Coverage | Details |
| Market Size in 2023 | USD 3.66 Billion |
| Market Size by 2032 | USD 42.48 Billion |
| Growth Rate from 2023 to 2032 | CAGR of 31.3% |
| Base Year | 2022 |
| Forecast Period | 2023 to 2032 |
| Segments Covered | Chemistry, Process, Application, End User, and Geography |
| Companies Mentioned | ACCUREC Recycling GmbH (Germany), American Manganese Inc. (Canada), Battery Solutions (US), Li-Cycle Corp. (Canada), G & P Batteries (UK), Recupyl (France), Retriev Technologies (US), Australian Battery Recycling Initiative (Australia), Snam S.p.A. (Italy), Umicore N.V. (Belgium) |
Growth factors
Factors such as rising demand for zero-emission vehicles, a tightening supply of certain battery pack components, and an increase in the use of recycled products are likely to boost the market for electric vehicle battery recycling. Furthermore, increasing uniformity in the legislative environment for electric vehicles in emerging nations would propel the electric vehicle battery recycling industry forward.
Key Market Drivers
Growing environmental concerns: Consumers are becoming interested in electric cars (EVs). Rising electric vehicle sales are also likely to increase the overall number of EVBs at the end of their degradation period, raising the requirement for recycling the entire number of batteries used in electric cars. It is also projected that EVB recycling firms would increase their recycling capacity as the quantity of total batteries acquired from expanding electric vehicle sales and batteries procured from second life use sources increases. All of these reasons are projected to help the electric car battery recycling market develop throughout the forecast period.
Emergence of new processes- The development of innovative procedures is a crucial trend that is gaining traction in the electric vehicle battery recycling industry. Major electric vehicle battery recycling businesses are exploring new and novel ways to extract precious battery materials. For example, Ascend Elements, a US-based maker of innovative battery materials, and Koura, a US-based manufacturer of fluoroproducts, collaborated in March 2022 to create a novel technique dubbed Hydro-to-Anode, which can recover 99.9% pure graphite from spent batteries. The recovered graphite has the same quality as virgin graphite and may be utilised to make new batteries. The usage of this technique is cost-effective, allowing for the economical recycling of lithium-ion (Li-ion) batteries while also reducing the demand for new material mining.
Key Market Challenges
High Operating Costs: The EVB recycling plant has much higher operating costs, which include the cost of transaction and collection, which could impede the development of large-scale second-life battery. This is due to the complex and challenging process involved in the extraction of components like batteries, as well as uncertainties related to the efficiency, safety, and remaining lifetime of batteries sent for refurbishment. Furthermore, the development of the electric vehicle battery recycling industry is anticipated to be hampered by a lack of knowledge about EVB recycling.
Key Market Opportunities
Increase in demand for electric vehicles to create massive investment opportunities: Battery production is seen as a critical competency and prerequisite for a country's desire to develop electric automobiles. Around the world, countries such as the United States, China, and Germany are racing to build "Gigafactories" to mass-produce electric vehicle batteries. Integrated lithium ion battery recycling is critical for efficient battery manufacturing. These potential are accompanied by an increasing emphasis on decreasing the use of natural resources in battery manufacture. Furthermore, the adoption of eco-friendly batteries, the growth and expansion of the battery supply chain, and the recovery of developing nations' economies are all opportunities for Electric vehicle battery recycling market to flourish. Electric car battery recycling market developments include advanced testing methodologies to improve alternative cathode materials as well as highly productive systems that increase reagent usage.
Active role of government in electric vehicles- Several governments are boosting their spending on incentives for direct purchase and tax benefits for EVs. They are also launching the electric vehicles initiative, that focuses to accelerate the global adoption of EVs. Furthermore, various global organisations have begun campaigns to assist the electric vehicle battery recycling market for buses, electric passenger vehicles, trucks,and light commercial vans. This, together with the depletion of nonrenewable metal supplies, is aiding market expansion for electric vehicle battery recycling.
Segmental Insights
Chemistry Insights
The lithium-based sub-segment is estimated to grow the quickest, generating $6.2 billion in sales by 2032. The lithium-based subsegment of the worldwide electric vehicle battery recycling market is growing due to factors such as good high-temperature performance, high power-to-weight ratio, and low self-discharge, all of which provide significant environmental benefits over other fossil fuel alternatives. With the increasing growth of electric cars, an immediate impact on carbon emissions reduction is envisaged. Such critical aspects might have a substantial influence on market growth throughout the forecast period. All of these reasons contribute to an increase in the demand for lithium ion automotive batteries.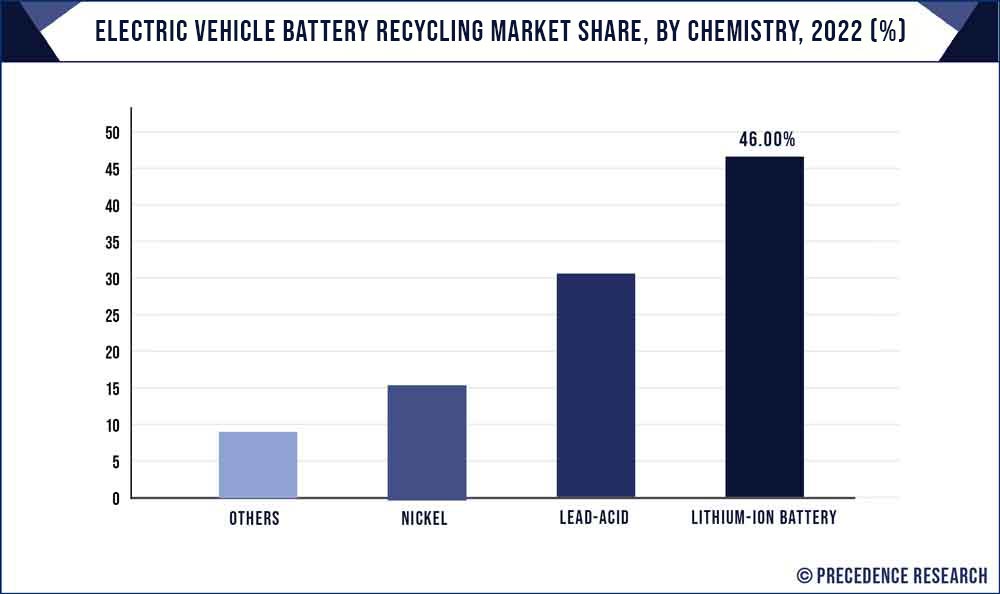 The lead-acid battery sub-segment is forecasted to have a significant market share in the market and generate $3.7 billion in sales during the forecast period. Lead-acid batteries are regarded as a perfect source of power since they are heavy, cost-effective, and require little maintenance. The increased use of lead-acid batteries in a variety of applications, including backup power supplies, electric scooters, and maritime applications, as well as factors such as simplicity, price, and energy efficiency, are likely to fuel the expansion of this sub-segment. In the United States and Europe, more than 97% of lead-acid batteries are recycled, and around 75% of the lead used in new lead-acid batteries is generated from recycled batteries. All of these reasons contribute to the gradual increase in demand for lead-acid batteries.
End User Insights
The electric automobiles sub-segment is expected to expand the quickest, surpassing $5.6 billion by 2032 with a CAGR of 38.5%. Cars emit a large amount of carbon dioxide into the atmosphere, making people sensitive to pollution. An electric automobile is a significant step forward in terms of favourably assisting the environment. Electric vehicles have no exhaust emissions, making them greener, cleaner, and better for the environment than gasoline or diesel vehicles.
Electric Vehicle Battery Recycling Market Share, By Region, 2022 (%)
| | |
| --- | --- |
| Regions | Revenue Share in 2022 (%) |
| North America | 25% |
| Asia Pacific | 51% |
| Europe | 18% |
| Latin America | 4% |
| MEA | 2% |
Geography Insights
In 2022, Europe region dominated the market with highest revenue share. The recycling rate of batteries is anticipated to increase as a result of the European Union's recycling efficiency standards. According to the regulations, about 75.0%, 65.0%, and 50% of the weight of battery must be recovered as recycled material for nickel-cadmium, lead-acid, and other chemistries, respectively.
In North America, used lead acid batteries are recycled at a rate of roughly 100%. Around 99.0% of the lead in used items gets recovered in the U.S. Additionally, it is anticipated that the presence of important recyclers such as Call2Recycle, Aqua Metals, Enersys, and Battery Solutions, Inc. will fuel demand during the forecast period along with the rising demand for UPS systems in commercial infrastructure and the rising popularity of electric vehicles.
Due to an increase in foreign investment, Central and South America is predicted to experience significant market expansion. For instance, the Cochrane Coal-fired Power Plant in Chile has a large lithium-ion battery storage system constructed by GS Yuasa Corporation in 2017. During the projected period, large-scale passenger and commercial vehicle manufacturing in Latin America is anticipated to fuel lithium battery demand.
Over the course of the projected period, Asia Pacific is anticipated to have the quickest CAGR of 8.5%. Due to the increasing demand from end-use sectors like the automobile, nations like China, India, and Japan are predicted to see rapid development.
Recent developments
In March 2022, Retriev Technologies, which is a lithium battery recycling and management firm based in the United States of America, paid an undisclosed sum for Battery Solutions. Retriev Technologies' experience in the battery-centric logistics network, cross-chemistry collection, and end-of-life battery sorting services is projected to grow as a result of this purchase.
In July 2022, Samsung SDI broke ground on their second battery manufacturing facility in Seremban, Malaysia. In 2024, this factory will begin producing PRiMX 21700 cylindrical batteries. The corporation plans to invest USD 1.4 billion in phases until 2025. The batteries manufactured at the factory will largely be utilised in electric cars (EV), micromobility, and other applications.
Key Market Players
ACCUREC Recycling GmbH (Germany)
American Manganese Inc. (Canada)
Battery Solutions (US)
Li-Cycle Corp. (Canada)
G & P Batteries (UK)
Recupyl (France)
Retriev Technologies (US)
Australian Battery Recycling Initiative (Australia)
Snam S.p.A. (Italy)
Umicore N.V. (Belgium)
Segments Covered in the Report
(Note*: We offer report based on sub segments as well. Kindly, let us know if you are interested)
By Chemistry
Lithium-ion Battery
Lead-acid
Nickel
Others
By Process
Pyrometallurgical
Hydrometallurgical
Others
By Application
Electric Cars
Electric Buses
Energy Storage Systems
Others
By End User
Transportation
Consumer electronics
Industrial
By Geography
North America
Europe
Asia-Pacific
Latin America
Middle East & Africa (MEA)