The global electrified roads market is surging, with an overall revenue growth expectation of hundreds of millions of dollars during the forecast period from 2023 to 2032.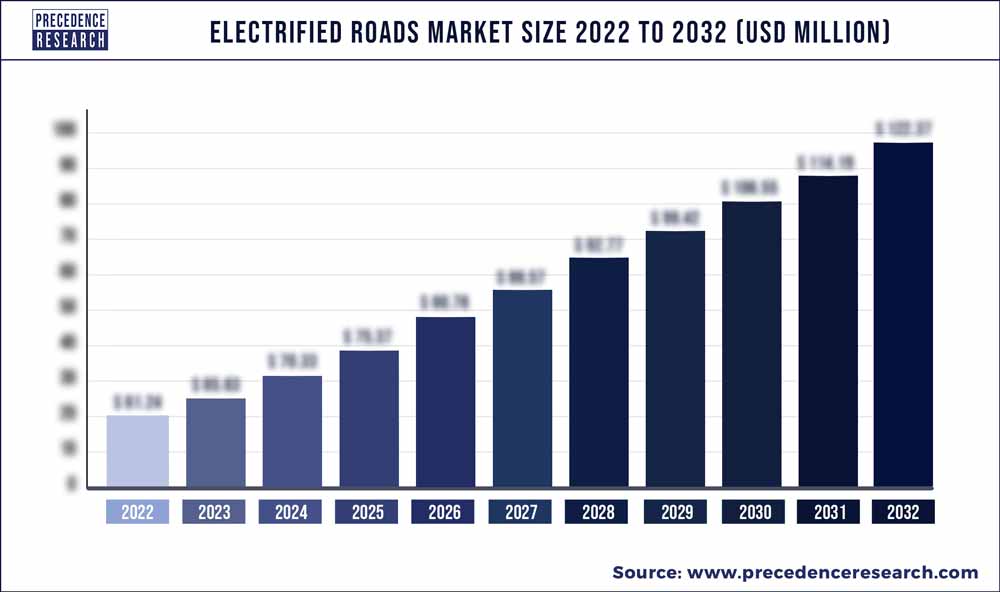 Key Takeaways:
North America is expected to exhibit the highest rate of growth during the forecast period.
Europe is anticipated to be the second-largest marketplace during the forecast period.
By Technology, the overhead segment held the largest share of the market, the segment is expected to sustain the position during the forecast period.
By Technology, the wireless segment is expected to be another attractive segment of the market.
By Vehicle, the public transportation segment is expected to generate significant revenue in the market throughout the forecast period.
By Scale, the long-distance electrified roads segment is expected to dominate the market during the forecast period.
Market Overview:
Electrified roads, commonly referred to as the electric roads market, offer solutions associated with dynamic power supply for moving electric vehicles. Related to the electric vehicle market, the electrified roads industry aims to revolutionize how vehicles are powered. Electrified roads are deployed with multiple conductive or inductive technological solutions that enable electric vehicles to get charged while in motion or stationary. Electrified roads or electric roads for charging electric vehicles can potentially boost the range of electric vehicles while offering them a continuous flow of charging. As the focus on reducing carbon emissions increases, the demand for electrified roads is observed to get highlighted.
This infrastructure of electrified roads also supports heavy-duty buses and trucks that require a significant charging infrastructure due to commercial transportation purposes. Electrified roads are observed to reduce the requirement for electric vehicle charging stations, especially on highways. Along with this, these roads will also reduce the hurdles of changing and charging batteries in a stationary mode. While contributing to a cleaner environment, electrified roads are observed to be a potential and sustainable option.
Data, production, investment and statistics:
Sweden aims to cover approximately 3,000 kilometers highways with moving charging infrastructure, Swedish transportation administration, Trafikverket will build electrified roads with groundbreaking technology.
Electric vehicle manufacturers in Korea qualified for 200,000-won subsidies for charging infrastructure.
A statement released by Biden-Harris Administration in February 2023 state that the administration aims to create up to 50% of new car sales by electric cars. The infrastructure law has also invested $7.5 billion in EV charging infrastructure plan.
In February 2022, Michigan Department for Transportation awarded Electreon to build first public wireless in-road charging system in the United States. The department aims to offer $1.9 million as funding for the project which will be operational in 2023.
According to the International Energy Agency, over 2.3 million electric cars were sold in te first quarter of 2023.
Study conducted by French Transportation Ministry suggested that electrified roads or electric road systems can reduce carbon emission from road and freight transport by 86%. The same study stated a plan to cover 9,000 kilometers of French roads with electric road systems by 2035.
In 2023, Washington introduced Wireless Electric Vehicle Grant Program ACT 2023 to boost the deployment of wireless charging systems on state level for electric vehicles.
Germany and Sweden have planned to deploy almost 2,500 miles and 1,200 miles of electrified roads respectively by 2030.
Countries and their initiatives for electric vehicles and charging infrastructure:
| | | |
| --- | --- | --- |
| Sr. No | Country | Initiatives Taken in Recent Years |
| 1. | Spain | 15% income tax rebate after purchasing an electric vehicle by the year-end. |
| 2. | Israel | Offers lower purchase taxation for electric vehicle consumers |
| 3. | Portugal | Offers tax benefits for charging infrastructure created for electric vehicles |
| 4. | United Kingdom | Funded 10 million Euros for local charging infrastructure under the Local Electric Vehicle Infrastructure (LEVI) pilot |

Growth Factors:
Substantial efforts from governments to boost the adoption of electric vehicles create a significant driver for the market as increased sales of electric vehicles create a major demand for a well-established charging infrastructure. This element can force governments and private service providers to adopt electrified roads in order to offer power supply for electric vehicles while they run.
Additionally, the market is expected to grow at a significant rate with the rising concerns about carbon emissions caused due to traditional, petrol or diesel-based vehicles. The development of electrified roads requires extensive funds for research-based activities, and with the proper support from the government, this factor can be achieved. Electric vehicle owners/drivers often have range anxiety. Whereas electrified roads offer continuous charging solutions which can reduce the range anxiety that can make electric vehicles more attractive.
Report Scope of the Electrified Roads Market:
| | |
| --- | --- |
| Report Coverage | Details |
| Largest Market | North America |
| Second Largest Market | Europe |
| Base Year | 2022 |
| Forecast Period | 2023 to 2032 |
| Segments Covered | By Technology Type, By Vehicle Type, and By Scale |
| Regions Covered | North America, Europe, Asia-Pacific, Latin America, and Middle East & Africa |

Market Dynamics:
Driver:
Increasing focus on reduction of carbon emission
According to the National Plan for Transport Infrastructure 2022-23 Proposal, the transport sector in Sweden aims to reduce carbon emissions by 70% by 2030. The same report stated that the expansion of charging infrastructure is one of the major scopes in this proposed plan. Recently proposed European Climate Law stated to reduce greenhouse emissions by 55% by 2030.
Such focus on the reduction of carbon emission or greenhouse gas emissions can act as a significant driver for the market. Electrified roads offer a sustainable solution to transportation which is one of the major sources of carbon emission across the globe. As of now, the transportation sector heavily relies on fossil fuels, which contribute to carbon emission. As governments and organizations prioritize carbon reduction goals, electrified roads align with their objectives by enabling the widespread adoption of electric vehicles. The reduction of carbon emission aligns with global efforts to combat climate change. These efforts can be highlighted with the deployment of electrified roads as a sustainable transition.
Restraint:
High-cost infrastructure
The deployment of electrified roads involves significant initial investment. This includes embedding charging technology, building stations and deploying other infrastructure. These expenses are often substantial and may limit governments or private investors from investing in it. Adapting electrified roads networks to accommodate electrified road technology can be expensive too. The expenses for deploying this technology can be dependent upon the condition of road, local factors and the required suitable technology.
Although, multiple governments have started tax reductions or subsidies on extensive charging infrastructure for manufacturers. But the return of investment may not be immediately apparent, particularly in regions with a lower density of electric vehicles. Thus, the high-cost infrastructure element is observed to create a major restraint for the market.
Opportunity:
Rising adoption of electric vehicles with favorable initiatives
A total of 18 Chinese provinces have explicit electric vehicle targets to promote carbon-peaking policies. Under these policies, China aims to have 50% sales of neighborhood electric vehicles (NEV) by 2030. Along with these policies, several regional governments have presented multiple initiatives to promote the adoption of electric vehicles in China. For instance, Beijing and Shanghai are offering exchange offers for turning internal combustion engine (ICE) vehicles into NEV. Similarly, Japan increased its capacity of subsidies for electric vehicles in 2022 to $530 million.
Such initiatives by either governments or administrative bodies can create significant opportunities for the market to grow. As countries focus on smart transportation options, they are more prone to adopt electric vehicles which require an extensive charging infrastructure. Electrified roads fit well into this plan of adopting electric vehicles by offering a practical and sustainable way to operate within urban environments. Many initiatives created by governments or ministries promote collaboration activities with automakers. Such activities promise to bring technological advancements and market expansion by offering a plethora of opportunities for the market.
Segments Insight:
Technology Insights:
The overhead segment held the major share of the market, the segment is expected to sustain the position throughout the forecast period. Overhead technology has been proven for multiple years as it is used in trains to offer them power. Overhead electrified road systems, which typically use overhead power lines or catenary systems to supply electricity to electric vehicles (EVs), can be more efficient and cost-effective in some scenarios compared to other electrification methods. Overhead electrified roads are particularly well-suited for heavy-duty electric vehicles, such as electric buses and trucks. This experience can contribute to its adoption in the electrified road sector, as there is a track record of reliability and efficiency in these applications.
On the other hand, the wireless segment is expected to be another attractive segment of the market. The concept of wireless electrified roads has the potential to revolutionize transportation infrastructure by enabling electric and autonomous vehicles to operate more efficiently and sustainably. This aligns with the broader goals of transitioning to cleaner and more advanced transportation systems.
Scale Insights:
The long-distance electrified roads segment is expected to dominate the market during the forecast period. The widespread implementation of long-distance electrified roads would require significant infrastructure investments. Governments, private companies, and other stakeholders would need to commit resources to build and maintain the necessary infrastructure. Long-distance electrified roads can provide a continuous source of power to electric vehicles, essentially extending their range without the need for large, heavy batteries. This is especially important for heavy-duty vehicles like trucks and buses that require longer ranges for their operations.
On the other hand, the local electrified roads segment is expected to witness a considerable rate of growth during the forecast period. Local roads often pass through residential areas, schools, and other sensitive locations. Electrified roads can help reduce air pollution by promoting the use of electric vehicles, which have zero tailpipe emissions. This can contribute to better air quality and public health in local communities.
Vehicle Insights:
The public transportation segment is expected to lead the market with a significant share throughout the forecast period. Public transportation is a crucial component of urban mobility, and electrifying public transit routes can have a substantial impact on reducing emissions and improving air quality in cities. Therefore, governments may allocate more funding and incentives to electrify public transportation routes, which could lead to a stronger presence of public transit in the electrified roads market. Seamless integration with existing public transportation networks is critical for the success of electrified roads. Public transportation vehicles can be more readily integrated into electrified road systems, making them a natural fit for such technologies.
Regional Insights:
North America held the largest share of the market in 2022, the region is expected to experience the highest rate of growth during the predicted timeframe. With the willingness to adopt advanced solutions and technologies, North America is expected to witness the rapid innovation in electrified roads infrastructure in upcoming years. Along with this, multiple countries in the region have already begun experimenting with wireless electrified roads, this is counted as an advancement in the industry which will highlight the dominance of the region in the market. Encouraging public and private sector investments in research and development can lead to innovation in electrified road technologies. Universities, research institutions, and tech companies in the region can collaborate on projects to advance this technology.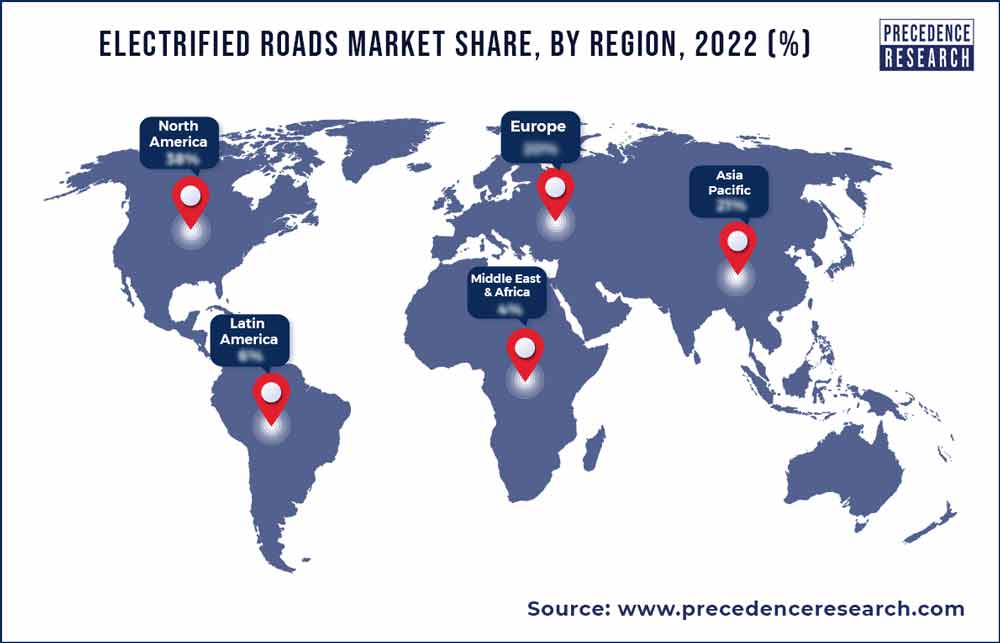 Europe is expected to sustain as the second-largest marketplace in the electrified roads industry. European countries have been proactive in promoting sustainable transportation. various initiatives for green transportation are also promoting the adoption of electric mobility. The adoption of electric vehicles in the region will automatically generate a demand for electrified roads infrastructure along with a strong charging infrastructure.
European country Sweden stated in May 2023 to open world's first electrified road by 2025, this aims to cover long-distance highways with under road charging system. Europe has the potential to invest in infrastructure development, this element supports the innovation of electrified roads infrastructure in European countries.
Meanwhile, Asia Pacific is observed to grow at a significant rate with the presence of countries like India, China, Japan and South Korea that are actively participating in multiple programs to support the adoption of electric vehicles. Asia Pacific is home to many tech companies and research institutions. Researchers and companies in the region were actively working on developing and improving electrified road technologies, including inductive charging and dynamic wireless charging systems. China is considered to be the largest contributor to the market, by 2030, China is projected to have 11 million electric vehicles sales by making it a total of 40% of global sales of electric vehicles. Whereas Japan is also testing roads for powering electric vehicles while they move. The country aims to integrate the technology by 2025 with the help of Denso, a prominent auto parts supplier.
Recent Development:
In September 2022, the Union Minister of India stated that they are working on developing/building electrified or electric roads for heavy duty buses and trucks. In July 2022, the minister announced to develop an electrified road between Delhi and Mumbai.
Key players in the electrified roads market:
The global electrified roads market is fragmented with multiple players present across the globe. Players in the market are involved in the production, innovation, and distribution of services associated with the electrified roads market. A few of them are:
ALE International
Honeywell International Inc
Cisco Systems Inc
IBM Corporation
ABB Limited
Siemens AG
Segments Covered in the Report:
(Note*: We offer reports based on sub-segments as well. Kindly, let us know if you are interested)
By Technology Type
Inductive Charging
Overhead Charging
Wireless Charging
By Vehicle Type
Public Transportation
Electric Cars
By Scale
Local Electrified Roads
Long-distance Electrified Roads
By Geography
North America
Europe
Asia-Pacific
Latin America
Middle East and Africa