The global electronic polymers market size was estimated at USD 5.88 billion in 2022 and it is projected to hit around USD 12.69 billion by 2032, poised to grow at a compound annual growth rate (CAGR) of 8% from 2023 to 2032.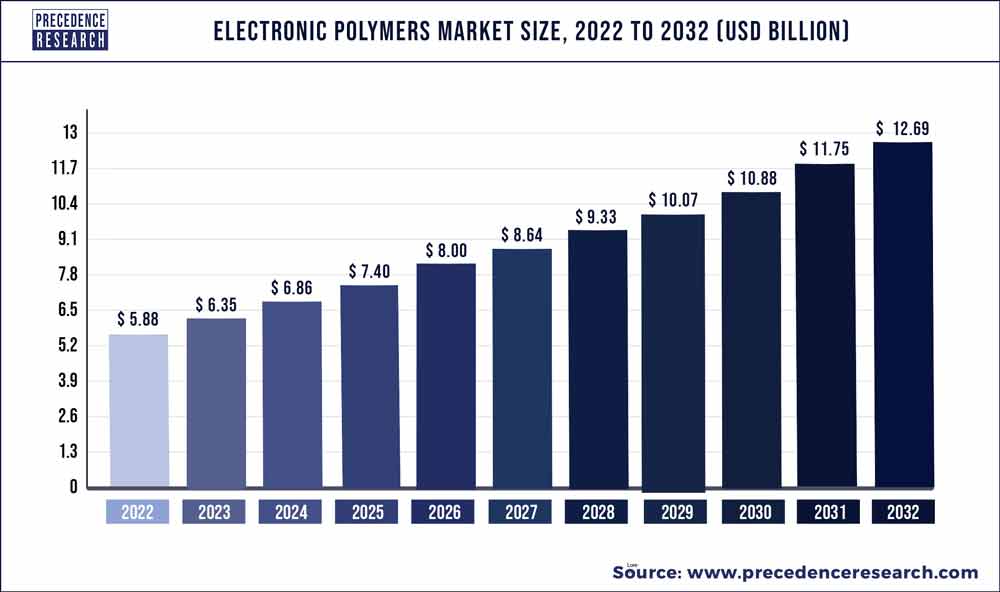 Access our Premium Real Time Data Intelligence Tool, Visit: Precedence Statistics
Key Takeaways:
Asia Pacific is predicted to capture the maximum revenue share between 2023 and 2032.
North America is expected to expand at the fastest CAGR over between 2023 and 2032.
By resin, the epoxies segment is projected to dominate the market from 2023 to 2032.
By Product, the polyurethane segment is expected to expand at the fastest CAGR between 2023 and 2032.
By Type, the electroactive polymers segment is estimated to record the biggest revenue share between 2023 and 2032.
Market Overview:
A diverse class of electrically deformable polymers are known as electroactive polymers (EAPs). Due to the inherent electro-mechanical characteristics of these polymers, they can deform when activated by electrical potentials. EAPs have special qualities that make them highly desirable for actuators and soft robotics thanks to their piezoelectric couplings. Additionally, the development of biocompatible artificial muscles is possible due to their capacity to convert an electrical stimulation into a mechanical reaction. EAPs have also developed into a desirable material for biomimicry and wearable sensors. EAPs are currently of significant importance for research and innovation in the mechano-electrical sector due to their wide range of applications.
One significant benefit of EAP is that it allows for significantly higher levels of strain than many conventional mechanical actuators would permit. EAPs are therefore heavily utilized in the creation of organic actuators, which are significantly needed in prosthetics. EAPs are a viable candidate for artificial muscle because of their biocompatible nature, flexibility, and small weight. EAPs also have the potential to advance soft robotics. Some safety problems that are present when traditional robots contact with people or delicate items are eliminated by the use of soft actuators. Electronic polymers is driven by many factors which include the growing consumer electronics industry, the increasing adoption of an electric vehicle, the rising automotive industry, and the growing solar sector.
According to the International Energy Agency, in 2021, solar PV generation surpassed 1000 TWh and rose by a record 179 TWh (up 22%). A result of significant capacity increases in 2020 and 2021, China accounted for nearly 38% of the growth in solar PV generation in 2021. The United States saw the second-largest generational growth (17% of the total), while the European Union saw the third-largest growth (10%).
Report Scope of the Electronic Polymers Market:
| | |
| --- | --- |
| Report Coverage | Details |
| Market Size in 2023 | USD 6.35 Billion |
| Market Size by 2032 | USD 12.69 Billion |
| Growth Rate from 2023 to 2032 | CAGR of 8% |
| Largest Market | Asia Pacific |
| Base Year | 2022 |
| Forecast Period | 2023 to 2032 |
| Segments Covered | By Resins, By Product, By Type, and By Application |
| Regions Covered | North America, Europe, Asia-Pacific, Latin America, and Middle East & Africa |

Market Dynamics:
Driver:
Increasing demand from the electrical and electronic industry
The majority of electronic equipment uses magnetic polymers because of their excellent performance and affordable price. All types of motors and sensors, which are necessary components of any electronic device, depend on magnetic polymers. Due to the rising demand for electrical equipment and consumer electronics like cell phones, TVs, computers, and others in the context of working from home, the electronics sector is expanding quickly. By 2025, the electronics manufacturing sector in India is expected to be worth US$ 520 billion, according to the India Brand Equity Foundation (IBEF). The manufacturing of computers and information terminals in Japan generated 1,041,122 million yen in revenue in 2017 and 1,251,283 million yen in 2019, according to the Japan Electronics and Information Technology Industries Association.
The German electronics sector's turnover will almost reach 200 billion euros in 2021, predicts ZVEI. Nominal sales growth from January to November 2021 was roughly 10%. The business association anticipates a 4% increase in production in 2022. The demand for magnetic polymers for use in computer chips, semiconductor devices, and other applications is rising as electronics output and semiconductor consumption rise. The market for electronic polymers is being driven by the expanding electrical and electronics sector, which also presents enormous growth potential.
Restraints:
Fluctuations in the raw material prices
One of the main reasons limiting market expansion is predicted to be variations in raw material prices. The supply chain is significantly impacted by the high cost of raw materials such as strontium ferrite, nickel, polyurethanes, and polyimides, which restricts their utilization. Changes in the product's price, particularly for permanent magnets, raise the costs incurred by the makers and have an effect on both the product's quality and output. Furthermore, changes in the product's price, particularly for permanent magnets, increase the costs incurred by the makers and have an effect on both the product's quality and output. Thus, acting as a major restraint on market growth.
Opportunities:
Growing adoption of EVs across the globe
The market for electronic polymers is expanding as a result of rising demand for electric vehicles. Due to their unique importance in energy applications like motors, transformers, and sensors, magnetic polymers are widely used in electric vehicles. Government incentives and changing consumer preferences have prompted automobile manufacturers to produce a wide range of affordable electric vehicles, which is fueling the market expansion of electronic Polymers.
The International Energy Agency (IEA) estimates that 10 million electric vehicles were produced globally in 2020, a 43 percent increase from 2019. With close to 0.32 million vehicles delivered in 2021, a 168 percent rise year over year, the Indian EV market is likewise fast evolving, according to the Indian Brand Equity Foundation. According to Niti Aayog, the Production-Linked Incentive (PLI) plan for automobile production, focusing on electric vehicles and hydrogen fuel cell vehicles, was authorized in September 2021 for a total of INR 26,058 crore (US$3.5 billion). The need for electronic polymers is likely to rise for a variety of applications with the rise in the demand for electric vehicles and rising government investment globally, which is estimated to support market growth in the electric vehicle industry over the forecast period.
Segments Insight:
Resins Insights:
Based on the resins, the global electronic polymers market is segmented into epoxies, polyimides, polyurethanes, silicones and others. The epoxies resins segment is expected to dominate the market during the forecast period. Due to their excellent electrical and mechanical properties these resins broadly used in electronics industry. In addition, their ability to provide protection against chemicals and high temperatures. Thereby, the outstanding characteristics of epoxy resins is expected to drive the segment growth over the forecast period.
The polyurethane segment is expected to grow significantly during the forecast period. Even under the most challenging situations, polyurethane resins are incredibly resilient. They shield the electronics from UV rays, high temperatures, and dampness. They perfectly absorb vibrations and shocks, which eliminates the possibility of mechanical damage. But their cost is higher than that of epoxy resins. PU resins are incredibly efficient choices for electrical components since they can tolerate temperature of up to 150 degrees Celsius with the proper mixing ratio. Thus, owing to these properties of polyurethane resins it is widely used in the electronics industry.
Type Insights:
Based on the type, the global electronic polymers market is divided into electroactive polymers, magnetic polymers and others. The electroactive polymers segment is expected to capture the largest revenue share during the forecast period. Polymers known as electroactive polymers alter their size, shape, or volume in response to intense electric fields. They are unique among "active materials" because of their enhanced durability, low density, quick response time, and great active deformation potential. They are very affordable, compliant, fracture tolerant, and lightweight. Thus, owing to these properties the demand for electroactive polymers is expected to rise during the forecast period.
Regional Insights:
The Asia Pacific is expected to capture the largest revenue share over the forecast period. The growth in the region is attributed to the increasing penetration of electronic devices. For instance, according to Statista, the smartphone penetration rate in India was stood at 54% in 2020 and is predicted to reach 96% in 2040. Around 149.7 million smartphones were shipped throughout India in 2020. Moreover, the value of electronic device manufacture in Japan increased by 2.5% in 2022 compared to 2021.
The production value of electronic products consequently increased to around USD 29.8 billion. Moreover, the increasing number of medical devices in the countries like India and China owing to the prevalence of various diseases is expected to rise in the demand for electronic polymer during the study period. For instance, according to the Indian Brand Equity Foundation, India exported USD 2.90 billion worth of medical products in FY22, and that amount is predicted to increase to USD 10 billion by 2025.
In addition, the growing medical devices partnership among the market participants in the region also provides a potential opportunity. For instance, Wipro GE Healthcare announced in August 2022 that it had joined hands with Boston Scientific, a manufacturer of medical devices, to provide comprehensive, state-of-the-art cardiac interventional care solutions in India. Thus, with the growth of consumer electronics and medical devices in the region is expected to rise in the demand for electronic polymers.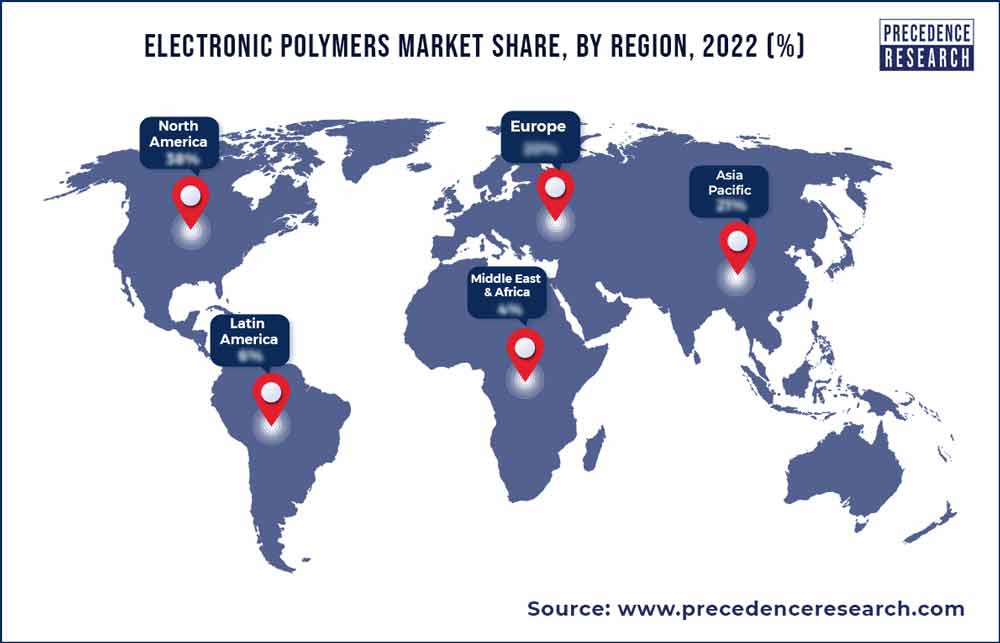 North America is expected to grow at a significant rate over the forecast period. The regional expansion is attributed to the various factor such as growing solar energy investment, the robust infrastructure of the healthcare industry, and the increasing demand for packaging and labeling in the food industry. For instance.
The U.S. Department of Energy (DOE) has announced $52 million for 19 chosen projects as part of President Biden's "Investing in America" initiative. This funding includes $10 million from the Bipartisan Infrastructure Law to strengthen the domestic solar supply chain in the United States and $30 million for technologies that will help solar energy be integrated into the grid. Thus, the growing investment in the solar sector along with increasing government support drives the market growth in the region.
Europe is expected to grow significantly during the forecast period owing to the rapid adoption of rapid adoption of electric vehicles. For instance, as per European Environment Agency, In the EU-27, the adoption of electric vehicles and vans increased significantly in 2021. Approximately 1,729,000 electric vehicle registrations were made in the year, up from 1,061,000 in 2020. The reports estimates there is an sharp rise in registration of EV from 10.7% to 17.8%. From 2.1% of all new registrations in 2020 to 3.1% in 2021, electric van adoption also grew. In 2021, the number of battery electric and plug-in hybrid automobiles was equivalent, however the majority of electric van registrations were made by battery electric vehicles. Thereby, driving the market growth.
Recent Developments:
In March 2023, at its facility in the Daya Bay Petrochemical Industrial Park in Guandong, China, BASF stated it intended to increase the capacity of its polymer dispersion production by introducing a second production line. This new line is expected to start in 2024.
In April 2023, Formerra One acquired Total Polymer Solutions (TPS). This acquisition strengthens the company position in the healthcare industry and further plan to expand in the Europe region.
Key Market Players:
Celanese Corporation
Honeywell International Inc.
DuPont
Merck KGaA
Delphon
TechmerPM
Dow
Sumitomo Electric Industries, Ltd.
Hardie Polymers Ltd
Arkema
Covestro AG
Victrex plc.
Polymer Science Inc.
Segments Covered in the Report:
(Note*: We offer report based on sub segments as well. Kindly, let us know if you are interested)
By Resins
Epoxies
Polyimides
Polyurethanes
Silicones
Others
By Product
Electronic Laminates
Packaging Materials
Connector Molding Compounds
Electronic Adhesives and Underfill
Others
By Type
Electroactive Polymers
Magnetic Polymers
Others
By Application
Electrical and Electronics
Packaging and Labeling
Healthcare Devices
Automotive
Others
By Geography
North America
Europe
Asia-Pacific
Latin America
Middle East and Africa