The global end stage renal disease market size was reached at USD 105.22 billion in 2022 and it is expected to hit around USD 372.31 billion by 2032, poised to grow at a CAGR of 13.47% during the forecast period 2023 to 2032.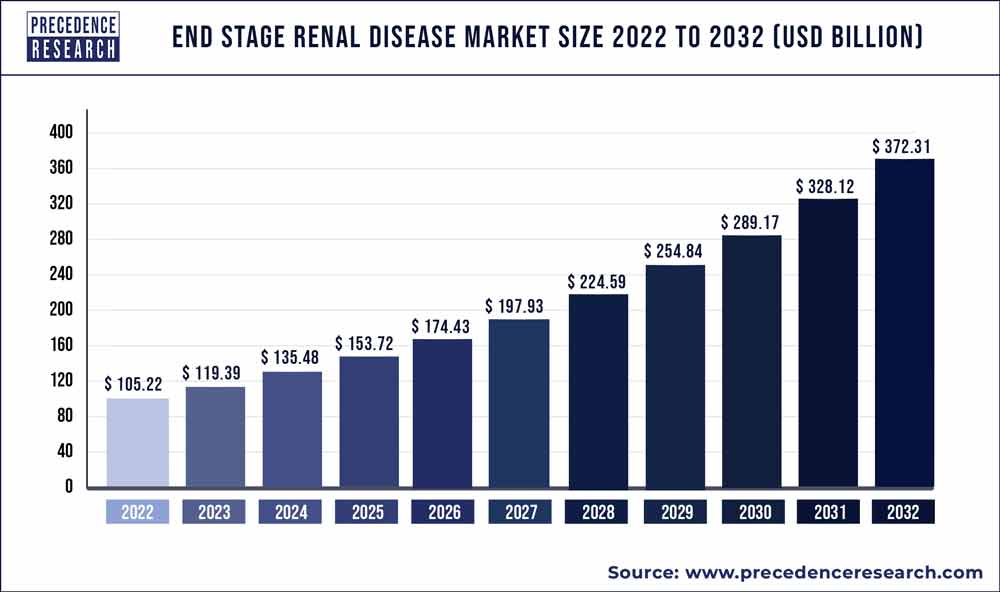 Key Takeaways:
Asia Pacific contributed more than 39% of revenue share in 2022.
By Treatment, the dialysis segment dominated the market with the largest market share of 79% in 2022.
By Treatment, the transplant segment is expected to expand at the fastest CAGR from 2023 to 2032.
Market Overview:
The global end stage renal disease market offers solutions, treatments, diagnosis services and other healthcare services for kidney-related health conditions that can cause terminal renal failure which can be irreversible. End-stage renal diseases occur when the kidneys' ability to function on their own is severely compromised. Dialysis or a kidney transplant is required for a patient with end-stage renal failure to live more than a few weeks. The number of patients with end-stage renal disease is expected to increase, driving market trends. A large number of people are affected by end stage renal disease, with chronic kidney disease being one of the main reasons. According to the National Center for Chronic Disease Prevention and Health Promotion's statement, approximately 15% of adults in the United States have chronic kidney disease.
Growth Factors:
The end stage renal disease market is anticipated to expand significantly due to an increase in kidney failure patients and the availability of technologically improved equipment like artificial kidneys and low-maintenance dialysis machines.
End stage renal disease patients are becoming more dependent on dialysis as their main form of treatment because there are fewer kidney transplants available. The need for dialysis services and associated equipment has expanded as a result.
Growing public awareness of renal health and the significance of kidney disease early diagnosis has resulted in earlier diagnosis and intervention, further propelling market expansion.
Report Scope of the End Stage Renal Disease Market:
| | |
| --- | --- |
| Report Coverage | Details |
| Market Size in 2023 | USD 119.39 Billion |
| Market Size by 2032 | USD 372.31 Billion |
| Growth Rate from 2023 to 2032 | CAGR of 13.47% |
| Largest Market | Asia Pacific |
| Base Year | 2022 |
| Forecast Period | 2023 to 2032 |
| Segments Covered | By Treatment |
| Regions Covered | North America, Europe, Asia-Pacific, Latin America, and Middle East & Africa |

Market Dynamics:
Driver:
Aging population
The market for treatments for end-stage renal disease (ESRD) is significantly impacted by the aging population. According to WHO, by 2030, 1 in 6 individuals worldwide would be 60 years of age or older. The prevalence of kidney-related disorders including ESRD tends to rise when countries around the world experience demographic shifts with more people living longer. Medical gadget producers, pharmaceutical firms, and healthcare systems all must consider the effects of this demographic shift.
Elderly people are more prone to chronic diseases including diabetes and hypertension, both of which are major contributors to end stage renal disease (ESRD). If these disorders are not treated effectively, they may develop to more severe stages, causing kidney damage and ultimately ESRD. Older people are more susceptible to kidney-related problems because of the aging process itself, which contributes to the reduction of kidney function.
Medical services, such as ESRD diagnosis, treatment, and management, are in higher demand as the older population rises. Healthcare professionals adjust to older patients' unique needs, which frequently necessitate more extensive and long-term care. This includes having access to renal replacement therapies like dialysis or transplantation as well as drugs specially formulated to address the physiological changes experienced by aged people.
Pharmaceutical firms are motivated to provide medications that address the particular difficulties of treating ESRD in elderly patients, taking into account elements including numerous comorbidities, drug interactions, and frailty. Manufacturers of medical equipment are also motivated to develop technologies that are user-friendly for elderly patients, such as remote monitoring systems that let seniors get treatment in the comfort of their homes or dialysis devices that are simpler to operate.
Restraint:
High-cost treatment
The high expense of treating end stage renal disease (ESRD) is one of the main obstacles to controlling this condition, which presents a significant healthcare issue. Renal replacement therapy, primarily in the form of dialysis or kidney transplantation, is often required for ESRD. Although these therapies are necessary for ESRD patients to survive, they come at a significant financial cost to both patients and healthcare systems.
The common treatment for ESRD, dialysis, is a time- and resource-consuming procedure. The majority of ESRD patients must have regular dialysis treatments for the remainder of their lives, frequently many times each week. These sessions require expensive overhead, specialized medical staff, and complex technology.
As a percentage of total healthcare spending, Medicare dialysis costs in the United States average around $60,000 per patient. As the long-term cost of dialysis is high, individuals without appropriate health insurance may find it especially difficult to afford treatment.
While a longer-term alternative to dialysis that is more cost-effective, kidney transplantation nevertheless entails high costs. The cost of the operation, the immunosuppressive drugs required after the transplant to avoid organ rejection, and continuing monitoring and care are also factors. Furthermore, there is frequently a long waiting list for kidney transplants, and some patients may have to travel a great distance for the procedure, adding to the expense. Moreover, these high treatment costs for ESRD affect not only the individuals suffering from the condition but also strain healthcare systems and insurance providers. Dialysis and transplant services account for a significant portion of healthcare budgets in many countries. This financial strain can limit the capacity of healthcare systems to provide timely and comprehensive care to all ESRD patients.
Opportunity:
Demand for home-based dialysis
Home-based dialysis is a fast-expanding trend in end-stage renal disease (ESRD) therapy, providing both patients and healthcare professionals with a number of opportunities. The majority of ESRD patients have historically received hemodialysis at dialysis centers as their primary form of dialysis care. However, home-based dialysis techniques, such as peritoneal dialysis and home hemodialysis, are becoming more and more common for a number of reasons. Home-based dialysis allows patients to get treatments in the comfort of their own homes, removing the need for frequent travel to dialysis facilities. Patients and their carers' workload are lessened, and their general quality of life is enhanced.
Patients on home-based dialysis have more flexibility in scheduling their treatments. They can choose the timing and frequency of dialysis sessions that best fit their lifestyles, making it easier to maintain employment and engage in daily activities. In the long term, home-based hemodialysis may be less expensive than in-centre hemodialysis. Potential cost reductions for healthcare organizations and payers can be attributed to lower overhead expenses like staffing and facility maintenance. Thus, the rising demand for home-based dialysis is observed to offer an opportunity for the market to expand.
Segments Insight:
Treatment Insights:
In 2022, the dialysis segment had the greatest share, and it is anticipated that it would continue to dominate during the forecast period. The main driver is the increasing incidence of end-stage renal disease (ESRD) and chronic kidney disease (CKD). Globally, risk factors for kidney disease from lifestyle variables like obesity, diabetes, and hypertension are on the rise. As a result, the number of patients in need of renal replacement therapy, such as dialysis, is increasing.
Technology and medical technique advancements are also crucial. Hemodialysis and peritoneal dialysis equipment advancements, as well as the creation of at-home dialysis options, have increased patient accessibility and convenience. The use of telehealth and remote monitoring devices has also improved patient care and lessened the stress of regular in-person clinic appointments.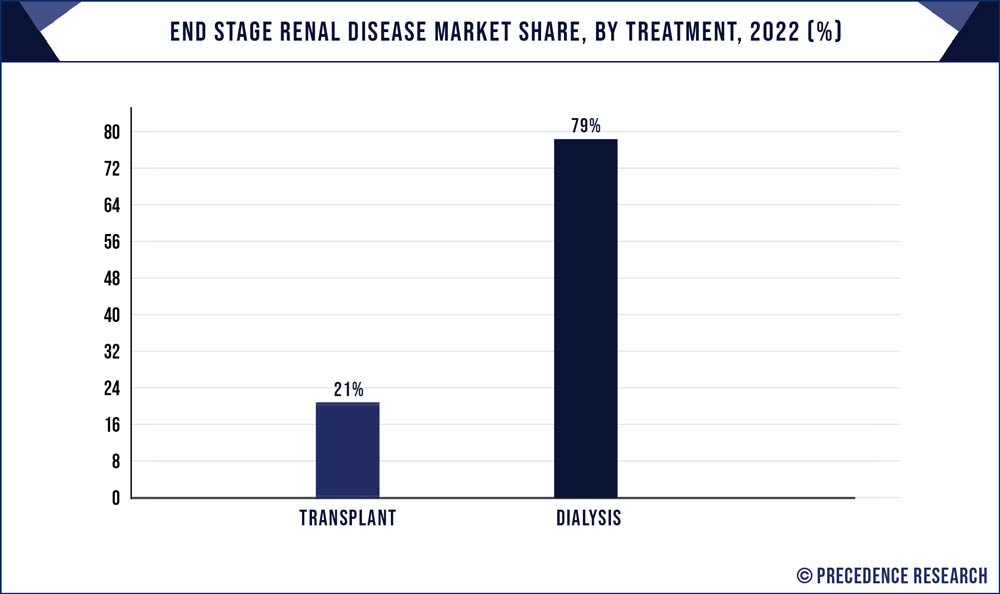 In the global market, the transplant segment is seen as having the fastest rate of growth. The need for kidney transplants has increased as a result of the rising prevalence of chronic kidney disease (CKD), which frequently causes ESRD. The rising prevalence of CKD is a result of aging populations and lifestyle variables such poor diet and inactivity.
The success rates of kidney transplants have also greatly increased as a result of medical innovations in immunosuppressive medications and surgical methods. These developments make transplantation a more appealing choice by lowering the possibility of graft rejection and improving patient outcomes. The demand of transplant has increased due to the scarce supply of donor organs.
Due to the lack of organs, there are now more efforts being made to encourage organ donation and improve organ allocation procedures. Governments around the world have put laws in place to encourage organ donation and transplantation after realizing the value of transplantation in the management of ESRD. Market expansion has been further encouraged by financial support and incentives for both donors and receivers.
Regional Insights:
Asia Pacific dominated the market in 2022, the region is expected to continue to grow at a significant rate during the forecast period due to a number of important factors. The number of people with ESRD has grown as a result of the rising incidence of diabetes and chronic kidney disease (CKD), which are major risk factors for the condition. The number of CKD-related ESRD cases increases as urbanization, aging population, and changes in lifestyle persist. Bettering healthcare systems and access to renal care facilities in many Asia Pacific countries have made it possible to detect ESRD earlier and manage it better. This has led to an increase in the need for kidney transplants as well as renal replacement therapies like hemodialysis and peritoneal dialysis.
A larger percentage of the population may now receive modern ESRD treatments due to increased disposable incomes in various Asian countries. Modern dialysis equipment, medications, and transplant procedures have all been funded by rising healthcare costs, both public and private.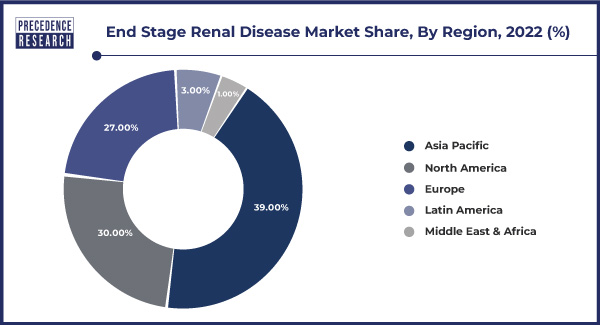 On the other hand, North America is expected to have the fastest rate of growth as a result of a convergence of demographic changes, technological advances in medicine, and changes in healthcare regulations. These elements are altering the ESRD care landscape and stimulating market growth. Aging populations are a major factor in the rise of ESRD, according to demographic trends. Chronic diseases like diabetes and hypertension, which can result in kidney damage, are becoming more common as the Baby Boomer population ages. This rise in at-risk individuals results in a larger pool of ESRD patients. When it comes to medical technology innovation, North America has been on the cutting edge. This is demonstrated in the ESRD industry by the advancement of patient-friendly, more effective dialysis equipment as well as at-home dialysis solutions like peritoneal dialysis. These breakthroughs improve patient outcomes, lighten the load on healthcare institutions, and stimulate market expansion.
Recent Developments:
In September 2022, Cytecare, Bengaluru announced the launch of state-of-the-art dialysis centre for the treatment of kidney-related diseases. With the launch of this centre, Cytecare aims to advance its holistic approach towards healthcare services.
In May 2023, a private, last-stage biopharma company, Pathalys Pharma announced its first patient enrolled ahead of schedule in pivotal phase program, designed for hemodialysis.
In January 2023, according to Boehringer Ingelheim and Eli Lilly and Company (NYSE: LLY), the U.S. Food and Drug Administration (FDA) has approved a supplement new drug application for Jardiance ® tablets, which is being researched as a potential treatment to lower the risk of kidney disease progression and cardiovascular deaths in adults with chronic kidney disease.
Key Market Players:
A few of the prominent players of the global end stage renal disease market include:
Nipro Corp.
Fresenius Medical Care AG & Co. KGaA
Baxter International, Inc.
Medtronic Plc
B. Braun Melsungen AG
BD
Asahi Kasei Medical Co., Ltd.
Cantel Medical
Nikkiso Co., Ltd.
JMS Co. Ltd.
Segments Covered in the Report:
(Note*: We offer reports based on sub-segments as well. Kindly, let us know if you are interested)
By Treatment
By Geography
North America
Europe
Asia-Pacific
Latin America
Middle East and Africa