The global endomyocardial biopsy market size was valued at USD 325.5 million in 2022 and is expected to hit around USD 667.73 million by 2032, registering a CAGR of 7.5% during the forecast period from 2023 to 2032.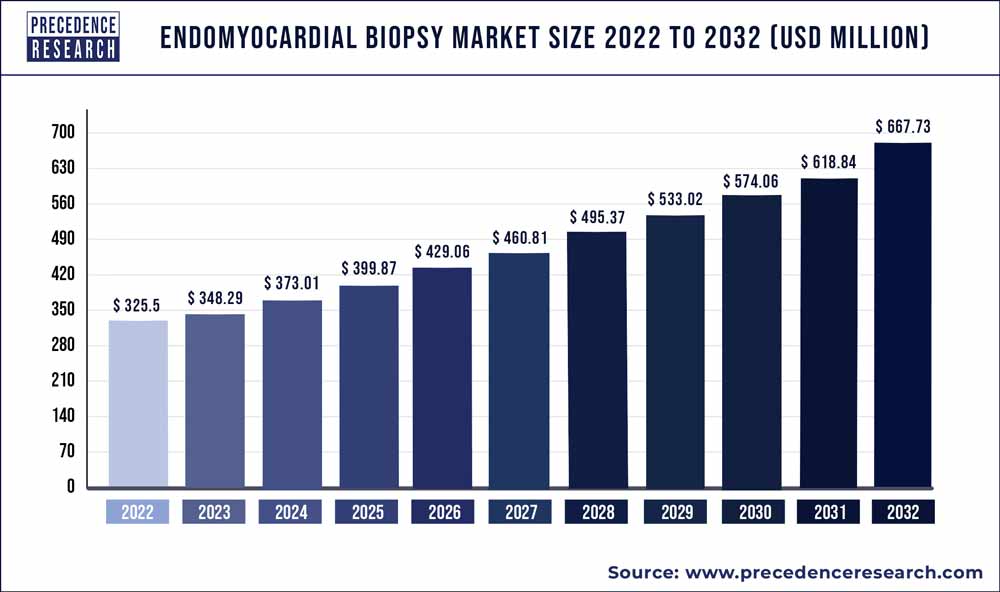 Access our Premium Real Time Data Intelligence Tool, Visit: Precedence Statistics
Key Takeaways
North America contributed more than 44% of revenue share in 2022.
Asia-Pacific is expected to expand at the fastest CAGR during the forecast period.
By Product, the forceps integration segment has held the largest revenue share of 72% in 2022.
By Product, the accessories segment is anticipated to grow at a fastest CAGR of 8.7% during the projected period.
By Tip, the straight tip segment had the largest market share of 36% in 2022.
By Tip, the pre-curved is estimated to expand at the fastest CAGR over the projected period.
By End-use, the hospital segment captured the largest revenue share of 50% in 2022.
Endomyocardial Biopsy Market Overview
The endomyocardial biopsy market refers to the global healthcare sector's demand and supply dynamics related to endomyocardial biopsy procedures and associated products. This diagnostic procedure involves the collection of heart tissue samples for analyzing heart conditions such as myocarditis and rejection in heart transplant patients. The endomyocardial biopsy market encompasses various components, including biopsy catheters, imaging equipment, and laboratory services. Factors driving market growth include increasing heart-related diseases, advancements in biopsy technologies, and rising organ transplant procedures. The market is characterized by competitive dynamics among medical device manufacturers and diagnostic service providers, with potential for future expansion due to evolving healthcare needs.
Endomyocardial Biopsy Market in the U.S. 2023-2032
The U.S. Endomyocardial Biopsy market size was estimated at USD 85.93 million in 2022 and is estimated to reach around USD 177.93 million by 2032, growing at a CAGR of 7.6% from 2023 to 2032.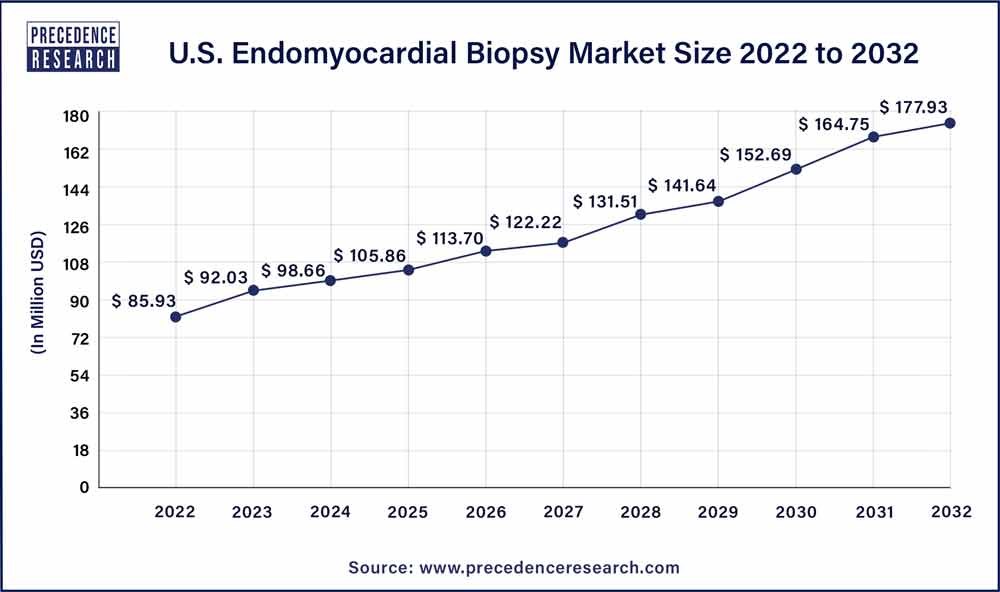 North America has held the largest revenue share 44% in 2022.
The region boasts advanced healthcare infrastructure, a high prevalence of cardiovascular diseases, and a well-established organ transplantation ecosystem, necessitating frequent biopsies for monitoring. Moreover, robust research and development initiatives and technological advancements in diagnostic procedures contribute to the market's growth. Additionally, favorable reimbursement policies and a high level of patient awareness further support the North American market's dominance, making it a key hub for endomyocardial biopsy procedures and services.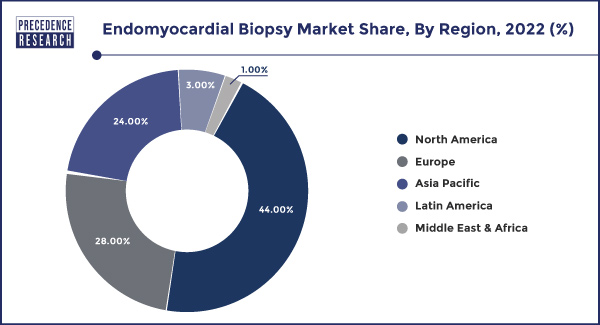 Asia-Pacific is estimated to observe the fastest expansion.
The region has witnessed a growing prevalence of cardiovascular diseases, driving the demand for advanced cardiac diagnostic procedures like endomyocardial biopsies. Additionally, Asia-Pacific has a large population base and an expanding elderly demographic, further contributing to the high incidence of heart-related conditions. Improvements in healthcare infrastructure and increased access to healthcare services have also boosted the adoption of these procedures. Moreover, favorable government initiatives and rising healthcare investments in countries like China and India have propelled market growth in the region.
Growth Factors
The endomyocardial biopsy market is a crucial segment within the global healthcare industry, focused on the diagnosis and monitoring of heart-related conditions. This market involves the utilization of specialized procedures and equipment to obtain tissue samples from the heart, aiding in the diagnosis of diseases like myocarditis and rejection in heart transplant recipients. The market encompasses various components, including biopsy catheters, imaging technologies, and laboratory services, catering to the growing demand for accurate cardiac diagnostics.
One significant trend in the endomyocardial biopsy market is the continuous advancement in biopsy technologies. Innovations such as minimally invasive biopsy procedures and improved imaging guidance systems have made the process safer and more effective, driving market growth. Additionally, the rising prevalence of heart-related diseases and the growing number of heart transplant surgeries are substantial growth drivers. As the global population ages and lifestyle factors contribute to heart ailments, the demand for these diagnostic procedures is expected to surge. Furthermore, the increasing availability of organ transplant facilities globally is boosting the requirement for endomyocardial biopsies to monitor transplant recipients, thereby expanding the market.
Despite its growth prospects, the endomyocardial biopsy market faces several challenges. One notable hurdle is the invasive nature of the procedure, which carries inherent risks for patients. Ensuring the safety and minimizing complications during the biopsy process remains a challenge for healthcare providers. Moreover, there is a shortage of skilled healthcare professionals proficient in conducting endomyocardial biopsies, limiting market accessibility. Additionally, the cost associated with these procedures, including specialized equipment and laboratory services, can be a barrier, especially in resource-constrained healthcare settings.
Amidst these challenges, there are notable business opportunities within the endomyocardial biopsy market. Collaborations and partnerships between medical device manufacturers, healthcare institutions, and research organizations can foster the development of safer and more cost-effective biopsy technologies, addressing both safety concerns and affordability issues. Training and education programs to enhance the skills of healthcare professionals in performing endomyocardial biopsies can bridge the workforce gap and expand market reach. Moreover, market players can explore opportunities in emerging economies, where the demand for advanced cardiac diagnostics is on the rise, and healthcare infrastructure is evolving rapidly.
In conclusion, the endomyocardial biopsy market plays a crucial role in cardiac healthcare by facilitating the diagnosis and monitoring of heart-related conditions. While it faces challenges related to invasiveness, skill shortages, and costs, the market is poised for growth driven by technological advancements, increasing heart diseases, and expanding organ transplant procedures. Businesses that address these challenges and tap into emerging opportunities can thrive in this vital healthcare segment.
Endomyocardial Biopsy Market Scope
| | |
| --- | --- |
| Report Coverage | Details |
| Growth Rate from 2023 to 2032 | CAGR of 7.5% |
| Market Size in 2023 | USD 348.29 Million |
| Market Size by 2032 | USD 667.73 Million |
| Largest Market | North America |
| Base Year | 2022 |
| Forecast Period | 2023 to 2032 |
| Segments Covered | By Product, By Tip, and By End-use |
| Regions Covered | North America, Europe, Asia-Pacific, Latin America, and Middle East & Africa |

Endomyocardial Biopsy Market Dynamics
Driver
Advancements in biopsy technologies
The endomyocardial biopsy market is experiencing robust growth driven by continuous innovations in biopsy technologies. These technological strides have not only enhanced the procedure's overall effectiveness but have also rendered it safer and more accessible. Firstly, the ascent of minimally invasive biopsy techniques has been instrumental in reducing patient discomfort and post-procedure recovery periods. This has not only mitigated the inherent risks but has also spurred greater patient acceptance, resulting in heightened demand.
Secondly, improved imaging guidance systems, such as advanced echocardiography and fluoroscopy, have enhanced the precision of tissue sample collection. This ensures that samples are obtained from the target area accurately, reducing the need for repeat procedures and increasing diagnostic reliability. Furthermore, the development of more sophisticated biopsy instruments has made the process smoother and more efficient for healthcare providers. These instruments offer better maneuverability and control during the biopsy, further minimizing patient risks. Overall, these technological advancements not only enhance patient outcomes but also attract healthcare professionals and institutions to incorporate endomyocardial biopsy into their diagnostic arsenal, thereby boosting the market's growth prospects.
Restraints
Invasive nature of the procedure
The endomyocardial biopsy industry faces a significant constraint due to the invasive nature of the procedure. This inherent invasiveness poses challenges and limitations that impede market growth. Primarily, the procedure's invasiveness can deter potential patients, as they may be apprehensive about the associated risks, including bleeding, infections, and potential damage to surrounding tissues. These concerns can lead individuals to opt for less invasive diagnostic methods, thereby limiting the market's growth potential. Secondly, the invasive nature of endomyocardial biopsies necessitates specialized training and expertise among healthcare professionals.
The shortage of such skilled practitioners can constrain the availability of these procedures, particularly in underserved regions. This limitation hinders patient access to this important diagnostic tool. Overall, the invasive aspect of endomyocardial biopsies not only affects patient willingness to undergo the procedure but also impacts the healthcare infrastructure's capacity to provide this service, thereby restraining the market's expansion.
Opportunities
Patient education and awareness
Patient education and heightened awareness campaigns are carving out notable opportunities within the endomyocardial biopsy industry. To begin, the informed patient base is becoming more receptive to the procedure's benefits in diagnosing and managing heart conditions. As individuals become better acquainted with the advantages of early detection through endomyocardial biopsies, they are increasingly likely to consent to the procedure when recommended by healthcare providers. This surge in awareness can effectively broaden the pool of potential candidates for biopsies.
Moreover, targeted awareness initiatives serve to mitigate the apprehension linked to the procedure's invasiveness. A comprehensive understanding of the process and its potential advantages can alleviate patient fears, making them more inclined to undergo endomyocardial biopsies. Consequently, this expanded comprehension has the potential to amplify the market's outreach. In essence, patient education and awareness campaigns are pivotal in establishing opportunities within the Endomyocardial Biopsy market by bolstering patient acceptance, reducing hesitation, and fostering a deeper appreciation of the procedure's significance in cardiac care.
Impact of COVID-19
The COVID-19 pandemic had a notable impact on the endomyocardial biopsy industry. Initially, as healthcare systems focused on managing the pandemic, there was a decrease in non-essential medical procedures, including endomyocardial biopsies. This led to a temporary decline in market demand. However, as the pandemic progressed, the importance of monitoring heart health in COVID-19 patients became evident, leading to a resurgence in demand for these procedures. Additionally, disruptions in the supply chain affected the availability of biopsy equipment and materials. In the long term, the market adapted to the new healthcare landscape, with a renewed emphasis on patient safety and telemedicine for consultation, positively impacting market recovery and growth.
Product Insights
According to the product, the forceps Integration sector has held 72% revenue share in 2022. The forceps segment holds a significant share due to its critical role in obtaining tissue samples during the procedure. Forceps are commonly used for this purpose because they offer precision and control in collecting cardiac tissue, ensuring accurate diagnosis. Healthcare providers rely on forceps for their effectiveness and safety in tissue extraction, making them a preferred choice. As endomyocardial biopsies continue to be a vital diagnostic tool for heart-related conditions, the forceps segment remains a major player in the market, meeting the essential need for tissue sample acquisition.
The accessories sector is anticipated to expand at a significantly CAGR of 8.7% during the projected period. The accessories segment holds a significant growth in the endomyocardial biopsy industry primarily because it encompasses essential components required for conducting the procedure. These accessories include biopsy catheters, guidewires, and sheaths, among others, which are crucial for obtaining tissue samples safely and accurately.
As endomyocardial biopsies are performed routinely, the demand for these consumable accessories remains consistently high. Moreover, advancements in accessory technologies have improved the safety and efficiency of the procedure, further driving their adoption. Hence, the accessories segment plays a pivotal role and commands a major growth in the market.
Tip Insights
In 2022, the straight tip segment had the highest market share of 36% on the basis of the Tip. The straight tip segment holds a major share due to its established track record of safety and reliability. Straight-tip biopsy catheters are widely used in clinical practice and are favored by healthcare professionals for their ease of use and maneuverability. They have a well-documented history of successful tissue sampling with lower risks of complications. This trust in their performance has made straight-tip catheters the preferred choice for endomyocardial biopsies, contributing significantly to their dominant market share compared to other catheter types.
The pre-curved is anticipated to expand at the fastest rate over the projected period. The pre-curved segment holds a significant growth due to its superior maneuverability and accuracy during the biopsy procedure. Pre-curved catheters are designed with a curved tip, allowing for easier navigation through the heart's chambers, which can be challenging with straight catheters. This enhanced precision in sample collection reduces the risk of complications, making it the preferred choice for healthcare professionals. Additionally, pre-curved catheters have proven effectiveness in transplant monitoring, further driving their adoption. Their ability to streamline the biopsy process and improve diagnostic outcomes cements their prominent market growth.
End-use Insights
The hospital segment held the largest revenue share of 50% in 2022. The dominant presence of hospitals in the endomyocardial biopsy market can be attributed to distinct factors. Hospitals serve as central nuclei for cardiac healthcare, featuring specialized cardiology units and cutting-edge facilities crucial for diagnosing and managing heart-related ailments. Their robust infrastructure, along with proficient medical teams and access to state-of-the-art biopsy equipment, firmly establishes them as principal centers for conducting endomyocardial biopsies. Furthermore, hospitals frequently manage intricate cardiac cases, notably heart transplant recipients necessitating regular biopsies, further cementing their pivotal role as primary purveyors of this indispensable diagnostic procedure and reinforcing their substantial market influence.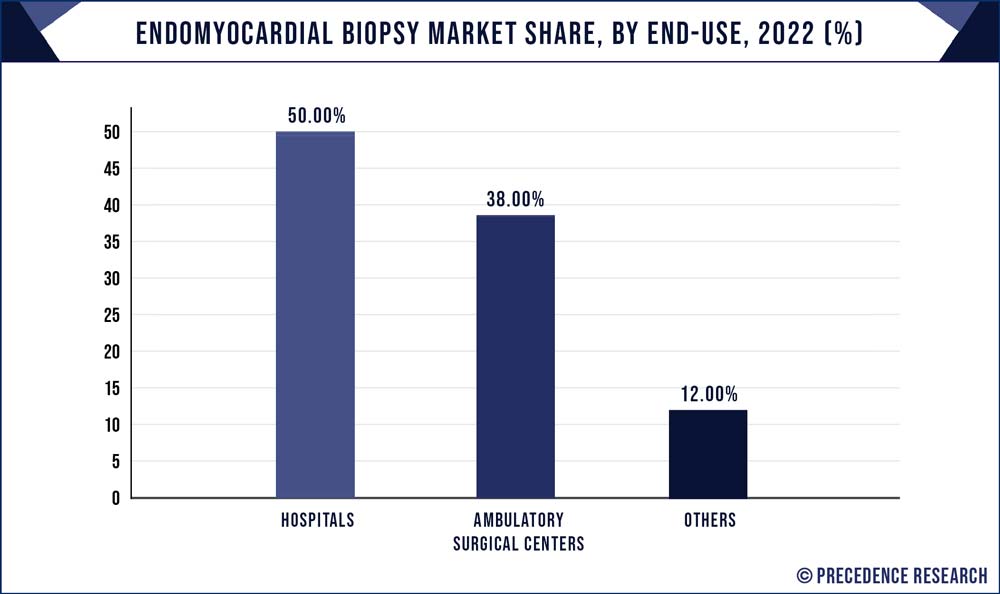 The retail and consumer goods sector is anticipated to grow at a significantly faster rate, registering a CAGR of 7.9% over the predicted period. The ambulatory surgical center (ASC) segment holds a significant growth due to its advantages in terms of cost-effectiveness, convenience, and reduced hospitalization times. ASCs offer a more efficient and less resource-intensive setting for performing endomyocardial biopsies, making them a preferred choice for both patients and healthcare providers. Patients benefit from shorter recovery periods and lower costs, while healthcare facilities find ASCs to be a financially viable option. This trend is further driven by the increasing focus on outpatient care, especially for less complex procedures, which has boosted the ASC's market growth.
Recent Developments
In May 2022, Terumo Corporation (Terumo India) forged a partnership agreement with Argon Medical to offer advanced healthcare solutions that encompass the entire spectrum from diagnosis to treatment, thereby providing comprehensive support to patients.
In February 2020, Teleflex Corporation successfully completed the acquisition of IWG High Performance Conductors, Inc. (HPC), a prominent manufacturer specializing in cutting-edge minimally invasive medical products and high-performance conductors. These strategic acquisitions significantly enrich the company's product portfolio.
In July 2019, Argon Medical Devices, Inc. made a significant announcement regarding a definitive license agreement with Hatch Medical, L.L.C. ("Hatch Medical"). This agreement granted exclusive global rights for the marketing and distribution of the Scorpion TIPS Access Systems. Such acquisitions empower businesses to expand their global presence and reach in the medical industry.
Endomyocardial Biopsy Market Players
Abbott Laboratories
Boston Scientific Corporation
Medtronic plc
Johnson & Johnson
Becton, Dickinson and Company
Cardinal Health, Inc.
Teleflex Incorporated
Terumo Corporation
Argon Medical Devices, Inc.
Merit Medical Systems, Inc.
BD Biosciences
Cook Medical
Novartis AG
Roche Diagnostics
Siemens Healthineers
Cardinal Health
Maquet Getinge Group
MicroPort Scientific Corporation
CryoLife, Inc.
SentreHEART, Inc.
Segments Covered in the Report
By Product
By Tip
Maxi-curved
Straight
Pre-curved
Others
By End-use
Hospitals
Ambulatory Surgical Centers
Others
By Geography
North America
Europe
Asia-Pacific
Latin America
Middle East and Africa