The global fertilizer additives market size accounted for USD 3.23 billion in 2022 and it is projected to hit around USD 4.41 billion by 2032, poised to grow at a CAGR of 3.2% from 2023 to 2032.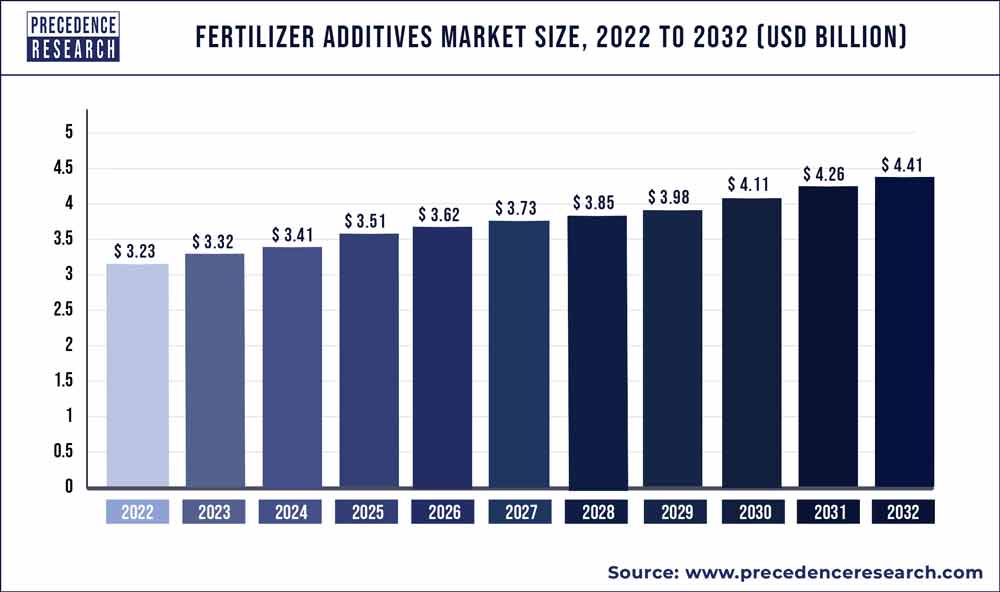 Access our Premium Real Time Data Intelligence Tool, Visit: Precedence Statistics
Key Takeaways:
Asia Pacific is expected to expand at the biggest CAGR from 2023 to 2032.
By function, the anti-caking agent segments hold the maximum market share.
By function, the antifoam agents' segment is expected to expand at the quickest CAGR from 2023 to 2032.
By form, the prilled segment is projected to have the maximum market revenue from 2023 to 2032.
By form, the granular form segment is expected to expand at the quickest CAGR from 2023 to 2032.
By type, urea held the largest market share and is predicted to grow at a rapid rate from 2023 to 2032.
Market Overview:
Fertilizer additives are chemical additives that are used with fertilizers such as ammonium nitrate, urea, calcium ammonium nitrate, and others to improve fertilizer effectiveness and stability. Furthermore, they assist in maintaining nutrients in the soil as well as give the fertilizer anti-caking and anti-foaming characteristics. The fertilizer additives industry is growing as a result of factors such as rising agricultural commodity demand. The use of fertilizer additives in farming aids the farmer in preserving crop quality. The use of fertilizer additives enhances and boosts yield, which impacts market demand. Increasing R&D in fertilizer manufacturing techniques and rising urea demand are also driving market growth.
With an increasing global population and rapid urbanization, the current market sectors have a significant food shortage. As a result, many fertilizer industries are constantly thinking about ways to improve their production rates. One of the major factors influencing the global sales of fertilizer additives is the greater awareness of soil degradation caused by traditional agricultural techniques and the scarcity of agricultural land. Because of the rapid increase in environmental awareness resulting from emissions of greenhouse gases, government agencies from different regions are planning to use a variety of resources to educate farmers about the benefits of fertilizer additives and encourage them to use value-added fertilizers.
They also constantly offer and support agricultural expansion through grants and subsidies, which assist in altering the strength of fertilizer additives market growth. The rising prices for urea-based fertilizers are increasing significantly for farmers to invest in improving crop yields in the thriving farming sector, which is anticipated to make excellent fertilizers additives industry trends.
Report Scope of the Fertilizer Additives Market
| | |
| --- | --- |
| Report Coverage | Details |
| Market Size in 2023 | USD 3.32 Billion |
| Market Size by 2032 | USD 4.41 Billion |
| Growth Rate from 2023 to 2032 | CAGR of 3.2% |
| Largest Market | Asia Pacific |
| Base Year | 2022 |
| Forecast Period | 2023 to 2032 |
| Segments Covered | By Function, By Form and By Type |
| Regions Covered | North America, Europe, Asia-Pacific, Latin America and Middle East & Africa |

Market Dynamics:
Driver
Essential nutrient retention.
Nitrogen is among the limiting nutrients utilized in high-crop production. As a result, nitrogen fertilizers are the most used to improve agricultural crop manufacturing. Though, approximately 50% of nitrogen is typically lost through the processes of denitrification, volatilization, and leaching causing poor fertilizer efficiency. This nitrogen loss not only reduces crop yield as well as pollutes the environment. The use of fertilizer additives increases the retaining property of nutrients in the soil, like nitrogen, potassium, and phosphorus, thereby increasing agricultural crop manufacturing.
Food demand is increasing as the population grows.
The growing population has led to a higher need for food, which has improved the market's demand for fertilizers. This has fueled the development of fertilizer additives, which increase the expected lifespan of soil, resulting in higher crop yield. Furthermore, soil depletion, which has resulted in a loss of fertility of soil, is expected to drive market growth. Commercial fertilizers account for 30% to 40% of global food production. Thus, rising food production demand is propelling the fertilizer industry forward, increasing demand for fertilizer additives.
Fertilizers are becoming easier to apply and handle.
Fertilizer additives provide a long-term solution to fertilizer additives by increasing the granule hardness and durability of the fertilizers. Many fertilizers are available as granular or powdered products. Thus, caking and lump formation in fertilizers could cause product loss. To avoid this, fertilizer additives such as anti-caking agents assist in avoiding caking and lump formation in fertilizers while also allowing for more accessible application and handling of fertilizers during storage, consumption, and transportation. As a result of the addition of fertilizer additives, the market is growing due to the increased ease of application as well as handling of fertilizers.
Restraints
Adverse environmental effects.
The majority of fertilizer additives utilized to increase crop yield are chemicals in nature, which cause pollution, mineral depletion, soil acidification, as well as other adverse effects. Over the anticipated period, these environmental effects are anticipated to limit market expansion. Nitrates impair the ability of our bodies red blood cells to transport and distribute oxygen, resulting in methemoglobinemia. These difficulties in fertilizer manufacturing are expected to have an impact on the fertilizer additives industry.
High expenses for raw materials.
In recent years, extensive research on fertilizer additives using novel materials has been performed. However, because of the high price of raw materials, industrial-scale production of fertilizer additives is limited. As a result, the rising expense of raw materials may impede market expansion during the projected time frame.
Crop producers were harmed by disruptions in both national and international transport networks, which restricted their access to intermediate inputs such as fertilizers, reducing demand for fertilizer additives. Fertilizer additives have a variety of benefits, including the ability to increase fertilizer output. Aside from that, the growing need for essential minerals and high-quality fertilizers has led to a rise in the demand for increased agricultural yields. As a result of these factors, the global market for fertilizer additives is expanding.
Opportunities
Rapidly expanding efforts to conduct research and development.
Return on investment (ROI) is critical for farmers and retailers in the fertilizer additives market. As a result, there has been a surge in market demand for an innovative fertilizer product line. Manufacturers use novel methods and chemistry to create fertilizer additives with increased water and nutrient content. Furthermore, manufacturers are primarily concerned with lowering production costs through technological advancement in the production of fertilizer additives. As a result, rising R&D activities in the fertilizer additives sector provide opportunities for the key players in the market.
Impact of COVID-19:
A global pandemic had a massive impact on the fertilizer additives market. As a result, most governments have announced these market sectors from lockdown restrictions. However, due to labor and raw material shortages, this fertilizer additives industry has faced numerous challenges. Throughout this pandemic period, many fertilizer industries, including stockholders in these sectors, face massive losses. In response to the lockdown regulations, most global cargo tonnage and flights have been halted for an extended period of time.
As a result, raw materials were not received on time, and market production was halted. The majority of the fertilizer industries have been permanently closed as a result of the enhanced global medical crisis for COVID-19 and the lack of raw materials for the product reuse procedure, directly contributing to the worldwide food shortage.
Segments Insight:
Function Insights:
Anti-caking agents hold the largest market share and are anticipated to grow at a remarkable CAGR from 2023 to 2032. The growth of the segment is due to rising demand for granules and powdered fertilizers for avoiding lumps formation. Along with this, caking has evolved as a major drawback for dry fertilizer manufacturing, transportation as well as storage. Fertilizers are primarily stored in bins in large amounts, which often leads to cake formation.
A wide variety of fertilizers are present, which mainly led to the existence of caking. Hence, anti-caking additives are extensively used in the prevention of lump formation, mainly during seasonal conditions, while preserving the quality of fertilizer.
Furthermore, the antifoam agents' sector is anticipated to expand at the fastest CAGR from 2023 to 2032. The growth of the sector is mainly due to the rising use of anti-foaming agents, mostly throughout the downstream process. This further leads to more significant capacity usage and, in return, delivers an excellent fertilizer output.
Form Insights:
From 2023 to 2032, the prilled segment is expected to have the highest market revenue. Prilling is a technique for creating uniform spherical molecules from molten solids, strong solutions, or slurries. Prills are made by dripping drops of melted prills substance from the top of a high prilling tower and allowing them to coagulate or freeze in mid-air. Low-density prills have higher porosity than high-density prills and have applications in the industry, whereas high-density prills are utilized as fertilizer.
Ammonium nitrate fertilizer, urea, and NPK fertilizers are commonly available in the form of prills. Prilled urea is highly preferred due to its greater resistance to breakdown when combined with other fertilizer components.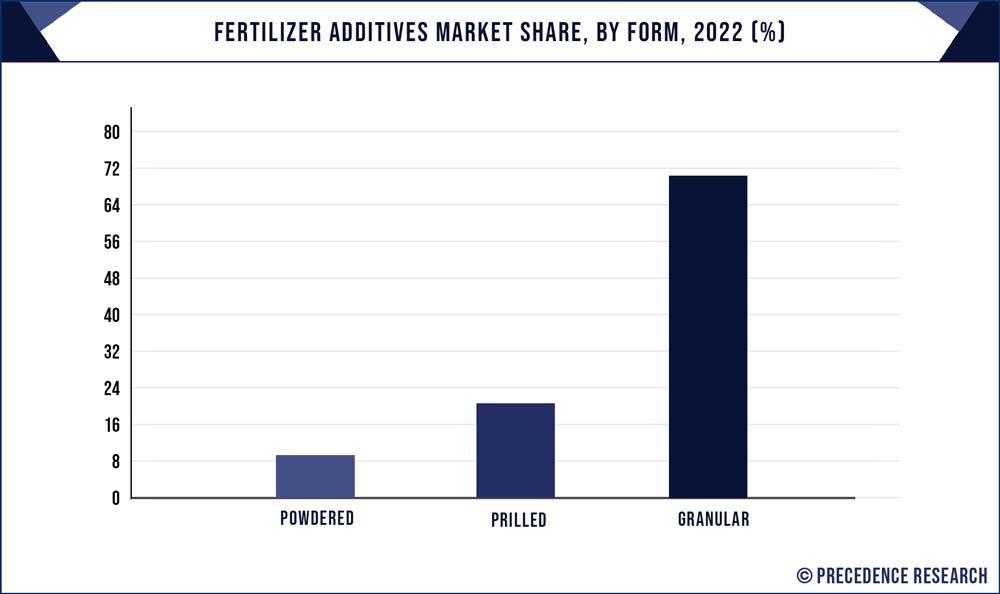 On the other hand, the granular form sector is anticipated to grow at the fastest CAGR from 2023 to 2032. The granular fertilizers are easily stored, have controlled nutrient release, and have low cost. It is mandatory to follow the production instruction while using granular fertilizer additives. This is important to ensure the fertilizer is effectively applied and the additives are properly utilized. One of the important steps is to store the additives and fertilizers in a dry and cool place to prevent moisture from impacting the performance.
Type Insights:
In 2022, urea held the largest market share and is expected to expand at a rapid pace during the projected period. Urea is the most commonly used nitrogen fertilizer in agriculture, but it has high nitrogen damage when applied to soil due to ammonia volatilization. Furthermore, ammonia loss from the soil surface is caused by other factors like humidity, temperature, and the presence of crop residues, all of which promote urea activity in the soil.
As a result of their dust-binding properties, anti-caking additives in the granule form are added during the initial stage of urea production to inhibit ammonia volatilization as well as nitrate leaching. The rising advantages of the fertilizer additive during the manufacturing stage and over the field are anticipated to be a primary factor for market expansion.
Ammonium nitrate is projected to increase significantly due to its low cost, which has enhanced its prominence among farmers. However, due to its hygroscopic properties, ammonium nitrate quickly absorbs moisture, reducing its mechanical properties and raising the possibility of dust formation. This phenomenon causes fertilizer caking, which results in the development of solid lumps and significant economic losses.
Granulation/nodulation support is therefore added to ammonium nitrate as well as calcium ammonium nitrate fertilizers to enhance the reuse of oversized particles into fine particles and thus increase yield. As a result, the factors are certain to drive the market in the coming years.
Regional Insights:
The Asia Pacific is anticipated to grow at the highest CAGR from 2023 to 2032. The expansion is mainly due to the growth of the agricultural sector in emerging nations such as India and China. The agricultural industry has a significant impact on the GDP of nations like India and China. For instance, the Indian agricultural industry is anticipated to grow to USD 24 billion by 2025, as per Inc42. During recent years, there have been significant advancements in technology and breakthroughs in China.
Over the forecast period, North America is projected to dominate in terms of market share. In North America, the United States dominates the market for fertilizer additives. Last year, the most commonly used fertilizers in this region were urea and ammonium nitrate. Crop management planning is now a primary goal for the region's governments, which will likely benefit the industry for additives fertilizer in the coming years.
The US is the largest exporter and producer of phosphorus, and it controls the North American need for fertilizer additives. The country's demand for fertilizers and, by extension, fertilizer additives has increased significantly. Anti-caking compounds were the most used fertilizer additions in the US due to the broad range of storage temperatures. Hence, drive the industry development in the region during the projected period.
Recent Developments:
BASF launched a new urease inhibitor called 'Limus Clear' in April 2020, which is used with liquid fertilizer to decrease nitrogen losses and support nitrogen availability.
In January 2021, Phospholutions, a startup in Pennsylvania, received USD 10.3 million in Series A funding from VC investors.
OCP Group signed an agreement in October 2022 to purchase 50% of Global Feed SL from Fertinagro Biotech SL.
Key Market Players:
Chemical Co. Ltd
Clariant
Calnetix Technologies
Solvay
Filtra Catalysts & Chemicals Ltd
Tolsa Group
KAO Corporation
ChemSol LLC
Forbon Application
Chemipol
Calnetix Technologies LLC
British Sulphur
Michelman
Cameron Chemicals
Lignotechagro
Golden Grain Group Limited
Europiren B.V
Rock Chemie Co
Saudi Specialty Ind.
Volant Chem
Segments Covered in the Report:
(Note*: We offer report based on sub segments as well. Kindly, let us know if you are interested)
By Function
Inhibitors
Dust-Control Agents
Antifoam Agents
Coating Agents
Granulation Aids
Anti-Caking Agents
Other
By Form
Granular
Powdered
Prilled
By Type
Urea
Ammonium Nitrate
Ammonium Phosphate
Ammonium Sulfate
Others
By Geography
North America
Europe
Asia-Pacific
Latin America
The Middle East and Africa