The global industrial alcohol market size was estimated at USD 147.40 billion in 2022 and is expected to hit around USD 227.81 billion by 2032, poised to grow at a compound annual growth rate (CAGR) of 4.50% from 2023 to 2032.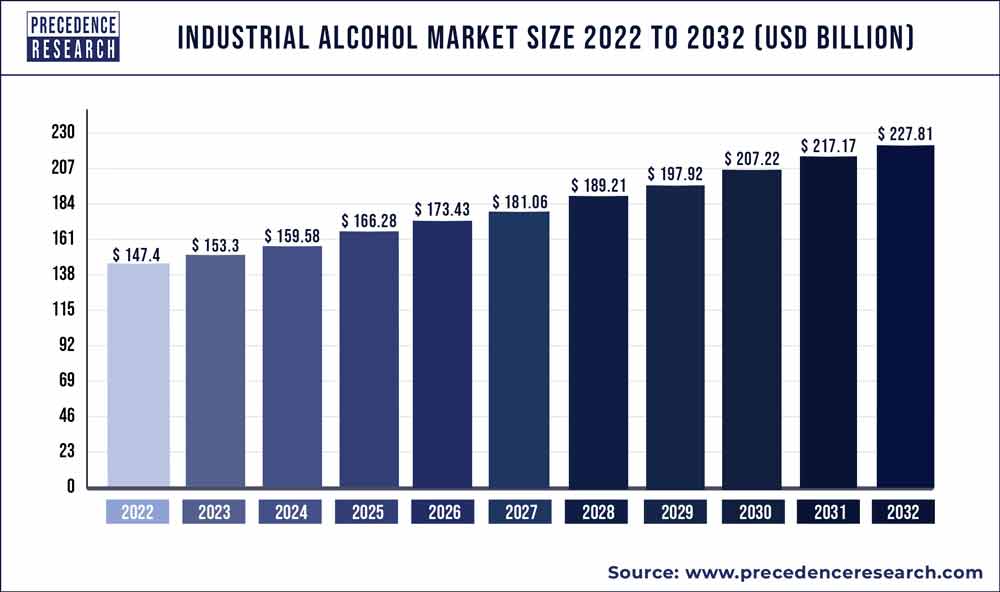 Key Takeaways:
By product, U.S. industrial alcohol market was valued at USD 47 billion in 2022.
By type, the ethyl alcohol manufacturing applications segment accounted 53% market share of around in 2022 and is projected to grow at a CAGR of 8.8% from 2023 to 2032.
By source, corn source segment contributed 32% revenue share in 2022 and is projected to grow at a CAGR of 8.8% from 2023 to 2032.
By application, transportation fuels & fuel additives segment has contributed market share of over 43% in 2022.
Asia Pacific region has garnered highest market share of over 38% in 2022.
Industrial alcohol is distilled ethyl alcohol that is manufactured and sold for uses other than drinking. It is often of a high strength. It is often sold as pure ethyl alcohol, fully denatured alcohol, specifically denatured alcohol, and unique solvent blends. It is essential for producing medications like chloroform, atabrine, and barbiturates as well as antiseptics, compound tonics, syrups, tinctures, and liniments. It is used to make textiles, cosmetics, explosives, detergents, inks, hand cream, and adhesives.
The market for industrial alcohol has expanded in tandem with rising petrochemical demand and the introduction of alternative fuels. Industrial alcohols have a wide range of uses in industries like paints and coatings, pharmaceuticals, and cosmetics because of their versatility. Methanol, benzyl alcohol, and isopropyl alcohol are just a few examples of the alcohols that are utilized in the manufacturing of food items, flavorings, cosmetics, and adhesives.
Report Scope of the Industrial Alcohol Market
| | |
| --- | --- |
| Report Coverage | Details |
| Market Size in 2023 | USD 153.30 Billion |
| Market Size by 2032 | USD 227.81 Billion |
| Growth Rate from 2023 to 2032 | CAGR of 4.50% |
| Base Year | 2022 |
| Forecast Period | 2023 to 2032 |
| Segments Covered | Type, Source, Application, Geography |
| Companies Mentioned | Cargill Inc., Cristalco SAS, MGP Ingredients Incorporated, Grain Millers Inc., The Andersons Inc., Birla Sugar, Greenfield Specialty Alcohols, Flint Hills Resources, Sigma Aldrich, BASF |

Growth factors
Due to these alcohols' exceptional qualities, such as their high octane number and increased flammability features, there is an increase in demand for organic solvents, which drives the market's expansion. The energy need is another factor leading the market. Moreover, the high energy demand is a result of the expanding global population and developing industry. Over the past few years, this has led to an increase in the price of natural gas and crude oil. The creation of bioethanol is a result of both the growing concern over climate change and the rapid use of renewable resources. Renewable energy sources, such as biofuels, have helped to meet market demand for fuel that lowers global pollution levels.
Additionally, the energy crisis has worsened due to a lack of petroleum and an increase in energy prices, which has increased the use of alcohol as a fuel. Additionally, bioethanol is blended with gasoline and diesel to be used as a fuel in cars.
For many years, alcohol has been utilized in both food and medicine. Alcohol, however, has found usage in a variety of applications as technology advanced. Ethyl alcohol is the most popular and widely regarded industrial alcohol on the planet among the several commercially accessible alcohols. In present, the majority of the ethyl alcohol generated is used as biofuel in the petroleum industry. Even though ethyl alcohol is a widely utilized biofuel that has been commercialized, research into the creation of bio-butanol has gained relevance and is paving the road for its eventual commercialization.
Alcohols are used in a variety of industries besides biofuel, including medicine, food, home and personal care, the chemical industry, paints, inks, adhesives & coatings, and insecticides. In these industries, but methyl alcohol, ethyl alcohol predominates, maltitol, benzyl alcohol, sorbitol, and other alcohol are also employed in a few applications. Due to its applications and behaviors including solubility, insect repellency, antibacterial nature, preservation, and anti-freezing qualities, ethanol finds uses in all of these industries.
Type Insights
Depending upon the type, the ethyl alcohol segment is the dominant player and is anticipated to have the biggest impact on industrial alcohol products. Many cosmetics and beauty products contain ethanol as an ingredient primarily as an astringent to aid in the wiping of the skin. In order to ensure the binding of ingredients and the preservation of skincare products, it is also employed as a preservative in lotions and other cosmetics. It can be used in homes, as food additives, and as transportation fuel. Hence, the rising consumer preference for cosmetics products are also a leading factors which drives the ethyl segment more than any other type. It also has applications in many household products and the high demand for household products are leading to drive the industrial alcohol market.
Methyl alcohol has a significant share in the industrial alcohol market and is expected to grow. Methyl alcohol is a very adaptable substance that finds extensive use in the chemical industry for industrial applications. Methanol is a fuel that is used to generate power and is used because it is environmentally friendly and is seen as a potential source of clean energy. There are several industries that employ methyl alcohol. It is used in the production of plastics, polyesters, and other compounds as well as deicers, solvents, and other chemicals.
Isopropyl alcohol is used in drug industry mainly has a significant role in that industry. It is too used in the production of lotions and other cosmetics products. The use as solvents in drug industry is the major reason driving these type of alcohol in the market.
Source Insights
During the forecast period, corn sourced alcohol dominant the market in industrial alcohol market. The dry-milling procedure is used to turn the maize into flour, which is then fermented with other byproducts to create ethanol. Sweeteners and ethanol are typically produced at wet-mill facilities. For the purpose of producing ethanol, the met mills process corn to separate the protein, starch, and fiber. The market for industrial alcohol is dominated by corn, which is a major producer of ethanol.
Molasses is the other significant source for industrial alcohol market. Molasses is a source of microbiological energy that promotes the development of mold, yeast, and bacteria, all of which are necessary for the ethanol-producing process. A biological process called molasses fermentation transforms molasses into cellular energy, which then yields ethanol. Due to its numerous uses and practicality, ethanol is becoming more and more in demand. Market expansion is predicted to be aided by the increased demand for ethyl alcohol produced through fermentation.
Application Insights
During the projected period, the fuel segment is anticipated to be the largest in the industrial alcohol market. Due to the increasing need for gasoline from the automobile industry, the fuel segment is predicted to dominate the market. Alcohols, particularly ethanol, are widely used as transportation fuel. A number of US automakers are generating ethanol that allows cars to run on a certain sort of gasoline with a mature blend of 85% ethanol and 15% gasoline.
Due to its natural plant origins, industrial alcohol utilized in chemicals has a number of advantages, including sustainability, adaptability, and health. The demand is anticipated to increase due to the developing region's rapidly expanding manufacturing sector. The demand for industrial in the industries is anticipated to increase during the projected period as a result of a significant number of manufacturers focusing on replacing crude chemicals with bio-derived products.
Industrial Alcohol Market Share, By Region, 2022 (%)
| | |
| --- | --- |
| Regions | Revenue Share in 2022 (%) |
| North America | 27% |
| Asia Pacific | 38% |
| Europe | 19% |
| Latin America | 9% |
| MEA | 7% |

Region Insights
The highest market share and dominant position in the industrial alcohol industry belongs to Asia-Pacific. Because of the rising demand from China and India, the regional market is also anticipated to expand rapidly throughout the projection period. This region mainly includes China, India and Japan. Due to numerous policy initiatives and rising foreign investments in the industrial sector, the region's nations are fast developing. China is a large producer of ethanol, supporting the demand for fuel from the automotive industry and for food additives.
Furthermore, the region is expanding rapidly as a result of economic expansion and rising urbanization in nations like China and India. These nations have the greatest potential for growth since there is a large supply of arable land and low labor costs. The rising demand for cosmetics and personal care products is one of the main reasons fueling the expansion of the industrial alcohol market. Hence, raising awareness to the importance of keeping a clean environment throughout the pandemic. These drivers are making this region more prominent.
North America is considered as second largest region which shows a significant position in the industrial alcohol market. The market is expanding rapidly due to the growing use of ethanol as a fuel for transportation purposes. The Environmental Protection Agency has a number of programs in place to assist environmentally friendly and sustainable goods made using renewable energy sources. The demand for ethanol fuel, which lowers overall costs, is significantly rising as more people buy cars.
Key market developments
To address the rising demand for industrial and beverage alcohol from consumers, Grain Processing Corporation announced the expansion of its ethyl alcohol manufacturing capacity. Increasing alcohol output at their Lowa factory will be the main goal of the $48 million expansion project.
Key market players
Cargill Inc.

Cristalco SAS

MGP Ingredients Incorporated

Grain Millers Inc.

The Andersons Inc.

Birla Sugar

Greenfield Specialty Alcohols

Flint Hills Resources

Sigma Aldrich

BASF
Segments covered in the report
(Note*: We offer report based on sub segments as well. Kindly, let us know if you are interested)
By Type
Ethyl Alcohol

Methyl Alcohol

Isopropyl Alcohol

Others
By Source
Molasses

Sugar

Grains

Corn
By Application
Food Ingredient

Transportation Fuel & Fuel Additives

Chemical Intermediates

Pharmaceutical

Personal Care

Detergent & Cleaning Chemicals

Others
By Geography
North America
Europe
Asia-Pacific

China
India
Japan
South Korea
Malaysia
Philippines

Latin America

Brazil
Rest of Latin America

Middle East & Africa (MEA)

GCC
North Africa
South Africa
Rest of the Middle East & Africa