The global flavored syrup market size was reached at USD 53.1 billion in 2022 and is projected to hit around USD 77.77 billion by 2032, growing at a CAGR of 3.89% during the forecast period from 2023 to 2032.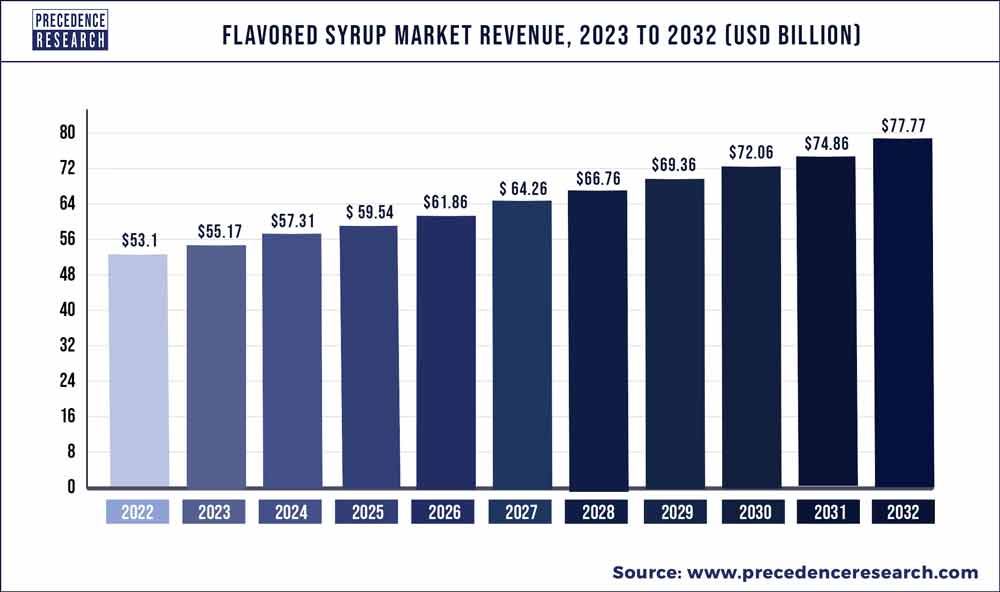 Access our Premium Real Time Data Intelligence Tool, Visit: Precedence Statistics
Key Takeaways:
North America generated more than 31% of revenue share in 2022.
Asia Pacific region is expected to expand at the highest CAGR between 2023 and 2032.
By Product, the fruit segment dominated the global market and generated more than 36% of the revenue share in 2022.
By Product, the chocolate segment is predicted to grow at a remarkable CAGR between 2023 and 2032.
By Distribution Channel, the B2B segment captured the largest market share in 2022.
By Distribution Channel, the B2C segment is predicted to grow at the fastest CAGR between 2023 and 2032.
Market Overview:
The flavored syrup market refers to the industry that produces and sells syrups that are flavored with various ingredients such as fruits, spices, and herbs. These syrups are commonly used to add flavor to food and beverages such as coffee, tea, pancakes, waffles, ice cream, cocktails, and smoothies.
The flavored syrup market is a diverse and growing industry, with a wide range of products available to consumers. Some of the most popular types of flavored syrups include:
Fruit syrups: These syrups are made with real fruit juices and purees and are commonly used to flavor cocktails, smoothies, and desserts.
Chocolate syrups: These syrups are made with cocoa powder or chocolate and are commonly used to flavor coffee, milk, and ice cream.
Vanilla syrups: These syrups are made with real vanilla extract and are commonly used to flavor coffee, tea, and desserts.
Caramel syrups: These syrups are made with caramelized sugar and are commonly used to flavor coffee, milk, and desserts.
Nut syrups: These syrups are made with nut extracts and are commonly used to flavor coffee and cocktails.
The flavored syrup market is driven by the increasing demand for gourmet food and beverages, as well as the growing trend of home-based cooking and baking. The market is also influenced by the rising demand for low-calorie and sugar-free alternatives, which has led to the development of new flavored syrups that are made with natural sweeteners such as stevia and monk fruit.
Growth Factors:
The rise in demand for personalised flavors in the food and beverage industry is credited with driving market expansion. Also driving the industry is consumers' growing demand for prepared foods and convenience. Due to their widespread use in drinks including soda, cold drinks, cocktails, and soft drinks, fruit-flavored syrups have been industry leaders. A range of syrups infused with natural ingredients have been released by producers as a result of the increased consumer preference for syrups with a high fruit content, which is predicted to accelerate market expansion. For instance, the two most popular fruit flavors are orange and raspberry. Also, the desire of consumers to try out novel and uncommon fruit flavors is inspiring makers of duo-fruit syrups like Lime-Mint, Raspberry-Mint, and Lime-Ginger, which offer a blend of the sweet, sour, and bitter tastes.
In addition, producers are developing and launching new flavors to cater to consumers' ever-changing palate preferences, which is aiding in the growth of the global industry. The gi fruit syrups line, for example, launched a new product category that includes honey with unusual flavors like baked apples with honey, elder-lime with honey, and raspberry-lemon balm with honey.
The growing acceptance of flavor-infused syrups in developed countries including the United States, Germany, the United Kingdom, France, and Canada is another factor driving growth. Also, the increased production and consumption of these goods in the aforementioned countries has contributed to the growth of the global market. These syrups are typically used as a topping for ready-to-eat foods such waffles, pancakes, ice cream, desserts, and diverse morning dishes. Also, it is predicted that during the projection period, more chocolate-flavored syrups will be consumed for various bakery, cold beverage, and confectionery products.
Report Scope of the Flavored Syrup Market:
| | |
| --- | --- |
| Report Coverage | Details |
| Market Size in 2023 | USD 55.17 Billion |
| Market Size by 2032 | USD 77.77 Billion |
| Growth Rate from 2023 to 2032 | CAGR of 3.89% |
| Largest Market | North America |
| Base Year | 2022 |
| Forecast Period | 2023 to 2032 |
| Segments Covered | By Product, By Distribution Channel |
| Regions Covered | North America, Europe, Asia-Pacific, Latin America and Middle East & Africa |

Market Dynamics:
Driver:
Expansion of the food services sector
One of the most significant end-user segments for flavored syrups is the food service industry. The flavored syrup is sold in large quantities in coffee shops, restaurants, bakeries, bars, and hotels where it is used as a topping for pastries, pancakes, coffee, and other drinks. Moreover, they are ingredients in the majority of mocktails, cocktails, and other non-alcoholic beverages. As more individuals consume cocktails and mocktails at social events, business conferences, and concerts, flavored syrup sales are rising.
Restraint:
Increasing health issues
In the current market, the majority of flavored syrups are made with sugar syrup as a base ingredient. Large-scale consumption of sugar-based flavored syrups raises calorie intake, which contributes to a number of health issues including diabetes, obesity, and cardiac issues which could hamper the growth of the market. Men should consume no more than 150 calories per day, while women should consume no more than 100 calories per day, according to the American Heart Association.
Opportunity:
Demand for new flavors
Due to the rising demand for new flavors, industry participants must concentrate more on R&D efforts. Because of evolving lifestyles, eating patterns, and a desire for diversity, consumer preferences are continuously changing. Producers of flavour syrup are focusing on releasing new flavors in order to compete on the worldwide market and satisfy consumers' evolving tastes. Market participants have begun adding new flavors and fruit-based combinations to their product lineups in response to the rising demand for these flavors.
For instance, local producers of flavored syrups give distinctive varieties like acerola-raspberry and blueberry-raspberry syrups that are created by fusing fundamental flavors. Due to consumers' growing willingness to attempt novel products, market players might also concentrate on launching unusual and exotic flavors. Some regional players have launched dual-fruit flavored syrups with the flavors of lime-mint, baked apples with honey, lime-ginger, raspberry-lemon balm with honey, and mint.
Impact of COVID-19:
The COVID-19 pandemic has had a significant impact on the global economy and various industries, including the flavored syrup industry. Flavored syrups are used in a variety of products, including beverages, desserts, and baked goods. Here are some ways in which the pandemic has affected the flavored syrup industry.
Supply chain disruptions: The pandemic has disrupted global supply chains, making it difficult for flavored syrup manufacturers to source raw materials and ingredients. This has led to shortages and price increases, which has affected the profitability of the industry.
Changes in consumer behavior: The pandemic has changed consumer behavior, with many people staying at home and cooking more. This has led to an increased demand for flavored syrups for use in homemade beverages and desserts. However, the closure of restaurants and cafes has led to a decrease in the demand for flavored syrups for use in commercial settings.
Restrictions on international trade: Many countries have imposed restrictions on international trade to control the spread of the virus. This has made it difficult for flavored syrup manufacturers to export their products and has led to a decrease in global demand.
Disruptions in production: The pandemic has also affected production, with many factories shutting down temporarily due to safety concerns. This has led to a decrease in production capacity and has affected the availability of flavored syrups.
Shifts in flavor preferences: The pandemic has also led to changes in flavor preferences, with consumers showing an increased interest in healthier options such as natural and organic flavors. This has led to flavored syrup manufacturers changing their production methods to meet this demand.
Segments Insight:
Product Insights:
The fruit industry held the largest proportion in 2022. The increasing demand for flavor-infused syrups with fruit infusions and unique flavors is one of the primary drivers fueling the market growth. In order to maintain their place in the worldwide market, producers have also been concentrating on creating mixed fruit syrups and providing distinctive flavors. Businesses are also creating syrups infused with fruit content in response to consumer demands for clean, natural, and organic products. For instance, some of the unusual flavors blended with high-fruit ingredients include beetroot juice, apple, 100% natural sour cherries, and common sea buckthorn.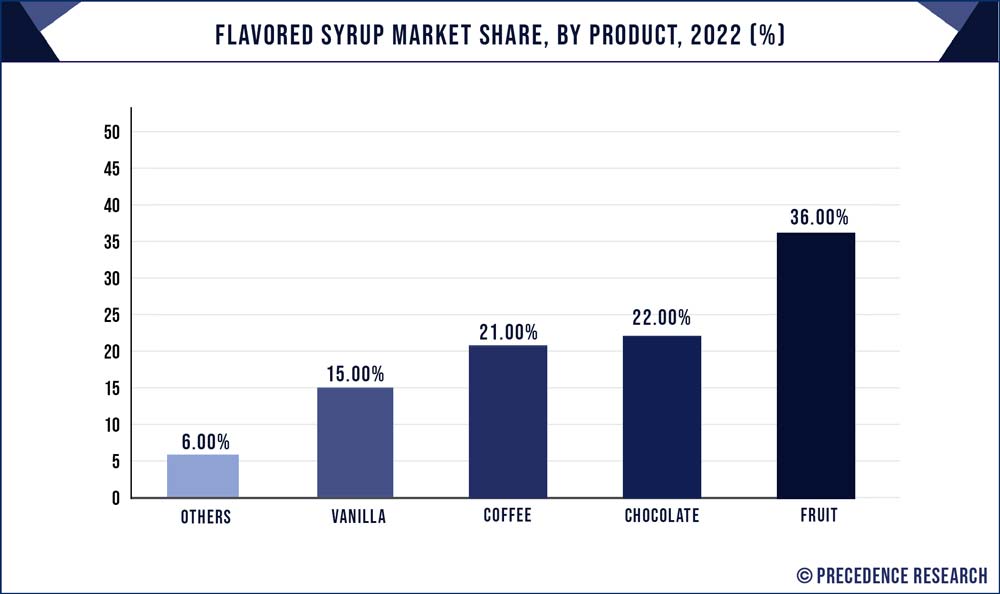 From 2022 to 2030, the chocolate market is anticipated to grow at the fastest pace. The market is being driven by the increasing demand for chocolate sauce in the food and beverage sector. The substantial use in cold and hot beverages like hot and cold coffee, milkshakes, smoothies, and baked goods like pastries, cakes, waffles, and pancakes is what propels this market. Chocolate-based goods are highly preferred in developing nations like China and India, which are anticipated to be among the markets that producers of chocolate syrup will focus on.
Distribution Channel Insights:
In 2022, the segment with the biggest share was the B2B distribution channel. Beverages, frozen desserts, dairy products, bakery items, and confectionery are just a few of the many industries that fall under this area. Beverages, especially cocktails, hot and cold beverages, and soft drinks are some of the well-known goods that contain flavor-enhancement syrups. For instance, Starbucks uses caramel, hazelnut, and vanilla syrups, among other naturally flavored syrups, in its coffee.
From 2022 to 2030, the B2C sector will have the fastest CAGR. This is due to the increased demand for flavored syrups around the world. Moreover, over the course of the forecast period, this segment's development is anticipated to be accelerated by the rise in flavored syrup sales, which are primarily conducted through company-owned websites and other e-commerce platforms. In the coming years, market demand is anticipated to be driven by the launch of new flavors and rising indulgence among consumers in APAC nations.
Regional Insights:
North America outperformed all other areas in terms of revenue in 2022 due to the widespread usage of fruit syrups in the United States and Canada as well as the rising demand for flavored syrups in common goods such as snacks, cereals, beverages, and desserts. The availability of many premium toppings, chocolates, flavors, and fillings in this region is expected to lead to a significant increase of the bakery industry. As a result, the use of flavouring syrup is promoted in the food and beverage industry.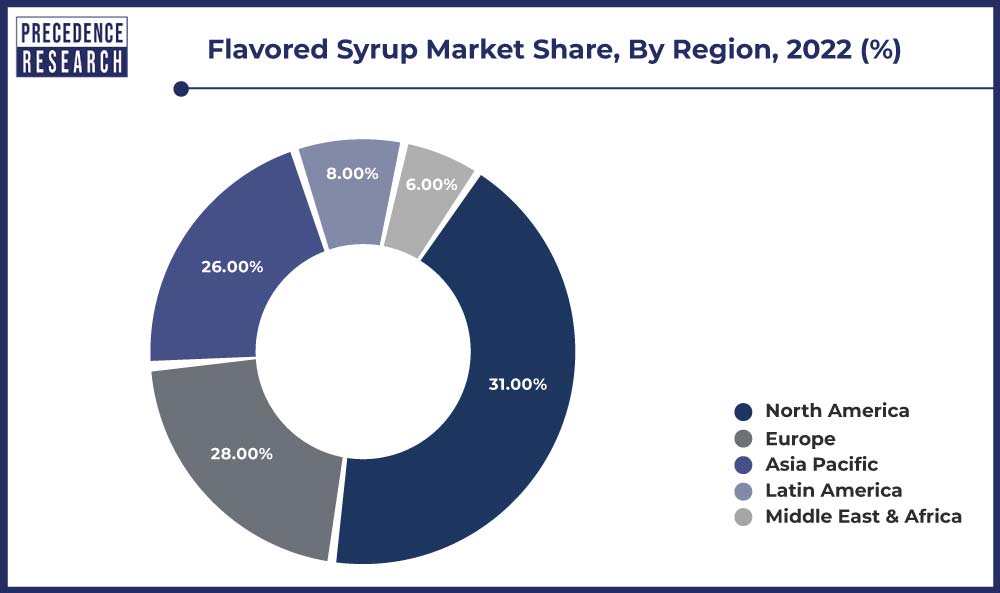 Between 2022 and 2030, Asia Pacific is expected to experience the largest CAGR increase due to their affordable costs, bakery goods and beverages are extensively consumed. Furthermore, due to consumers' tendency for eating sweet foods, companies have launched unique things that have been infused with various flavour syrups like fruit and chocolate. Many foreign companies have entered the Asian market and have been successful in expanding swiftly within this industry.
Recent Developments:
In November 2022, MONIN introduced Le Crush de MONIN, a fresh product line with the flavors Strawberry, Pineapple, and Mango. Pastry chefs, bartenders, baristas, ice cream makers, and home mixologists now have more flavour options thanks to MONIN.
Fuerst Day Lawson Ltd. acquired Quest Ingredients Ltd. in June 2022, which produced flavour and botanical extracts. The goal of FDL's acquisition strategy is to increase the region's primary markets and customer base in Europe and the US.
Kerry inaugurated a brand-new manufacturing facility in KwaZulu-Natal, South Africa, in May 2022. The facility will assist in the creation of nutritious food products that may be enjoyed all over the African Continent.
In 2022, an organic vanilla syrup was introduced by Singing Dog Vanilla. The producer claims that the organic vanilla syrup will add a pure and complex flavour to tea, lattes, iced coffee, and other beverage products.
In December 2020, Tate & Lyle finished acquiring Stevia provider Sweet Green Fields. Tate & Lyle would improve its stevia solution and capabilities through this acquisition by combining its supply chain and research and development initiatives to increase the innovation of stevia products.
Key Market Players:
The Hershey Company
The Kraft Heinz Company
Kerry Group
Tate & Lyle
Toschi Vignola s.r.l.
Monin Inc.
Fuerst Day Lawson
Torani
The J.M. Smucker Company
Panos Brands
Segments Covered in the Report:
(Note*: We offer report based on sub segments as well. Kindly, let us know if you are interested)
By Product
Fruit
Chocolate
Vanilla
Coffee
Others
By Distribution Channel
By Geography
North America
Europe
Asia-Pacific
Latin America
Middle East and Africa