The global food service equipment market size was estimated at USD 42 billion in 2022 and it is projected to hit around USD 73.46 billion by 2032, poised to grow at a compound annual growth rate (CAGR) of 5.8% from 2023 to 2032.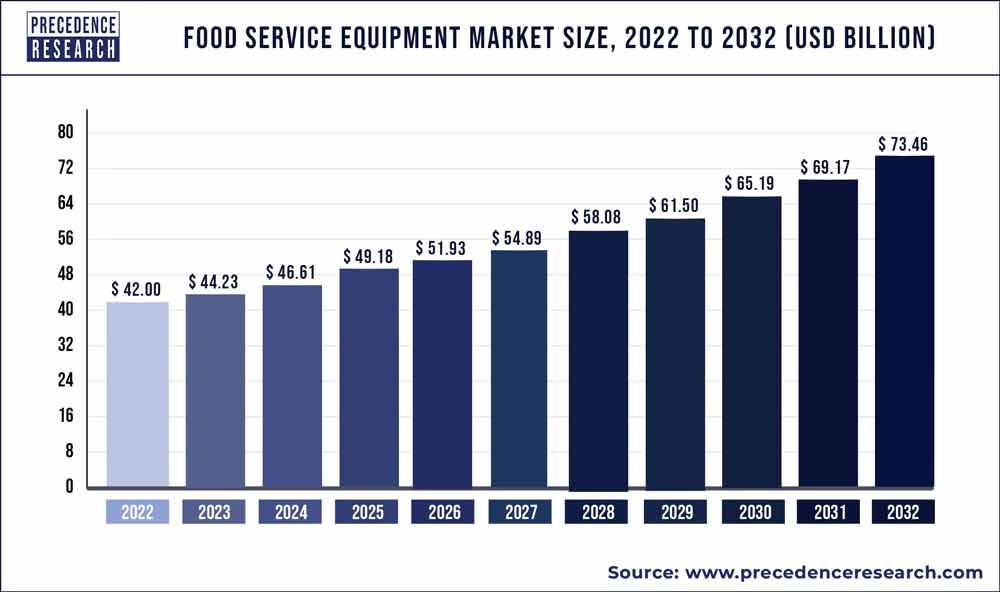 Key Takeaways:
Asia Pacific food service equipment market was valued at USD 10.3 billion in 2022.
By product type, the cooking equipment segment is expected to hit at a CAGR of 5.6%.
The storage & handling product segment is growing at a CAGR of 6.7% in the forecast period.
By end use, the quick-service restaurants & pubs segment is growing at a registered CAGR of 7.8%.
The Asia Pacific region is expected to grow at a CAGR of 7.8% over the forecast period.
Equipment for the food service industry is used to prepare and store food goods for commercial usage. These appliances include cooking appliances, storage and handling appliances, dishwashing appliances, food and beverage preparation appliances, and serving appliances. The food service sector, including hotels, restaurants, and other commercial kitchens, uses this equipment. Food service equipment market demand in commercial kitchens has been driven by the growth of the hospitality sector. Additionally, the expansion of the food service sector and the rising need for multi-functional, effective, time and space-saving, and labor-saving equipment are driving the market for food service equipment upward. Additionally, important players, categories, and geographic locations are taken into consideration while analysing the food service equipment market.
Increasing takeout demand, shifting food consumption patterns, and the burgeoning hotel industry are some of the major market drivers. Furthermore, the market is anticipated to have potential development possibilities in the near future as a result of factors including growing digitization, the demand for environmentally friendly and sustainable equipment, and strict consumer safety regulations. The market has quickly changed in response to clients' shifting requirements for kitchen area furnishings.
Technological advancements and shifting social norms have generated a vibrant market for the equipment used in the end-use industry. Over the years, a variety of technologically advanced and innovative products have entered the market, and it is anticipated that these products will support market growth in the long run. These products range from the discovering equipment for order to prepare and eating materials, such as stoves, ranges, and electronic fridges, to the accessibility of custom foodservice equipment to cook different cuisines. Appliance manufacturers may now provide their customers with technology-driven efficiency thanks to quick technical breakthroughs made possible by ongoing Research & Development (R&D) operations.
Due to the introduction of various casual chain restaurants in both North America and Europe, the market demand has greatly expanded. According to the safety guidelines established by several regulatory authorities worldwide, businesses are required to offer commercial kitchen equipment that have been approved and tested. These safety requirements seek to establish a secure atmosphere for patrons and restaurant owners alike. Equipment safety standards have been set by the National Sanitation Foundation (NSF), a non-profit organisation in the United States that performs product testing, inspections, and certifications while ensuring that sanitation and food safety standards are upheld by the end-use industry. Standards have been established for the materials used, the design, and the architecture of the equipment since food safety is of the highest importance.
Due of the strict social segregation and shelter-in-place guidelines set by governments throughout the world during the COVID-19 epidemic, food service activities had to temporarily cease. As a result, the industry had negative growth in 2020, with both output and sales being insignificant. Nevertheless, the food service sector is anticipated to recover throughout the projected period as governments announce a relaxation of lockdowns and the arrival of the first vaccinations. While it may take longer for dine-in restaurant traffic to return to normal, end users should start using off-premise, takeout, and online delivery services again soon. The struggling market is anticipated to grow over the coming years as a result of the following increase in customers visiting food service establishments and institutional kitchens.
Growth factors
The market for food service equipment is anticipated to grow as a result of explosive restaurant innovations. Typically, kitchen appliances like fryers and stoves made for restaurants are used in kitchens. Digital point-of-sale (POS) systems may be used, with a cloud-based model acting as the restaurant staff's operating platform. Orders are taken by the waitstaff, who immediately relays them to the kitchen, and cashiers handle customer payments. The benefits include extensive reporting capabilities that help owners and managers make data-driven decisions to improve operations, such as which products are selling well or poorly, by doing away with guessing.
Customers may scan the menu, send orders to the kitchen, and pay the bill without a real server using customer-facing tabletop tablets or kiosks. Video games and bill-splitting applications may also be included as upgrades. The benefits include faster turnaround times, happier guests, higher gratuities, and more sales as a consequence of the expedited orders. The wait staff may concentrate more on serving the tables, and diners are free to order additional beverages or food as they choose. Therefore, throughout the anticipated period of 2022–2030, the expansion of the Food Service Equipment Market will be fueled by the significant restaurant innovations.
The need for food service equipment is anticipated to increase as a result of booming digital innovations in the catering sector. The catering sector has seen customers choose to buy their food online and have it delivered with the introduction of businesses like JustEat and DoorDash. A new wave of smartphone applications from major restaurant companies has emerged. They more than just provide the location of the closest eatery. Many applications can already reserve a table, show the menus, and even allow payment for meals so at table without the requirement for any human help, allowing many companies to draw in new clients and keep their current clientele.
Currently, developments in kitchen equipment go well beyond internet-connected gadgets and smart refrigerators. They are designed to ensure that food is kept at the proper temperature and to help increase the efficiency of meal preparation. Due to its capacity to execute various tasks that would normally need to be completed independently, the Friulinox HiChef has significantly set itself apart from other commercial kitchen equipment. It consists of five processes: blast chilling, blast freezing, leavening retarder, and slow cooking. It helps in managing food security and makes the kitchen more efficient. To keep track of food safety records, a variety of software and mobile applications may be used in place of keeping paper documents of refrigerator temperature and cleaning schedules.
Report Scope of the Food Service Equipment Market
| | |
| --- | --- |
| Report Coverage | Details |
| Market Size in 2023 | USD 44.23 Billion |
| Market Size by 2032 | USD 73.46 Billion |
| Growth Rate from 2023 to 2032 | CAGR of 5.8% |
| Base Year | 2022 |
| Forecast Period | 2023 to 2032 |
| Segments Covered | Product, End Use, Distribution Channel, Geography |
| Companies Mentioned | Alto-Shaam, Inc., Cambro Manufacturing Co. Inc., Castle Stove, Duke Manufacturing Co. Inc., Dover Corporation, Electrolux Professional, Illinois Tool Works Inc., Ali Group, Middleby Corporation, Welbilt, Inc. |

Product Insights
With a revenue share of about 39% in the entire market in 2022, the cooking purpose equipment category is expected to develop at the quickest rate between 2022 and 2030. To maintain efficient operations, purchasing the proper kitchen equipment is a need whether starting a new business or remodelling an existing one. The usage of cutting-edge items in commercial kitchens, which depends on the kitchen's space and budget, is a major factor in the segment's growth. Manufacturers now place more emphasis on features like the newest technological advancements and equipment exterior designs as a result of the rising demand for preparing meals appliances in open food service kitchens. Additionally, due to rising commercial space rent, restaurants are converting to smaller kitchens. The makers of food service equipment are being compelled by this to improve the designs of their products and make them more functionally quick, multifunctional, and compact.
In 2021, the refrigeration equipment category held a substantial market share. Restaurant corporations have been forced to provide themselves with contemporary freezers due to the increased demand of takeout and ready-to-eat foods. In order to monitor remotely food inventory and temperature, manufacturers have no choice but to include bidirectional Internet of Things (IoT) connection in commercial refrigerators.
End User Insights
Over 45% of the market's revenue was accounted for by the Full-Service Restaurant (FSR) segment in 2022. The rise of electronic dining trends, which forced fast food operators to use cutting-edge equipment to speed it up preparation and decrease delivery downtime, is responsible for the large market share of FSRs. In the last few years, there has been a rise in foot traffic at full-service restaurants due to the following shift in the dine-out culture for formal occasions as well as informal meetings during travel and tourist activities. As a consequence, it is probable that the FSR sector will continue to dominate over the projection period.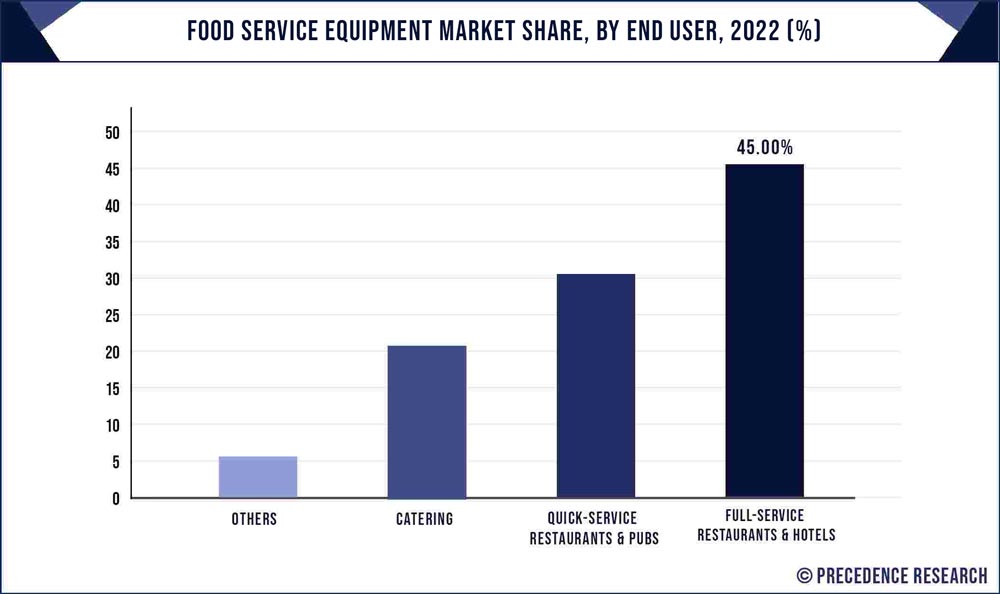 Over the projected period, the Quick Service Restaurants (QSRs) category is anticipated to increase at the quickest rate. This can be linked to the growing working population and the establishment of franchisee locations by well-known restaurant brands to expand internationally. Innovation in menu offerings, convenience, and affordable prices are priorities for QSRs. Additionally, it has been recognised that the ongoing product improvements in the market for food service equipment are an additional stimulus that enables consumers with limited time to receive well-cooked foods more quickly.
Food Service Equipment Market Share, By Region, 2022 (%)
| | |
| --- | --- |
| Regions | Revenue Share in 2022 (%) |
| North America | 28% |
| Asia Pacific | 36% |
| Europe | 24% |
| Latin America | 7% |
| MEA | 5% |

Geography
With a close to 36% revenue share in 2022, the Asia Pacific market led the market and is anticipated to continue to do so throughout the forecast period. The need for food service equipment in the area is being driven by the rapidly westernising eating habits and growth of the tourist industry, notably in Singapore, Malaysia, Indonesia, and Australia. Additionally, restaurants are including a variety of cuisines on their menus since more and more patrons are trying new meals and acquiring a taste for other cuisines. In addition, it is anticipated that the Asia Pacific area would experience a surge in demand for these appliances because to the growing consumption of processed foods.
North America, led by the United States, took the lead in the market in 2022 and is expected to account for over 20% of the revenue share by 2032. Due in large part to the presence of well-known companies like McDonald's, Burger King Corporation, KFC Corporation, and Starbucks Coffee Company, among others, the U.S. has emerged as the leading market for food service equipment. Additionally, government activities affecting the nation's tourist business and immigration are anticipated to boost the restaurant business in the coming years, which might benefit the deployment rates of these appliances in the area. The rising demand for off-premise or home delivery services is expected to lead to considerable development in the Latin American industry.
Recent Developments
In June 2020, Alto-Shaam unveiled ChefLincTM, a cloud-based, remote oven management solution, supporting trip reduction and improved social distance. ChefLinc gives foodservice operators complete control over their facilities, menus, and operations from any location, enhancing efficiency and consistency across several sites. Operators won't have to manually enter recipes into ovens any more, send recipes via USB, or travel to and from stores to update ovens.
Key market players
Alto-Shaam, Inc.

Cambro Manufacturing Co. Inc.

Castle Stove

Duke Manufacturing Co. Inc.

Dover Corporation

Electrolux Professional

Illinois Tool Works Inc.

Ali Group

Middleby Corporation

Welbilt, Inc.
Segments covered in the report
(Note*: We offer report based on sub segments as well. Kindly, let us know if you are interested)
By Product
Kitchen Purpose Equipment

Cooking Equipment
Food & Beverage Preparation Equipment

Refrigeration Equipment
Ware Washing Equipment
Food Holding & Storing Equipment
Others
By End Use
Full-service Restaurants & Hotels
Quick-service Restaurants & Pubs
Catering
Others
By Distribution Channel
By Geography
North America
Europe
Asia-Pacific

China
India
Japan
South Korea
Malaysia
Philippines

Latin America

Brazil
Rest of Latin America

Middle East & Africa (MEA)