The global fresh vegetables market size was estimated at USD 650.2 billion in 2022 and it is projected to reach around USD 895.22 billion by 2032, poised to grow at a CAGR of 3.3% during the forecast period 2023 to 2032.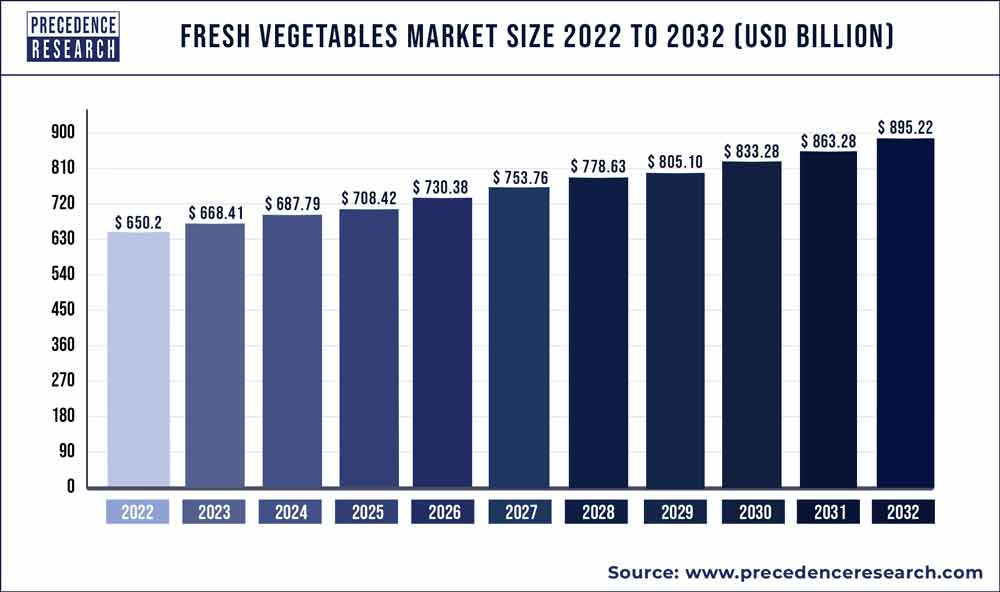 Access our Premium Real Time Data Intelligence Tool, Visit: Precedence Statistics
Key Takeaways:
Asia-Pacific contributed more than 66% of revenue share in 2022.
By Distribution Channel, the offline segment generated more than 82% revenue share in 2022.
By Distribution Channel, the online segment is expected to expand at a CAGR of 4.7% between 2023 and 2032.
By Product, the tomato segment captured around 19.8% of revenue share in 2022.
By Product, the onion segment is anticipated to grow at the fastest CAGR over the projected period.
Market Overview:
The fresh vegetables industry represents a vibrant sector within agriculture, dedicated to the distribution and sale of recently harvested, unprocessed produce to consumers.
This market encompasses a diverse array of offerings, including leafy greens, root vegetables, and an array of vibrant peppers, among others. It operates through diverse avenues, such as supermarkets, farmers' markets, and online platforms.
Influential factors impacting this industry encompass seasonal availability, weather patterns, and consumer inclinations toward organic or locally sourced vegetables.
Sustainability and health-conscious trends have significantly influenced this market, resulting in a growing demand for organic and farm-to-table choices. Ultimately, the fresh vegetable market mirrors evolving consumer preferences and ecological considerations.
Growth Factors:
The fresh vegetables market is a dynamic and constantly evolving segment within agriculture, revolving around the distribution and retail of recently harvested, unprocessed vegetables directly to consumers. This expansive market encompasses a wide array of produce, spanning from leafy greens and root vegetables to vibrant peppers, with distribution channels encompassing traditional brick-and-mortar stores, bustling farmers' markets, and modern online platforms.
One prominent catalyst propelling the industry's growth is the escalating consumer appetite for healthier, more environmentally conscious food choices. This burgeoning trend stems from an increasing awareness of the nutritional advantages fresh vegetables offer and the growing desire for a sustainable, locally-sourced, farm-to-table culinary experience. Consequently, there has been a surge in demand for organically grown and regionally sourced vegetables, opening up substantial business prospects for both growers and retailers capable of satisfying these discerning preferences.
Furthermore, the fresh vegetables market operates under the influence of seasonal variations and the capriciousness of weather conditions, presenting both challenges and lucrative opportunities. Producers must remain adaptable to ever-changing climate patterns, employing strategies such as season extension techniques or investment in advanced greenhouse technologies to meet year-round consumer demand. Simultaneously, the seasonality of produce offers unique avenues for marketing, enabling businesses to capitalize on freshness and flavor during peak growing periods.
Nonetheless, this industry does not come without its share of challenges. Intense market competition and price volatility are persistent factors, necessitating a keen focus on product quality, branding, and efficient supply chain management. Additionally, the ever-present concerns regarding food safety and regulatory compliance demand unwavering commitment to industry standards and practices to maintain consumer trust and safety.
In conclusion, the fresh vegetables market is currently experiencing robust growth propelled by consumer health consciousness and sustainability trends, thereby providing abundant opportunities for businesses capable of aligning with these discerning consumer preferences. Flourishing in this industry demands a skillful navigation of challenges related to changing weather patterns, competitive dynamics, pricing fluctuations, and rigorous food safety standards, all while harnessing the seasonal appeal of fresh produce. Adaptability, innovation, and a commitment to quality will remain pivotal for success in this perpetually evolving sector. As the world continues to prioritize health and sustainability, the future of the fresh vegetables market holds promise, with potential for continued growth and innovation.
Report Scope of the Fresh Vegetables Market:
| | |
| --- | --- |
| Report Coverage | Details |
| Market Size in 2023 | USD 668.41 Billion |
| Market Size by 2032 | USD 895.22 Billion |
| Growth Rate from 2023 to 2032 | CAGR of 3.3% |
| Largest Market | Asia-Pacific |
| Base Year | 2022 |
| Forecast Period | 2023 to 2032 |
| Segments Covered | By Distribution Channel and By Product |
| Regions Covered | North America, Europe, Asia-Pacific, Latin America, and Middle East & Africa |

Market Dynamics:
Driver:
Locally sourced and farm-to-table movements
The surge in popularity of the Locally Sourced and Farm-to-Table movements is propelling notable growth in the market by fundamentally transforming consumer preferences and supply chain dynamics. Consumers are increasingly drawn to locally cultivated vegetables due to their perceived freshness, diminished environmental footprint, and contribution to bolstering regional economies. The farm-to-table ethos accentuates the direct link between consumers and nearby farmers, fostering trust and transparency in the sourcing of fresh vegetables.
This paradigm shift in consumer mindset has galvanized eateries, supermarkets, and foodservice providers to prioritize local procurement and accentuate the origins of their produce. Consequently, there is a burgeoning demand for regional and seasonal vegetables, invigorating local agricultural economies, curbing carbon emissions related to transportation, and generating opportunities for small-scale growers. These movements not only invigorate the fresh vegetables market but also advocate sustainable farming practices while solidifying the connection between producers and consumers, instigating positive transformations within the food industry.
Restraints:
Weather-related risks
Weather-related risks present a formidable constraint on the growth trajectory of the fresh vegetables market. This industry is acutely susceptible to the capricious and increasingly irregular climatic patterns associated with climate change. Unpredictable weather phenomena, including prolonged droughts, catastrophic floods, severe hurricanes, and untimely frosts, have the capacity to wreak havoc on vegetable crops, yielding diminished harvests, damage, and even complete crop failures. The repercussions of these meteorological challenges reverberate along the supply chain, causing scarcities and erratic price fluctuations.
Moreover, they necessitate increased investment in protective measures and innovative technologies, amplifying production costs. Producers situated in regions particularly prone to adverse weather conditions encounter elevated levels of uncertainty and financial vulnerabilities. The mounting influence of climate change underscores the urgency for the fresh vegetable industry to embrace resilient agricultural techniques, advanced weather forecasting systems, and sustainable water management practices. In the absence of such adaptations, the market's expansion potential is stifled by the turbulence and uncertainty that accompany extreme meteorological events.
Opportunities:
Organic and sustainable agriculture
Organic and sustainable agriculture is generating significant opportunities within the fresh vegetables market. As consumers increasingly prioritize health and environmental concerns, there is a growing demand for vegetables produced using eco-friendly and chemical-free methods. This trend presents an opening for farmers to adopt organic farming practices, eschewing synthetic pesticides and fertilizers while emphasizing natural, sustainable techniques. Organic certification provides a valuable marketing advantage, allowing growers to tap into a premium market segment willing to pay higher prices for organic produce. Sustainable agriculture, with an emphasis on resource conservation and reduced environmental impact, also aligns with these consumer preferences.
Furthermore, environmentally friendly packaging and distribution practices are gaining importance. Reducing food waste through sustainable packaging and supply chain management contributes to a positive brand image and can attract environmentally conscious consumers. Overall, embracing organic and sustainable agriculture not only meets consumer demands but also promotes long-term soil health, biodiversity, and resilience against climate change, positioning growers and the fresh vegetables market for continued growth.
Impact of COVID-19:
The COVID-19 pandemic had mixed effects on the fresh vegetables market. While initially experiencing disruptions in supply chains due to lockdowns and labor shortages, the demand for fresh produce later surged as consumers' prioritized health and nutrition. The pandemic heightened awareness of the importance of fresh, wholesome foods, leading to increased sales through online grocery platforms and local farmers' markets. However, the foodservice sector, a major buyer of fresh vegetables, faced significant losses due to restaurant closures. The pandemic underscored the need for agile supply chains and highlighted the resilience of local sourcing and direct-to-consumer models in the fresh vegetables market.
Segments Insight:
Distribution Channel Insights:
According to the distribution channel, the offline sector has held 82% revenue share in 2022. Firstly, consumer habits have traditionally favored in-store purchases, where shoppers can personally inspect and select their vegetables for freshness and quality. Secondly, physical stores, such as supermarkets and farmers' markets, have well-established distribution networks and a broad presence, providing accessibility to a wide customer base. Lastly, while online sales have grown, the perishable nature of fresh vegetables, coupled with concerns over timely delivery and handling, has maintained the dominance of offline channels in the market.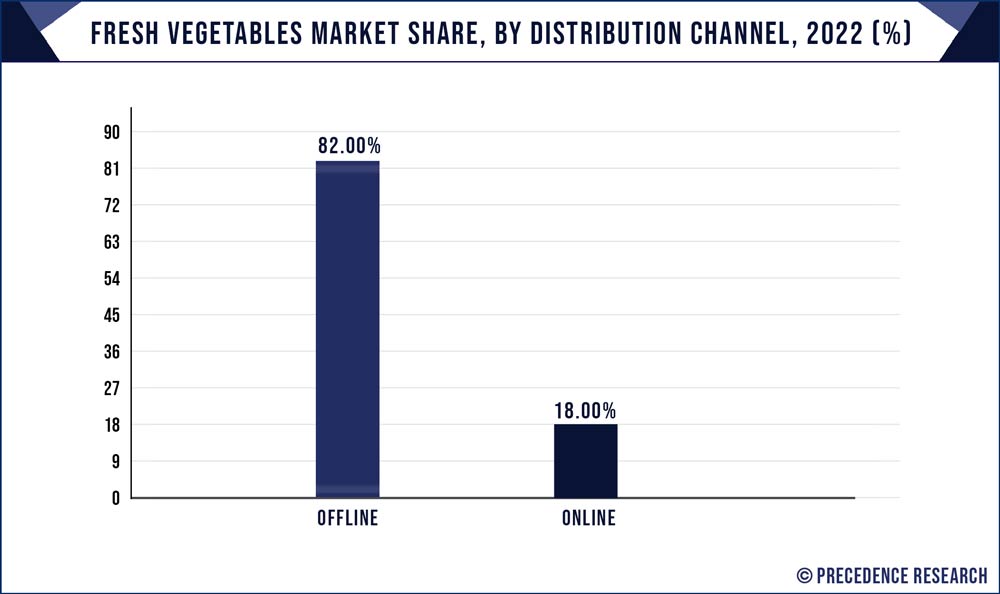 The online sector is anticipated to expand at a significantly CAGR of 4.7% during the projected period. First, the convenience of online shopping and home delivery appeals to modern consumers, especially during the COVID-19 pandemic, leading to increased adoption. Second, e-commerce platforms offer a wide variety of fresh vegetables, often sourced directly from local or regional producers, providing consumers with choices they may not find in traditional stores. Additionally, online platforms enable greater transparency in sourcing and pricing, fostering trust among consumers. These advantages, coupled with the digital shift in shopping habits, have propelled the online segment's growth and market dominance.
Product Insights:
In 2022, the tomato sector had the highest market share of 19.8% on the basis of the Product. The dominance of the tomato segment in the fresh vegetables market can be attributed to its ubiquity, culinary adaptability, and consistent year-round appeal. Tomatoes play a pivotal role in a wide spectrum of cuisines, ingraining themselves as a kitchen essential. Their versatile usage extends from salads and sauces to soups and an array of dishes. The proliferation of fast-food establishments, along with the enduring popularity of pizza and pasta, bolsters the perpetual demand for tomatoes. Notably, their comparatively extended shelf life and suitability for canning and processing further underscore their prominence in the market landscape.
The onion segment is anticipated to expand at the fastest rate over the projected period. Onions hold a major growth in the fresh vegetables market due to their versatility, widespread culinary use, and extended shelf life. They are a staple ingredient in various cuisines, making them a consistent consumer choice. Onions also have a relatively longer storage capability compared to many other fresh vegetables, allowing for year-round availability and reducing the impact of seasonal fluctuations. Their affordability and ability to add flavor and texture to a wide range of dishes contribute to their significant market growth, making onions a cornerstone of the fresh vegetable segment.
Regional Insights:
The Asia-Pacific fresh vegetables market size was valued at USD 429.13 billion in 2022 and is projected to surpass around USD 602.39 billion by 2032, expanding at a CAGR of 3.5% between 2023 and 2032.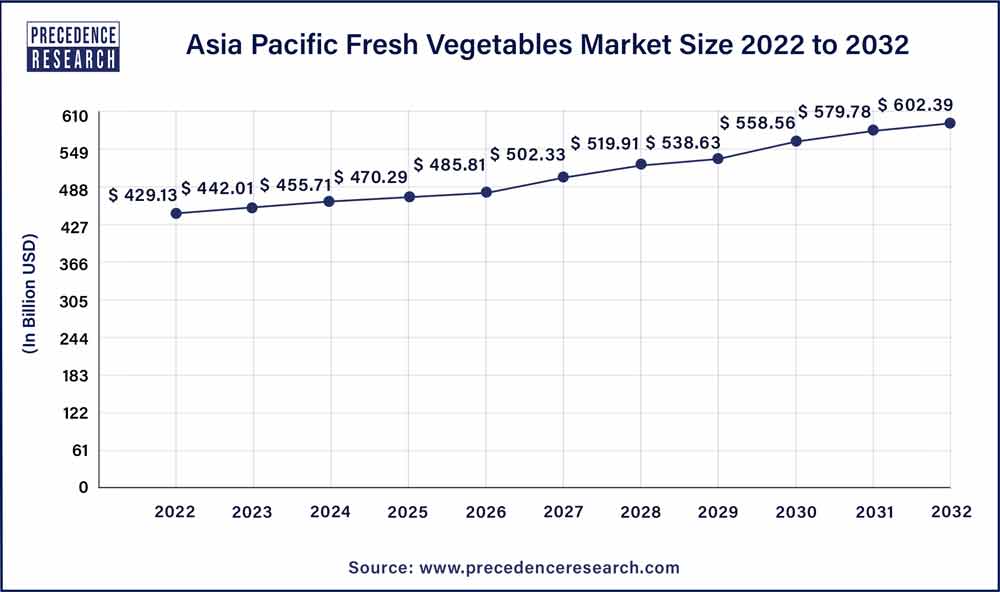 Asia-Pacific has held the largest revenue share 66% in 2022.
Foremost, the sheer magnitude of the population in nations such as China and India fosters a substantial domestic demand for fresh vegetables, serving as a catalyst for heightened production and consumption.
Moreover, dietary preferences ingrained in Asian cultures prioritize fresh vegetables as a pivotal component of daily nutrition, further elevating market significance. In addition, the region benefits from its diverse array of climates and geographical landscapes, which facilitate year-round cultivation of a wide spectrum of vegetables, ensuring a steady supply and mitigating the effects of seasonal fluctuations.
The burgeoning urbanization and the expanding middle class in various Asian countries have bolstered consumer purchasing power, fostering a growing inclination towards convenience and driving demand for pre-packaged and processed fresh vegetables.
Furthermore, the Asia-Pacific region has been a focal point for investments in cutting-edge agricultural technologies, advanced irrigation systems, and robust infrastructure, resulting in amplified yields and enhanced quality of fresh vegetables. Combined with a pronounced focus on tapping into export markets, these factors collectively establish the region as a preeminent force in the global fresh vegetables arena.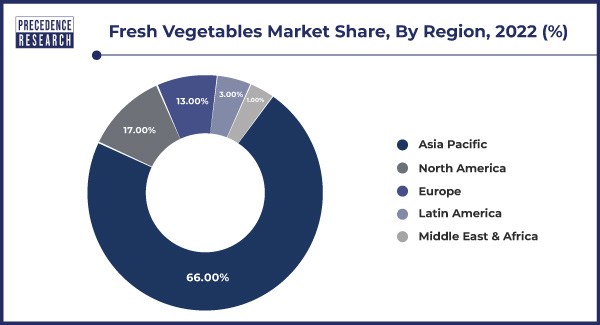 North America is estimated to observe the fastest expansion with the highest CAGR of 4.1% during the forecast period.
Firstly, heightened health-consciousness among North American consumers has driven the demand for fresh vegetables, aligning with the region's growing emphasis on healthier lifestyles.
Secondly, North America boasts a robust and efficient agricultural infrastructure, allowing for year-round cultivation and distribution of fresh produce. The region's varied climates and advanced farming technologies facilitate consistent and diverse vegetable production, reducing seasonal limitations.
Furthermore, North America's unwavering commitment to stringent food safety and quality standards enhances consumer confidence in domestically sourced fresh vegetables, further stimulating market expansion.
Lastly, the convenience aspect plays a pivotal role, with consumers seeking easily accessible, prepared options such as pre-cut vegetables and salad kits. Collectively, these factors propel North America into a position of prominence within the global fresh vegetables market.
Recent Developments:
In June of 2023, FreshPoint Inc. made a strategic move by acquiring BIX Produce, aiming to broaden its customer base, introduce freshly cut selections, and promote its specialty product range in previously untapped markets.
In January 2023, Dole plc underwent a significant transaction, selling its Fresh Vegetables Division to Fresh Express Incorporated. This decision was driven by a pursuit of innovation, operational efficiency, and enhanced food safety standards, all with the aim of elevating their future offerings and service quality.
In December 2022, Keelings entered into a meaningful partnership with the charitable organization FareShare. This collaboration is dedicated to addressing food wastage and alleviating hunger. The core mission of this partnership is to provide nutritious and fresh food to underprivileged families and children, contributing to their well-being and health.
Key Market Players:
Dole Food Company, Inc.
Fresh Del Monte
Keelings
Tanimura & Antle
BelOrta
FreshPoint Inc.
Mirak Group
C.H. Robinson Worldwide, Inc.
Goknur Gida
Fruitable Fresh Sdn Bhd.
Global Fresh Trading FZE
Segments Covered in the Report:
(Note*: We offer reports based on sub-segments as well. Kindly, let us know if you are interested)
By Distribution Channel
By Product
Tomato
Onion
Cabbage
Cucumber
Eggplant
Beans
Carrot
Others
By Geography
North America
Europe
Asia-Pacific
Latin America
Middle East and Africa