The global fuel piping market is surging, with an overall revenue growth expectation of hundreds of millions of dollars during the forecast period from 2023 to 2032.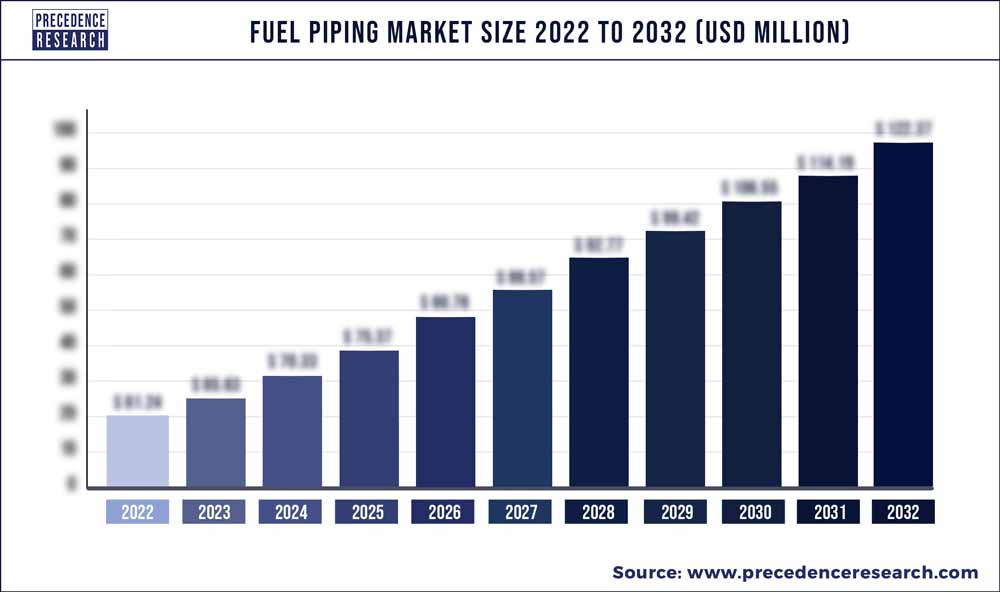 Access our Premium Real Time Data Intelligence Tool, Visit: Precedence Statistics
Key Takeaways
North America is expected to dominate in the global period.
By Material type, the stainless-steel segment is expected to witness a significant rate of growth during the forecast period.
By Application, the external transportation and distribution segment is expected to dominate in the fuel piping market during the forecast period.
By End-use, the offshore activities segment is expected to show a dominating position throughout the forecast period.
Fuel Piping Market Overview
The fuel piping market is the industry that deals with the production, distribution, installation, and maintenance of pipes and related machinery for conveying various fuels, such as gasoline, diesel, natural gas, and other petroleum-based products. The importance of the fuel piping market is derived from its function within the energy industry. It is essential for guaranteeing a consistent and secure fuel supply to several sectors, including manufacturing, power generation, and transportation. Proper fuel piping systems are integral to avoiding spills, leaks, and other environmental risks.
On large-scale construction sites, it powers cars and construction machinery. Pipelines used to move energy, such as gasoline, diesel, and aviation fuel, from refineries to distribution centers or to end users fall under this category. Piping systems are used to clean up and remediate contaminated locations.
According to the U.S Energy Information Administration (EIA), U.S. petroleum production exports comprised about 6 million barrels daily in the initial half of 2023, with 2% more than in 2022. In our Petroleum Supply Monthly data, the early half of 2023 is considered the most U.S. petroleum goods exports in the six months of any year.
Growth Factors
The need for more effective and ecologically friendly fuel delivery techniques is driven by rising environmental consciousness and strict governmental laws, which are observed to encourage investments in newer, more effective piping systems.
Demand for fuel-powered transportation systems has increased due to initiatives involving rapid infrastructure development and urbanization, particularly in emerging economies. This covers both oil and gas transportation pipelines. Natural gas pipelines and other alternative energy transport systems (such as hydrogen pipelines) are becoming more necessary as the world moves toward cleaner energy sources. The fuel piping market may expand due to the diversification of energy sources. International pipeline development is greatly influenced by political stability and geopolitical alliances.
Diplomatic agreements and international partnerships can facilitate the building of transnational pipelines. The construction of pipelines to move these resources from producing sites to processing facilities or end customers is required by ongoing investments in oil and gas exploration and production activities. Energy consumption rises due to economic expansion throughout many locations, which forces the construction of new pipelines and other fuel transportation infrastructure to keep up with demand. The development of cross-border pipeline projects is influenced by the globalization of the energy markets and the growing demand for regional connectivity.
Fuel Piping Market Scope
| | |
| --- | --- |
| Report Coverage | Details |
| Largest Market | North America |
| Base Year | 2022 |
| Forecast Period | 2023 to 2032 |
| Segments Covered | By Material Type, By Application, and By End-Use |
| Regions Covered | North America, Europe, Asia-Pacific, Latin America, and Middle East & Africa |

Fuel Piping Market Dynamics
Driver
Rising energy demand
The world's population continually grows, and more people are relocating to cities. Due to an increased reliance on infrastructure, transportation, and industrial activity, urbanization raises energy consumption per capita. The transportation industry significantly influences the demand for energy. Fuel pipelines are increasingly necessary to distribute gasoline and diesel to various distribution points as the number of vehicles on the road rises. Although they are becoming more prevalent, renewable energy sources can only partially replace fossil fuels.
As a result, the construction of infrastructure for renewable energy sources coexists with the ongoing need for pipelines to transport fossil fuels. Advancements improve the effectiveness and safety of gasoline transportation in pipeline construction, monitoring, and maintenance technology, which promote investments in upgrading and expanding pipeline networks.
Energy demands rise due to rapid industrialization in developing nations and ongoing economic expansion in developed ones. Industries need a lot of energy inputs to manufacture their products. Hence, a reliable fuel transportation system is required. Because of the globalization of the energy industry, fuels are now sourced from many places and moved over great distances. A reliable supply chain needs effective fuel pipe systems to function.
Restraint
Fluctuating price of the raw materials
The cost of gasoline piping is directly impacted by fluctuating raw material prices, particularly metals like steel, copper, and aluminum. To account for these variations, manufacturers must constantly modify their pricing methods, which causes pricing uncertainty for both producers and consumers. Sudden increases may hamper the supply chain in the cost of raw materials. Manufacturing bottlenecks may result from manufacturers' necessity to work on procuring materials. These delays may negatively impact customer satisfaction by domino effecting project timeframes and delivery schedules. The ability of manufacturers to spend in R&D for new, more affordable materials or production techniques depends on predictable raw material pricing. This might stifle industry innovation. The economy significantly influences prices for raw materials.
Manufacturers could be hesitant to bear the total cost increase when raw material prices climb. The end-users frequently pay more excellent pricing because of this. Manufacturers must support maintaining profit margins while keeping their items reasonably priced in a competitive market. Careful inventory management is necessary due to fluctuating raw material prices. Manufacturers must balance the stockpiling of materials to protect against future price hikes and reduce inventory to prevent prospective losses in the event of a price decrease.
Opportunity
Transition towards renewable sources of energy
New collecting, storage, and distribution infrastructure is needed for renewable energy sources like solar, wind, and geothermal. This calls for a robust pipe network to carry different renewable fuels like hydrogen, biofuels, and synthetic fuels. In contrast to the finite nature of fossil fuels, prone to price volatility and geopolitical tensions, renewable energy sources are considered sustainable and inexhaustible, offering a steady and long-term market for fuel piping infrastructure. Many fuels transitioning to renewable energy requires unique distribution and transportation networks.
For instance, building hydrogen pipelines to transport electrolyzed green hydrogen is necessary. Using renewable energy sources considerably lowers greenhouse gas emissions compared to fossil fuels. Thereby, the transition towards renewable energy is observed to present significant opportunities for the market to expand.
Material Type Insights
The stainless-steel segment shows a significant growth in the fuel piping market during the predicted period. The corrosion resistance property of stainless steel material has promoted the segment's growth. Fuel can be corrosive, especially in industrial settings, and stainless steel's capacity to endure this corrosive environment ensures the piping system will last longer. Even at high temperatures, stainless steel maintains its structural integrity. This is essential for fuel piping systems since they are susceptible to temperature changes brought on by variables like the environment or different fuel kinds. Even under adverse situations, stainless steel is incredibly resilient. Because of this, it needs less upkeep and replacement over time, which lowers the overall cost of the fuel transportation system. Many fuels, including those with varying corrosiveness or reactivity, are compatible with stainless steel.
Application Insights
The external transportation and distribution segment is expected to dominate in the fuel piping market during the forecast period. An essential part of external transportation is the building and upkeeping of pipelines for long-distance gasoline delivery. With the help of this infrastructure, fuel is delivered seamlessly from refineries, storage facilities, and distribution hubs to retailers and end consumers. Large fuel volumes may be handled by pipelines, which is essential for supplying the demand of heavily inhabited areas or industrial hubs. They are necessary for big energy markets because they can transport millions of barrels of petroleum daily. Ongoing advancements in pipeline technology, such as sophisticated monitoring systems, leak detection, and automation, have further enhanced the effectiveness and security of petroleum transportation. This has aided in the market dominance of external transportation and distribution for gasoline pipes.
The internal process segment is expected to witness a significant rate of growth during the forecast period. Environmentally friendly techniques are becoming increasingly important in the sector. This includes creating ecologically friendly materials, starting recycling programs, and using energy-efficient production techniques.
Due to ongoing developments in materials and production techniques, more robust, corrosion-resistant, and effective pipe systems have been designed. Extrusion and sophisticated welding procedures are two examples of improved manufacturing processes that have decreased production costs while maintaining high standards.
Energy-efficient designs are taking on more significance, prompting the creation of flexible yet reliable piping solutions. Real-time monitoring and predictive maintenance are made possible by integrating innovative technology like IoT sensors, which have increased operational effectiveness and decreased downtime. Robust risk management techniques, such as in-depth material testing, quality assurance procedures, and backup plans for unanticipated situations, have improved the standing of piping producers.
End-Use Insights
The offshore activities segment is expected to be dominant in the fuel piping market during the forecast period. Energy consumption, particularly for oil and natural gas, is rising as economies and populations worldwide expand. Offshore drilling makes reaching enormous deposits buried beneath the seabed possible, greatly enhancing the global energy supply. Access to deeper and farther-reaching offshore resources is now possible because of advancements in offshore drilling technology. This entails creating equipment and pipelines that can survive challenging underwater environments.
For both countries that produce goods and those that provide services, offshore activities can have significant economic advantages. They boost local economies, create jobs, and earn money through taxes and royalties. Some onshore activities may not be as environmentally benign as offshore drilling. Modern offshore rigs use cutting-edge technologies and strict safety protocols to reduce adverse environmental effects.
The onshore activities segment is the fastest growing in the fuel piping market during the predicted period. The development of onshore natural gas, biofuel, and hydrogen pipelines has expanded due to the global transition to cleaner and more sustainable energy sources. Significant network expansion and modernization are needed for this transformation. Generally, onshore pipelines are safer and less environmentally harmful than offshore platforms. This makes them a more appealing choice in areas with strict safety and environmental requirements. Infrastructure development and onshore activities are intimately related, particularly in emerging economies.
New pipelines are required due to the growth of cities, industries, and transportation systems. Governments and the business sector are investing significantly in new and improved gasoline transportation infrastructure. Onshore pipelines are frequently more economical than offshore options when transferring significant amounts of gasoline over short distances.
Regional Insights
North America carried a dominating share in 2022 and is expected to sustain dominance throughout the forecast period. Natural resources, such as oil and gas, are abundant in North America, especially in the United States and Canada. Fuel piping systems are needed due to the need to move these materials from resource extraction sites to refineries and distribution hubs. Pipelines have been built and expanded as part of North America's significant investments in its energy infrastructure to accommodate rising output from shale and unconventional oil and gas sources. Large-scale investments in energy infrastructure, including pipelines, have been made possible because of North America's economic stability and prosperity.
This has made it possible to build massive networks that can move fuel over very long distances. The United States has made significant progress in reaching energy independence. Due to this, there is a greater need for pipelines to transport domestically generated fuels, reducing reliance on imports.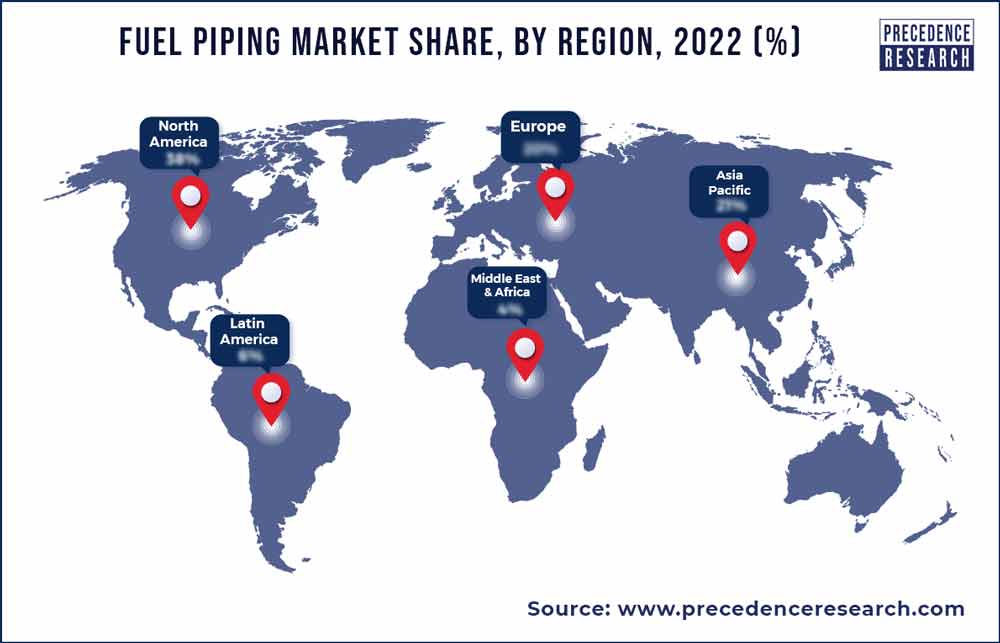 Asia-Pacific is the fastest-growing the fuel piping market during the forecasted timeframe. Due to urbanization, industrialization, and economic growth, the Asia Pacific area, home to some of the world's most populous nations, including China and India, has seen a significant rise in energy demand. Asia-Pacific is becoming a major center for trade and business worldwide. A robust and dependable fuel infrastructure is required to support industrial, logistical, and transportation operations. The area has significantly invested in infrastructure development, particularly electricity and transportation. This calls for developing effective fuel transportation systems and fueling demand for cutting-edge and dependable fuel piping solutions.
Numerous Asian countries are experiencing rapid urbanization and population growth, which has increased energy demand. To meet this need, efficient fuel piping networks are required. Engineered gasoline piping systems have become more effective and long-lasting due to technological developments in materials, manufacturing techniques, and engineering designs. These developments are significant in areas that are rapidly industrializing and modernizing.
Recent Developments
In April 2023, The Pipeline and Hazardous Materials Safety Administration (PHMSA) and U.S. Transportation Secretary Pete Buttigieg will present a historic $196 million in funding for 37 projects across 19 states. With the assistance of this new funding program, public health, safety, and methane emissions from gas distribution pipes are all improved.
Fuel Piping Market Players
Tenaris S. A
Metalurgica Gerdau S. A
Valourec S. A
JFE Holdings Inc.
Aliaxis Group S. A
Mexichem Sab de C.V
China Steel Corporation
Arcelor Mittal S. A
American Cast Iron Pipe Company
JSW Steel Limited
Segments Covered in the Report:
By Material Type
Stainless Steel
PVC
HDPE
Others
By Application
External Transportation and Distribution
Internal Process
By End-Use
Onshore activities
Offshore activities
By Geography
North America
Europe
Asia-Pacific
Latin America
Middle East and Africa