The global generative AI in HR market size was valued at USD 483.59 million in 2022 and it is expected to hit around USD 2,091.4 million by 2032, poised to grow at a CAGR of 15.77% during the forecast period from 2023 to 2032.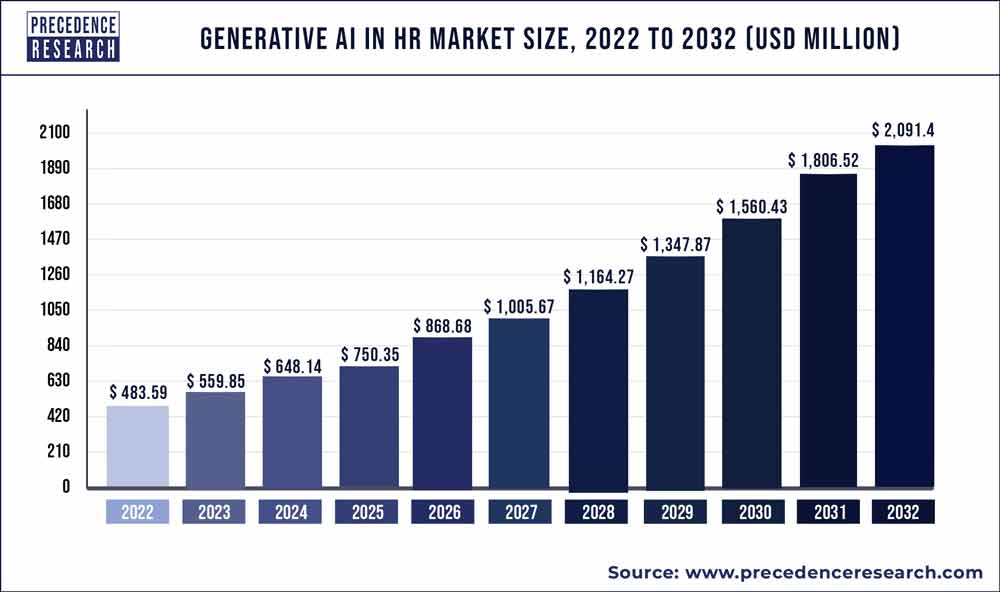 Access our Premium Real Time Data Intelligence Tool, Visit: Precedence Statistics
Key Takeaways:
North America is expected to dominate in the global market during the forecast period.
By deployment mode, the cloud-based segment contributed more than 69% of revenue share in 2022.
By technology, the machine learning segment shows a leading growth in the generative AI in HR market.
By application, the recruiting and hiring segment shares the maximum CAGR during the projection period.
Market Overview:
As the world moves into a developing technological era, generative artificial intelligence (AI) emerges as a turning point in revolutionizing HR practices. This latest technology tackles the power of machine learning and deep learning algorithms to generate virtually indistinguishable content from artificial content. Adopting generative AI solutions in HR is expected to be accelerated by the quick revolution of AI technology and the desire to provide employees with more personalized experiences to enhance the employee experience. Generative AI can help create customized data, such as job descriptions, performance reports, and training materials. AI-powered technologies can significantly increase productivity, cut expenses, and provide the HR department with sufficient data.
Growth Factors:
The HR industry plays an important role in managing and working on the growth of organizations through development, employee well-being, and managing talent acquisition. Generative AI solutions are becoming more sophisticated and effective in supporting HR functions as AI technology develops quickly, which entails maximizing the workforce, encouraging employee engagement, and hiring top personnel. It can help produce customized content, such as job descriptions, training materials, and performance reviews. HR departments increasingly strive to automate laborious and time-consuming activities to boost efficiency and accuracy. With generative AI, resume screening, candidate matching, and interview scheduling is expected to be automated.
Report Scope of the Generative AI in HR Market:
| | |
| --- | --- |
| Report Coverage | Details |
| Market Size in 2023 | USD 559.85 Million |
| Market Size by 2032 | USD 2,091.4 Million |
| Growth Rate from 2023 to 2032 | CAGR of 15.77% |
| Largest Market | North America |
| Base Year | 2022 |
| Forecast Period | 2023 To 2032 |
| Segments Covered | By Deployment Mode, By Technology, and By Application |
| Regions Covered | North America, Europe, Asia-Pacific, Latin America, and Middle East & Africa |

Driver:
Requirement for unbiased and quicker decision-making in organizations
With the overall technological advancements in the commercial sectors, organizations have enormous demand for automated solutions that can offer quicker and more unbiased decisions. While ensuring the hiring of top candidates and providing the greatest compensation and benefits to employees, generative AI covers collecting and analyzing HR data, eliminating biases and guesswork. Generative AI solutions are prone to generate unbiased and quicker solutions without any human intervention. This offers companies a reliable and accountable solution for hiring and the overall decision-making process. Thus, the requirement for unbiased and quicker solutions in organizations are observed to fuel the growth of the market.
Restraint:
Reliability concerns
Generative AI can produce new outputs similar to the input data but not the same after training on a dataset. However, regulating the outcomes' specific features can be challenging; using AI-generated outputs in HR processes may erode employee trust and confidence. Workers may question automated systems' transparency and reliability, impacting engagement and satisfaction. HR professionals often rely on expertise and judgment to make critical decisions, where such reliability issues can create a significant restraint for the market's growth.
Opportunity:
Requirement for better employee management
To maximize the productivity and efficacy of the organization, companies focus on a better employee management system. As every sector moves towards technological advancements, the adoption of generative AI platforms for employee management is observed to grow. Generative AI tools assist in improving employee engagement by providing insights into factors such as career opportunities, benefits, or communication with colleagues which enables firms to adapt their policies accordingly and analyze relationships among colleagues, creating a more attractive and motivating work environment for employees. Generative AI solutions for such purposes also offer personalizing benefits, mentoring, employee feedback, career development, monitoring and improving corporate culture, and recognition and reward systems.
Segments Insight:
Deployment Mode Insights:
Cloud-based is the dominant segment in the generative AI in HR market during the predicted period. The cloud-based generative AI platforms allow businesses to easily access all sizes of data. Corporations use cloud-based AI services and platforms rather than building and maintaining the infrastructure. Smaller businesses without large AI teams or deep financial resources for IT investments have an equal playing field to this access. Moreover, it may enable companies of every kind to begin with modest generative AI projects to determine whether they are appropriate for a project or business requirement.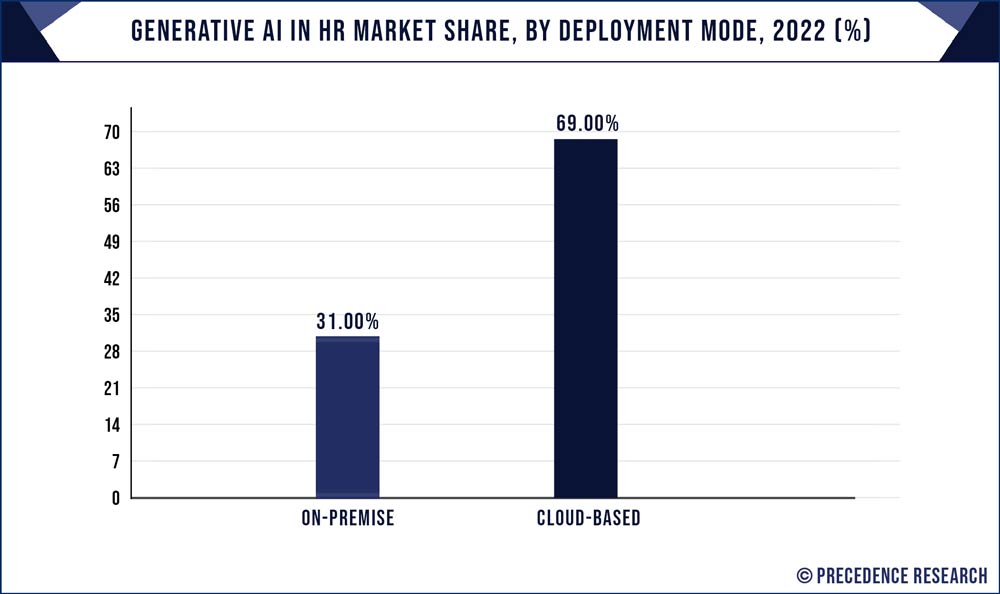 The on-premise segment is expected to grow steadily during the forecast period. Larger organizations have appointed on-premise AI solutions for the HR field as it has a high level of control and security. This solution gives companies total hold over the data and safety by installing and sustaining the software on their server. Further to being more adaptable, on-premise systems can be customized to twin the organization's unique requirements. However, solutions may be expensive since businesses must contribute to infrastructure and hardware and might not be as scalable and adaptable as cloud-based possibilities.
Technology Insights:
The machine learning segment is expected to be dominant in the generative AI in the HR market during the forecast period. Machine learning assists companies in understanding as well as decision-making, which is one of the crucial tasks for HR role. It detects and collects information from various sources to manage the performance rate and employee talent, even helping find new trends and patterns. It can predict results and helps in improving the HR task efficiently.
For instance, machine learning can forecast which candidates will perform better in a specific function and spot workers on the verge of leaving the company. Further, machine learning algorithms can automate basic operations such as resume screening, freeing human resources specialists' interview scheduling to work on more difficult assignments.
Application Insights:
The recruiting and hiring segment shows significant growth in the generative AI in HR market during the predicted period. Potential applicants can be found via various channels, including job sites, professional networks, and social media. It can review candidate profiles and suggest applicants who meet the position's requirements. If used creatively, chatbots can perform preliminary interviews for fresher roles, and integrated HR technology tools can be used to gather and assess candidates' responses. It can also send customized emails, respond to candidate inquiries, and help HR prepare for interviews.
For instance, HR professionals may improve their writing for job advertisements and other HR communications with Textio, an AI-powered writing enhancement tool. By pointing out potential biases, recommending alternative wording, and predicting the effect of the language on the intended audience, it aids HR professionals in creating more inclusive, interesting, and appealing job descriptions.
Performance management is the fastest growing segment in the generative AI in HR market throughout the forecast period. With generative AI, HR executives can gain important insights into employee performance and feedback. Employee data, including performance indicators, management and peer feedback, and customer reviews, may be tested with generative AI algorithms, and HR professionals can use generative AI to create thorough performance reports. Moreover, they can provide employees with performance statistics and evaluations of areas that need improvement and make efficient performance management plans for workers.
Regional Insights:
North America is dominating and expected to remain a significant region in the generative AI in HR market throughout the predicted timeframe. Due to many significant market key players in the region, including Oracle Corporation, SAP SE, and IBM Corporation, the generative AI in the HR market is expected to grow significantly. The well-developed infrastructure and presence of advanced technologies in every sector of the region promote the market's growth.
The penetration of these solutions has been made possible for North America by the availability of adequate internet services, cloud-based services, and digital technologies. Multiple major companies and small and medium-sized businesses in North America use AI-powered HR solutions to streamline their HR procedures. The market for generative AI in HR in the region is anticipated to increase due to this trend.
Asia-Pacific shows lucrative growth in the generative AI in HR market during the forecasted timeframe. China leads the region's AI efforts, closely followed by India, largely due to its talent and industrial support. As a result, China has emerged as the US's main AI development rival. Eric Schmidt, the former CEO of Alphabet, predicts that by 2025, China will surpass the US in AI.
To promote AI, machine learning, 3D printing, and other technologies, the Indian government's think tank Niti Aayog is launching a national project on the subject, including research and development. The Department of Science is also planning to establish Centres of Excellence (CoEs), investing in big data analytics, machine learning capabilities, and AI research and training.
For instance, the Chinese central Government has pledged to undertake artificial intelligence (AI) by 2030. It has aimed to create a home market worth nearly US$150 billion, the most comprehensive government program that has been seen to date. It covers many industries, including law and ethics, manufacturing, agriculture, and public services.
Recent Developments:
In June 2023, Oracle Corp stated that it is including generative artificial intelligence features in its HR software for firms, aiming to assist in drafting job descriptions and employee performance targets, among other tasks.
In March 2023, the first generative AI for HR tech globally, TalentGPT, has been launched by Beamery, and it offers personalized experiences for recruiters, employees, managers, and candidates. Beamery will utilize generative AI to transform every talent and acquisition experience with TalentGPT.
Key Market Players:
IBM Watson
ADP
Oracle
Workday Inc.
Cornerstone
SAP SE
Segments Covered in the Report
(Note*: We offer reports based on sub segments as well. Kindly, let us know if you are interested)
By Deployment Mode
By Technology
Machine Learning
Natural Language Processing
Deep Learning
Computer Vision
Robotic Process Automation
By Application
Recruiting and Hiring
Performance Management
Onboarding
Improved Efficiency
By Geography
North America
Europe
Asia-Pacific
Latin America
Middle East and Africa