The global gesture recognition market size was evaluated at USD 20.44 billion in 2022 and it is expected to attain around USD 116.79 billion by 2032, growing at a CAGR of 19.04% during the forecast period from 2023 to 2032.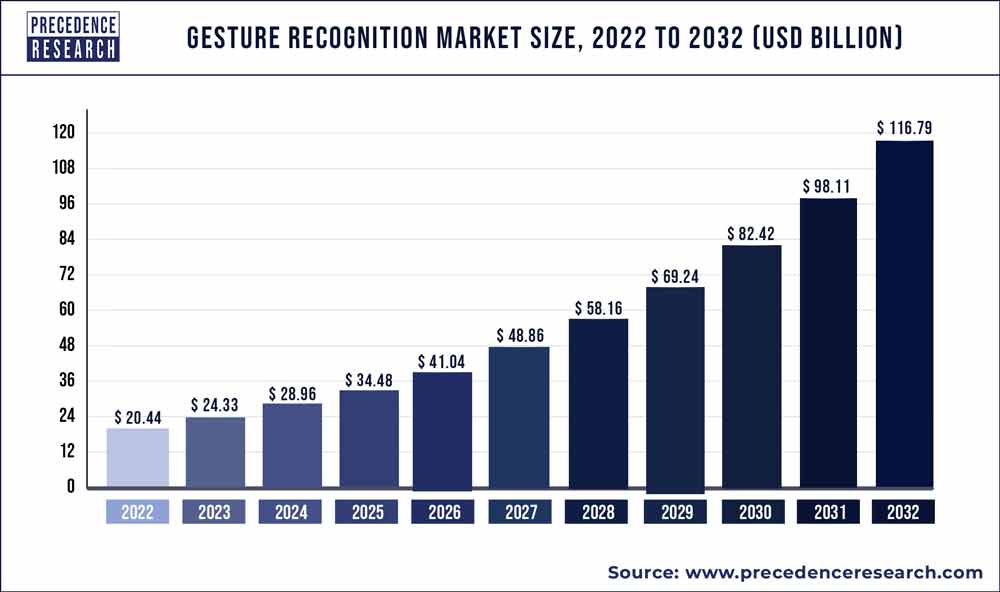 Key Takeaways:
North America dominated the global market in 2022.
By Technology, the Touch-based gesture recognition segment held the largest market share in 2022.
By End User, the automobile segment retained a dominating market share in 2022.
Market Overview:
Gesture recognition is a technology that enables devices to interpret human gestures, such as hand movements, body gestures, and facial expressions, as input commands. It has gained significant attention and popularity in recent years, offering a more natural and intuitive way of interacting with electronic devices and systems. The gesture recognition market has experienced substantial growth due to advancements in sensor technology, artificial intelligence, and computer vision algorithms. These developments have allowed for more accurate and reliable gesture recognition systems.
The increasing adoption of gesture recognition in various industries, such as gaming, automotive, healthcare, consumer electronics, and retail, has contributed to market expansion. The development of gesture recognition has been significantly aided by the video game industry. Motion-sensing gaming platforms like the Microsoft Kinect and the Nintendo Wii have increased interest in gesture-based gaming. As a result of this trend, game developers are now including gesture recognition in their products, thus expanding the industry.
Gesture recognition technology is used in the healthcare industry for patient monitoring, rehabilitation, and surgery. It enables surgeons to operate on medical pictures and data without using their hands, enabling more accurate and effective surgeries. Gesture recognition technologies help patients complete exercises and monitor their progress throughout rehabilitation. Additionally, by offering alternate input options, gesture recognition can improve accessibility for people with impairments. To improve consumer experiences, the retail industry has also incorporated gesture recognition technologies. Gestures may be used to manipulate interactive displays and virtual shopping assistants, making it easier and more immersive for customers to browse items, get information, and make purchases.
Algorithms for machine learning and artificial intelligence are essential for increasing the precision of gesture recognition. These algorithms analyse and decipher gestures by learning from massive datasets, allowing computers to recognise a variety of gestures and adjust to the preferences and routines of individual users. Even though the market for gesture recognition has expanded significantly, there are still certain issues to resolve. The accuracy and dependability of gesture detection systems may be increased, power consumption can be decreased, and gesture-based interactions can be made private and secure.
Growth Factors:
The market for gesture recognition has grown significantly as a result of technological developments, rising demand for touchless interfaces, and industry acceptance. Gesture recognition is anticipated to continue developing with continuous research and development activities, providing new opportunities and applications in the future. The rising need for touchless and contactless interfaces is one of the main factors driving the gesture recognition industry. The ability to manage equipment without having to physically touch it is made possible by gesture recognition technology, which is especially useful in applications where accessibility, convenience, and hygiene are key considerations. By minimizing distractions, touchless control in automobile entertainment systems, for instance, increases driving safety.
Report Scope of the Gesture Recognition Market:
| | |
| --- | --- |
| Report Coverage | Details |
| Market Size in 2023 | USD 24.33 Billion |
| Market Size by 2032 | USD 116.79 Billion |
| Growth Rate from 2023 to 2032 | CAGR of 19.04% |
| Largest Market | North America |
| Base Year | 2022 |
| Forecast Period | 2023 to 2032 |
| Segments Covered | By Technology and By End-user |
| Regions Covered | North America, Europe, Asia-Pacific, Latin America, and Middle East & Africa |

Market Dynamics:
Driver:
Augmented reality and virtual reality
Increasing demand for touchless and contactless interfaces in various industries is driving the popularity of the gesture recognition market. Advancements in sensor technology, AI, and computer vision algorithms have improved gesture recognition accuracy. Furthermore, the growth and acceptance of contactless payment systems is one of the trending applications across industrial verticals.
Restraint:
High implementation costs
Developing and implementing gesture recognition technology is costly, particularly for advanced touchless systems that require specialized sensors and powerful processing capabilities. High implementation costs are a deterrent for some industries or businesses with limited budgets.
Opportunity:
Touchless interfaces demand
The increasing demand for touchless interfaces in various industries presents significant opportunities for gesture recognition technology. Touchless interfaces have become more relevant due to hygiene concerns and the need to minimize physical contact in public spaces, healthcare, retail, and other domains.
Challenge:
Regulatory and ethical considerations
Regulation and ethical issues must be considered as gesture recognition becomes more commonplace and has more uses. Responsible market growth depends on ensuring compliance with data protection laws and setting moral standards for the use of gesture data.
Impact of Covid-19:
The COVID-19 pandemic has caused a change in emphasis to safety and cleanliness, pitching gesture recognition technology as a remedy. Gesture-based systems for touchless hand sanitization, access management, and monitoring adherence to social distancing standards have emerged on the market. These programs aid in preserving a secure atmosphere in public areas and workplaces.
The pandemic's economic effects have forced market restructuring and consolidation within the gesture recognition sector. While some businesses have experienced financial difficulties, others have modified their plans to consider shifting market realities. Collaborations, acquisitions, and partnerships have become popular ways to improve product offerings and increase market penetration.
The need for touchless interfaces has increased as a result of COVID-19, which has also highlighted the value of gesture recognition technology in promoting cleanliness and minimizing physical contact. Despite noted supply chain issues and delays, the market for gesture recognition has significant long-term development potential due to the demand for natural and frictionless interactions across a range of sectors.
Segments Insight:
Technology Insights:
Touch-based gesture recognition held a dominant market share in the gesture recognition market in 2022. It offers fine-grained control over user interactions, enabling accurate and detailed input. This is advantageous in applications where precise manipulation or navigation is required, such as graphic design, virtual keyboards, and image editing. Touch-based gesture recognition allows users to interact with devices in a natural and intuitive manner by directly touching the screen or surface. This driver is particularly relevant for applications that require precise input control, such as drawing, typing, or gaming. Touch-based gestures have become familiar to users due to the widespread adoption of smartphones and tablets. Users are accustomed to swiping, tapping, pinching, and other touch-based gestures, making touch-based gesture recognition an intuitive and user-friendly interface.
The COVID-19 epidemic has increased interest in and demand for touchless gesture recognition. By allowing users to engage with gadgets without making physical touch, it lowers the danger of spreading germs and encourages cleanliness in public areas, healthcare facilities, and other places. Touchless gesture detection enables users to control devices or systems without making physical contact. This driver is useful in situations where physical touch is impracticable, unpleasant, or limited, such as cleanrooms or dangerous places, or while hands are busy. The user experience offered by touchless gesture detection is futuristic and totalizing. It enables users to operate gadgets with hand, body, or facial motions, enhancing user engagement and interaction with game consoles, smart home automation systems, and virtual reality or augmented reality settings. The identification of touchless gestures improves accessibility for those with physical limitations or restricted mobility. For people who might struggle with touch-based interactions, it offers other input techniques that are more accessible and simpler to use, enabling a wider spectrum of users.
End-user Insights:
Automotive
The automobile sector retained a dominating market share in the end-user industry in 2022. It allows for the touchless operation of several in-car features, including infotainment systems, temperature control, and lighting. Drivers may change settings without removing their hands from the wheel by utilizing hand or body movements, increasing safety, and minimizing distractions. By identifying driving gestures and offering tailored help, gesture recognition can also improve driver monitoring systems. The car sector is always investigating novel uses for gesture recognition, such as augmented reality displays, simple HMIs, and tailored user interfaces.
Healthcare
The need for touchless gesture recognition in the healthcare industry has grown recently. During surgical operations, surgeons may manage medical pictures without touching them by using touchless gestures. This improves accuracy and lowers the possibility of contamination. In rehabilitation settings, gesture recognition is often used to help patients complete exercises and monitor their development. Systems for monitoring patients' vital signs and mobility make use of gesture recognition to enable non-intrusive, contactless monitoring. In hospital settings, these applications increase effectiveness, precision, and cleanliness.
Consumer Electronics
Gesture recognition is becoming more and more common in consumer electronics, especially in gadgets like smartphones, tablets, and smart TVs. Touch-based gesture recognition enables users to do movements like swiping, pinching, and scrolling, resulting in user interfaces that are simple to use and entertaining. Additionally, touchless gesture detection makes it possible for the users to engage with gadgets by using hand or body movements, increasing convenience, and opening new possibilities. Gesture recognition is still being incorporated into many goods by the consumer electronics sector, which makes them more engaging and user-friendly.
Gaming
According to gesture detection, immersive and alluring experiences have drastically altered the gaming industry. Motion-sensing gaming consoles, like Microsoft Kinect and Sony PlayStation Move, detect players' body movements using the touchless gesture recognition, allowing users to control games via in-game gestures. New opportunities for virtual reality, augmented reality, and mixed reality games have been made possible by this technology. A more natural and intuitive method to interact with games is made possible by gesture detection in gaming, which also increases player engagement and physical activity.
Aerospace and Defense
Gesture recognition technology has uses in both the aerospace and defense industries. Gesture recognition technologies in aircraft allow pilots to operate a variety of cockpit operations without making direct physical touch, minimizing distractions, and improving flight safety. Unmanned aerial vehicle (UAV) control, gesture-controlled surveillance systems, and virtual training simulators are examples of uses in the defense sector. For these crucial applications, gesture recognition provides simple, hands-free engagement that boosts situational awareness and operational effectiveness.
Regional Insights:
In 2022, the gesture recognition industry was dominated by North America. Innovating in gesture recognition, North America has been at the forefront of technical development. A robust ecosystem of technological firms, academic institutions, and start-ups is present in the area and is dedicated to creating and promoting solutions for gesture detection.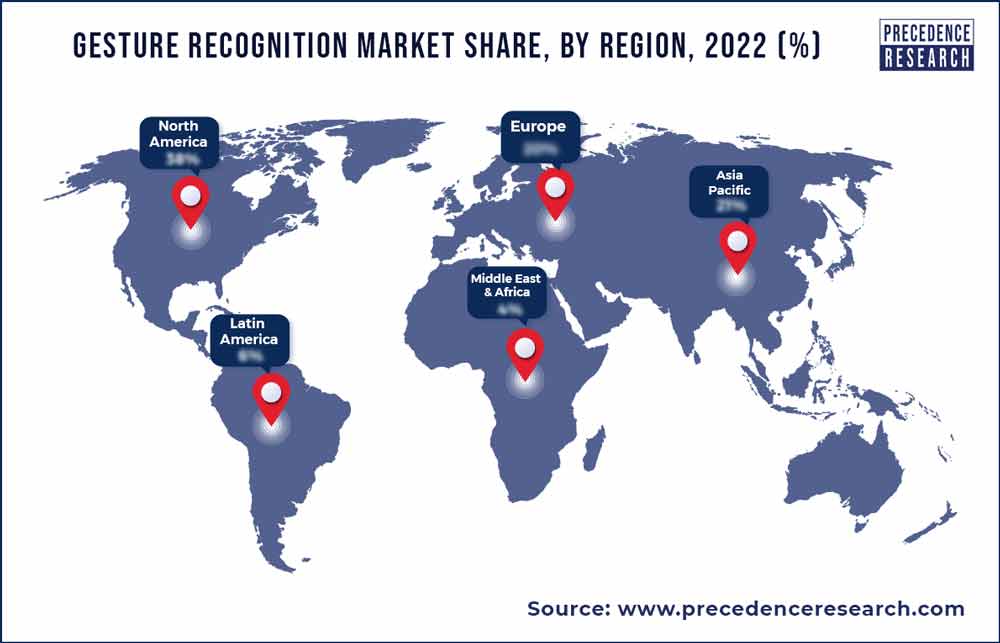 Early adopters of gesture recognition technology include the automobile, healthcare, and consumer electronics sectors in North America. The market in this area has been pushed by consumer desire for the touchless interfaces, cutting-edge driver assistance technologies, and immersive gaming experiences. The presence of leading technical companies and academic institutions in North America has led to major research and development activities in gesture recognition. Innovative technologies and solutions have been produced as a result.
Recent Developments:
In August 2022, Radar technology startup Steradian Semiconductors Private Limited, situated in Bengaluru, has entered into an agreement to be acquired by Renesas Electronics Corporation, a well-known name in the semiconductor business. The portfolio of HMI (Human-machine Interface) products offered by Renesas, including gesture recognition, is anticipated to grow as a result of this acquisition.
In August 2022, A pioneer in the production of semiconductors, STMicroelectronics, has introduced the new FlightSense Time-of-Flight (ToF) multi-zone sensors. Using ToF technology, these sensors are able to map and gather information without a camera. The new sensors can be utilized for intruder alert systems, user detection, gesture recognition, and other applications.
Key Market Players:
Microsoft Corporation
Apple Inc.
Google LLC
Intel Corporation
Qualcomm Technologies, Inc.
Samsung Electronics Co., Ltd.
Sony Corporation
Infineon Technologies AG
Texas Instruments Incorporated
Microchip Technology Inc.
Cognitec Systems GmbH
Eyesight Technologies Ltd.
Gesture Tek Inc.
Soft Kinetic (Sony Depth sensing Solutions)
Omron Corporation
Segments Covered in the Report:
(Note*: We offer reports based on sub-segments as well. Kindly, let us know if you are interested)
By Technology
Touch-based Gesture Recognition
Touchless Gesture Recognition
By End User
Automotive
Healthcare
Consumer Electronics
Gaming
Aerospace
Defense
By Geography
North America
Europe
Asia-Pacific
Latin America
Middle East and Africa