The global ground support equipment market size was estimated at USD 7.4 billion in 2022 and is expected to reach around USD 10.90 billion by 2032, poised to grow at a CAGR of 4% during the forecast period from 2023 to 2032.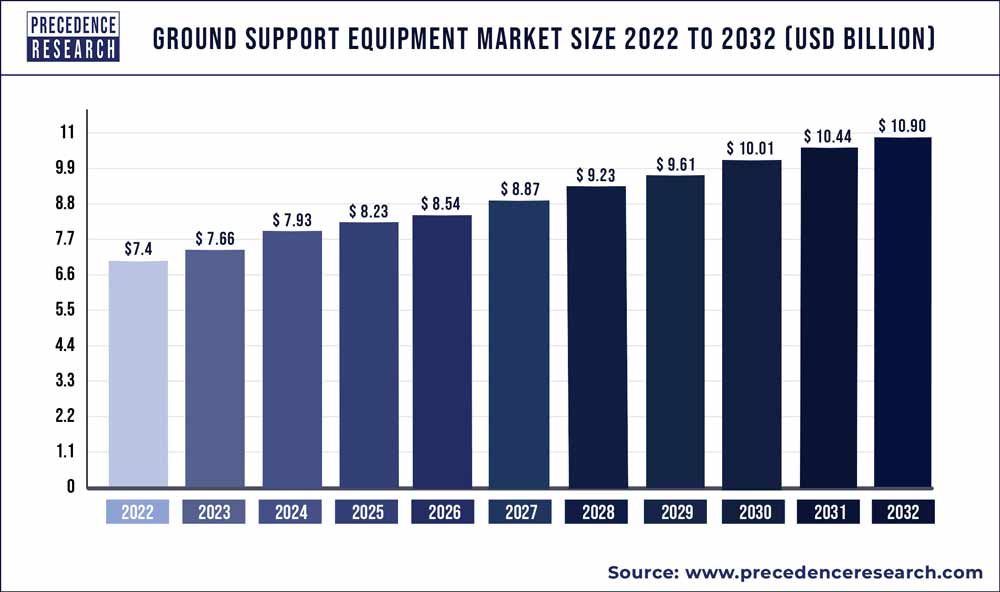 Access our Premium Real Time Data Intelligence Tool, Visit: Precedence Statistics
Key Takeaways
North America has held the highest revenue share of 33% in 2022.
Asia-Pacific is anticipated to expand at the fastest CAGR during the forecast period.
By Type, the powered segment dominated the global market in 2022.
By Type, the non-powered ground support equipment type is anticipated to expand at a significant CAGR during the projected period.
By Application, the passenger handling segment is estimated to hold the highest market share in 2022.
By Application, the cargo handling segment is anticipated to grow at the fastest CAGR over the projected period.
By Power Source, the non-electric segment had the largest market share in 2022.
By Power Source, the electric segment is expected to expand at the fastest CAGR over the projected period.
Ground Support Equipment Market in the U.S. 2023-2032
The U.S. ground support equipment market size was valued at USD 1.39 billion in 2022 and is estimated to reach around USD 2.11 billion by 2032, growing at a CAGR of 4.3% from 2023 to 2032.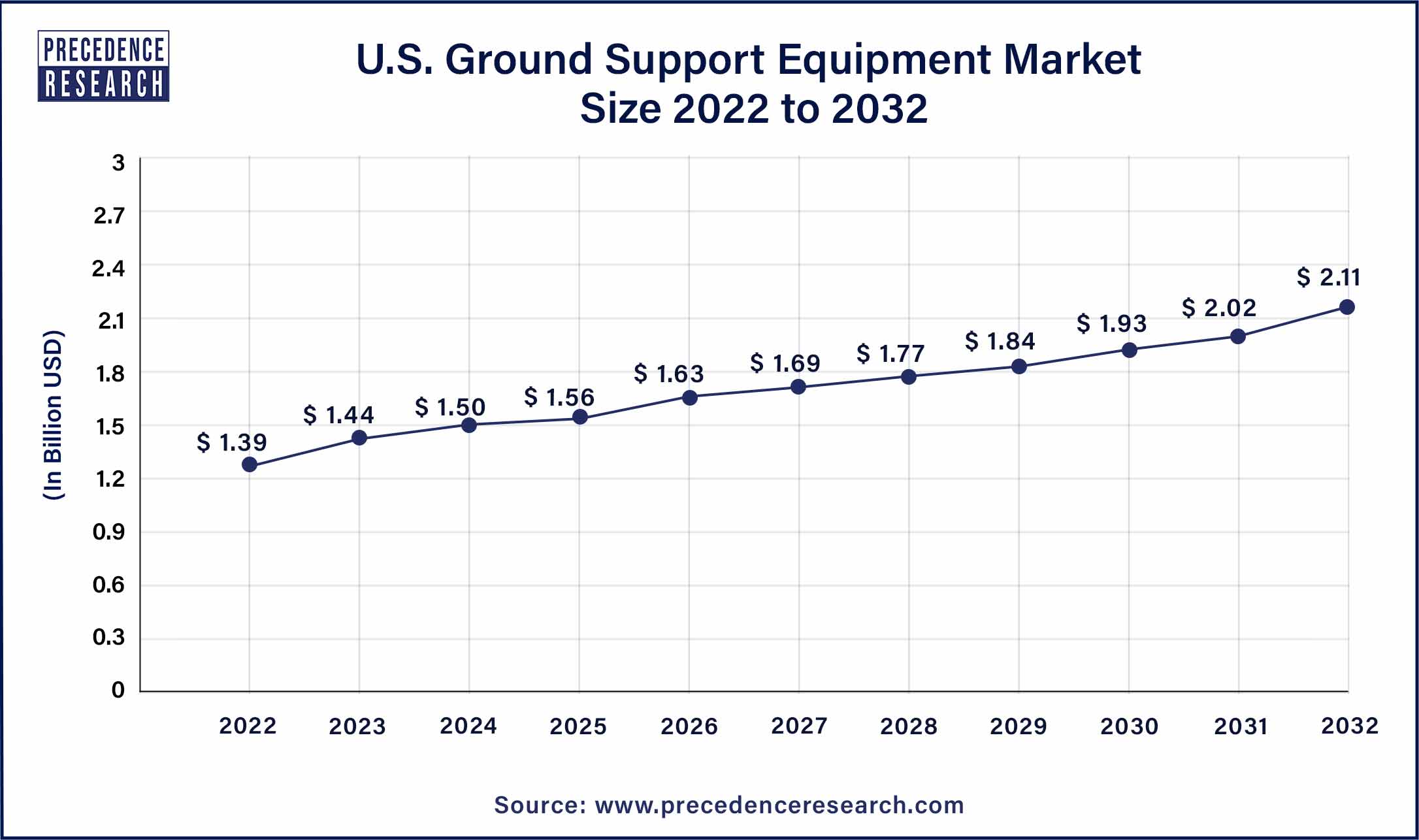 North America has held the largest revenue share in 2022. It is one of the major manufacturers of GSE with many of industries shipping equipment abroad to South America, Africa, Southeast Asia, and others. The region has keenly emphasized more on eco-friendly GSE for decreasing carbon footprints and transforming its ground support equipment fleets to electrical.
Europe is estimated to observe the fastest expansion in the GSE market. Europe includes countries such as the UK, Germany, France, Russia, and Rest of Europe. Increase in air-traffic due to introduction of low-cost carriers and improvement in economy has triggered the use of innovative and efficient ground support equipment. Countries like Germany and France, which have advanced R&D, are looking for innovation and modernization of GSE products.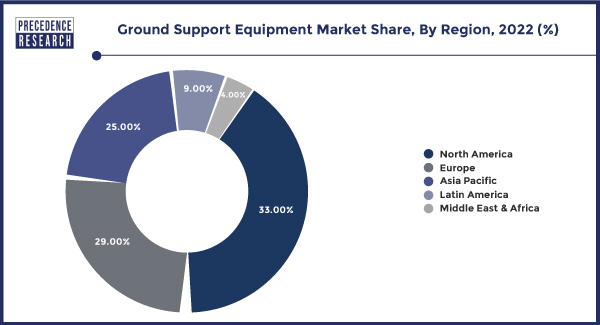 The Asia-Pacific ground support equipment market is anticipated to grow at a high rate during the forecast period, due to various reasons such as increasing air-traffic and rise in transportation by air cargo mean. Furthermore, in recent years, there has been a significant rise in tourism across the region, which is expected to surge the aviation industry, thus driving the growth of the market.
Ground Support Equipment Market Overview
The ground support equipment (GSE) market is involved in the design, manufacturing, sale, and maintenance of numerous equipment and vehicles used to support airlines and aircraft when they are on the ground at airports. These equipment and vehicles are essential for various ground operations, including aircraft maintenance, servicing, loading and unloading of passengers and cargo, and general ground handling activities. Ground support equipment encompasses a wide range of machines and tools, such as aircraft tugs, baggage carts, fuel trucks, de-icing vehicles, passenger boarding stairs, ground power units, and more. Airlines, airports, and ground handling companies rely on GSE to ensure the safe, efficient, and timely turnaround of aircraft between flights.
Growth Factors
The growth of the ground support equipment market can be attributed to various factors such as expansion or modernization of airline fleet, rising air travel demand, stringent safety & environmental regulations, and technological advancements. Moreover, ground support equipment is an integral part of the aviation industry, thereby contributing to the total safety and efficiency of airport operations. The market also includes the manufacturing and service sectors related to ground support equipment and is subject to changes and developments driven by the evolving needs of the aviation industry.
As global air travel continues to grow, there is a higher demand for GSE to support the handling and servicing of aircraft at airports. This demand is driven by the expansion of commercial aviation, the opening of new routes, and the rise in passenger numbers. According to the International Air Transport Association (IATA) in March 2023, air travel displayed a strong growth in demand. According to IATA, total traffic in March 2023 rose by 52.4% as compared to March 2022. Globally, traffic is now at 88.0% of March 2019 levels.
Furthermore, airlines often invest in new aircraft and upgrade their existing fleets. This necessitates the acquisition of modern GSE to cater to the specific needs of newer aircraft models, leading to increased demand in the market. For instance, in February 2023, Air India announced a combined purchase of 470 aircraft from Airbus and Boeing worth $80 billion. According to Air India, the deal includes 250 aircraft from Airbus and 220 planes from Boeing.
Ground Support Equipment Market Scope
| | |
| --- | --- |
| Report Coverage | Details |
| Market Size in 2023 | USD 7.66 Billion |
| Market Size by 2032 | USD 10.90 Billion |
| Growth Rate from 2023 to 2032 | CAGR of 4% |
| Largest Market | North America |
| Base Year | 2022 |
| Forecast Period | 2023 to 2032 |
| Segments Covered | By Type, By Application, and By Power Source |
| Regions Covered | North America, Europe, Asia-Pacific, Latin America, and Middle East & Africa |

Ground Support Equipment Market Dynamics
Driver
Rise in air traffic and cargo
As the global economy expands and travel becomes more accessible, air travel demand has surged significantly. Passengers and businesses rely on air transport for efficient, timely, and long-distance travel, resulting in a steady rise in the number of flights worldwide. This heightened air traffic places substantial demands on airports and airlines to ensure smooth operations on the ground, necessitating a greater need for GSE.
Furthermore, the burgeoning e-commerce industry and the globalization of trade have led to a substantial increase in cargo transported by air. With the rapid growth of online shopping and international supply chains, air cargo services have become indispensable. Cargo planes and commercial airliners now carry a vast array of goods, from perishables to high-value merchandise, underscoring the importance of efficient cargo handling. Ground support equipment, such as cargo loaders, forklifts, and pallet transporters, plays a pivotal role in ensuring the swift and secure loading and unloading of freight.
Moreover, the International Air Transport Association (IATA) released data for global air cargo markets that shows demand increased in February 2022 for air cargo despite a challenging operating backdrop. The data also shows that North American carriers registered a 6.1% increase in cargo volumes in February 2022 compared to February 2021. This surge in air traffic and cargo volumes has created a pressing need for advanced GSE to handle increased capacity and maintain operational efficiency.
Airports and airlines are investing in modern GSE to meet these demands, fostering innovation in the industry. Therefore, the GSE market is projected for sustained growth as it continues to facilitate smooth functioning of air travel and the global movement of goods.
Restraint
High Initial Costs
The acquisition of GSE involves substantial upfront investments, and this financial burden can be a formidable obstacle for various stakeholders in the aviation industry. For airports, the cost of procuring and maintaining a comprehensive fleet of GSE can be exorbitant. This is particularly challenging for smaller or regional airports with limited budgets, as they struggle to keep up with the modernization and expansion demands required to accommodate the increasing number of flights and passengers. High initial costs can deter airports from investing in state-of-the-art GSE, leading to outdated and less efficient equipment that may impede operational efficiency.
Airlines also grapple with the substantial capital required for GSE, especially when expanding their fleets or replacing older aircraft with newer, more technologically advanced models. These expenses can strain their financial resources, potentially affecting profitability and delaying GSE acquisition or upgrades. Even ground handling companies, which specialize in providing GSE services, face the challenge of acquiring and maintaining a diverse fleet of equipment.
The need to invest in various types of GSE, from baggage handling systems to aircraft tugs, can strain their financial resources. Thus, the high initial costs associated with GSE pose a notable restraint on the market's growth. Addressing this challenge may require innovative financing solutions, collaborative efforts between industry stakeholders, and a focus on long-term cost savings and operational efficiencies to make investments in GSE more financially viable for all parties involved.
Opportunity
Modernization of airline fleet
Many airports and airlines around the world continue to operate with older, less efficient, and sometimes obsolete GSE, making modernization a critical imperative. As aviation technology advances, newer aircraft models are equipped with advanced systems and configurations that demand specialized handling and servicing. This includes more sophisticated electrical systems, larger sizes, and updated safety features. To effectively support these modern aircraft, airports and airlines are compelled to upgrade their GSE fleets.
Modern GSE is designed with improved efficiency, lower emissions, enhanced safety features, and advanced connectivity options. These benefits translate into reduced operational costs, faster turnaround times, and enhanced safety standards, all of which are essential for maintaining competitiveness and meeting regulatory requirements.
Moreover, the drive toward environmentally sustainable operations in the aviation industry further fuels the need for eco-friendly GSE. Airlines and airports are increasingly seeking GSE that reduce emissions, lower fuel consumption, and adhere to stricter environmental standards. As a result, manufacturers who produce environmentally compliant GSE have a distinct advantage in the market. The modernization trend extends to various GSE types, including baggage handling systems, aircraft tugs, and passenger boarding bridges.
By investing in newer, more capable equipment, airports and airlines can streamline operations, provide better passenger experiences, and remain in compliance with evolving industry standards. Thus, the modernization of GSE fleets continues to be a powerful catalyst for growth in the GSE market, offering opportunities for manufacturers and service providers to deliver cutting-edge solutions that meet the evolving needs of the aviation industry.
Impact of COVID-19
The COVID-19 pandemic had a significant impact on the ground support equipment (GSE) market, primarily due to the widespread disruptions and reduced air travel demand that characterized the aviation industry during the crisis. The pandemic led to a sharp decline in air travel as countries imposed travel restrictions, lockdowns, and quarantine measures. Airlines drastically reduced their flight schedules, which in turn reduced the demand for GSE to support these operations. Furthermore, some types of GSE experienced reduced demand, while others saw increased demand. For instance, GSE related to the transportation and storage of medical supplies and equipment experienced a surge in demand during the pandemic.
In response to health and safety concerns, there was an increased interest in contactless technologies and automation in the aviation industry. This trend may influence the development and demand for certain types of GSE, such as self-service kiosks and automated baggage handling systems. Furthermore, the aviation industry continues to recover from the pandemic, the GSE market is gradually rebounding. Manufacturers and service providers in the GSE industry are adapting to the changing landscape and focusing on innovations that enhance efficiency, reduce operational costs, and address new health and safety requirements to better prepare for the post-pandemic aviation era.
Type Insights
According to the type, the powered ground support equipment type has held highest revenue share in 2022. This segment includes equipment that is equipped with engines or motors to perform various functions at airports. Powered GSE is essential for handling aircraft, baggage, and cargo, among other tasks.
The non-powered ground support equipment type is anticipated to expand at a significantly CAGR during the projected period. because non-powered GSE is run either manually or attached to a powered GSE. The simplicity of installation and necessity of much reduced maintenance has further driven the market for non-powered equipment. Some of the non-powered equipment include chocks, baggage carts, trestles, intake exhaust covers, oil carts, air carts, dollies, sling cables, ladders, and aircraft jacks.
Application Insights
Based on the application, passenger handling is anticipated to hold the largest market share in 2022. Rise in the number of passengers and the increasing elderly population has increased the market growth of ground support equipment. Accessair was one of the first companies that designed a telescopic stair made from wheelchair lift system aiming to help disable passengers. The surge in lightweight equipment for reaching improved time convenience and mobility is driving the market growth.
On the other hand, the cargo handling is projected to grow at the fastest rate over the projected period. Surge in the logistics & shipping industry has been a major driver for the segment across the market. Furthermore, loose gears prepared of rope that are ideal to hoist tough packages such as wooden cases or bagged cargo, which do not get sagged or broken when raised, supplement the ground support equipment market growth across the cargo handling segment. Mostly containers cargo are the transported cargo across the world and the development of fire-resistant containers are extremely adaptable for the ground support equipment market growth.
Power Source Insights
In 2022, the non-electric had the highest market share of on the basis of the power source. Non-electric segment has a broader adoption as it runs on a conventional energy source. It leads the market due to the surging number of aircraft transport and continuing airport project in emerging countries primarily in Middle East and the Asia-Pacific.
The electric is anticipated to expand at the fastest rate over the projected period. This is due to the factors including short required ranges, efficient frequent start/stops & low-end torque, and idle time are adaptable for the growth of electric ground support equipment market. Major players functioning in this segment are introducing new product line to supply to the requirements of the future e-mobility.
Recent Developments
January 2020: Mallaghan successfully expanded in the U.S. by announcing a million dollar contract with the Delta Air Lines for the supply of bespoke Maintenance Platform Lifts (MPL) for use at airports across the U.S.
February 2023: Envirotech Vehicles, Inc. partnered with Garsite to deliver its first all-electric aircraft refueler to Atlantic Aviation in Colorado.
February 2023: Aurrigo International plc signed an agreement with Changi Airport Group (Singapore). It provide continued joint testing and development of the company's advanced autonomous, electric baggage vehicles, Auto-Dolly, Auto-DollyTug, and Auto-Sim, an airport simulation software platform.
March 2023: WFS and Aena announced that it has launch trial of automated guided vehicles at Barcelona Airport to move cargo between the warehouse and apron.
March 2023: Altaport partnered with Electro.Aero, TruWeather, 1200.aero, Moonware Fortem, and ResilienX to provide a vertiport management solution that supports data inputs such as Automatic Dependent Surveillance-Broadcast (ADS-B), low altitude micro-weather, airspace incursion sensors, and foreign object debris (FOD) detection while handling ground activities such as vehicle charging and ground support equipment (GSE) allocation and movement.
Ground Support Equipment Market Players
AERO SPECIALTIES, INC.
Cavotec SA
Textron GSE
Flightline Support Ltd.
GATE GSE
Imai Aero-Equipment Mfg. Co. Ltd.
JBT Corporation
Mallaghan
TLD
Guangtai
Segments Covered in the Report:
By Type
Powered GSE
Non-powered GSE
By Application
Aircraft Handling
Passenger Handling
Cargo Handling
By Power Source
Electric
Non-Electric
Hybrid
By Geography
North America
Europe
Asia-Pacific
Latin America
Middle East and Africa