The global healthcare contract manufacturing market size was estimated at USD 236.9 billion in 2022 and is expected to hit around USD 563.3 billion by 2032, expanding at a compound annual growth rate (CAGR) of 9.1% between 2023 and 2032.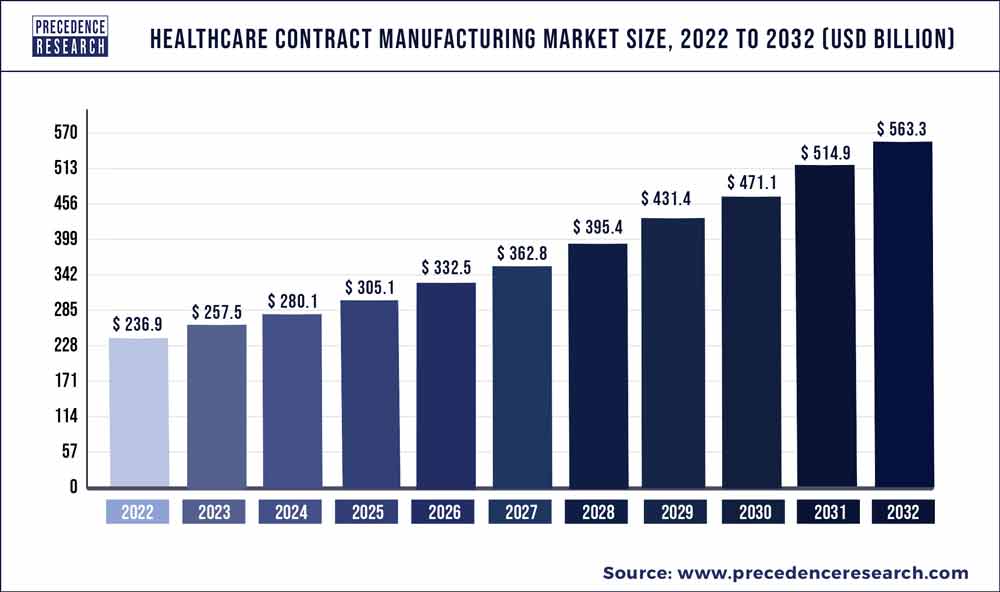 Key Takeaways:
By service type, the pharmaceutical segment has generated revenue share of around 76% in 2022.
The medical devices type segment is growing at a CAGR of 12% from 2023 to 2032.
The Asia Pacific region is majorly accounted for the revenue share of 46% in 2022.
Healthcare contract manufacturing refers to the signing of a contract between a corporation and a manufacturer. In this case, the manufacturer supplies various components to the firm individually for a certain amount of time. Contract manufacturers in the healthcare industry supply a variety of components such as pharmaceuticals and medical equipment, as well as other drug manufacturing services. The patent expiry of medical devices, as well as increased rivalry among large players, is key drivers of market growth. In addition, the rising demand for handy gadgets is contributing significantly to the market's growth. The key participants in the Healthcare Contract Manufacturing Market are also offering customized services to fulfill the critical demands of the market's medical device inventors and designers.
Furthermore, North America will have the greatest market share in the next years. In addition, nations in the Asia-Pacific region, such as India and China, are thriving in the market. The market is now characterized by a surge in offshore, particularly in emerging markets, and a shifting regulatory landscape Low-level tasks are being outsourced parties (CMOs) by pharmaceutical and healthcare companies in order to reduce total cost of production and speed products time to market. This trend is supposed to contribute to the rise of contract manufacturing industry over the forecast period. Diagnostic tests, personal protective equipment (PPE), ventilators, and other life-saving medical items were in high demand during COVID-19.
COVID-19 has had a substantial impact on the supply-demand mismatch, with a 1,000 to 2,000-fold increase in PPE items, raw - materials shortages growing by more than 10%, by even more than 100% in 2020. Despite the COVID-19 outbreak, the contract manufacturing industry has recovered with strong customer requests. This is reflected in a rise in merger or acquisition (M&A) engagement among outsourcing companies. As per a 2020 report by the US Food and Drug Administration, the pandemic caused an unprecedented spike in demand for different medical devices such as ventilators, oxygen concentrators, and COVID-19 associated commodities (US-FDA). As a consequence, there's been an increase in the use of contract manufacturing organizations to outsource activities for the advancement of medical equipment.
The company recently announced the development of COVID-19-related medical devices. Furthermore, according to a National Institutes of Health (NIH) October 2020 update, the agency is partnering with the Bioscience Advanced R and D Authority (BARDA) and has confirmed a third round of procurement contracts for scale-up and production of new COVID-19 testing technologies. As a result of the aforementioned variables, the COVID-19 pandemic appears to have had a beneficial influence on market growth.
OEMs can also supply specific facilities required for medical device manufacture. Medical labs on-site are required for all stages of production, from development to manufacture. These laboratories provide engineers with the opportunity to evaluate and verify new goods, as well as make any necessary design revisions.
Report Scope of the Healthcare Contract Manufacturing Market
| | |
| --- | --- |
| Report Coverage | Details |
| Market Size in 2023 | USD 257.5 Billion |
| Market Size by 2032 | USD 563.3 Billion |
| Growth Rate from 2023 to 2032 | CAGR of 9.1% |
| Base Year | 2022 |
| Forecast Period | 2023 to 2032 |
| Segments Covered | Service, Type, Class, Type of Manufacturing, End Use, and Geography |
| Companies Mentioned | Viant Technology LLC, FLEX LTD., Celestica Inc., Nordson Medical, Integer Holdings Corporation, West Pharmaceutical Services, Inc., Synecco, Catalent, Inc., Jabil Inc., Celestica Inc., Sanmina Corporation, Plexus Corp., Phillips-Medisize. |
Growth Factors
The COVID-19 outbreak has prompted several biomedical and pharmaceutical companies to increase production of drugs and medical necessary equipment by impacted people all over the world. According to the US FDA, medical equipment account for more than 60% of Gov't products imported from China, making the US medical equipment sector heavily reliant on China's distribution chain. Medical devices makers are experiencing significant supply shortages, which may ultimately limit the company's income generation scope.
End-to-end services delivering value-added services for an integrating or threat business model are expected to fuel market growth. Pharma and medical device companies outsource manufacturing duties to CMOs in order to reduce their production footprint. It allows manufacturers to be more adaptable and cost-effective in their production processes.
Furthermore, factors such as the rising usage of non-invasive surgical methods are driving up demand for pharmaceuticals and medical gadgets. To meet this increased demand, OEMs are exporting non-core manufacturing operations, which allows them to save money on labour, free up capital, increase worker efficiency, and shorten production lead times. Outsourcing is a cost-effective option for many large, medium, and small pharmaceutical enterprises, as fixed costs for making biologics products amount for 60-70 percent of cost of goods sold (COGS) and cannot be prevented even in idle scenarios.
As a result, the use of multi-product facilities to produce biologics has shown to be both economically efficient and safe, with little to no risk of product carryover, encouraging market expansion. Because the medical device industry is so extensively regulated, it may be hard to make rapid modifications to the supply chain. Medical device companies that distribute their products in the United States are not required to notify the FDA of any current or projected supply chain constraints. Regardless, the FDA is taking aggressive steps to address any shortages with in medical device supply chain. Products made of aluminum, electronic components, lithium-ion batteries, and particular components like pneumatic fitting and black emission spectra sources, and platinum are among those in low supply.
This has led to unprecedented demands for the creation of pharmaceutical formulations (APIs), finished doses, and medical equipment to secure supply. According to the Medical Product Outsourced, manufacturers anticipate cost savings and a quicker time to market as a result of outsourcing.
Several major media forecast that firms will outsource more work in 2020, according to a 2020 Global Service Management Report. Based on a study of 1,250 managers from 29 countries, 45 percent of organizations said they would outsource more in the coming years. However, the limited production capability of CMOs may provide a substantial barrier to industry development. The rising medical device industry is a major driver of market growth.
As per the World Health Organization's (WHO) 2022 update, there are an estimated 2 million unique types of medical devices divided into over 7000 generic device groups. Furthermore, Rosti Romania has secured a new medical equipment contract for its new manufacturing location, which will open in June 2021. This reflects the medical device industry's global development, which has raised demand for contract manufacturing services. Furthermore, because some organizations lack in-house skills for producing medical devices, contract manufacture of such products is favored, consequently increasing markets growth. More than a few efforts aimed at increasing the usage of medical gadgets are being introduced.
Segment Insight
Service Insights
The pharmaceuticals segment accounted to reach at a highest revenue share in 2022. The medical device market is further split by kind and therapeutic area. The type category includes accessory, assembly, component, and device manufacturing. Because of a lack of in-house production facilities and intricacy, the device manufacturing industry is predicted to drive the contract manufacturing market during the forecast period. The medical devices market is classified into therapeutic areas such as cardiology, medical imaging, orthopaedics, IVD, ophthalmology, general & cosmetic procedures, therapeutic agents, dentistry, and others.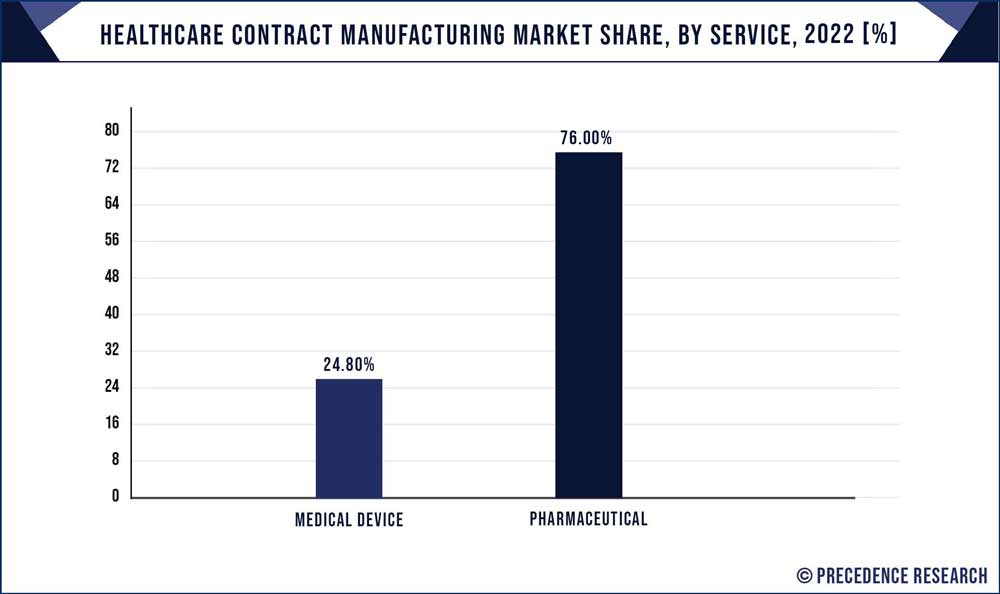 In 2022, the cardiology category held the highest share. The rising demand for cardiac devices as a result of a rise in cases of associated disorders is attributed to the development of outsourcing of these items. Furthermore, because to the enormous complexity of cardiac devices, and the requirement for technical abilities, these devices are increasingly being outsourced. The pharmaceutical segment includes active pharmaceutical ingredients (APIs), novel drug delivery compositions, packaging, and final dose formulation.
APIs, which are essential in drug research, accounted for the largest share in 2022 and are expected to grow considerably during the projected period. Due to limited capacity, limited funding, a lack of skilled individuals, and a desire to save money, some firms are outsourcing drug development. Various CMOs provide customised services. CMO services range from the manufacture of API/bulk medicines through the preparation of finished dosages.
Class Insights
The medical device contract manufacturing market is divided into three categories: Class I, Class II, and Class III medical devices. The Class II medical devices sector is expected to develop at the fastest CAGR in the market by 2022. The huge number of medical devices that come under this device class and their higher use (relative to other classes) by end users and caregivers in the healthcare sector can be linked to the segment's rise. Furthermore, as a result of the COVID-19 epidemic, governments reduced regulatory compliance on these devices and awarded Emergency Use Authorizations (EUA) for diagnostics and PPE kits, supporting market growth.
Healthcare Contract Manufacturing Market Share, By Region, 2022 (%)
| | |
| --- | --- |
| Regions | Revenue Share in 2022 (%) |
| North America | 30% |
| Asia Pacific | 46% |
| Europe | 16% |
| Latin America | 5% |
| MEA | 3% |
Region Insights
The Asia Pacific region dominated the market with highest revenue share in 2022 and it is predicted to maintain its dominance over the projection period as healthcare services improve and developing nations grow economically. Furthermore, the cheap cost of performing clinically approved trials in this area motivates manufacturers to relocate their manufacturing operations, which supports market expansion in APAC is expected to grow greatly throughout the estimated period due to the presence of a large number of major companies in the region. These firms are seeking to expand their manufacturing sites to suit the growing demand for medical equipment and medications. This will eventually boost the healthcare and biopharmaceutical device industries in the area.
Furthermore, various efforts performed by industry participants are adding in the market's growth. Connectivity, a global leader in connectors and sensors, for example, bought three enterprises centered on microfluidic cartridge and blister reagent component advancement, test cases, medical trials, and production, which include Toolbox Medical Innovations (Carlsbad, California, USA), that also offers usability testing, Point of Care IVD product development, clinical research, and manufacturing, in September 2021.
Finally, in comparison to other areas, the Middle and African regions will have the slowest development. However, with some major breakthroughs in biotechnology and pharmaceutical industries within the GCC (Gulf-Corporation Council), the area will continue to grow steadily.
Key market developments
In May 2017, PokitDok announced that it has selected the Hyperledger Sawtooth platform from the Linux Foundation as its preferred platform for documenting DokChain healthcare transactions.
Key market players
Viant Technology LLC
FLEX LTD.
Celestica Inc.
Nordson Medical
Integer Holdings Corporation
West Pharmaceutical Services, Inc.
Synecco
Catalent, Inc.
Jabil Inc.
Celestica Inc.
Sanmina Corporation
Plexus Corp.
Phillips-Medisize
Segments covered in the report
(Note*: We offer report based on sub segments as well. Kindly, let us know if you are interested)
By Service
Medical Device

By Service

Accessories Manufacturing
Assembly Manufacturing
Component Manufacturing
Device Manufacturing

By Therapeutic Area

Cardiology
Orthopedic
IVD
Ophthalmic
General & plastic surgery
Drug delivery
Dental
Endoscopy
Diabetes care
Others

Pharmaceutical

By Service
Finished Dose Formulations

Solid
Liquid
Semi-solid formulations
By Type
By Class
Class I
Class II
Class III
Type of Manufacturing
Raw Materials
Electronics
Finished Goods
By End Use
Medical Device Companies
Pharmaceutical Companies
Biopharmaceutical Companies
By Geography
North America
Europe
Asia-Pacific
Latin America
Middle East & Africa (MEA)