The global healthcare packaging market size accounted for USD 134 billion in 2022 and is expected to hit around USD 199.3 billion by 2032 and is poised to grow at a CAGR of 4.1% over the forecast period 2023 to 2032.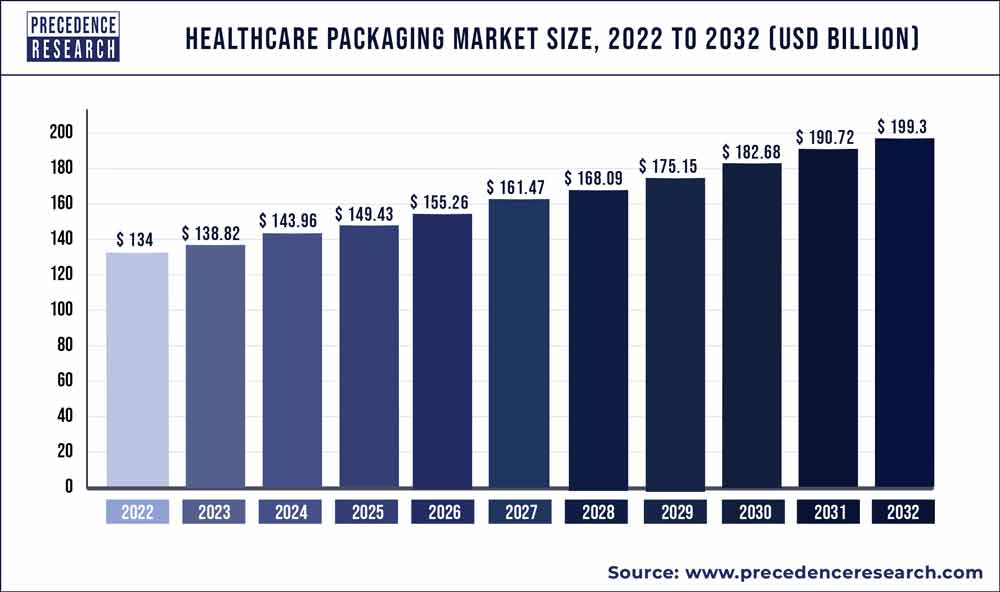 Access our Premium Real Time Data Intelligence Tool, Visit: Precedence Statistics
Key Takeaways:
The rigid packaging segment has garnered 81% revenue share in 2022.
By material, the plastics segment contributed 52% market share in 2022.
Despite the fact that healthcare packaging includes a number of remarkable features, its primary function is to safeguard a packed medical device or pharmaceutical product. Healthcare items may have unique requirements and are typically sterilized before packaging, therefore healthcare product packaging attempts to meet the strictest medical standards and regulations while also protecting the integrity of the product. The product should be stable in the packaging the whole time it is on the shelf. The ability of companies in the healthcare packaging sector to create COVID-19 immunization vials is growing. They are increasing up their efforts to ship vials to vaccine makers in order to make sure that they arrive quickly, safely, and in a manner that is straightforward to use for filling operations. Vials in plastic tubs are delivered to pharmaceutical filling facilities by producers of packaging.
In the manufacturing and packaging processes utilized in the medical device and pharmaceutical industries, safety and sustainability are given top priority. Traceability regulations have been established across the board in the healthcare sector to fight the selling of counterfeit drugs and medical supplies. The proliferation of disposable kits is one of the most ubiquitous changes in the supply of medical and surgical equipment. Strict regulations, globalization, and other economic factors all have an influence on market expansion. New regulatory frameworks for information and anti-counterfeiting may be challenging for manufacturers to design and implement as labels change quickly.
Regarding economic worries, a variety of political and economic factors continuously exert downward pricing pressure on the pharmaceutical packaging businesses. In order to develop novel medical package designs, manufacturers in the healthcare packaging industry are stepping up their R&D efforts. This includes everything from material selection to rigorous testing and sterility assurance. They are developing packaging innovations that are simple to employ in crisis situations. Manufacturers are creating packaging options that aim to boost consumer satisfaction and patient outcomes. To give users the necessary information, packaging methods need to utilize better labeling.
Growth Factors
The market for healthcare packaging is expanding as a result of factors such the rise in illness occurrence, the number of pharmaceutical formulations, and the rising need for practical packaging options. Regulations scrutinize the pharmaceutical business quite closely. Therefore, in addition to cost, pharmaceutical businesses' key priorities include assuring safety and combating adulteration. Leaching of additives into liquid medicine formulations is a common concern that businesses must deal with.
Report Scope of the Healthcare Packaging Market
| | |
| --- | --- |
| Report Coverage | Details |
| Market Size in 2023 | USD 138.82 Billion |
| Market Size by 2032 | USD 199.3 Billion |
| Growth Rate from 2023 to 2032 | CAGR of 4.1% |
| Base Year | 2022 |
| Forecast Period | 2023 to 2032 |
| Segments Covered | Material Type, Product, Application, Drug Delivery Mode, Packaging, Packaging Format, and Geography |
| Companies Mentioned, | Amcor plc, Gerresheimer AG., DS Smith Plc, Huhtamäki Oyj, Berry Global Inc., Sonoco Products Company, Sealed Air Corporation, Constantia Flexibles Group GmbH, Winpak Ltd., CCL Industries Inc., 3M Company, Dunmore Corporation, Toray Plastics. Inc., WestRock Company, Mondi Group, BillerudKorsnäs AB, Ball Corporation, Honeywell International, Klöckner Pentaplast Europe GmbH & Co. KG, Avery Dennison Corporation. |

Market Drivers
The growth of the pharmaceutical business in emerging markets -

The governments of developing nations like China and India are making significant efforts to raise domestic medication production and advance pharmaceutical manufacturing capabilities. The growing pharmaceutical businesses in these countries are increasing the need for efficient packaging options. For instance, in 2021, Gerresheimer AG built two new plastic packaging production plants in China and India to address the demands of its clients for pharmaceutical packaging in these countries. The rapidly growing pharmaceutical industry in developing nations is predicted to significantly increase the demand for healthcare packaging.

Shifting Demographics and Lifestyles -

The ageing population and its effects on healthcare are the most obvious changing demographic. Older persons have distinct and more serious medical issues than younger people do; treating them typically takes longer and requires more extensive therapy. According to estimates, seniors use close to 30% of all prescription drugs and spend 2.5 times as much per person on healthcare as younger people do. The last six to eight weeks of life seem to be when most money is spent on a person's health, typically in an effort to extend the life of a terminally sick person. The federal government's goal of lowering Medicare and other hospital expenditures is at odds with this tendency. That seniors today spend more than twice as much on healthcare as they did before Medicare is not unexpected.
Market Challenges
Stringent regulatory changes - Although the healthcare packaging industry is expanding, there are still barriers including rigorous legislation, globalization, and other economic factors. New regulatory frameworks for information and anti-counterfeiting may be challenging for manufacturers to design and implement as labels change quickly. Numerous regulatory and economic factors continuously exert lower pricing pressure on the pharmaceutical packaging sector.
Market Opportunities
Growth of Disposable Kits - The expansion of disposable kits is one of the most ubiquitous changes in the supply of medical and surgical equipment. These goods are becoming more and more specialized for clinical, diagnostic, and surgical treatment as well as for certain health professionals who need a pre-packaged, sterile plastic container holding their own specific selection of equipment, gadgets, and related peripherals. These goods are emblematic of the overall trend in the surgical and medical product business toward disposables. This trend is encouraged by hospital managers and medical purchasing associations. Hospitals may run more effectively and for less money by using pre-made kits, trays, and packs. Inventory levels are kept to a minimal since suppliers are willing and able to ship rapidly to hospital central supply sites and have enough stock in their own warehouses to prevent hospital shortages.
Speed Up in Packaging Innovations Leading Cost and Time Reduction - Pharmaceutical research has always advanced at a pace that has kept pace with improvements in packaging techniques. The packaging ensures the medications' integrity while being stored, transported, and delivered. As a result, changes in the packaging industry are tied to changes in the market for NDA Pharmaceuticals. Software and technology services will enable pharmaceutical package design to be performed considerably more swiftly. The services will be developed to shorten time to market while simultaneously enhancing design and testing precision, which will result in significant cost savings for both the developer and the client. Due to these recent improvements, the packaging industry is using materials more effectively, requiring fewer samples to be evaluated for stability, less time, less labor, and fewer types of equipment overall. The blister cavity is created using 3D design tools to preserve an appropriate thickness distribution for the high-performance packaging material.
Segmental insights
Material Type Insights
The plastic industry dominated the global market in 2022. Plastic is the product that manufacturers find most profitable globally. Plastic is anticipated to give an alternative option as recyclable polymers like polyethylene and polyethylene terephthalate are regularly used to build sustainable healthcare packaging solutions. Healthcare packaging has changed in various ways, one of which being the producers' preference for plastic over glass as a material. With the development of invention and technology, plastic packaging that was not only able to protect the contents but was also significantly less fragile than glass, was brought to the market.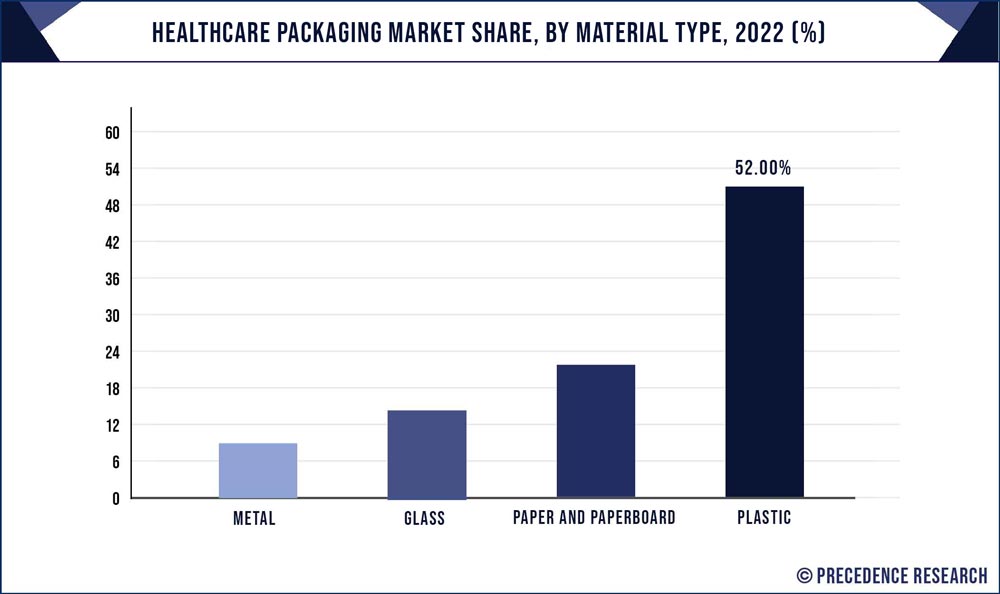 Additionally, plastic packaging options are lightweight and provide great barrier qualities against moisture, gas, solvent, and the majority of environmental elements. These qualities—lightweightness, relative affordability, and simplicity of access to raw materials—have significantly improved manufacturers' profitability. The availability of plastic packaging options in the pharmaceutical packaging industry has greatly risen as a result of these considerations.
Packaging Insights
In 2022, primary packaging led the packing type sector, and it is anticipated that the segment would continue to dominate over the projection period. Over the projected period, the category is anticipated to grow as consumer need to extend product shelf lives and growing consumer demand to protect healthcare items both increase. The material used for primary packaging is in direct touch with the items.
The primary packing in medical packaging is the most crucial since it should maintain the safety and original state of the medication. Knowing the potential interactions between the container and the contents is essential for primary packaging. Typically, stability and compatibility of a product or component are verified during the initial research and development phase. Packaging must be designed to prevent medication interactions and ensure that drugs are properly contained. such as Strip packaging, blister packets, etc. Glass, plastic, or metal containers, bottles, vials, ampules, stoppers, seals, desiccants, fillers, and other items may be used as main packaging.
Application Insights
On the basis of application, the medical devices sector led the healthcare packaging market. During the forecast period, the segment is anticipated to rise as a result of the rising demand for medical devices in hospitals and clinics, rising consumer spending power, rising consumer health awareness, and expanding research and development in medical instruments and equipment. In the healthcare sector, a variety of medical device kinds are employed. These tools include of instruments and supplies for surgery, stents, pacemakers, hip implants, dental implants, and other things. Before any of these gadgets may be used by patients in hospitals or other medical facilities, they must all be packed appropriately. Sterilization and cleaning are only two of the procedures used in the packing of medical devices to assist prevent contamination during storage or transportation.
Healthcare Packaging Market Share, By Region, 2022 (%)
| | |
| --- | --- |
| Regions | Revenue Share in 2022 (%) |
| North America | 36% |
| Asia Pacific | 21.9% |
| Europe | 28.8% |
| Latin America | 8% |
| MEA | 5.3% |

Geography Insights
North America region accounted for 36% revenue share in 2022. Due to its sophisticated primary medical community, considerable medical & life science research operations, high healthcare expenditure intensities, and sizable pharmaceutical & medical industry, the United States is one of the major geographical markets for healthcare packaging goods. During the predicted period, the Asia Pacific market is estimated to grow at the greatest CAGR. Asia-Pacific, which is home to the majority of the world's population, is anticipated to have the fastest market growth. As a result of their quick economic growth and expanding developmental activities, nations like China and India are expected to see significant market growth.
Recent Developments
Amcor Limited introduced a new packaging product called AmLite Ultra Recyclable in May 2019. The carbon footprint of the packaging was greatly decreased by this new product's high-barrier polyolefin film.
Amcor Limited concentrates on creating recyclable packaging materials and recyclable packaging goods as of January 2019. The creation of new items and their improvement both expand the market for new products in healthcare packaging and grow their clientele.
Key market players
Amcor plc
Gerresheimer AG.
DS Smith Plc
Huhtamäki Oyj
Berry Global Inc.
Sonoco Products Company
Sealed Air Corporation
Constantia Flexibles Group GmbH
Winpak Ltd.
CCL Industries Inc.
3M Company
Dunmore Corporation
Toray Plastics . Inc.
WestRock Company
Mondi Group
BillerudKorsnäs AB
Ball Corporation
Honeywell International
Klöckner Pentaplast Europe GmbH & Co. KG
Avery Dennison Corporation.
Segments covered in the report
(Note*: We offer report based on sub segments as well. Kindly, let us know if you are interested)
By Material Type
Glass

Plastic

Metal

Paper and Paperboard
By Product
Bottles and Containers

Vials and Ampoules

Cartridges and Syringes

Pouches and Bags

Blister Packs

Tubes

Paper Board Boxes

Caps and Closures

Labels

Other
By Application
Medical Tools & Equipment

Medical Devices

In-Vitro Diagnostic Product
By Drug Delivery Mode
Oral

Injectable

Dermal/Topical

Inhalable

Others
By Packaging
Primary Packaging

Secondary Packaging
By Packaging Format
Bags & Pouches

Envelopes

Tubes

Sachets

Rigid Packaging

Trays

Boxes & Folding Cartons

Clamshells

Blisters

Bottles & Jars

Containers

Aerosol Cans

Ampoules & Vials
By Geography
North America
Europe
Asia-Pacific
Latin America
Middle East & Africa (MEA)