In 2022, the global hearing aid market was estimated at USD 6 billion and it is projected to surpass around USD 10.4 billion by 2032 with a compound annual growth rate (CAGR) of 5.7% over the forecast period 2023 to 2032.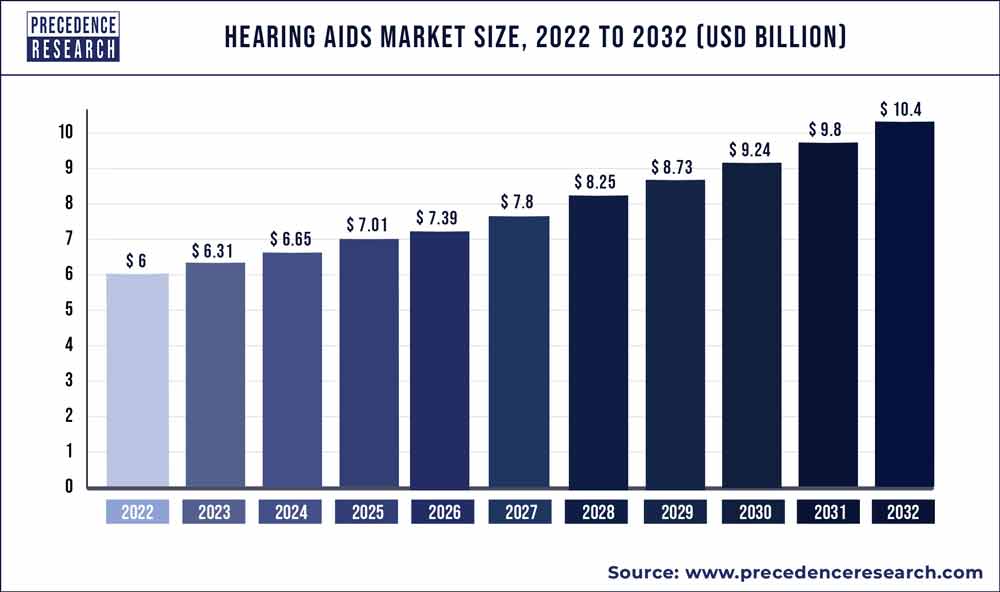 Access our Premium Real Time Data Intelligence Tool, Visit: Precedence Statistics
Key Takeaway:
By product type, the behind-the-ear (BTE) hearing aids segment has held the largest revenue share of 41.6% in 2022.
By technology, digital devices have generated a revenue share of 91% in 2022.
By sales channel, the retail sales segment has captured a revenue share of over 71% in 2022.
Europe market has dominated in 2022 with a revenue share of around 36%.
Deafness can have a significant impact on life, from employment to mental health. Hearing aids can make a huge difference to the world, if you choose the right hearing aids and get help in adapting them. Conduction hearing loss is a type of hearing loss caused by abnormalities with the ear canal or middle ear. In the vast majority of situations, medical intervention can help. If you have an open ear canal and a relatively normal external ear, a hearing aid may help. Due to market being extremely technologically driven with unique devices such as smart hearing devices, undetectable hearing devices, and AI- Wirelessly hearing device that can be linked to Ios or android gaining traction.
Hearing aid manufacturers are adding new features and technologies to improve patients' experiences, which is projected to drive market growth in the forthcoming years. Furthermore, roughly 15% of individuals aged 18 and up in the United States have hearing loss. In October 2021, for example, the FDA proposed a plan to establish a new type of low-cost over the counter hearing aids. This introduces a unique revenue stream for companies wanting to break into the over the counter hearing aid industry. Government and regulatory support of this magnitude is expected to have a long-term beneficial impact for the hearing aids industry in the United States.
Growth Factors
The rise in the senior population, the use of smart hearing devices, and the increased number of sound induced hearing impairment are all driving market expansion. Hearing loss is becoming more common around the world, making it critical to monitor and assess hearing abilities. As a result of the COVID-19 pandemic, more people are opting for monitoring system. This situation has brought a new era in hearing healthcare that needs a fundamental reassessment of audiology service delivery. For audiology patients, low- and no-touch procedures now are required. At a compound annual growth rate of around 7.74%, the market is expected to accelerate its growth velocity.
In Europe, the primary markets for hearing aids are Germany, the United Kingdom, and France. Hearing aid market expansion in Europe would be aided by the ageing population and the increase of hearing problems throughout the forecast period. In terms of product, the hearing aids category accounted for the greatest market share in 2022, and it will continue to do so throughout the projected period. Depending on the kind of deafness, the hearing industry is fragmented into sensorineural or congenital loss of hearing. The sensorineural hearing loss sector held the greatest proportion in 2022. The expansion of the Europe market can be ascribed to rising life expectancy, a growing geriatric population, and an increased prevalence of deafness as a result.
Report Scope of the Hearing Aids Market
| | |
| --- | --- |
| Report Coverage | Details |
| Market Size in 2023 | USD 6.31 Billion |
| Market Size by 2032 | USD 10.4 Billion |
| Growth Rate from 2023 to 2032 | CAGR of 5.7% |
| Europe Market Share in 2022 | 37% |
| Fastest Growing Region | Asia Pacific |
| Base Year | 2022 |
| Forecast Period | 2023 to 2032 |
| Segments Covered | Type, Application, Technology, Patient Type, Sales Channel, Geography |
| Companies Mentioned | Demant A/S, Starkey Laboratories, Inc., Cochlear Ltd., RION Co., Ltd, Microson, GN Store Nord A/S, Sonova Group |
Type Insights
In-the-ear (ITE) hearing aids
ITE aids are tailored and made to wear in the ear canal. They are made from an impression chosen to take by your hearing care expert during your hearing aid appointment. To fit in with the outer ear, these styles are usually found in a wide range of skin tones. Some ITE hearing aids are made to fit deep inside the ear canal, whereas some are designed to fit closest to the outer ear. The majority of the components are housed in a tiny plastic shell which sits behind the ears, with a portion of clear tubing connecting this to an earpiece. Such form is popular with young kids since it accommodates a variety of earmold styles that will have to be changed as when the child gets older. The BTE devices are very simple to clean & manage, and being relatively durable.
Behind-the-ear audio implants
The behind-the-ear (BTE) hearing aids segment has garnered market share of around 41.6% in 2022. BTE aids are placed beneath or on top of the ear, with tubing sliding down further into ear canal through a custom-fit hearing aid or a dome type that doesn't completely cover the ear canal opening. The electronic components are kept hidden behind the ear in a casing. The audio passes first from hearing aid to the ear via the hearing aid. BTE implants are used by persons of all ages who suffer from moderate to severe deafness. Hearing aids is housed inside small casings which can partially or fully slide in to ear canal. They're the tiniest hearing devices on the market, with some visual and auditory benefits. But, for certain individuals, its size makes it hard to manage and adjust.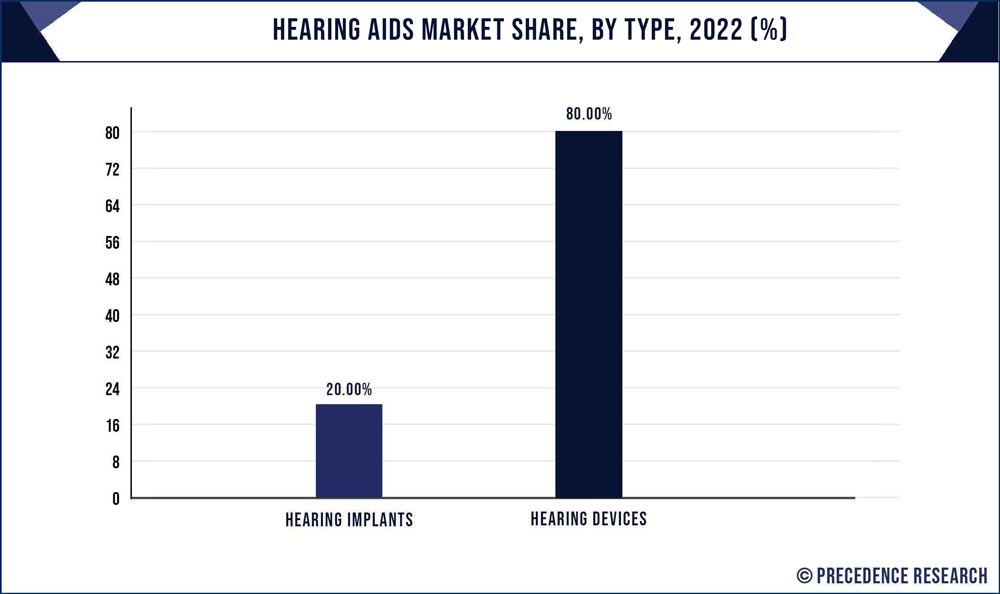 Open fit
Auditory devices which do not restrict your eardrum are known as open-fit hearing aids. Open-fit cochlear implants are really not new, despite their resurgence in terms of popularity. One significant cause they're making a comeback would be that its primary flaw - feedback – is no longer an issue. Only the most basic cochlear implants now include complex feedback techniques that identify and delete input before it touches your ears. A behind-the-ear cochlear implant with a narrow passage or a recipient or receiver-in-the-ear hearing aid with an accessible cupola inside the ear is known as an open-fit hearing aid. This design leaves the ear canal wide open, allowing low-frequency sound to enter naturally while high-frequency sounds are boosted by the hearing aid. This tends to make the style an excellent investment for individuals with decent hearing and mild to moderate high-frequency deafness.
Technology Insights
Hearing aid technology has advanced dramatically in recent years, but hearing devices have always had 4 essential components: a sensor, a transmitter, a receiver, and a power source. The sensor collects up noises from your surroundings and sends them to the processor. The processor boosts the signal and sends it to the receiver, which amplifies it and sends it to the inner ear. The system is powered by a power generator, such as a battery. Depending on the complexity of the processor, hearing aid system can be categorized as sophisticated or basic. Even today's most basic digital hearing aids provide significantly greater advantage than earlier decades' greatest hearing aids. Some high-end hearing devices have artificial intelligence (AI), that enables devices to analyze sounds using a deep convolutional neural network. Wearable devices can start to make such modifications automatically whenever the environment is recognised by logging control valve setting and programme choices for particular sound settings. Digital technologies led the industry in 2022, accounting for over 90.0 percent of total revenue, and thus are expected to grow at the quickest Annual growth rate . With such a relatively slow rate than its electronic equivalents, analogue gadgets are now on the point of becoming outdated. Despite this, producers strive to produce analogue hearing aids due to their low cost and a small number of consumers' aversion to switching to digital. The idea of analog circuits is to increase the strength of continual sound waves. These devices provide equal enhancement of all sounds, including voice and noises.
Application Insights
Medical IoT includes real-time tracking, connectivity, and information technologies on the customer site, data storage, and big data methods will be used to gather, evaluate, and transmit the patient's condition parameter signal & supervision data to other technologies in the future. A good example of such a health service is the EVOTION platforms. Body Area Sensor Networks (BASNs) and Body Area Networks (BANs), as well as its subcategory of Wireless Sensor Networks, have seen tremendous advancement in healthcare IoT in recent times (WSN). Such systems have aided the rapid growth of telemedicine services that allow individuals and their essential parameters to be monitored remotely. While transmitting health information from the BASNs, BANs, and WSNs, security mechanisms are embedded to protect confidentiality, security, and reliability. There seem to be a wide range of hearing-related mobile applications accessible, including sound level apps which inform you how loud it is around. Other applications can do a basic checkup and some even allow you to "teach" your mind with listening exercises. Applications can very often tell users how long your hearing aids' batteries last, so you'll know when they have to be refilled or changed. Apps frequently include information, such as how many hours you've worn your cochlear implants each day.
Geography Insights
Europe will have the highest market share 37% in 2022. The expansion of the Europe market could be ascribed to rising life expectancy, a growing geriatric population, and an increase in the prevalence of hearing loss as a result. Based on the patients, the hearing aids are broken up into two categories: adults and kids. During the projection period, the elderly patients segment grew just at fastest pace. Adult make up a significant portion of the overall patient group due to their increased sensitivity to deafness. As the outcome, the sustained and increased need for hearing devices will be ensured by the rise of this particular sector.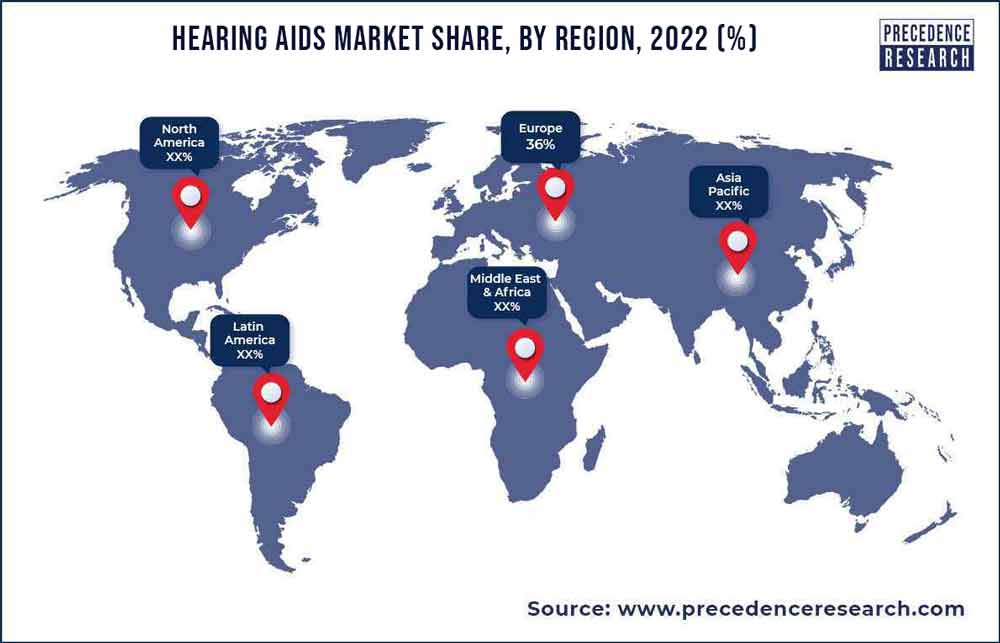 Over the forecast timeframe, North America is anticipated to have massive development. The United States is expected to earn a large proportion of the North American market during the projection timeframe, owing to its high estimated incidence of deafness and rising usage of hearing devices.
North America hearing aids market was valued at US$ 3.6 billion in 2022. By product, the US market was valued at US$ 2.5 billion in 2022.
Key Market players
Demant A/S
Starkey Laboratories, Inc.
Cochlear Ltd.
RION Co., Ltd
Microson
GN Store Nord A/S
Sonova Group
Key market developments
Sonova Holding AG finalised the purchase of Sennheiser electronic GmbH & Co. KG's Consumer Division early March 2022. Sonova's appealing product line will benefit from it, as well as its networking presence and customer base. GN Store Nord A/S introduced a new ReSound Key early February 2021, a complete hearing aid range which expands worldwide access to enhanced listening technology. The company would be able to extend its product portfolio and reach a bigger customer base as a result of this release. Starkey (US) and OrCam Technologies (Israel) joined on Oct 2020 to deliver assistive devices to deaf / visually challenged individuals. In combination with Starkey's Livio Edge AI hearing devices, OrCam was able to use the sophisticated machine learning algorithms that were created to relay the visual world through audio.
Segments covered in this report
(Note*: We offer report based on sub segments as well. Kindly, let us know if you are interested)
By Type
Hearing Devices

Behind-the-Ear (BTE)
In the Ear (ITE)
Receiver in the Canal (RIC)
Completely in the Canal (CIC)
Others (Invisible in the Canal, and others)

Hearing Implants

Cochlear Implants
Bone Anchored Implants
By Application
Body Area Sensor Networks
Wireless Sensor Networks
By Type of Hearing Loss
Sensorineural Hearing Loss
Conductive Hearing Loss
By Technology
By Patient Type
By Sales Channel
Retail Sales
Government Purchases
E-commerce
By Geography
North America
Europe
Asia-Pacific

China
India
Japan
South Korea
Malaysia
Philippines

Latin America

Brazil
Rest of Latin America

Middle East & Africa (MEA)

GCC
North Africa
South Africa
Rest of the Middle East & Africa