The global high performance alloys market size was valued at USD 9.9 billion in 2022 and is expected to hit around USD 16.7 billion by 2032, growing at a CAGR of 5.36% over the forecast period 2023 to 2032.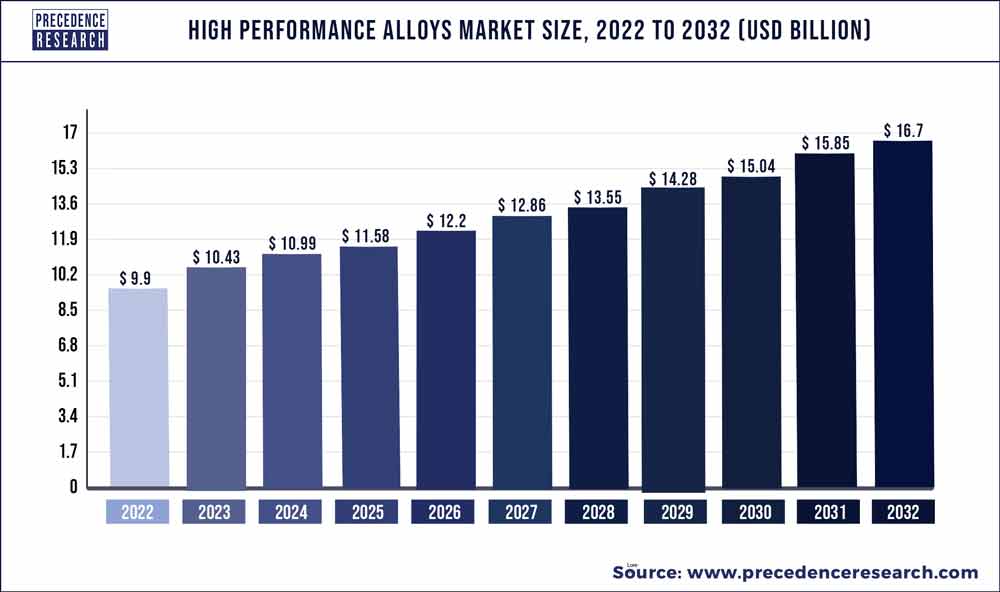 Access our Premium Real Time Data Intelligence Tool, Visit: Precedence Statistics
Market Overview:
High Performance Alloys (HPAs), also known as Superalloys, are substances that have several essential qualities that make them suitable for use in extremely demanding applications. These could include one or a combination of high-temperature resistance, good mechanical strength, creep resistance (deformation caused by prolonged exposure to high amounts of stress), and corrosion- or oxidation resistance. While HPAs have existed in some form for several centuries, the creation of many of the HPAs that are now used often in the industry was spurred by the invention of the jet engine in the first part of the 20th century. This required materials that were more resilient to stress and able to function at higher temperatures than many pre-existing materials.
The aircraft industry's ever-increasing demands continue to drive HPA development in the modern period, but demands from other businesses, including power generation, petrochemicals, and industrial chemicals, have also had a role. The most prevalent families of HPAs frequently contain nickel, cobalt, or iron as their base metals, with a variety of alloying metals added to improve particular qualities. For instance, the proper ratios and quantities of titanium, aluminum, cobalt, molybdenum, or carbon can improve the creep and oxidation resistance of nickel-based alloys.
These all contribute to the material's strength after heat treatment through a process called precipitation hardening, which functions similarly to the reinforcing bars in concrete. The growth of the high performance alloys market is primarily driven by the increasing construction sector, growing automotive industry, increasing infrastructural projects across the globe, growing public and private sector investment for smart cities, increasing oil & gas industry and the robust investment in the renewable sector across the globe.
As per ACEA, on average, there are 560 passenger cars and 81 trucks, buses and other vehicles per 1,000 people in the European Union. The highest car density in the EU is found in Luxembourg (696 cars per 1,000 persons).
According to the BP, oil consumption increased by 5.3 million b/d and the natural gas demand increased by 5.3% in 2021.
As per IATA, the global commercial airline's revenue was understood USD 506 billion in 2021.
Report Scope of the High Performance Alloys Market:
| | |
| --- | --- |
| Report Coverage | Details |
| Market Size in 2023 | USD 10.43 Billion |
| Market Size by 2032 | USD 16.7 Billion |
| Growth Rate from 2023 to 2032 | CAGR of 5.36% |
| Largest Market | North America |
| Base Year | 2022 |
| Forecast Period | 2023 to 2032 |
| Segments Covered | By Product, By Material, By Alloy Type, and By Application |
| Regions Covered | North America, Europe, Asia-Pacific, Latin America, and Middle East & Africa |

Market Dynamics:
Driver:
Increasing construction industry
The market is expected to grow during the forecast period due to an increase in construction activity across the globe, including higher investment and new construction project announcements. For instance, the Australian construction sector has a projected annual growth rate of 2.4% and generates close to 360 billion in revenue (9% of the nation's GDP). About 1,143,600 people were employed in the construction business as of November 2021.
One in ten people are employed there, making up 8.7% of the workforce as a whole. Furthermore, the growing investment in smart cities is expected to fuel the growth of the market. The Smart Cities Mission in India would receive USD 868 million under the Union Budget 2021-22 as opposed to USD 457 million in FY21. Thus, the increasing construction industry will boost the high performance alloys industry over the projected study period.
Restraints:
Volatility in the price of raw material
Aluminum, nickel, chromium, steel, and others are used to make high-performance alloys. The change in the price of raw materials could push up the price of high-performance alloys, which could hinder market expansion over the forecast period. For instance, the China Nonferrous Metals Industry Association estimates that the price of aluminum will rise dramatically by 50% to US$ 3,000 per ton in September 2021. Additionally, it states that considerable price increases are anticipated for other metals including copper, steel, and nickel in 2022. In March 2022, steel prices in the US jumped even further, reaching US$ 700 per ton. Thereby, the volatility in the prices of these metals is expected to hamper the market growth during the forecast period.
Opportunities:
Growing automotive industry
The increasing demand in automotive industry is expected to provide a lucrative opportunity for market growth during the forecast period. In the automotive sector, high performance alloys like Hastelloy, Haynes, and others are predominantly employed in the heater cores, tubes, radiators, and tanks of cars as well as electrical systems, sensors, and control units. Thus, with growing automobile production the demand for these products will significantly rise. The Society of Indian Automobile Manufacturers announced that the Indian auto industry experience a 10% growth in domestic sales for the month of February 2023. The significant rise in the revenue came from the passenger vehicle segment which is around 2,91,928 units.
Segments Insight:
Product Insights:
Based on the product, the global high performance alloys market is segmented into non-ferrous metal, platinum group, refractory and super alloys. The super alloys are expected to capture the largest revenue share over the forecast period. A superalloy, also known as a high-performance alloy, is an alloy that has exceptional corrosion and oxidation resistance, good surface stability, and excellent mechanical strength and creep resistance at high temperatures.
The base alloying component of a superalloy is often nickel, cobalt, or nickel-iron. The aerospace and power sectors have been the main drivers of superalloy development, which has extensively relied on both chemical and process advancements. On the other hand, the non-ferrous metal alloy is expected to grow at the highest CAGR over the forecast period. The growth in the segment is attributable to its properties such as lightweight, high conductivity, non-magnetic properties and corrosion resistance. Additionally, these metals have low melting points, which makes them suitable for applications at high temperatures.
Material Insights:
Based on the material, the global high performance alloys market is divided into aluminum, titanium, magnesium, and others. The aluminum segment is expected to capture the largest market share over the forecast period. These metals are utilized in various applications owing to their low weight and ease of machining. Moreover, it is corrosion resistant, a good conductor of heat and electricity and has good ductility and malleability.
Furthermore, the increasing application in the automotive and aerospace industry also drives the segment growth due to its lightweight. For instance, aluminum material share in aircraft is around 25% to 70%, depending on the aircraft type and mission. Besides, the titanium segment is expected to rise during the projected period because these metals are used in aerospace applications such as fuel nozzles, airframes and others. Furthermore, the incredible properties including high tensile strength at high temperature, light weight, high corrosion resistance, and others are projected to flourish the segment growth over the forecast period.
Application Insights:
Based on the application, the global high performance alloys market is divided into aerospace, industrial gas turbine, industrial, automotive, oil & gas, electrical & electronics and others. The aerospace segment is expected to dominate the market during the forecast period. The growth in this segment is owing to the rising demand for high performance alloys in the aerospace industry. Due to their lightweight, high strength, and exceptional resistance to temperature, wear and corrosion, high performance alloys are largely utilized in aviation engines, radio communication equipment and others.
High-strength titanium alloys, including Ti6Al4V, are used in the aerospace sector for intake fan blades and blade edge liners. Blades and vanes in the aft section of the high-pressure compressor are made of high-strength, creep, and fatigue-resistant nickel-based cast superalloys such as Waspalloy, Hastelloy X, and Nimonic 263. These surroundings are hotter than the operating temperature of titanium alloys. Besides, the industrial gas turbine segment is anticipated to hold a potential market share over the forecast period owing to the high temperature of these alloys.
Regional Insights:
North America is expected to dominate the market over the forecast period. The growth in the region is attributed to the increasing exploration and production in the oil & gas sector. For instance, according to the Resource Development Council for Alaska, Inc., more than 18 billion barrels of oil and 6 billion cubic feet of natural gas have been produced by the oil and gas sector in Alaska, making up more than 20% of the country domestic production on average from 1980 to 2000. In addition, as per US Energy Information Administration, Alaska has the 4th largest proven crude oil reserves of any state, at 3.2 billion barrels. Although many of Alaska's oil fields are advanced, the state produced an average of 437,000 barrels per day of oil in 2022.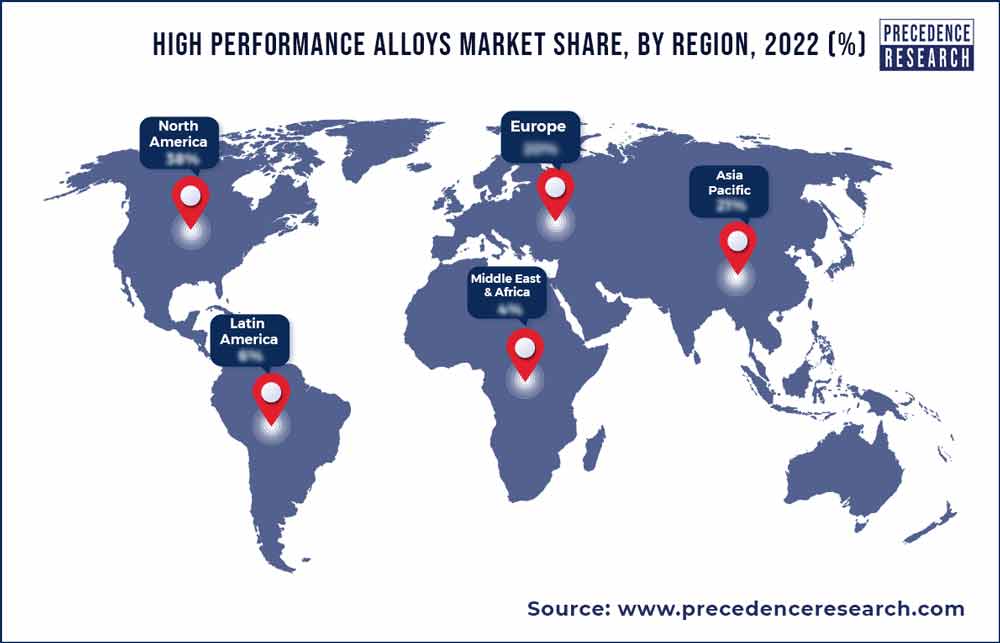 The Asia Pacific is expected to grow at the highest CAGR during the forecast period. The growth in the region is attributed to the increasing construction industry, especially in the countries like India and China. As per India Brand Equity Foundation (IBEF), through its "National Infrastructure Pipeline," India intends to invest USD 1.4 trillion in infrastructure over the next five years. Infrastructure-related operations made up 13% of the USD 81.72 billion in overall FDI inflows in FY21.
The Pradhan Mantri Awas Yojna plan has sanctioned 122.69 lakh homes, grounded 103.01 lakh homes, and finished 62.21 lakh homes as of 22 August 2022. Moreover, the growing oil & gas projects in China and India driving market growth. For instance, Adani Total Gas Ltd (ATGL), a partnership between the Adani Group and TotalEnergies, obtained permits in January 2022 to invest US$2.62 billion in expanding its City Gas Distribution (CGD) network to 14 additional areas. Additionally, Oil and Natural Gas Corp. Ltd. (ONGC) declared in November 2021 that it has decided to spend up to US$ 800 million in its petrochemicals division, ONGC Petro Additions Ltd., in order to meet its equity requirements.
Recent Developments:
In September 2022, Alcoa Corporation made significant announcements about the research and application of alloys, further solidifying its position as a provider of sophisticated alloys. One of the company's inventions is the release of A210 ExtruStrong, a new high-strength 6000 series alloy that offers advantages in a variety of extruded applications, including transportation, building, industrial and consumer goods.
In December 2022, SLM Solutions and Elementum 3D partnered to create high-performance parts using premium alloys for aerospace and space customers. The two companies' cooperation expands the application of additive manufacturing, raises awareness of Elementum 3D materials, and enables SLM solutions to rapidly increase the material portfolio for the NXG XII 600. As a result, the high-performance alloys from Elementum 3D will be accessible on SLM technology by 2023.
In January 2022, Molybdenum, nickel, chromium, cobalt, and aluminum make up the high-performance alloy Inconel 617, which was introduced by Alloy Wire International (AWI) and is specifically intended for use in parts for the petrochemical, medical, aerospace and nuclear industries.
In January 2022, a high strength and hardness alloy called DM HH Stainless Steel (DM HH-SS), developed by Desktop Metal for additive manufacturing on the production system platform, combines high strength and hardness with corrosion resistance. With the recently introduced material, wear and corrosion resistant parts for automotive, consumer goods, medical devices, and oil and gas may now be produced in large quantities.
Key Market Players:
High Performance Alloys, Inc.
eramet
Smiths High Performance
Acerinox
ORIC S.A.S
HAYNES INTERNATIONAL
HIFraser
Maher Limited
Modison Limited
Hitachi Metals, Ltd.
Segments Covered in the Report:
(Note*: We offer report based on sub segments as well. Kindly, let us know if you are interested)
By Product
Non-Ferrous Metal
Platinum Group
Refractory
Super Alloys
By Material
Aluminum
Titanium
Magnesium
Nickel
Steel
Others
By Alloy Type
By Application
Aerospace
Industrial Gas Turbine
Industrial
Automotive
Oil & Gas
Electrical & Electronics
Others
By Geography
North America
Europe
Asia-Pacific
Latin America
Middle East and Africa