The global hydrogen peroxide market size was estimated at USD 6 billion in 2022 and it is expected to hit around USD 10.3 billion by 2032 and anticipated to expand at a compound annual growth rate (CAGR) of 5.6% from 2023 to 2032.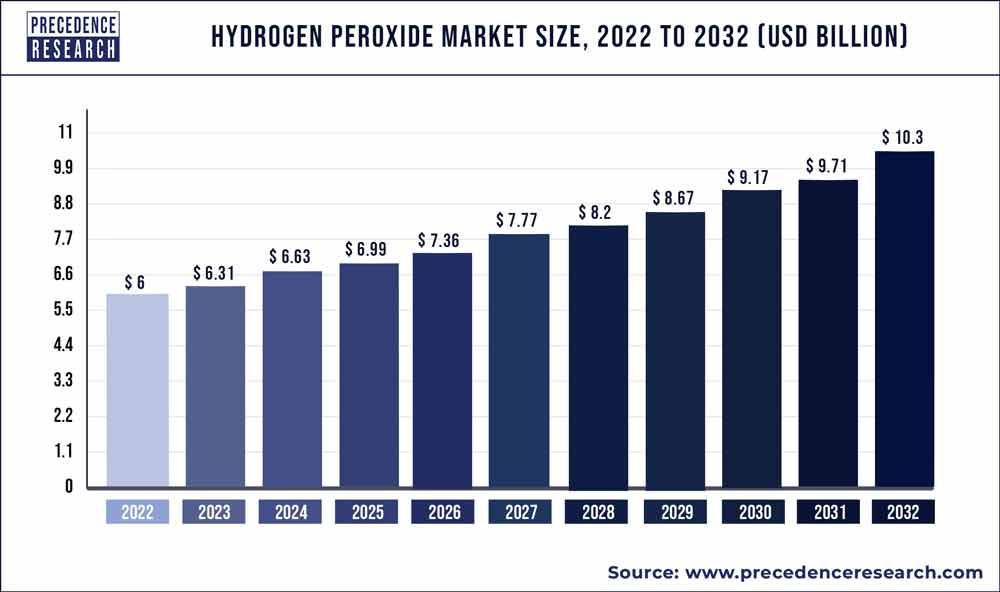 Hydrogen peroxide is one of the essential ingredients used in the creation of such disinfectants and sanitizing products. A typical disinfectant, for instance, typically contains 3% to 4% hydrogen peroxide, 0.5% to 1% peroxyacetic acid, a small amount of isopropyl alcohol, chlorine dioxide, and other ingredients. The material is also expected to continue to be in high demand throughout the industry for a considerable amount of time due to its great abilities to give resistance against viruses, bacteria, and a variety of other microbes, according to the Center for Biocide Chemistries.
Growing healthcare industry demand for the product as a result of its antiseptic qualities is anticipated to continue to be a major driver of market expansion. The substance is widely sought-after in the healthcare industry as an antiseptic, which is usually used to skin wounds and bruises to prevent infections. Due to its capacity to reduce mouth irritation, mucus, and other oral infections, it is also frequently used as a mouth rinse. The material primarily releases oxygen, which causes foaming on the bruised and cut skin and ultimately results in the efficient elimination of dead skin while protecting the area from infection.
Furthermore, because hydrogen peroxide is widely used in the creation of disinfection goods in light of the current COVID-19 epidemic, its demand has increased dramatically globally. Disinfecting both public and private areas is crucial, say a number of international government directives, to lessen the effects of the coronavirus spread. Commercial buildings, bus stops, airports, and train stations must be sterilised for more than 60 minutes inside restricted perimeters. Similar household cleaning guidelines have also been published by a number of countries, which has resulted in a notable increase in the market for sanitizer and disinfection solutions.
Growth Factors
Increasing need for disinfectants, increased demand from the healthcare sector, a rise in the number of paper & pulp producers, and an increase in the number of food processing facilities are some of the key drivers anticipated to propel the global hydrogen peroxide market. In addition to this, it is employed in the personal care, chemical synthesis, cosmetics, and wastewater treatment sectors.
Report Scope of the Hydrogen Peroxide Market
| | |
| --- | --- |
| Report Coverage | Details |
| Market Size in 2023 | USD 6.31 Billion |
| Market Size by 2032 | USD 10.3 Billion |
| Growth Rate from 2023 to 2032 | CAGR of 5.6% |
| Base Year | 2022 |
| Forecast Period | 2023 to 2032 |
| Segments Covered | Function, Grade, Application, Sales Channel, and Geography |
| Companies Mentioned | Evonik Industries AG, Taekwang Industrial, CO., LTD., Arkema, Grupa Azoty, Solvay, Akzo Nobel N.V., Gujarat Alkalies & Chemicals Ltd., National Peroxide Limited, OCI Company Ltd., Airedale Chemical. |
Key Market Drivers
Wide applicability of chemical - Hydrogen peroxide serves a variety of purposes in various industrial, commercial, and domestic settings. It is ideal for bleaching paper and textiles due to its strong bleaching capabilities. It serves as an antiseptic and an antimicrobial agent in healthcare. In applications including food, personal care products, home care, and water purification, it works very well as an oxidising and disinfecting agent. It functions as a top-notch cleaning agent for devices. Additionally, it is employed in the creation of detergent bleaches such sodium perborate and percarbonate. Due to its applicability's realism, the hydrogen peroxide industry is expanding.
Increasing demand from the pulp and paper industry - The paper and pulp industry make extensive use of hydrogen peroxide as a bleaching agent to create a variety of pulp types, including chemical, mechanical, and recyclable pulps. For these sectors, it is also utilised to optimally whiten the pulps. In addition, hydrogen peroxide is used to re-pulp waste paper instead of conventional bleaching agents since it lowers bleaching costs and the colour of the effluent. Online sales are rising in the two main markets for pulp and paper products, the United States and China. This is partially due to the need for innovative packaging due to the rise of online purchasing, which has improved product positioning on shelves. The demand for both raw materials and corrugated containers has grown, which is the cause of this rise.
Key Market Challenges
Patient health hazards - Risks to patient health might prevent consumers from using hydrogen peroxide products. The substance's potent oxidising properties make it potentially harmful to the skin, eyes, and respiratory system. If not managed appropriately, extended exposure can cause hair bleaching as well as skin and eye irritation. Additionally, it accelerates thermal breakdown on its own with most basic materials, such as copper alloys or heavy metals. As a result, it should be handled and kept properly to prevent any potential health risks.
Key Market Opportunities
Innovative use of hydrogen peroxide: The demand for hydrogen peroxide has greatly expanded as a result of the expansion of several sectors and the increase in world population. Players in the market are creating cutting-edge strategies to significantly improve the use of hydrogen peroxide in order to meet the rising demand. For instance, the STERIS Corporation recently unveiled the V-PRO 60 low-temperature sterilisation system, its most cutting-edge creation for the competitive healthcare market of today. Healthcare practitioners now have a practical and affordable means of reprocessing moisture-and heat-sensitive equipment thanks to the product. Professionals who work in sterile processing can be more productive thanks to the V-PRO 60 sterilizer's ability to use hydrogen peroxide to sanitise a variety of equipment. All sterilisation cycles of the gadget use hydrogen peroxide at a level close to 55%. Over the course of the forecast period, the expansion of the worldwide hydrogen peroxide market is anticipated to be supported by the development of such novel techniques.
Increasing adoption of H2O2 and electronic applications - Food-grade hydrogen peroxide is employed as a bleaching and antimicrobial agent in a variety of processes, including the production of cheese and instant tea. Additionally, it is authorised for use in aseptic packing as a sterilising agent. Therefore, corporations are developing new grades to satisfy te shifting market demands. For instance, in 2018 Arkema SA introduced Valsterane S-HP for spray aseptic packing with concentrations of 35% and 25%. Additionally, businesses are investing in the production of ultra-pure grades for use in electronics in China and Taiwan.
Segmental Insights
Function Insights
With a share of 40.2% in terms of volume in 2022, the bleaching segment dominated the market. The substance has a wide range of uses as a bleaching agent in several sectors, including pulp & paper, medicine, and textiles. The product is extremely helpful in the medical field as a dental bleach, hair bleach, mouthwash, and for maintaining oral hygiene. The textile sector uses a bigger amount of the material as bleach, where it is frequently used to brighten clothing and remove stains from both synthetic and natural fabrics. It is employed in the production of fabrics as well since it helps improve the mechanical qualities of fibres.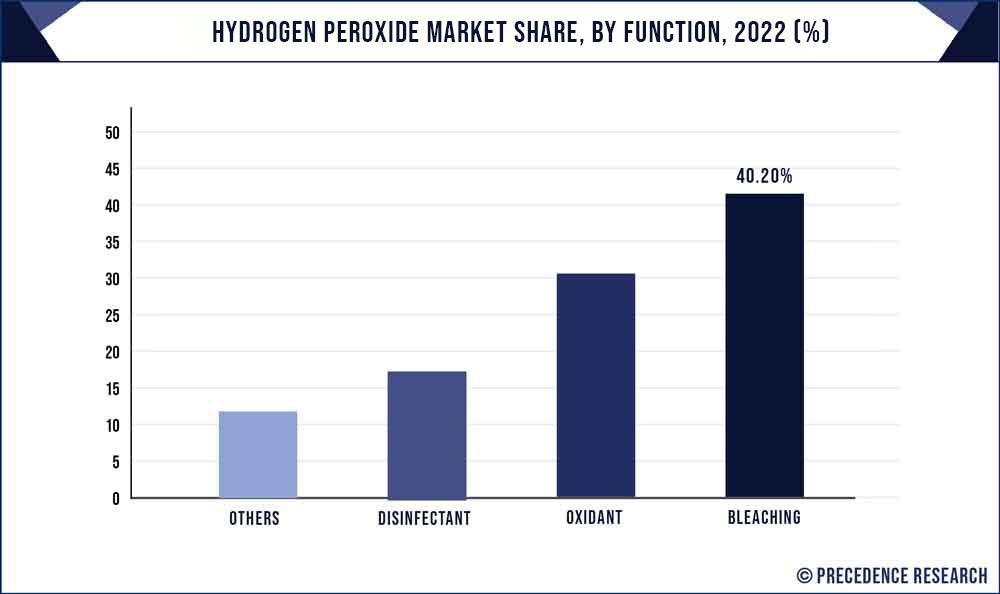 Over the projection period, the disinfection segment is anticipated to see the fastest volume growth. This is explained by the product's great indulgence in manufacturing several cleaning agents and hygiene goods. The global viral epidemic increased demand for this function starting in the first quarter of 2020, which greatly increased production of several disinfection items such, glass cleaners for indoor and outdoor use, and hand sanitizers. These factors contributed to a rise in the use of hydrogen peroxide as a disinfectant around the world, and the trend is expected to continue for the foreseeable future.
Application Insights
With a volume share of 34.8% in 2022, the pulp and paper application category led the market. Similar to bleach, the substance is acknowledged as a chlorine-free element, making it a crucial component of the pulp and paper industry across the world. It is utilised properly to enhance the mechanical and chemical qualities of pulp and raise the quality and brightness of paper. As it lowers manufacturing costs, offers better quality, is simple to use, and is environmentally benign, it has created a rising demand in the business.
Over the projected period, the fastest CAGR in terms of volume growth is anticipated for the healthcare application category. This is attributable to the product's extensive demand as a result of the quick production of disinfection and sanitization solutions by several multinational corporations throughout the world. Due to rising public awareness of the significance of these healthcare necessities in daily life in the wake of the global pandemic, the demand for these items will see considerable rise globally over an extended period of time.
Grade Insights
The worldwide market is divided into various hydrogen oxide concentrations based on grade and is offered in accordance with their uses. In general, personal care, home care, and speciality applications employ less than 35% of lower concentrations. Applications involving paper, textiles, chemicals, and wastewater treatment typically use higher concentrations of more than 35%. Rocket propellants employ pure grades or concentrations greater than 90–95 percent. The main element promoting the growth of this market is the high use of goods with more than 35% concentration to produce optimal outcomes.
Hydrogen Peroxide Market Share, By Region, 2022 (%)
| | |
| --- | --- |
| Regions | Revenue Share in 2022 (%) |
| Asia Pacific | 39.50% |
| North America | 21.50% |
| Europe | 29.40% |
| Latin America | 5.60% |
| MEA | 4% |
Geography Insights
In 2022, the Asia Pacific region dominated the market and generated 39.5% of global revenue. This is explained by the growing influence of the medical, personal care, and chemical formulating businesses in the area. Due to cheaper land prices, the availability of trained labour, and an improved trade balance, China, Thailand, India, South Korea, and Japan have emerged as important centres for multinationals operating in various sectors to develop their business practises in the nation.
Due to the long-term prevalence of water-borne illnesses in the region, North America is seen as being at the forefront of the wastewater treatment sector. Every day, the U.S. purifies more than 34 billion gallons of contaminated water to make it safe for locals to drink. One of the main requirements in the nation is the removal of phosphorus and nitrogen from water sources, along with the oxidation of wastewater. This has ultimately resulted in a significant use of hydrogen peroxide throughout the nation's industries.
Hydrogen peroxide usage in the area is rising as a result of the expanding demand for various personal care products in the European market. Its oxidising and antibacterial qualities are the main reasons for the product's rising demand in this application. In nations including the United Kingdom, France, Italy, Germany, and Spain, cosmetics and personal care items like skincare creams and lotions have seen tremendous growth. This is primarily attributable to the increased market penetration of cosmetic manufacturers in these nations.
Recent Developments
To satisfy the rising demand from customers in the Europe, Middle East, and Africa area, Solvay S.A., a chemical business with headquarters in Belgium, increased its manufacturing capacity in July 2019 in Belgium, Finland, Germany, and the Middle East.
Nouryon, a manufacturer of necessary chemicals, began production in September 2021 in a new plant in Ningbo, China. In this industrial facility, organic peroxides like tert-Butyl hydroperoxide (TBHP) and tert-Butyl alcohol are produced (TBA). The creation of polymers and composites requires the use of organic peroxides as key components.
Key Market Players
Evonik Industries AG
Taekwang Industrial, CO., LTD.
Arkema
Grupa Azoty
Solvay
Akzo Nobel N.V.
Gujarat Alkalies & Chemicals Ltd.
National Peroxide Limited
OCI Company Ltd.
Airedale Chemical
Market Segmentation
(Note*: We offer report based on sub segments as well. Kindly, let us know if you are interested)
By Function
Disinfectant
Bleaching
Oxidant
Others
By Grade
By Application
Pulp & Paper
Chemical Synthesis
Wastewater Treatment
Mining
Food & Beverages
Personal Care
Healthcare
Textiles
Others
By Sales Channel
Direct Sale
Indirect Sale
By Geography
North America
Europe
Asia-Pacific
Latin America
Middle East & Africa (MEA)