The global immune checkpoint inhibitors market size was exhibited at USD 37.12 billion in 2022 and it is expected to hit around USD 168.76 billion by 2032 with a registered CAGR of 16.4% during the forecast period 2023 to 2032.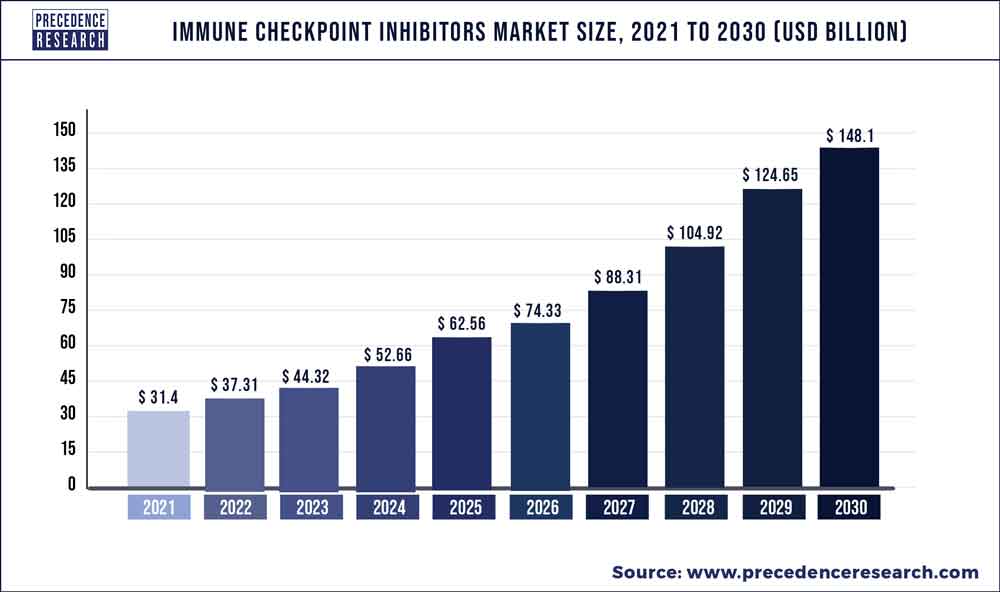 Key Takeaways:
North America accounted for 47% revenue share in 2022.
By type, the PD-L1 inhibitor segment accounted for 64% of revenue share in 2022 and is expected to grow at a CAGR of 16.8% from 2023 to 2032.
By application, the lung cancer segment held a 37.5% revenue share in 2022.
By region, the Asia-Pacific region is expected to reach a CAGR of 18.4% from 2023 to 2032.
Market Overview
The immune system's role is to avoid foreign particles (such as germs and cancer cells) to destroy healthy cells in the body. Checkpoint inhibitors are a type of immunotherapy as well as this is useful in the treatment of cancer like melanoma skin cancer and lung cancer. In the immune checkpoints, they are engaged when proteins on the surface of immune cells are known as T cells(recognizers). Additionally, these checkpoints bind to partner proteins on other cells like tumor cells. Therefore, these cells help to prevent the immune system from destroying cancer.
Market Dynamics
Radiation and surgery are used to treat areas of cancer and the area of oncology is wide-ranging including diverse types of application areas. Chemotherapy generally travels over the bloodstream to treat the entire body of patients and treating the entire body is also known as systemic treatment. Treatment of cancer cells supports the immune cells of patients' bodies to fight cancer more effectively. Cancer is the leading reasons of death worldwide. Therefore, Immune checkpoint inhibitors drugs block cancer cells and help the immune system or cells to find them so they can be stopped. Immune checkpoint inhibitors drugs on some immune cells that need to be triggered and deactivated to start an immune reaction and stop the immune system from being damaged.
Moreover, several prominent vendors are investing in research and development under clinical development. The checkpoint inhibitor pembrolizumab for the treatment of MSI-H and dMMR tumors was the first FDA approval based exclusively on the presence of a genetic feature in a tumor. There is continuing competition in the immune checkpoint inhibitors market that result in the growth of the market. Additionally, rising technological advancements in the treatment of cancer and increasing awareness among the population regarding immune system disease are restraining the growth of the immune checkpoint inhibitors market.
The adoption of an unhealthy lifestyle, increasing cases of cancer, and genetic modification and alteration affects the country's healthcare cost, therefore it helps to drive the growth of the immune checkpoint inhibitor market. Moreover, the technological advancement in the screening or broadcast method for cancer and increasing healthcare expenditures in this market, the increase in the adoption of immune checkpoint inhibitor drugs in emerging markets, are factors propelling the growth of the immune checkpoint inhibitors market. Furthermore, severe FDA guidelines for the drug approval of new drugs & adverse effects, challenge the growth of the immune checkpoint inhibitors market.
In the immune checkpoint inhibitors market, there are several research collaborations of international players with companies that are combining their main competencies to fasten their research programs. For example, Merck recognized as MSD outside the U.S. and Canada along with the Dynavax Technologies Corporation is examining the possible synergistic properties by combining Dynavax's SD-101 with two of Merck's immune therapies Keytruda and MK-1966. An increase in demand for cancer therapeutics, and enlarge in R&D studies, and rising reimbursement policies offered by manufacturers and insurance companies in some countries are key factors boosting the global market growth.
Report Scope of the Immune Checkpoint Inhibitors Market
| | |
| --- | --- |
| Report Coverage | Details |
| Market Size in 2023 | USD 43.02 Billion |
| Market Size by 2032 | USD 168.76 Billion |
| Growth Rate from 2022 to 2032 | CAGR of 16.4% |
| Base Year | 2022 |
| Forecast Period | 2023 to 2032 |
| Segments Covered | Drug Type, Disease Indication, End-Users, and Geography |
| Companies Mentioned | AstraZeneca PLC, Bristol-Myers Squibb Company, Eli Lilly and Company (ARMO Biosciences.), GlaxoSmithKline PLC, Roche Holding AG, Incyte Corporation, Novartis AG, F. Hoffmann-La Roche Ltd. (Genentech Inc.,), Sanofi, Merck & Co., Inc., Merck KGaA (EMD Serono Inc.), BeiGene Ltd, Shanghai Jhunsi Biosciences Ltd. |

Covid-19 Impact
The global pandemic has tremendously disturbed health, social and economic aspects of daily life across the world. Covid-19 symptoms such as infection, dry cough, fever, exhaustion, and fluctuating health minor to severe factors most dominant warning sign during the pandemic. Due to this pandemic, cancer patients are facing many problems on a day-to-day basis. Patients have their historical data were being considered more valuable due to these viral infections because of COVID like, breathing difficulties, chest pain, pressure, and impairment of speech or movement. The pandemic has had a negative impact on the immune checkpoint inhibitors market due to a reduction in the number of cancer patients visiting hospitals and clinics for therapy.
Segments Insight
End-Users Insights
By end-users, the global immune checkpoint inhibitors market is segmented into hospitals, specialty clinics, and academic & research institutions. The hospitals & specialty clinics segment is estimated to largest market share in the global immune checkpoint inhibitors market over the forecast period, due to the large customer base, rising healthcare expenditure, and increasing cases of cancer such as lung cancer and bladder cancer, melanoma, hodgkin lymphoma, and others.
Disease Indication Insights
By disease indication, the lung cancer held a substantial share in disease indication segment. Immune checkpoint inhibitors drugs are used for targeted cancer treatments in advanced forms of lung cancer. FDA-approved Immune checkpoint inhibitors drugs for the treatment of lung cancer such as Ipilimumab, nivolumab, atezolizumab, and durvalumab, which are driving the growth of the market. Moreover, the bladder cancer segment is estimated to fastest growth during the forecast period, owing to the rise in cases of bladder cancer.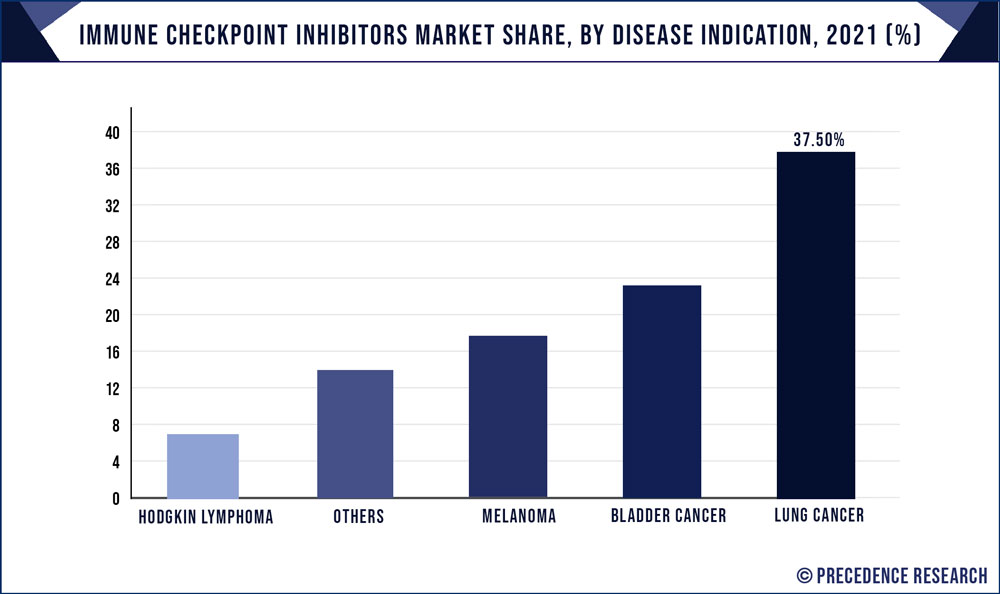 Medical oncologists and immunologists have aided many clinical trials to show that checkpoint inhibitors can be an effective counter to melanoma and lung cancer. The several formal discussions have been made about the finest treatment for patients with respect to immune checkpoint inhibitors in terms of combination therapy, monotherapy, and predictive biomarkers. Immune checkpoint inhibitors are the main treatment to cure patients of several cancers such as breast, bladder, stomach, colon, liver, cervical, lung, skin, and rectal cancer
Immune Checkpoint Inhibitors Market Share, By Region, 2022 (%)
| | |
| --- | --- |
| Regions | Revenue Share in 2022 (%) |
| North America | 47% |
| Asia Pacific | 20% |
| Europe | 26% |
| Latin America | 4% |
| MEA | 3% |

Regional Insights
The North American region dominated the market in 2021 due to the owing rising number of oncology patients. The increasing government funding and support for the expansion of new drug development for cancer treatment. Moreover, boost in research and development for new and novel drugs in the market is also supporting the regional growth. The government's help through funding for new drug development for the treatment of cancer is driving the growth of the immune checkpoint inhibitors market.
Segments Covered in the Report
(Note*: We offer reports based on sub-segments as well. Kindly, let us know if you are interested)
By Drug Type
CTLA-4 Inhibitor
PD-1 Inhibitor
PD-L1 Inhibitor
By Disease Indication
Lung Cancer
Bladder Cancer
Melanoma
Hodgkin lymphoma
Others
By End-Users
Hospitals
Specialty Clinics
Academic & Research Institutions
By Geography
North America
Europe
Asia-Pacific
Latin America
Middle East & Africa (MEA)