The global inductor market size was valued at USD 12.6 billion in 2022, and is projected to hit around USD 23.81 billion by 2032, growing at a CAGR of 6.56% from 2023 to 2032. The Asia-Pacific generated more than 37% of the revenue share in 2022.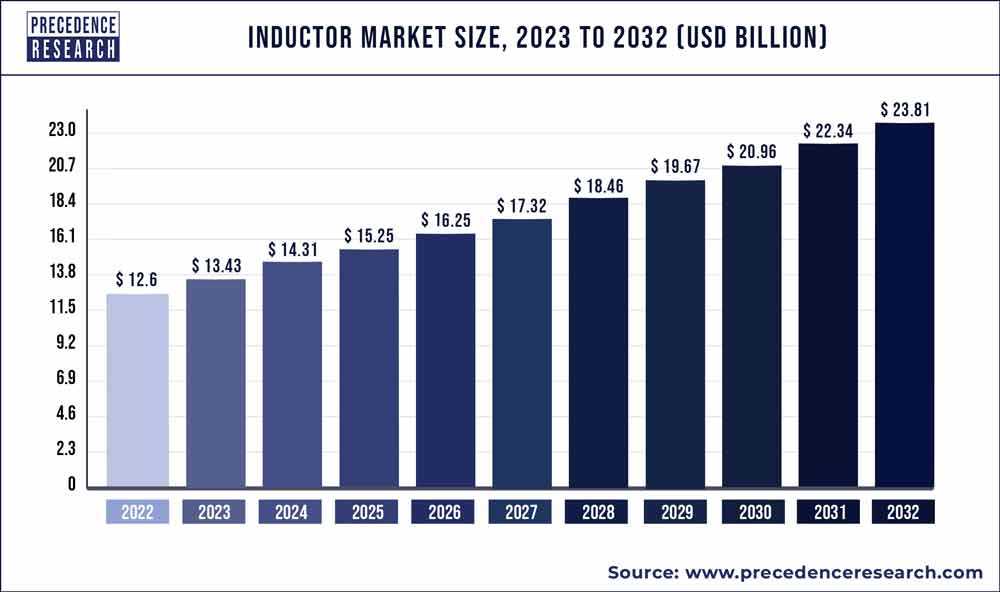 Access our Premium Real Time Data Intelligence Tool, Visit: Precedence Statistics
Market Overview
Regional revenue generation consists of significant infrastructure, economic growth and financial development. Additionally, export and import, domestic production, and consumption patterns have aided market participants in identifying and seizing opportunities. The quantitative and qualitative parameters included in the report, with in-depth analysis, also highlight the market's motivating and inhibiting factors.
The increase in developments and innovations in consumer electronic products are significant factors anticipated to propel the expansion of the inductor market during the forecast period. Further expected growth drivers for the inductor market include the popularity of smart homes and smart city homes, which call for energy-efficient electronic and electrical systems. Additionally, it is predicted that advancements in telecommunication and chip integration will temper market growth for inductors. On the other hand, it is further anticipated that variations in the price of raw materials, particularly copper, will impede the expansion of the inductor market during the timeline period.
Additionally, as the demand for wireless and connected devices rises, there may be more chances for the inductor market to expand in the years to come. The future expansion of the inductor market, however, may be further hampered by the increased complexity brought on by inductors' miniaturisation.
Report Scope of the Inductor Market
| | |
| --- | --- |
| Report Coverage | Details |
| Market Size in 2023 | USD 13.43 Billion |
| Market Size by 2032 | USD 23.81 Billion |
| Growth Rate from 2023 to 2032 | CAGR of 6.56% |
| Largest Market | Asia-Pacific |
| Base Year | 2022 |
| Forecast Period | 2023 to 2032 |
| Segments Covered | By Type, By Inductance, By Core Type, By Application, and By End User |
| Regions Covered | North America, Europe, Asia-Pacific, Latin America and Middle East & Africa |

Market Dynamics:
Driver:
Consumer electronic products are developing and innovating more frequently.
Consumer electronics is a dynamic industry and is changing quickly, with increasing levels of market competitors in the market and game-changing technological advancements. The features and quality of buyer electronic device products are improving thanks to these technological advancements and innovations. Additionally, they are anticipated to increase the overall volume of inductors used in the consumer electronics sector.
Due to their small size, power inductors, high current capacity, and favourable DC characteristics are used more frequently in consumer electronics. The consumer electronics industry uses other inductor types, including air-core inductors, RF inductors, and multi-layered inductors. The adoption of inductors has been accelerated by manufacturers' increased focus on new technologies and the popularity of key emerging technologies like the Internet of Things (loT) and artificial intelligence (AI). The expansion of the inductor market has also been fueled by the incorporation of network technologies like GSM, LTE, 3G, 4G, and 5G in numerous electronic products.
Restraint:
Raw materials' fluctuating costs, particularly those of copper
Due to characteristics like high electrical connectivity and significant power losses, inductors are typically constructed from iron, copper, and ferrite. Copper has excellent mechanical and thermal properties, which is why copper coils are used. The production of inductors frequently uses this as a raw material.
The copper line thickness must be kept to a minimum, and the metal pattern density must be as consistent as possible when producing inductors. Any hiccups in a region's mining operations can significantly impact copper prices worldwide. Landslides and other natural disasters are relatively common in mining regions, as are frequent mine worker strikes. Weather, season, political unrest, and transportation problems can reduce regional supplies and raise copper prices.
Opportunity:
Increasing use of electric vehicles
The production of electric vehicles has increased significantly in recent years and is anticipated to do so even more in the years to come. The rate of electronic vehicle development has also increased considerably. Since more people are driving electric cars, advanced driver assistance systems and connected vehicles will become more common, expanding the usage of electronic components.
Many significant automakers and recently emerging automakers have increased the volume of electric vehicle production in response to increasingly stringent environmental regulations, which are anticipated to increase the requirement for passive components. These electric cars run on Al and loT and are outfitted with cutting-edge technology. In the upcoming years, it is anticipated that demand for inductors will rise as electric vehicles become more widely used.
Challenge:
Growing complexity as a result of inductors' miniaturisation
The products' dimensions are shrinking steadily, and their corresponding functions are improving. The shape of mobile devices that offer sophisticated, complex processes is continuously decreasing. Reduced shape and thickness are required for these devices, including smartwatches, wristband-style wearables, and loT devices like sensor network devices. These devices also need highly efficient power supply circuits for longer operating times.
Wearables like smartwatches are becoming smaller and thinner, which has resulted in a rise in the usage of multi-core processors and faster processors for better performance. This makes it possible for all components, including inductors, to become smaller. Therefore, it is also necessary to reduce the size of multi-layered chip inductors while maintaining high Q ratings. However, keeping tolerances dimensional and long-term reliability gets more complicated as feature sizes decrease.
PDAs, Wireless handsets, and other portable electronic devices are continuously getting smaller and more complicated to use. As a result, they present design difficulties because the originally rated current and DC resistance must remain unchanged when an inductor's size is reduced.
However, it becomes more challenging to maintain long-term reliability and dimensional tolerances as feature sizes decrease.
Segment Insights:
Type Insights
Many stacked coils that are wound around the core make up multilayer inductors. These inductors have a high inductance level because there are many layers of insulation separating them, which raises demand for the product based on different use cases and increases sales of the product.
Inductance Insights
Inductors will increasingly be used in automotive electronics, and demand for passive electronic components will rise quickly. On the other hand, this market will experience slow growth due to factors like inconsistent raw material price changes. Variable inductors' advantages of lightweight and compact size have increased their popularity inside TVs and radios, which has ultimately opened up a potential application for them and will create new market opportunities.
The Fixed Inductor is a passive electronic component for magnetic field-based energy storage. The turns are fixed in position for one another due to the way the coils are wound in the fixed inductor.
To separate different frequency signals, fixed inductors are used in electronic filters. They are also combined with capacitors to create tuned circuits that tune TV receivers and radios. These parts are widely used in many sectors, including the power, military & defence sector, automotive, consumer electronics, and Radio Frequency & telecommunication.
Core Type Insights
Iron core and air core inductors have the low-frequency operation, higher losses, and low inductance. However, they have high permeability, fixed value, and high inductance, ferrite core inductors. As a result, ferrite core inductors are widely used and regarded as a superior solution to overcome this issue.
Application Insights
The rise of hybrid and battery-powered technologies in the automotive sector can be used to justify the demand for power inductors because these advancements would necessitate more ECUs. The power inductors' excellent packaging and saturation properties are ideal for supplying the growing demand for powertrain technology. Computers, Mobile phones, and telecommunications equipment can all use the newly released power inductors from the Lmax series. The market for power inductors will increase due to their numerous applications across numerous industry sectors.
For general circuits, various kinds of inductors are utilised. Filters and oscillators are standard components in circuits. Car audio systems, Car navigation systems, and body control equipment like wipers and power windows are additional examples of general circuits. Analog circuit filters and signal processing filters are frequently made with inductors, resistors, and capacitors. An inductor alone can function as a low-pass filter because its impedance rises as a signal's frequency increases. Combining capacitors and inductors can be used to create oscillators. The LC oscillator is one of the most popular oscillator types, producing a continuous periodic waveform. Since they are simple to use and have excellent phase noise characteristics, LC oscillators are frequently utilised in radio-frequency circuits.
End User Insights
Automotive inductors are constructed from a coil winding with two terminals through which flux is passed. The inductive current is a function of the flux density through the coil. A current is induced in the coil by flux passing through it, causing a voltage drop around the coil. One of the key factors driving the market growth for automotive inductors is their current regulation feature, which stabilises the electric circuits in cars. The design of high-end inductors that function under harsh temperature conditions without suffering appreciable downtime represents an important development in the market for automotive inductors. As a result, the market for automotive grade induction will experience rapid growth. This raises the productivity level of the vehicle parts.
Regional Insights
Asia-Pacific accounted for a sizeable portion of the global market, roughly 37% in the regional analysis of the worldwide inductor market. Furthermore, it is anticipated that the Asian market will likely maintain its dominance for a predetermined amount of time. This area is renowned for housing a sizable concentration of consumer electronics producers.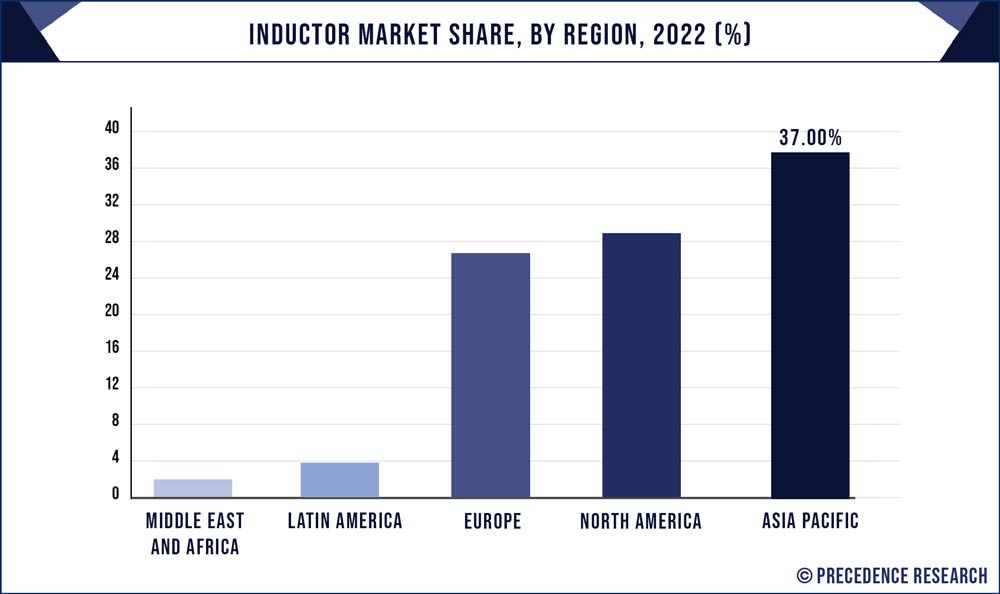 Additionally, these inductors are crucial in producing consumer devices and automobiles. Due to increased investment in the consumer automotive and electronics industries by nations like China, South Korea, India, and Japan, the inductor market in this region has seen a significant increase in demand for its products.
The North American inductor market, which accounts for roughly 28.93% of global sales, is the second-largest after the Asia-Pacific region. The rapid expansion of industrial automation, the rising adoption of smartphones and tablets & tablets, and the existence of an already well-established ICT industry are the main factors propelling the increase in the target market in this region.
Recent Developments:
February 2022- With the addition of two new automotive-grade high current shielded inductors series, Bourns Inc. increased the mechanical resistance for challenging vibration application environments. Shielded inductors of the Model SRP1038WA and SRP1265WA series feature a wider side terminal lead frame that can withstand peak vibrations. The two series offered a small package, an extensive operating temperature range of -55 to + 165 °C, a high saturation current, a low buzz noise, a low DC, a low DC resistance, resistance, and excellent temperature stability. These inductors are perfect for power management and EMI filtering in a variety of consumer, automotive, industrial, and telecom electronics applications.
August 2021- A brand-new line of chip inductors with a high Q value and a small size was unveiled by Bourns Inc. In comparison to multilayer or film technology, the CWF1610 and CWF2414 chip inductors' wire wound construction improved their performance characteristics for DC power line applications and RF signal processing.
June 2020- In order to meet the high demand for inductor for notebooks and 5G smartphones, Chilisin Electronics Corp (VAGEO Corporation) increased capacity. With regard to small-size moulding chokes, the company has increased capacity to 600 million units, and also for large-size ones, to 300 million units. Additionally, the business intends to increase its monthly production of LTCC (Low Temperature Co-Fired Ceramic) components by half, to 200 million units.
Market Key Players
Murata Manufacturing Co., Ltd.
TDK Corporation
SANYO Electric Co., Ltd.
Vishay Intertechnonogy Inc.
Chilisin Electronics Corp.
Houston Transformer Company, Ltd.
Taiyo Yuden Co., Ltd.
TT Electronics
Delta Electronics, Inc.
ABC Taiwan Electronics Corporation
Panasonic Corporation
Coilcraft, Inc.
TOKIN Corporation
Pulse Electronics Corporation
Texas Instruments Incorporated
Shenzhen Sunlord Electronics Co., Ltd.
Sumida Corporation.
Gowanda Electronics
Ourns, Inc.
Ice Components, Inc.
KEMET
AVX Corporation
Segments Covered in the Report:
(Note*: We offer report based on sub segments as well. Kindly, let us know if you are interested)
By Type
Multilayered
Film Type
Molded
Wire Wound
By Inductance
Variable Inductors
Fixed Inductors
By Core Type
Iron Core
Ferromagnetic Or Ferrite Core
Air Core
By Application
Power Applications
General Circuits
High-Frequency Applications
By End User
Transmission And Distribution
Automotive
Military And Defense
Consumer Electronics
Industrial
RF And Telecommunication
By Geography
North America
Europe
Asia-Pacific
Latin America
The Middle East and Africa