The global industrial air compressor market was estimated at USD 34.53 billion in 2022 and is expected to surpass around USD 62.72 billion by 2032, poised to grow at a compound annual growth rate (CAGR) of 6.20% during the forecast period 2023 to 2032.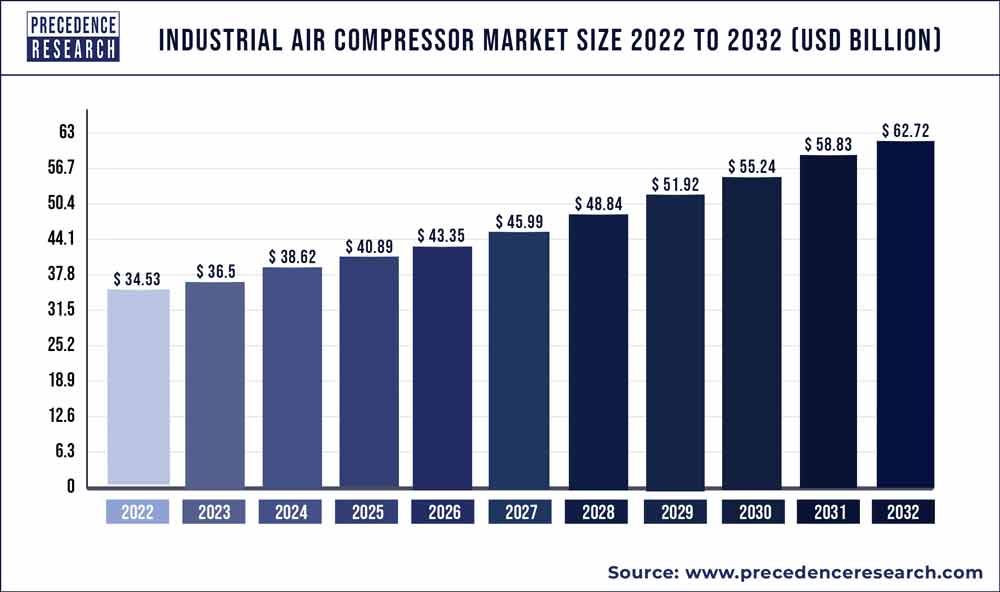 Access our Premium Real Time Data Intelligence Tool, Visit: Precedence Statistics
Key Takeaways:
Sales in China is projected to increase at a CAGR of 6% from 2023 and 2032.
The rotary type industrial air compressors record for 31% sales in the market.
The increasing demand for oil and gas industry is anticipated to rise at a CAGR of 5.2% from 2023 to 2032.
In 2022, the double compression stage segment accounted market share of around 48%.
Asia Pacific region was valued at US$ 5,845.1 million in 2022.
Industrial air compressors are mechanical devices used to pressurize liquids or gases. The most common is air. A variety of compressors are used in the industry to provide the following features: instrument or shop air; powering air tools, abrasive blast equipment, and paint sprayers, and more. Industrial air compressors are universal devices that provide compressed air for a variety of production processes. When selecting an air compressor for an application, it is important to make sure that the selected unit can produce the desired output while maintaining low maintenance and operating costs. The best air compressor for a particular application depends on many factors, including the purpose, tools or processes it supports, and the project budget.
One of the most important advantages of using air compressors is that they are safe. They can withstand high temperatures and offer the simplicity and security of using only air instead of additional energy sources. When compared to equipment that uses electricity, there is no risk of electric shock to personnel who handle the equipment, and in the workplace, the safety of your team is always vital.
Growth Factors
As the world becomes more urbanized, industries are springing up at a quicker rate in many places. Demand for a variety of industries, such as food and beverages, manufacturing, semiconductors, electronics, and so on, has expanded, particularly in emerging countries. Centrifugal air compressors are widely utilized in these industries because they provide large amounts of air at a low cost. It also has a longer working life, reducing the amount of capital investments even further. Several rising economies, including Asia-Pacific and Africa, have accelerated their industrial and economic growth. Furthermore, government measures to promote industrial automation, as well as a focus on industrial automation for optimal resource usage, are boosting demand for industrial air compressors.
The growing need for automobiles around the world, particularly in the Asia-Pacific region, is expected to boost demand for industrial air compressors, since the product is widely utilized in the automotive industry for manufacturing. The expansion of the vehicle industry in Europe and North America will also help the market thrive. Despite the fact that their populations are growing at a slower rate than those in emerging countries, U.S. and Europe remain the most important markets for the automobile industry, owning to technical advancements. Moreover, the air compressor market outperformed the rest of the industry and is expected to grow. The rapid industrial improvements in the Asia-Pacific area, spurred by the widespread use of compressed air in practically all manufacturing activities, will push up their use. Stationary air compressors are utilized in a variety of applications, including refrigeration and air conditioning, cars, and industrial uses. Smaller ones are used in autos, freezers, and air conditioners, whereas medium and bigger ones are used by industrial end-users. Hence, the escalating demand throughout the globe due to the improved lifestyle, growing spending power, and increasing population of the region will drive the demand for air compressors.
Report Scope of the Industrial Air Compressor Market
| | |
| --- | --- |
| Report Coverage | Details |
| Market Size by 2032 | USD 62.72 Billion |
| Growth Rate from 2023 to 2032 | CAGR of 6.20% |
| Largest Market | Asia Pacific |
| Fastest Growing Region | North America |
| Base Year | 2022 |
| Forecast Period | 2023 to 2032 |
| Segments Covered | Product, Design, Technology, Output Power, Seal, Coolant Type, Compression Stage, Driver Type, End User, Gography |
| Companies Mentioned | Atlas Copco, Ingersoll Rand, Doosan Infracore, Hitachi, BOGE Kompressoren, Volkswagen (MAN Energy Solutions), ELGiEquipments, Kirloskar Pneumatic, KaeserKompressoren, Siemens Energy, Sulzer, Baker Hughes, Nidec, Howden Group, Mitsubishi Heavy Industries |
Product Type Insights
Depending upon the product type, the positive displacement category is predicted to grow. Positive displacement air compressors are used in construction, automotive and transportation, packaging, food and beverage, metals and mining, and other end-user sectors. Increased investment is expected in these areas, which will enhance demand for positive displacement air compressors. The dynamic compressors operate at a constant pressure and are classified according to their axial or radial design. External circumstances, like as variations in inlet temperatures, have an impact on the operation of dynamic compressors.
Design Type Insights
On the basis of by design type, the stationary segment is expected to be the largest segment during forecast period. The industrial air compressors can be fixed at a specified position attributable to their stationary design. These air compressors have a greater cfm rating than portable air compressors because they can create a large amount of compressed air at once. These are used in facilities and industries where the compressor does not need to be mobile. When compared to portable compressors, stationary compressors may deliver higher air pressures.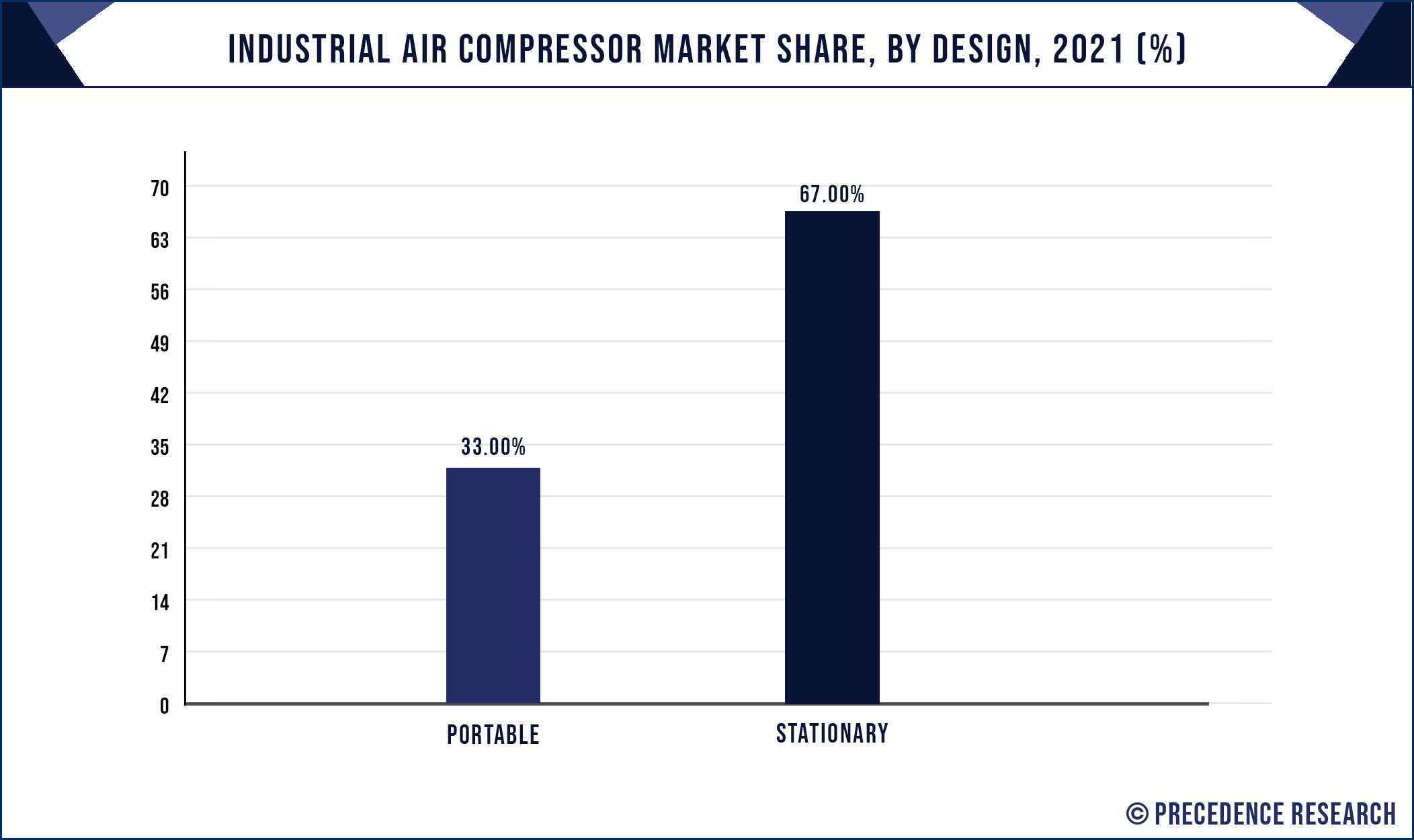 The portable air compressor market has been steadily growing in recent years, thanks to increased use in building sites, road construction, and packaging machinery across a wide range of industries. Over the forecast period, burgeoning infrastructure initiatives in Asia-Pacific, Middle East, and Africa will provide manufacturers with attractive business prospects.
Pressure Type Insights
On the basis of pressure type, the 0-20 bar segment is expected to be the largest market to show a tremendous growth during the forecast period. Due to increased investments, the up to 20 bar segment is predicted to grow at the fastest rate. Food and beverage companies, as well as pharmaceutical companies, are substantially investing in industrial air compressors. Growth in these industries is expected to raise demand for compressors that can handle pressures in this range over the forecast period. The 20-100 bar segment is steadily moving in the market as it is high pressure air compressor.
Output power Insights
On the basis of output power, the 51–250 kW segment is expected to dominate the industrial air compressor market. The rated pressure for compressors in this range is expected to be 0.3–20 bar. Power plants, water and wastewater treatment plants, the chemical and petrochemical industries, the food and beverage industry, mining, the automotive and transportation sectors, packaging, construction, the metals sector, and manufacturing are all places where they're used. Several large-scale chemical projects, particularly in emerging economies, have boosted demand for industrial air compressors with output powers ranging from 51 to 250 kW, and demand is expected to continue to climb during the projected period.251-500 kW is one of the leading segments in this category after 51-250 kW segment. The demand for high pressure air compressor is used in heavy loaded industries.
Seal Type Insights
On the basis of seal type, the oil-flooded segment accounted largest market share in 2022. They are becoming increasingly popular since they are less expensive than oil-free compressors and can usually complete the compression process in a single stage. The compressor is widely used in areas where cleaner compressed air is not required, such as oil and gas, textiles, rubber and plastics, and metals and mining.
To keep the mechanism functioning smoothly, most oil-free compressors use alternative materials such as water or a Teflon coating. Because bearings and gears are lubricated outside the compression chamber, effective sealing prevents oil from polluting the compressed air. As outcome, there is no oil in the air supply. Some oil-free designs even eliminate metal-to-metal contact within the compression chamber, obviating the requirement for oil-based or synthetic lubrication entirely.
Coolant Type Insights
On the basis of coolant type, the air-cooled segment of the industrial air compressor market is likely to be the largest contributor. Modern compressors are usually air-cooled, with forced ventilation utilizing blowers, heat exchangers, and other components to keep the fluid cool. These compressors made up a larger portion of the industrial air compressor market, and their demand is expected to rise throughout the projected period.
Although water-cooled compressors require less power than air-cooled compressors, the electrical expenses of the cooling system, as well as water and water treatment costs, must be considered when choosing water-cooled. When those costs are taken into account, air-cooled compressors are usually more cost-effective. Hence, the air-cooled type is mostly used.
End User Insights
On the basis of end user, the chemicals & petrochemicals segment accounted largest revenue share in 2022 as developing economies' increased demand for chemical and petrochemical products.
Food and beverages industry is also one of the dominating segments that drive the need of industrial air compressor as they demand for high powered and high efficiency air compressors. Increased investment and demand for oil-free compressors in the food and beverage industry, as well as increased demand from the HVAC business drives the market.
Metals and mining segment is also influencing the air compressor market as rapid urbanization demands the need of such product in the market.
Region Insights
Asia-Pacific is proving to be a booming market for the growth of the industrial air compressor market, due to increased industrialization and rising investments in LNG, chemicals, and mining, as well as the expansion of the domestic manufacturing sector, which includes automotive, and food and beverage manufacturing. Furthermore, Asia-Pacific is seeing substantial economic growth, and to satisfy its energy demand while adhering to decarburization rules, it is seeing a boom in investments in the hydrogen and green energy sectors.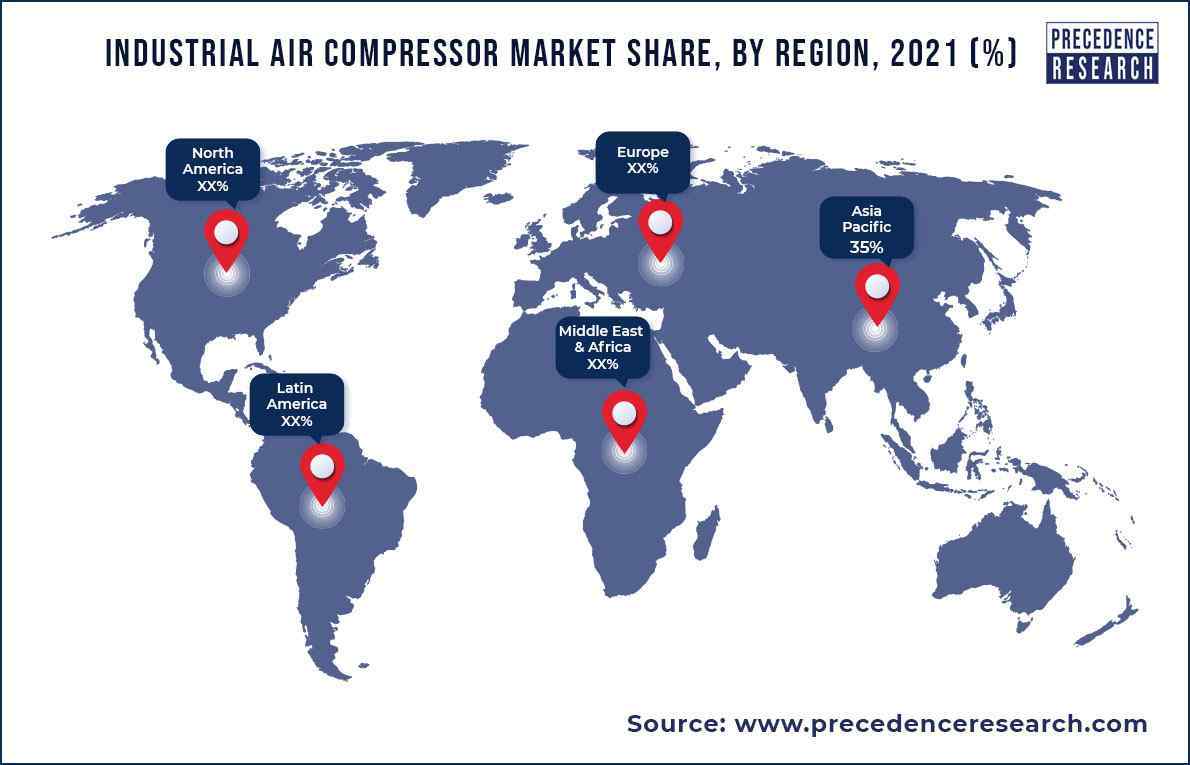 North America region is also proving to be a driving market for this sector pertaining to the rapid urbanization of this region. Demand for air compressors will be influenced by rising demand for residential appliances such as refrigerators and air conditioners, as well as rising living standards. Furthermore, rising vehicle demand, increased mining and oil exploration operations, and advancements in the energy and power generating sectors are all expected to contribute to regional market growth. Product demand will be boosted even more by the extremely promising energy and healthcare industries in the U.S.
Key market players
Atlas Copco
Ingersoll Rand
Doosan Infracore
Hitachi
BOGE Kompressoren
Volkswagen (MAN Energy Solutions)
ELGiEquipments
Kirloskar Pneumatic
KaeserKompressoren
Danfoss (Denmark)
Coaire
Siemens Energy
Sulzer
Baker Hughes
Nidec
EBARA Corporation (Elliott Group)
Howden Group
Mitsubishi Heavy Industries
Segments covered in the report
(Note*: We offer report based on sub segments as well. Kindly, let us know if you are interested)
By Product
Positive Displacement
Dynamic Displacement
By Design
By Technology
Rotary
Reciprocating
Centrifugal
Axial
By Output Power
Up To 20 Bar
21–100 Bar
Above 100 Bar
By Pressure
Up To 50 kW
51–250 kW
251–500 kW
Above 500 kW
By Seal Type
By Coolant Type
By Compression Stage
Single Stage
Double Stage
Multistage
By Driver Type
Electric
Natural Gas
Fuel Driven
By End User
Chemicals & Petrochemicals
Food & Beverages
Oil & Gas
Pharmaceuticals
Construction
Others
By Geography
North America
Europe
Asia-Pacific

China
India
Japan
South Korea
Malaysia
Philippines

Latin America

Brazil
Rest of Latin America

Middle East & Africa (MEA)

GCC
North Africa
South Africa
Rest of the Middle East & Africa