The global industrial robotics market size was estimated at USD 18.31 billion in 2022 and is predicted to hit around USD 65.23 billion by 2032, growing at a CAGR of 13.6% from 2023 to 2032.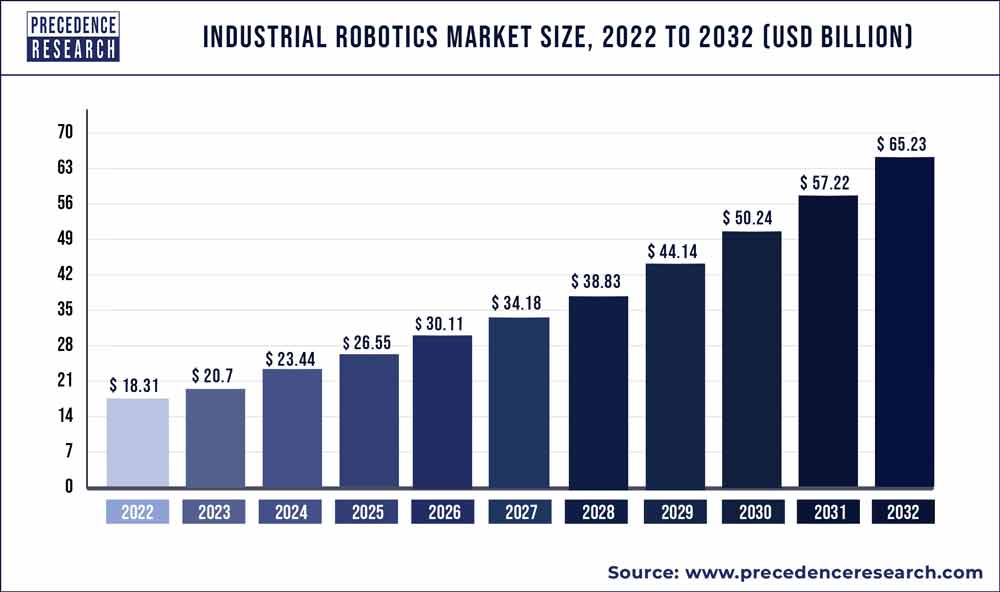 The market for industrial robots has witnessed a surge in growth owing to their ability to automate laborious production processes, particularly those that are part of a fast-paced assembly line. The adoption of robots in the manufacturing industry is on the rise due to various factors such as government policies, increasing labor costs in developed regions like North America and Europe, and the rise of small and medium-sized enterprises (SMEs) globally. Moreover, the trend of automation in industries such as automotive and electronic engineering, along with the focus on minimizing human labor, is expected to create significant growth opportunities for market players.
Key Takeaways:
Asia Pacific dominated the global market and contributed more than 65% of the revenue share in 2022.
By Type, the SCARA Robots segment is predicted to grow at a faster CAGR between 2023 and 2032.
By Application, the material handling segment generated the maximum market share in 2022.
By End-User, the automotive segment captured the largest market share in 2022.
Report Scope of the Industrial Robotics Market
| | |
| --- | --- |
| Report Coverage | Details |
| Market Size in 2023 | USD 20.7 Billion |
| Market Size by 2032 | USD 65.23 Billion |
| Growth Rate from 2023 to 2032 | CAGR of 13.6% |
| Largest Market | Asia Pacific |
| Base Year | 2022 |
| Forecast Period | 2023 to 2032 |
| Segments Covered | By Type, By Application and By End-User |
| Regions Covered | North America, Europe, Asia-Pacific, Latin America and Middle East & Africa |

Market Dynamics:
Driver:
Robots are gradually being adopted in various industries, and manufacturing represents the oldest and most highly recognized use case. At first, large robotic arms were programmed to handle heavy objects, such as automobile parts, in factory settings. However, with the emergence of advanced technologies, such as visual recognition, machine learning, failure prediction, and collaborative robots (co-bots), machines have significantly improved their capabilities, revolutionizing the manufacturing processes.
Manufacturing robots are mainly utilized for repetitive tasks, leading to more streamlined assembly workflows. When working alongside humans, robots assist in producing high-quality products. Numerous manufacturing jobs involve dangerous materials or working conditions, which can put human workers at risk. Repetitive tasks can also cause employee fatigue or distraction, resulting in errors, even in the short run. In contrast, robots possess the necessary machine-learning abilities and dexterity to prevent such mistakes. Robots in manufacturing continue to expand, promoting efficiency, safety, and productivity.
According to the International Federation of Robotics, an all-time high of 517, 385 new industrial robots were installed in 2021 in factories worldwide. This represents a 31% year-on-year increase and a 22% increase over the pre-pandemic record of robot installation in 2018. Recently, the global stock of operational robots has reached a new high of approximately 3.5 million units.
Restraints:
The advent of Industry 4.0 has paved the way for the integration of manufacturing processes with the external world, including the deployment of collaborative robots. However, with the increasing interconnectivity of processes, cybersecurity threats are also on the rise.
The vulnerability of cobots can result from a lack of software updates, which can leave them susceptible to cyber-attacks. Additionally, inadequate network administration can expose connected cobotics to malicious activities such as industrial espionage, malware installation, or automated attacks. It is crucial to address these security concerns to ensure the safety and integrity of collaborative robots and connected manufacturing processes in the Industry 4.0 landscape.
High cost of integration
Robot hardware affordability has recently increased, making it a more accessible option for businesses seeking to introduce automation to their manufacturing processes. However, the cost of purchasing a robot represents only a small fraction of the total expense associated with automation.
A study reveals that many businesses view high integration costs as a significant obstacle to the adoption of robotics in manufacturing. Large manufacturers using industrial robots face difficulties integrating new robotics technologies with 15- to 20-year-old infrastructures and technologies present on the same production line. For SMEs with smaller production processes, the prohibitive cost of integration often makes automation unjustifiable, particularly when dealing with smaller production lot sizes. Despite the numerous benefits that robotics can bring to manufacturing, the high cost of integration remains a significant challenge for businesses of all sizes.
Opportunity:
Government support and policies for the adoption of industrial robots
Robots are gaining acceptance in both the public and private sectors in India. The government of India's technological push and experiments by the Ministry of Defence laboratory are regarded as key drivers of robot popularity. This has encouraged the manufacturing sector, particularly automotive and assembly, as well as start-ups and education, including T-schools, to pursue new experiments in this field.
Covid-19 Impact:
The COVID-19 pandemic has significantly impacted the global industrial robotics market. Initially, the market experienced a decline due to supply chain disruptions, factory shutdowns, and reduced demand for non-essential goods. However, as the pandemic continued, the demand for automation solutions increased as manufacturers looked to improve worker safety, increase productivity, and optimize supply chains. The pandemic has accelerated the adoption of industrial robots in various industries, including healthcare, logistics, and e-commerce. For example, hospitals deployed robots for tasks such as disinfection and patient care. In contrast, in the logistics and e-commerce sectors, robots were used for order fulfillment and delivery.
On the other hand, the pandemic also highlighted the vulnerabilities of global supply chains, which led to a renewed interest in reshoring and onshoring manufacturing. This trend is expected to further boost the demand for automation solutions as manufacturers seek to increase efficiency and reduce reliance on overseas suppliers.
Segments Insight:
Type Insights:
Based on the type, the market is segmented into Articulated robots, Cartesian coordinate robots, cylindrical coordinate robots, Spherical Coordinate robots, SCARA robots, and Others. SCARA robots segment is estimated to grow at a faster rate during the forecast period. The growth of this segment is driven by its rising adoption in the electronics industry. SCARA robots are widely used in manufacturing for pick-and-place and assembly operations that require high speed and accuracy. Their ability to operate at high speeds and with cleanroom specifications makes them particularly popular in the electronics industry, which is rapidly automating with industrial robots like the FANUC SR-3ia. SCARA robots are used to automate various processes in electronic manufacturing, including assembly, engraving, labeling, and material handling applications.
One of the primary reasons electronic manufacturers are adopting SCARA robots is their incredible speed, which is ideal for the high-volume production of electronic devices like smartphones. SCARA robots are among the fastest, second only to delta robots, but they have the edge over their counterparts due to their superior precision. Their small size makes them a popular choice for electronic manufacturers, as they can easily handle the numerous small components used in electronic devices. SCARA robots require little space and can be tabletop mounted, freeing up floor space and making integration into production lines easier.
Application Insights:
Based on the application, global industrial robotics is segmented into material handling, welding & soldering, assembling & disassembling, dispensing, processing, and others. In 2022, the material handling segment accounted for the largest market share%. The growth of this segment is driven by the demand from the food and beverages, pharmaceutical, and electrical and electronics industries. Material handling is also significant in the chemical and pharmaceutical industries as certain chemicals are concentrated and transport hazardous compounds. In such cases, robots are frequently used to reduce accidents and ensure employee safety.
End User Insights:
Based on the end-user, the industrial robotics market is segmented into automotive, electrical & electronics, metals & machinery, plastics, rubber & chemicals, food & beverages, precision engineering & optics, pharmaceuticals & cosmetics, and others. In 2022, the automotive segment accounted for the highest market share. In the past decade, the production of passenger cars has undergone a significant transformation, with a growing need for robotic automation in various manufacturing processes.
Hybrid and electric vehicle manufacturers and traditional car makers are experiencing a surge in demand for a diverse range of vehicle models. Additionally, to meet the climate goals set for 2030, there will be a higher demand for low- and zero-emission cars. Automobile manufacturers are looking to invest in collaborative robots for their final assembly and finishing operations. Although SMEs, which make up the majority of second-tier automotive part suppliers, are taking longer to adapt to full automation, the trend is likely to change with the development of smaller, more versatile, easily programmable, and less capital-intensive robots.
Regional Insights:
Asia Pacific dominated the global industrial robotics market and generated more than 65% of the revenue share in 2022. The dominance is due to rising automation, specifically in Japan, China, and India. China has massively invested in industrial robots, which has led them to be the top-ranking country for robot density, surpassing the US. The number of operational industrial robots per 10,000 employees in the manufacturing industry has reached 322 units. China is currently ranked fifth. South Korea, Singapore, Japan, Germany, and China are the top five most automated countries in manufacturing by 2021.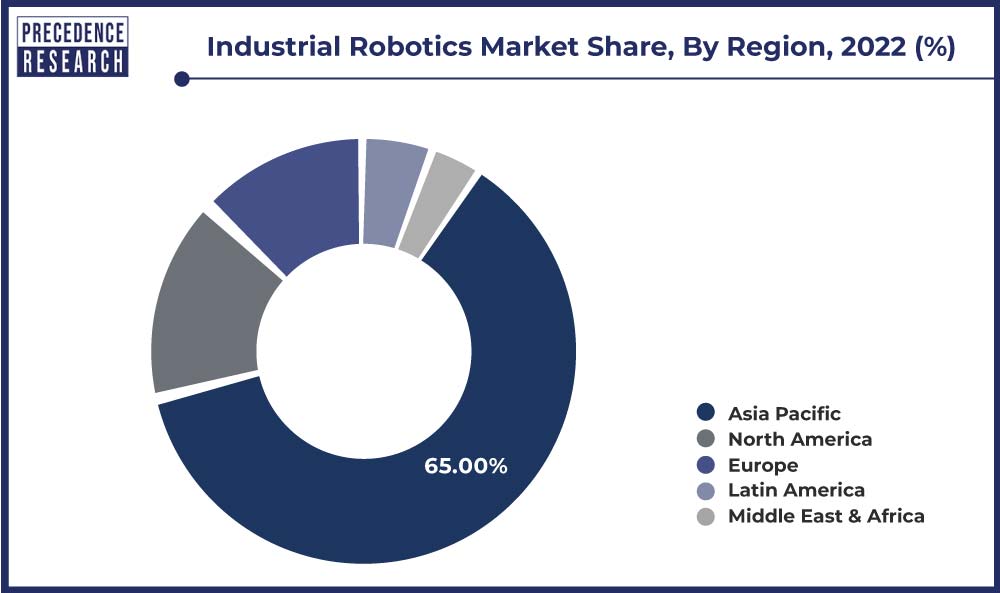 Korea hit an all-time high of 1000 industrial robots per 10,000 employees in 2021. This is more than three times the number achieved in China, placing the country first in the world. The Korean economy benefits from two large customer industries for industrial robots due to its globally recognized electronics industry and distinct automotive sector. Singapore ranks second, with 670 robots per 10,000 employees in 2021. Since 2016, Singapore's robot density has increased by 24% on average per year.
There is a significant difference between Japan (399 robots per 10,000 employees), which ranks third. Japan's robot density has increased by 6% on average per year. China has by far the world's fastest-growing robot market. The country has the most annual installations and the largest operational stock of robots.
Recent Developments:
In 2022, DOBOT launched a collaborative robot CR3L at Automate 2022 in Detroit with an increased Max Reach of 11.5%
In March 2022, Mitsubishi Electric announced the launch of its new industrial robotics system in 2023.
In 2021, ABB launches next-generation cobots – CoFa and SWIFTI to unlock automation for new sectors and first-time users.
In June 2020, Yaskawa launched two new collaborative robots for industrial applications – HC10DTP and HC20DTP. The company has described them as highly reliable robots that enrich easy capability for Yaskawa's HC-series line.
Company Profiles and Competitive Intelligence:
The Industrial Robotics Market is experiencing intense competition from industry players as they race to capitalize on untapped market opportunities. These players use various growth strategies such as mergers and acquisitions, new product development, and collaborations to help them consolidate their position in the industry. Some of the prominent market players are listed below.
ABB
FANUC CORPORATION
KUKA AG
YASKAWA ELECTRIC CORPORATION
Comau S.p.A.
Seiko Epson Corporation
Kawasaki Heavy Industries, Ltd
Mitsubishi Electric Corporation
Staubli International AG.
Universal Robots
Segments Covered in the Report:
(Note*: We offer report based on sub segments as well. Kindly, let us know if you are interested)
By Type
Articulated robots
Cartesian coordinate robots
Cylindrical-coordinate robots
Spherical Coordinate robots
SCARA robots
Others
By Application
Welding & Soldering
Material Handling
Assembling & Disassembling
Dispensing
Processing
Others
By End-User
Automotive
Electrical & Electronics
Metals & Machinery
Plastics, Rubbers, & Chemicals
Food & Beverages
Precision Engineering & Optics
Pharmaceuticals & Cosmetics
Others
By Geography
North America
Europe
Asia-Pacific
Latin America
The Middle East and Africa