The global infusion pump market size was estimated at USD 14 billion in 2022 and is expected to hit around USD 28.72 billion by 2032, poised to grow at a compound annual growth rate (CAGR) of 7.50% from 2023 and 2032.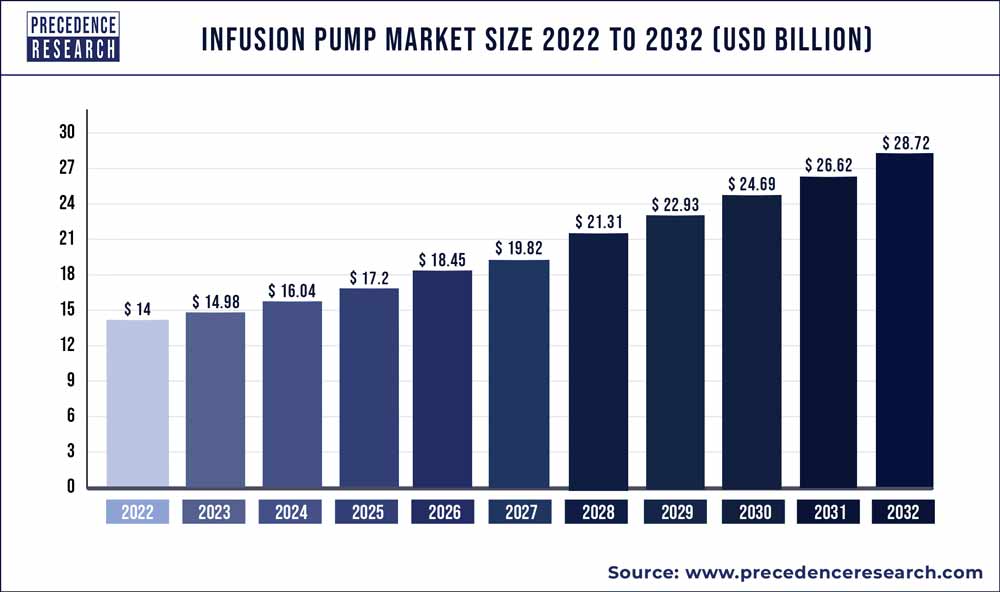 Access our Premium Real Time Data Intelligence Tool, Visit: Precedence Statistics
Key Takeaways:
The North America infusion pump market was valued at USD 4.8 billion in 2022.
The hospitals segment has registered highest market share of over 49% in 2022.
North America region has reached market share of over 38% in 2022.
Pumps of different kinds convey supplements or prescription to patients, for example, insulin or different chemicals, anti-microbials, chemotherapy medications, and pain killers. These gadgets have various benefits over manual liquid organization, including the capacity to convey liquids in tiny volumes at unequivocally modified rates or at computerized stretches. Undiscovered developing business sectors like India and China, as well as the developing reception of specialty imbuement pumps, give critical learning experiences to implantation pump market players. Nonetheless, the rising rate of medicine blunders and the absence of remote availability in many emergency clinics will present huge difficulties to the market's development during the figure time frame.
Growth factors
Demand for Pumps in Coronavirus Infection Disease Management to Improve Business Prospects Because of the effect of the COVID-19 pandemic and the vulnerability encompassing its term, the business has seen a huge expansion in its development rate. This is fundamentally because of an expansion in COVID-19 testing in 2020. In any case, there was a lessening underway because of the COVID-19 pandemic because of an absence of laborers and production network disturbances. During the COVID-19 pandemic, for instance, Baxter International saw critical and capriciousness in the interest for specific medical care items. In any case, new item dispatches have supported income development in 2020. For instance, in Jan 2020, Medtronic Ireland sent off Efficio, which is connected to the SynchroMed II intrathecal drug conveyance framework.
The rising commonness of constant illnesses, joined with the increasing expense of medical clinic based implantation treatments, has powered expanded innovative work endeavors to make locally situated mixture items. For instance, the developing patient populace in diabetes, disease, and neurological issues has brought about an expansion popular for long haul care, ideally at home. Moreover, the developing geriatric populace needing long haul care treatments is driving the advancement of new items focused on locally established mixture treatments. The market's top players are zeroing in on specialty medication site of care the board. Ivenix, Inc. fostered the Epic savvy implantation pump in August 2020 to assist patients with staying away from imbuement related wounds.
Type Insights
As a result of the increasing number of diabetic patients, the insulin pump fragment is supposed to rule the market. Volumetric pumps, needle pumps, enteral taking care of pumps, insulin pumps, elastomeric pumps, implantable pumps, and patient control absense of pain pumps are the market fragments. In the worldwide market, the insulin pump section overwhelmed. The section is supposed to keep up with its predominance by extending at a very quick rate during the estimate time frame. This is because of an expansion in the quantity of type 1 diabetic patients around the world, as well as the presentation of promising advancements in the insulin pump field. Developing agony the board applications for PCA pumps are supposed to drive worldwide item interest before long. This is because of an expansion in the adoption of mechanically progressed volumetric implantation pumps with capacities, for example, electronic wellbeing record joining, worked in security frameworks, and medication library, which is a rundown of medications put away in the brilliant pump's memory and fills in as a vital device to forestall medicine blunders.
Besides, as non-industrial nations' financial possibilities improve, more individuals are supposed to have the option to pick the utilization of volumetric pumps in home medical services, which is the essential driving element of the volumetric imbuement pump section. Based on application, the oncology section drove the market in 2020 and is supposed to keep up with its lead all through the estimate period. This is because of the expanded predominance of malignant growth, as these pumps are broadly used to direct medications during disease treatment.
Application Insights
Diabetes application segment to hold huge share due to increasing diabetes prevalence throughout the world. Diabetes, oncology, torment the board, and other market portions are instances of utilization. Diabetes had the biggest portion of the infusion pump market in 2022. The section is supposed to develop at the quickest compound annual growth rate during the conjecture time frame.
Due to the rising predominance of different diseases and the rising number of new item dispatches around here, the oncology section is supposed to get forward momentum. This pump can likewise be utilized in gastroenterology, hematology, pediatrics, sedation, blood bonding, and different fields.
End User Insights
Hospitals are supposed to overwhelm the worldwide market. As a result of rising emergency clinic confirmations around the world. The market is separated into emergency clinics, wandering consideration settings, specialty facilities, and home consideration settings in view of the end clients.
The clinics section represented the biggest portion of the market in 2022 because of emergency clinics' high buying force of the most costly mixture gadgets, huge patient pool visiting these offices, and status of prepared staff to work the pump. In any case, the home consideration settings fragment is supposed to develop at the quickest compound annual growth rate during the conjecture time frame because of expanded reception of mobile pumps and an inclination for site of care the board to diminish cost trouble. Besides, rising government drives to decrease in general medical care costs related with delayed hospitalization are probably going to help the rising interest for homecare imbuement frameworks. Implantation pumps and ventilators are basic gadgets since they are utilized in ICUs, CCUs, and crisis offices. In COVID wards, IV imbuement is a typical need. Infusion pumps are utilized in clinics and other trauma centers to control and convey medicine portions. Since they can be modified to do as such without steady oversight, they permit specialists and attendants to treat patients while presenting them to minimal measure of disease.
Accordingly, interest for infusion pumps expanded essentially in 2022. This made the stock and appropriation of infusion pumps very troublesome. The inclination for homecare settings has developed fundamentally as long haul care spending has expanded. Walking imbuement pumps in homecare settings are turning out to be better known as hospitalization costs rise and the commonness of persistent illnesses rises. The expanded reception of walking implantation pumps and the expanded need to lessen medical clinic stays are basic variables driving the flood popular for wandering infusion pumps in homecare settings. The worldwide intravenous infusion pump market is separated into four classifications: type, application, end client, and district.
Geography Insights
The North America region accounted largest market share in 2022. The district's market is recognized by higher diabetes conclusion and treatment rates, as well as boundless utilization of mobile pumps and ideal repayment arrangements. Clinical gadget mechanical headways in North America are supporting the district's development.
Europe had the second biggest piece of the pie. An expansion in the commonness of persistent sicknesses around here, as well as huge consumption in the medical services area by the European Commission, are supposed to drive interest for these pumps in Europe somewhere in the range of 2023 and 2032.
The market in arising locales like Latin America, Asia Pacific, the Middle East and Africa is supposed to develop at a quicker rate during the conjecture time frame. Ascend in the predominance of persistent illnesses like diabetes and disease, developing medical care framework, developing GDP, extra cash, and expanding mindfulness about the accessibility of cutting-edge treatments in the Asia Pacific district are a portion of the variables expected to drive market development around here before long. The Asia Pacific market is supposed to develop at a 8.8% compound annual growth rate during the gauge time frame.
The market in Latin America, the Middle East, and Africa is still in its earliest stages. Notwithstanding, the rising focal point of driving players on growing their presence in these locales will support the market in these areas. China, Japan, and India are instances of arising economies with advanced medical care foundation and offices. Characteristics, for example, high illness trouble, huge government changes, reception of new innovation, and low treatment costs are preparing for market development.
North America overwhelmed the market in 2022, and this pattern is supposed to go on all through the estimate period. The rising commonness of persistent illnesses, the rising number of surgeries performed, advanced and extending R&D, and the rising reception of cutting-edge innovation in implantation pumps generally added to the development of the market around here.
Key market developments
Mindray has presented the BeneFusion n Series, another age imbuement framework. It gives profound experiences into patient security, interoperability and information the board, and functional effortlessness, all of which add to the foundation of new guidelines in mixture treatment.
Teknor Apex Co., a plastics intensifying organization, presented new, profoundly weatherable mixtures for the external layers of dim shaded wood plastic composite (WPC) decking in February 2021. WPC decking is produced using a blend of wood flour and polyolefin plastics and is turning out to be progressively well known as an option in contrast to customary treated wood. The new mixtures might give a huge benefit to WPC over wood by giving a prevalent appearance, lower upkeep prerequisites, and a more extended life expectancy.
AZEk, a composite board producer, declared in March 2021 the development of another plant in Boise, Idaho, to extend its creation of composite wood utilizing reused PE. As per the Chicago-based producer, retrofitting and development of the office will start before the current year's over, with the plant expected to be functional in 2022. AZEK plans to produce its TimberTech image blunder, produced using recuperated PE and wood, at the Boise production line, which is essential for a US$180 million limit development program.
Report Scope of the Infusion Pump Market
Report Coverage
Details
Market Size in 2023
USD 14.98 Billion

Market Size by 2032

USD 28.72 Billion

Growth Rate from 2023 to 2032
CAGR of 7.50%
Base Year
2022
Forecast Period
2023 to 2032
Market Segmentation

By Product

By Application

By End User

Regions Covered

North America
Europe
Asia Pacific
Latin America
Middle East & Africa

Companies Mentioned

Tandem Diabetes Care, Inc.
Smith Medical
Terumo Corporation
Becton, Dickinson and Company
Fresenius SE & Co. KGaA
F. Hoffmann-La Roche Ltd.
B. Braun Holding GmbH & Co. KG
Baxter International, Inc.
Medtronic
ICU Medical, Inc.