The global intravenous immunoglobulin market size was estimated at USD 13.69 billion in 2022 and it is projected to be worth around USD 29.53 billion by 2032, poised to grow at a remarkable CAGR of 7.99% between 2023 and 2032.
Key Takeaways:
North America generated more than 47% of revenue share in 2022.
By product, IgG dominates the intravenous immunoglobulin market.
By route of administration, intravenous are preferably used more in the intravenous immunoglobulin market.
By application, the immunodeficiency diseases segment captured more than 21% of the revenue share in 2022.
By end-user, hospitals segment shares the maximum CAGR during the projection period.
By distribution channel, the hospital pharmacy segment contributed more than 58% of revenue share in 2022.
Market Overview:
Intravenous immunoglobulin reflects a collective exposure of the donor population to their environment, and it describes the potential adverse effects and identifies the mechanism of intravenous immunoglobulin. The global industry produces, distributes, and sells intravenous immunoglobulin products. IVIG is a concentrated form of antibodies obtained from pooled plasma of numerous donors, and it is administered intravenously and used to treat various autoimmune and immunodeficiency disorders.
The IVIG market has experienced significant growth in recent years due to several factors, including an increase in the prevalence of immune-mediated disorders, advancements in plasma collection and fractionation technologies, and growing awareness among healthcare professionals and patients regarding the benefits of IVIG therapy. This market encompasses various participants, including pharmaceutical companies manufacturing IVIG products, plasma collection centers, contract manufacturing organizations, distributors, hospitals, clinics, and patients. Major pharmaceutical companies often have dedicated divisions or subsidiaries to produce and market IVIG products.
The IVIG market is highly competitive and consists of branded and generic products. Several companies actively develop and commercialize IVIG therapies, contributing to a diverse product portfolio. Regulatory policies, reimbursement systems, and regional market dynamics also influence the market. Factors such as increasing healthcare expenditure, a rise in the geriatric population, and the expanding use of IVIG in off-label indications are expected to drive the growth of the IVIG market in the coming years. However, challenges such as the high cost of IVIG therapy, potential side effects, and supply constraints related to plasma availability may impact market growth.
Growth Factors:
With the global population aging, there is a higher prevalence of age-related diseases and immune disorders. Elderly individuals are more susceptible to infections and often require IVIG therapy to manage their conditions. This demographic trend is driving the demand for IVIG products. IVIG is increasingly used to treat autoimmune and inflammatory disorders such as immune thrombocytopenic purpura, Kawasaki disease, chronic inflammatory demyelinating polyneuropathy, and others. The expanding list of indications for IVIG is broadening the market's potential. Healthcare spending trends influence the growth of the IVIG market. As healthcare expenditure rises, there is greater affordability and accessibility of IVIG therapy, particularly relevant in developed regions with well-established healthcare systems.
Improved awareness of immunodeficiency disorders, autoimmune diseases, and other conditions treated with IVIG leads to earlier diagnosis and treatment initiation. As a result, more patients are identified as potential IVIG therapy candidates, contributing to market growth. Continuous advancements in manufacturing processes, purification techniques, and developing novel immunoglobulin products with improved efficacy and safety profiles positively impact the IVIG market. These advancements enhance the quality and availability of IVIG products, expanding their adoption.
Report Scope of the Intravenous Immunoglobulin Market:
| | |
| --- | --- |
| Report Coverage | Details |
| Market Size in 2023 | USD 14.78 Billion |
| Market Size by 2032 | USD 29.53 Billion |
| Growth Rate from 2023 to 2032 | CAGR of 7.99% |
| Largest Market | North America |
| Base Year | 2022 |
| Forecast Period | 2023 to 2032 |
| Segments Covered | By Product, By Route of Administration, By Application, By End-Users, and By Distribution Channel |
| Regions Covered | North America, Europe, Asia-Pacific, Latin America, and Middle East & Africa |

Key Market Driver:
Increasing prevalence of immunodeficiency disorder
The rising prevalence of immunodeficiency disorders can be approved for several factors, including improved diagnostic techniques, increased awareness, and a better understanding of these conditions among healthcare professionals. Moreover, advancements in medical treatments and therapies have allowed individuals with immunodeficiency disorders to live longer, leading to an overall increase in cases. It is a commonly used treatment for individuals with immunodeficiency disorders. It is derived from human blood plasma and contains a concentrated dose of antibodies that can help strengthen the immune system. It is administered intravenously and helps replace or supplement the secondary antibodies in individuals with immunodeficiency.
The market for intravenous immunoglobulin has experienced significant growth due to the increased prevalence of immunodeficiency disorders. The demand for IVIG has risen as more individuals are diagnosed with these conditions and require ongoing treatment. Advancements in manufacturing techniques and the availability of recombinant IVIG have improved the supply and accessibility of this therapy. However, it is essential to note that various factors influence the IVIG market, including regulatory policies, reimbursement systems, and alternative treatments' availability. As the prevalence of immunodeficiency disorders continues to increase, the demand for IVIG is expected to also rise, driving further market growth.
Key Market Restraint:
High risk of transmission
IVIG has the potential risk of transmission of viral infectious agents as a blood product, and there have been only a few reported cases of hepatitis C transmission in the distant past. It is a therapeutic option for specific infectious diseases, particularly those caused by pathogens that significantly impact the immune system. IVIG can provide passive immunity by introducing antibodies from healthy individuals into the bloodstream of patients. These antibodies can neutralize pathogens, enhance immune responses, and reduce the severity or duration of the infection.
Key Market Opportunities:
Adoption of immunoglobulin-based therapies
Advancements in plasma fractionation techniques and manufacturing processes have improved the safety and efficacy of IVIG products. Developing recombinant technologies and purification methods has produced highly refined and concentrated immunoglobulin products, reduced the risk of adverse reactions and allowed for more targeted therapies. These advancements open opportunities for developing novel immunoglobulin-based treatments and improved patient outcomes.
IVIG has traditionally been used for primary immune deficiencies and certain autoimmune disorders. However, ongoing research is uncovering new therapeutic indications for IVIG. These include neurological disorders, such as chronic inflammatory demyelinating polyneuropathy, multifocal motor neuropathy, and myasthenia gravis. The expansion of symptoms broadens the market potential for immunoglobulin-based therapies.
Segments Insight:
Product Insights:
IgG shows a significant growth in the intravenous immunoglobulin market
IgG has been extensively studied in clinical research, which has contributed to its widespread use and acceptance in medical practice. Many clinical trials have demonstrated the efficacy and safety of IgG in treating various autoimmune disorders, neurological conditions, and other immune-related diseases.
IVIg is a therapy that merges immunoglobulins donated by different people to cure various disorders. IVIg is delivered through a drop into a vein, called an intravenous infusion. It is even given as an injection into a muscle to increase your immunoglobulin levels by following other treatments. It is used to decrease the results of a few inflammatory conditions in the immune system and even raise the level of immunoglobulins if these are low or dropped by treatment with other drugs like rituximab.
Route of Administration Insights:
Intravenous mode of administration is commonly prescribed and dominates the intravenous immunoglobulin market.
Intravenous administration allows for rapid delivery of immunoglobulins into the bloodstream, achieving instant therapeutic levels.
The subcutaneous mode of administration shows attractive growth in the forecast period.
The patient can perform Subcutaneous administration at home, leading to greater convenience and independence. It typically involves more frequent and smaller doses but provides a sustained level of immunoglobulins over time. When the patient is directed to give antibodies under the skin, it is considered subcutaneous immunoglobulin.
Grifols declared that XEMBIFY, with its innovation of 20% subcutaneous immunoglobulin, has been accepted by various European Union member state health authorities and the U.K. to cure patients with primary and secondary immunodeficiencies in March 2022.
Application Insights:
Immunodeficiency diseases are dominating the application segment in the intravenous immunoglobulin market during the predicted period.
Immunodeficiency diseases can be primary (inherited) or secondary (acquired). Primary immunodeficiencies are typically genetic and present from birth, whereas secondary immunodeficiencies can develop later in life due to factors such as infections, medications, or medical treatments. IVIG therapy is commonly prescribed for patients with primary immunodeficiency diseases, such as common variable immunodeficiency, X-linked agammaglobulinemia, and severe combined immunodeficiency. These conditions involve defects in the immune system's ability to produce or utilize antibodies effectively.
The incidence and recognition of immunodeficiency diseases have been rising over the years. Improved diagnostics and awareness have led to identifying more patients with primary immunodeficiencies. Earlier detection and a better understanding of immunodeficiency diseases have increased demand for therapeutic options like IVIG. Prompt and accurate diagnosis allows for timely initiation of treatment, improving patient outcomes.
Chronic Inflammatory demyelinating polyneuropathy (CIDP) is the fastest growing segment in the intravenous immunoglobulin market throughout the forecast period.
Chronic Inflammatory Demyelinating Polyneuropathy (CIDP) is a rare neurological disorder characterized by chronic inflammation and damage to the peripheral nerves. Intravenous immunoglobulin (IVIG) therapy is for CIDP. IVIG involves infusing a solution containing antibodies derived from pooled human plasma into the patient's bloodstream. These antibodies help modulate the immune response and reduce inflammation, relieving CIDP symptoms.
The IVIG market encompasses the sales and distribution of intravenous immunoglobulin products used for various indications, including CIDP. The market for IVIG has been growing over the years due to an increase in the prevalence of immune-mediated diseases and a growing aging population. If the majority of CIDP is increasing or expected to rise, it could drive the demand for IVIG therapy in CIDP patients. IVIG therapy has shown efficacy in managing CIDP symptoms and improving patients' quality of life. Positive treatment outcomes may contribute to the growing adoption of IVIG for CIDP treatment.
End-User Insights:
Hospitals are the fastest-growing segment in the intravenous immunoglobulin market throughout the forecast period. Individuals with primary immunodeficiency disorders, autoimmune diseases, certain infections, and neurological disorders benefit from IVIG therapy. These patients receive IVIG infusions in hospitals under medical supervision. Hospital-based healthcare professionals, including physicians, nurses, and pharmacists, are responsible for prescribing, preparing, and administering IVIG to patients. They monitor the patients during the infusion process and assess the treatment's efficacy and safety.
Distribution Channel Insights:
Hospital Pharmacy is commonly prescribed and dominates the intravenous immunoglobulin market. Hospital pharmacies monitor patients receiving IVIG therapy and report any bad events or reactions to the appropriate regulatory bodies. They collaborate with healthcare professionals to track patient advances and adjust treatment plans.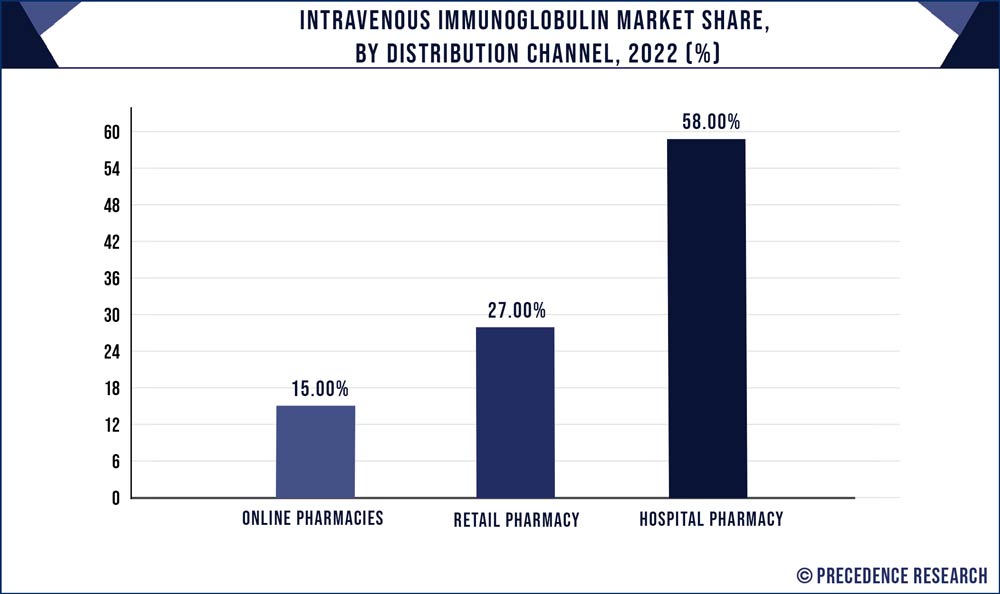 Retail Pharmacy shows attractive growth in the forecast period. Retail pharmacies are crucial players in the IVIG market as they provide a convenient and accessible channel for patients to obtain these therapies. They work closely with hospitals, healthcare providers, and specialized infusion centers to ensure timely delivery of IVIG products and related services. This involvement in the IVIG market goes beyond product distribution, and they often provide counseling and education to patients about their medication, potential side effects, dosage instructions, and proper storage.
Regional Insights:
North America is dominating and expected to remain a significant region in the intravenous immunoglobulin market throughout the predicted timeframe. The presence of highly developed healthcare infrastructure, the growing number of cancer patients, and prominent players in the United States, such as Baxter International Inc., for introducing effective drugs contribute to the market expansion. North America is home to several major pharmaceutical companies involved in producing and distributing IVIG products. These companies invest in research and development activities, clinical trials, and marketing strategies, further driving the growth of the IVIG market in the region.
There is a growing awareness and understanding of the benefits of IVIG therapy among healthcare professionals and patients in North America. This increased awareness leads to early diagnosis and treatment initiation, boosting the demand for IVIG products. North America has a well-developed, advanced healthcare infrastructure, including hospitals, clinics, and research facilities. This infrastructure facilitates the widespread adoption of IVIG therapies and supports the market's growth.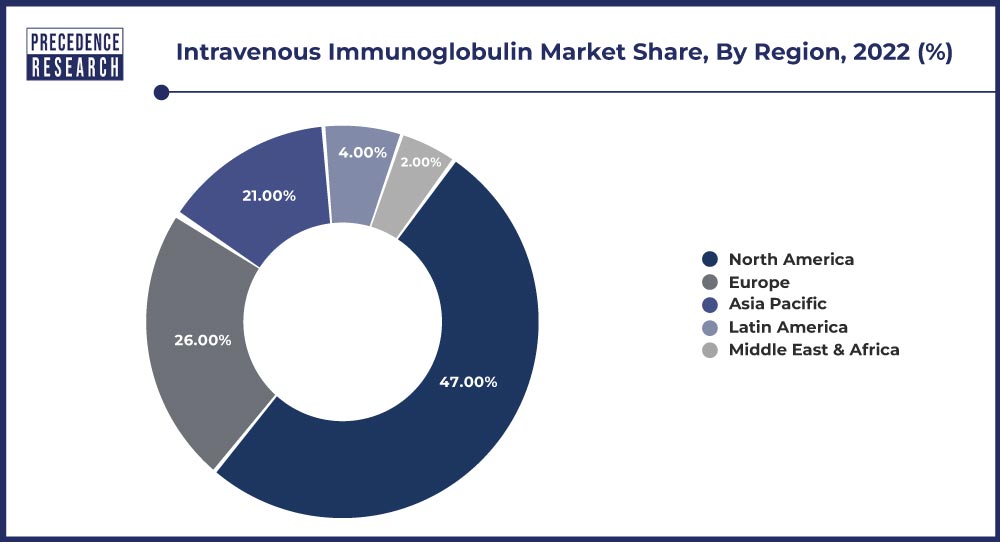 Asia-Pacific shows lucrative growth in the intravenous immunoglobulin market during the forecasted timeframe. The Asia-Pacific region is home to a significant portion of the world's population, including densely populated countries like China and India. With a large population base, individuals are likely to require IVIG treatment, resulting in increased market growth. The Asia-Pacific has seen substantial growth in its pharmaceutical industry, with many local and international companies actively engaged in producing and distributing IVIG products. The presence of a competitive market stimulates innovation, drives down prices, and increases product availability, further fueling the growth of the IVIG market. This is due to the increasing government support, growing research and development activities, and rising healthcare reforms fueling the intravenous immunoglobulin market.
Recent Developments:
On January 223, Biogen and Eisai Co., Ltd announced that the United Stated Food and Drugs Administration has approved their injection for intravenous use, lecanemab-irmb (LEQEMBI). According to the developers, LEQEMBI is an effective treatment for Alzheimer's. Additionally, the companies stated that the treatment with the new injection can be initiated on patients with mild dementia or mild cognitive impairment.
In July 2022, a leading pharmaceutical company, Takeda announced that it has achieved positive results from a Phase 3 trial that was made to evaluate HYQVIA, which is observed as an effective treatment for chronic inflammatory demyelinating polyradiculoneuropathy. The HYQVIA aims to reduce the relapse the disability in nervous system and muscles while working together.
Key Market Players:
Biotest AG
Octapharma AG
LFB Biotechnologies
Grifols SA
CSL Behring
China Biologics Products Inc.
Kedrion Biopharma
BDI Pharma Inc.
Segments Covered in the Report:
(Note*: We offer report based on sub segments as well. Kindly, let us know if you are interested)
By Product
By Route of Administration
By Application
Hypogammaglobulinemia
Chronic Inflammatory demyelinating polyneuropathy (CIDP)
Immunodeficiency diseases
Myasthenia Gravis
Multifocal motor neuropathy
Idiopathic thrombocytopenic purpura (ITP)
Inflammatory myopathies
Specific antibody deficiency
Guillain-Barre syndrome
By End-Users
Hospitals
Homecare
Specialty Clinics
By Distribution Channel
Hospital Pharmacy
Retail Pharmacy
Online Pharmacies
By Geography
North America
Europe
Asia-Pacific
Latin America
Middle East and Africa