The global intravenous equipment market size was valued at USD 20.11 billion in 2022 and it is expected to hit around USD 35.98 billion by 2032, growing at a CAGR of 5.99% over the forecast period 2023 to 2032.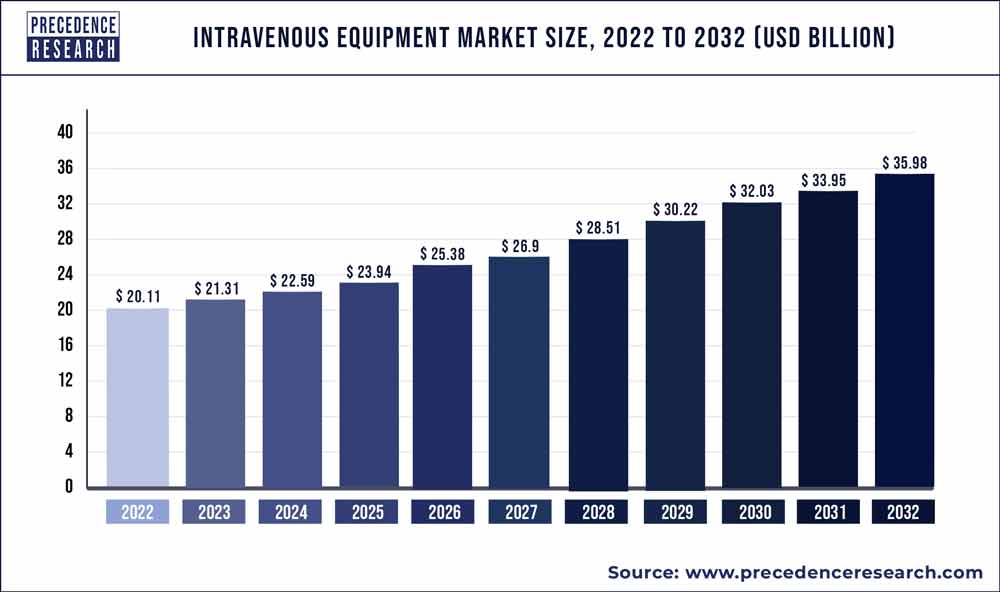 Access our Premium Real Time Data Intelligence Tool, Visit: Precedence Statistics
Key Takeaways:
Europe region is predicted to dominate the global market between 2023 and 2032.
By Type, the IV catheters segment captured the largest market share in 2022.
By End-User, the hospital's segment contributed the maximum market share in 2022.
The IV infusion equipment market covers the global market for devices and products specially designed to administer fluids, medications, or therapeutic agents via veins in a patient's body. These devices are of great importance in a wide range of healthcare settings, from hospitals to medical centers and health services at home. The market for IV infusion equipment covering a broad range of instruments and products to administer liquids, medications or treatments directly in the patient's vein is an important part of the worldwide healthcare industry.
In a variety of healthcare settings, including hospitals, doctor's offices, rehabilitation centers and home care which serve all age groups and illnesses, this market has an important role. These devices are used to monitor the rate and volume of fluids or medicinal products delivered through an IV so as to be sure that they are administered accurately and precisely. They are especially important for patients requiring periodic infusion therapy in the intensive care units, surgery settings and to patients with continuous infusion therapy.
The increasing prevalence of chronic diseases, such as cardiovascular disorders, cancer, and diabetes, has led to a rise in the demand for IV therapies. In addition, access to health services has been increased and IV equipment is used more widely in developing countries due to the development of healthcare infrastructure. The importance of intravenous equipment to the global healthcare landscape has been further stressed by the COVID-19 pandemic. The demand for the reliability and efficiency of IV devices has grown due to the administration of vaccines, and treatment with critical care medicine in cases of severe illness.
Report Scope of the Intravenous Equipment Market:
| | |
| --- | --- |
| Report Coverage | Details |
| Market Size in 2023 | USD 21.31 Billion |
| Market Size by 2032 | USD 35.98 Billion |
| Growth Rate from 2023 to 2032 | CAGR of 5.99% |
| Largest Market | Europe |
| Base Year | 2022 |
| Forecast Period | 2023 to 2032 |
| Segments Covered | By Type and By End-User |
| Regions Covered | North America, Europe, Asia-Pacific, Latin America and Middle East & Africa |

Key Market Drivers:
Rising surgical procedures
The major driver for the growth of the intravenous equipment market can be attributed to an increasing number of surgeries all over the world. Surgical procedures include a range of medical interventions, including both in the hospital and on an outpatient basis, which require the use of IVs for different purposes. During surgery, intravenous catheters, infusion pumps, and other devices are of paramount importance for the purpose of fluid resuscitation, anesthesia administration as well as postoperative care.
The scope of surgery has been broadened by advances in the techniques used, medical technologies, and anesthetics, allowing it to be more efficient and readily available. There has been an increase in the number of surgical procedures performed as a result of greater access to Minimally Invasive Procedures. In these minimally invasive procedures, IV equipment is often used to deliver anesthesia, sedation and analgesics to the patient. Precise medication administration and patient comfort are ensured through the use of IV equipment in these procedures.
Furthermore, the use of enhanced IV equipment was driven by a growing concern for the safety of patients during surgical procedures. Safety features that have become known in recent years are needle-free connectors, antimicrobial-coated catheters and infusion pumps with integrated medication error prevention systems. These developments aim at reducing the chance of infections, medication errors or needlestick injuries and providing an enhanced level of patient safety during surgery.
Therefore, as a major driver for market growth in IV equipment, the rising number of surgery procedures around the world. Demand for intravenous machines is driven by the increasing availability of medical interventions, improvements in surgical techniques and the expanding scope of ambulatory surgeries. In addition, the importance of IV equipment for surgical procedures is further reinforced by an emphasis on patient safety and the COVID-19 pandemic impact. The market for intravenous equipment is projected to show continued growth as healthcare providers are relying on these instruments in order to provide the safest and most effective patient care, given the evolution of the surgery landscape.
Expansion of infusion therapy applications
A major driving force for the growth of the IVIV equipment market has been an increase in infusion therapy applications. IV infusion therapy is a treatment that delivers fluids, medicines, and nutrients straight into the bloodstream. As a result of the increase in demand for IV equipment, this multimodality treatment method is being used in different medical specialties and patient populations. The growing prevalence of long-term health conditions is one of the key factors underpinning the expansion of infusion therapy applications. Conditions such as cancer, diabetes, autoimmune disorders, and infectious diseases often require long-term treatment regimens that involve IV infusions. In order to ensure that chemotherapy drugs, biotherapeutics, immunosuppressive agents and other special medicines are administered safely and effectively in the treatment of these chronic conditions, IV equipment is necessary.
Furthermore, In the area of nutrition support, an increase in the use of infusion therapy is observed. In patients who are not able to obtain sufficient nutrition by the gastrointestinal tract, parenteral nutrition including intravenous delivery of vital nutrients is important. To meet the dietary requirements of patients with malnutrition, gastrointestinal disorders or who have been on a continuous fast for more than 1 day, IV equipment is used to deliver a balanced mixture of amino acids, glucose, lipids, vitamins and minerals. Infusion therapy has also shown an increasing use in the management of infectious diseases. In the treatment of serious infections, for example, sepsis or complex respiratory tract infection, intravenous antibiotics and antiviral medicines are frequently used. In order to ensure optimal drug levels in the blood, when these medicines are administered accurately with intravenous infusion equipment, it increases their effectiveness against infectious agents.
Therefore, the growth of the intravenous equipment market is mainly driven by an increase in infusion therapy applications. The demand for IV equipment is driven by the increasing incidence of disease, a need to manage pain effectively, feeding support, illness treatment and COVID-19's impact. The market for IV equipment is projected to grow at a sustained rate, owing to advances in technology and the development of special devices relating to different infusion therapy applications, due to continued acceptance and expansion by healthcare providers.
Key Market Challenges:
Maintenance and equipment malfunctions
The growth of the intravenous infusion equipment market is subject to significant problems in maintenance and malfunctions. To provide optimum performance and accurate delivery of medication, IV equipment such as infusion pumps, catheters, and tubes should be kept regularly maintained and calibrated. However, there may be equipment failures that lead to disruption of patient care and possible risks for the health of patients. The effectiveness of intravenous therapy may be compromised by infusion pump failures, blockages or leaks in catheters and tube lines that can lead to side effects.
In order to ensure that equipment malfunctions are promptly remedied, healthcare facilities should establish robust preventive maintenance programs, train staff in the area of troubleshooting and repairs as well as develop contingency plans. In order to reduce the interruption of patients' treatment while ensuring safe and effective delivery of medicines and liquids, it is important that equipment problems are resolved as soon as possible.
Moreover, the risks of user error and programming errors can be increased due to the complexity of certain IV equipment like infusion pumps that are programmed with enhanced features, which emphasizes the need for complete staff training and continuous education. In order to reduce the problems related to maintenance and equipment failures, which in turn promote growth and sustainability for the IV equipment market, proactive maintenance practices, compliance with manufacturer's guidance as well as continuous quality improvement initiatives are essential.
Key Market Opportunities:
Home healthcare expansion
The expansion of home healthcare services represents a significant opportunity to grow the intravenous infusion equipment market. In order to reduce hospital stays and health costs, home healthcare provides patients with the ability to receive medical care in a comfortable way at their homes for treatments such as intravenous therapy. The increased demand for aging in places, improvements in medical technology, and the focus on patient-centered care are some of the causes driving this trend. IV equipment is essential for delivering intravenous infusions at home in a safe and efficient manner. The comfort and convenience of getting long-term IV therapies at home, such as chemotherapy, antibiotics, or parenteral nutrition, can be advantageous to patients who need them. In order to facilitate the delivery of medicines and fluids in a home environment there is a need for portable and user-convenient IV devices, such as infusion pumps, catheters or intravenous sets.
The increasing demand for home healthcare is being driven by the development of telepresence and remote monitoring technologies. Healthcare providers can remotely assess their patients, monitor vital signs and provide advice on IV therapy management through telemedicine consultations and remote monitoring platforms. It allows real-time data collection, medication adherence monitoring, and telemedicine support to be integrated into IV devices in order to increase patient safety and healthcare effectiveness by integrating with digital health solutions. The expansion of home healthcare services is not only beneficial for patients but also represents an important market opportunity for IV equipment manufacturers. There is a growing demand for transportable, easy-to-use and technically superior intravenous devices. Innovative products which are specially adapted for use at home, e.g. small infusion pumps, user-friendliness catheters, and mobile medicine management solutions, may be developed by manufacturers. In order to guarantee the correct use and maximize patients' outcomes, tailored education and support is needed for patients and caregivers.
Therefore, the development of home healthcare services represents an excellent opportunity for growth in the IV equipment market. Patients' comfort, reduction in healthcare costs and support for patient care are improved when IV therapy can be administered at home. In order to meet the growing needs of home healthcare providers and patients, IV equipment that is suitable for use at home must also be integrated into telemedicine and electronic medical solutions. Market players can take advantage of this opportunity to strengthen their presence and address the needs identified, as well as contribute to developments in home infusion therapy by developing specific solutions.
Segments Insight:
Type Insights:
By product, the market is segmented into IV catheters, IV tubing sets, IV fluids, IV pumps, and other products. IV catheters are the largest segment of the market, accounting for a major share of the market in 2022. This is due to the increasing use of IV catheters in hospitals and clinics for the administration of fluids, medications, and blood products.
End-User Insights:
By end user, the market is segmented into home care settings, clinics, hospitals, and others. Hospitals are the largest end-user segment of the market, accounting for a major share of the market in 2022. This is due to the high volume of IV therapy procedures performed in hospitals.
Regional Insights:
Europe has a dominant position in the intravenous equipment market due to the continuous development of the medical sector in the region's major countries. Growing demand for IV equipment, the establishment of large companies as well as a massive expenditure on infrastructure development are also contributing to this.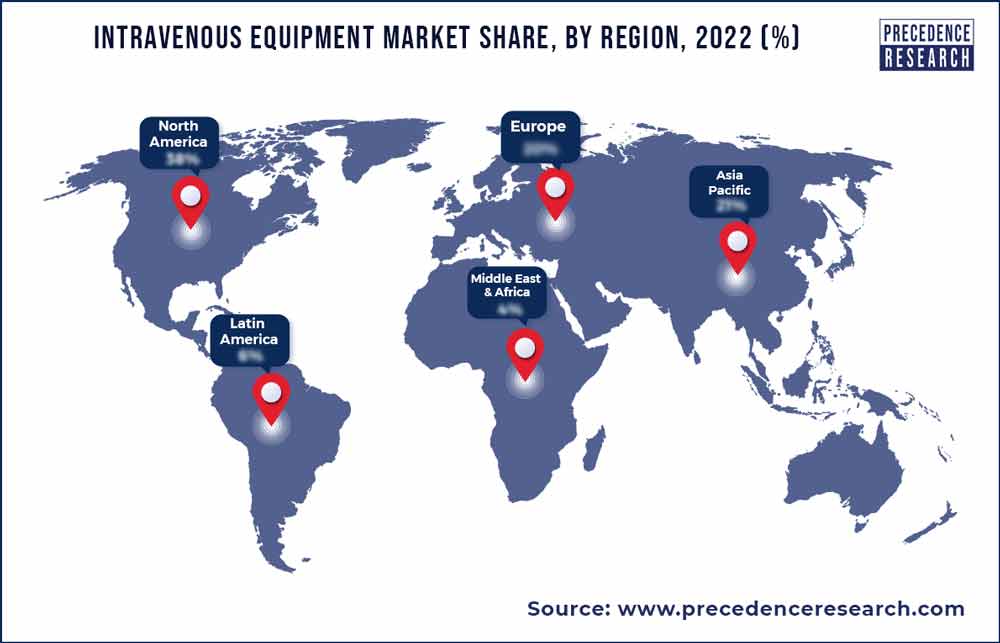 The EU has already implemented two recent initiatives, aimed at improving the health of over 3 million cancer patients by 2030, such as the EU Mission on Cancer and Europe's Action Plan Against Cancer. The Mission on Cancer is focused on innovation and research in cancer treatment, while the European Beating Cancer Plan focuses on cancer legislation. This is a perfect example of European cooperation.
If only a few chemotherapeutic infusions are required, IV catheter is usually the best short-term solution. These intravenous tubes are made up of an IV bag with a short tube attached to the needle. This is expected to lead to an increase in demand for IV catheters.
The increased prevalence of chronic diseases like asthma, diabetes, cancer, and more as a result of unhealthy food consumption patterns is one of the key factors anticipated to propel market expansion in the Asia Pacific region. A significant issue is also the rising demand for high-quality medical treatment.
Key Industry Developments:
In May 2019, B.Braun Medical announced that it intends to invest in the development of advanced IV infusion production facilities, which will make vital intravenous fluids safer and more productive when used by medical professionals on a regular basis.
In October 2017, PZifer Hospira Infusion System has been taken over by ICU Medical Inc. By collaborating with Pzifer, ICU Medical has expanded its product range for intravenous therapy.
Key Market Players:
Becton, Dickinson and Company
B. Braun Melsungen AG
Smiths Medical
ICU Medical, Inc.
Baxter International Inc.
Fresenius Kabi AG
Hospira, Inc.
Nipro Corporation
DexTech Medical
Enduropacks, Inc.
Calea Limited
Earth Science Tech
American Regent, Inc.
Apria Healthcare Group, Inc.
Segments Covered in the Report:
(Note*: We offer reports based on sub segments as well. Kindly, let us know if you are interested)
By Type
IV Catheters
IV Tubing Sets
IV Fluids
IV Pumps
Cannula
Hypodermic needles
Stopcock
Needless Connector
Drip chamber
Securement Device
Tourniquet

Other
By End-User
Hospitals
Clinics
Home Care Settings
Others
By Geography
North America
Europe
Asia-Pacific
Latin America
Middle East and Africa