The global iron and steel market size was estimated at USD 1,568.7 billion in 2022 and it is projected to surpass around USD 2,471.25 billion by 2032, expanding at a CAGR of 4.7% during the forecast period 2023 to 2032.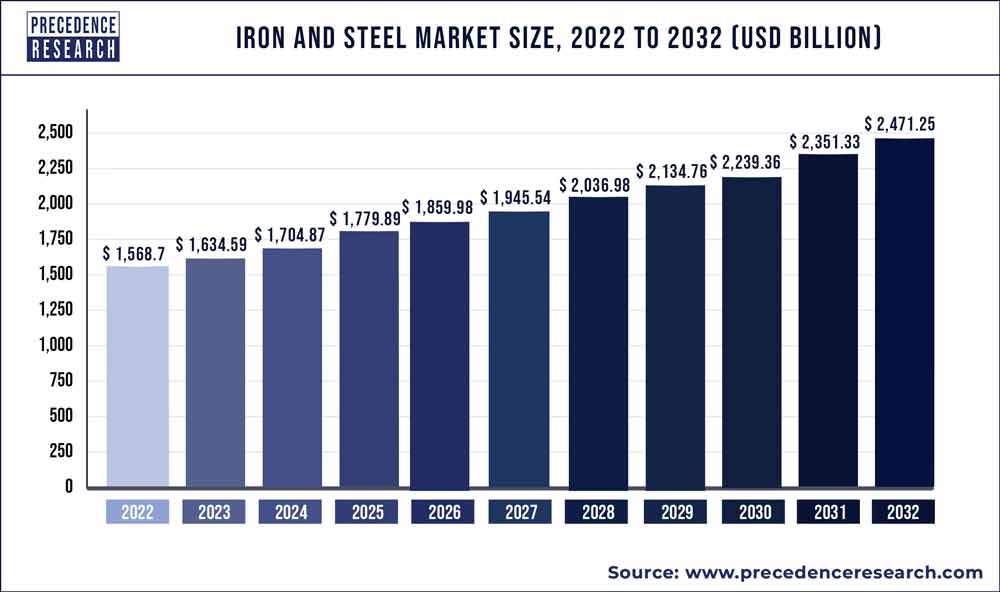 Key Takeaways:
The Asia-Pacific generated more than 56% of the revenue share in 2022.
By Product, the flat segment held the largest market share in 2022.
By Application, the building and the construction segment had the largest revenue share at 46% in 2022.
The industry growth is anticipated to be fueled by a moderate rise in construction spending and increasing investments in smart cities, which are expected to raise the demand for iron and steel products.
The global iron and steel market encompasses the production and trade of iron and steel goods that are utilized across various industries such as construction, automotive, aerospace, and energy. Iron and steel are essential materials for infrastructure development, transportation, and manufacturing, making the industry crucial for the global economy and providing employment opportunities for millions of people worldwide.
In this highly competitive market, numerous companies operate, with ArcelorMittal, POSCO, Baosteel Group, Nippon Steel & Sumitomo Metal Corporation, and Tata Steel being some of the prominent players. The demand and supply of iron and steel products can fluctuate based on a range of factors, including economic conditions, technological advancements, government policies, and environmental regulations. The industry is also facing challenges related to sustainability and environmental impact as steel production is a significant contributor to greenhouse gas emissions.
Growth Factors:
The bulk of the iron found in ores is used to make steel, and it is a common metal that is generally found in the form of oxide. The development of effective and innovative technologies, a surge in demand from developing building sectors, a booming automotive industry, and lucrative steel and construction are the main factors driving the expansion of the global steel market. In addition, steel is increasingly being used in new industrial areas, and expanding economies like China and India present new market potential for steel worldwide. The availability of raw materials, the cost of substitute chemicals, the depletion of iron ore mines, and the diminishing grade of ore are all important obstacles for the global steel business.
Iron and steel market is being driven by several factors, which include:
Infrastructure investment: As governments throughout the world invest in large-scale initiatives which call for sizable quantities of iron and steel products, the iron and steel sector is predicted to expand as a result of the increased investment in infrastructure development.
Development of the construction business: The industry is also benefited by the expansion of the construction sector, which is being fueled by an increase in the demand for residential and commercial real estate. Construction of roads, buildings, and other constructions requires the usage of iron and steel, which are fundamental building materials.
Growth of the automobile sector: The production of vehicles makes substantial use of iron and steel products, and as demand for vehicles rises, so is the need for these materials.
Investment in smart cities: To improve inhabitants' quality of life through technology, cities all around the world are making investments in smart city programmes. Constructions, facilities and transportation systems for these endeavors must be constructed using a variety of iron and steel goods
Technological developments: New technologies and manufacturing techniques are continually being created to increase productivity and lower costs in the iron and steel sector. This is anticipated to result in more output and cheaper costs, which might boost the market's expansion for iron and steel.
Report Scope of the Iron and Steel Market:
| | |
| --- | --- |
| Report Coverage | Details |
| Market Size in 2023 | USD 1,634.59 Billion |
| Market Size by 2032 | USD 2,471.25 Billion |
| Growth Rate from 2023 to 2032 | CAGR of 4.7% |
| Largest Market | Asia Pacific |
| Base Year | 2022 |
| Forecast Period | 2023 to 2032 |
| Segments Covered | By Product and By Application |
| Regions Covered | North America, Europe, Asia-Pacific, Latin America and Middle East & Africa |

Key Market Drivers:
Rising investment in infrastructure - The huge infrastructure projects that governments throughout the world are funding, including bridges, roads, airports, and public transportation systems, are driving up demand for iron and steel goods. The expansion of developing economies like China and India, which are extensively investing in infrastructure to support economic development and urbanization, is a further catalyst for this trend. For instance, China's massive Belt and Road Initiative aims to link Asia with Europe and Africa by building a network of ports, railroads, highways, and other infrastructure.
Increased investment in smart cities - The need for steel and iron materials in infrastructure and construction projects aimed at improving the quality of life for people through technology is growing as a result of smart city efforts. Building transportation and infrastructure to support these activities requires the use of iron and steel materials, which is anticipated to help the iron and steel industry expand. For instance, the Smart Cities Mission, launched by the Indian government, intends to create 100 smart cities across the nation by 2023. The objective is to improve, renovate, and expand communities around the country. The mission will receive USD 869.0 million from the government in the budgets for 2021–22, and as of March 2021, the mission has received USD 28.60 billion in total funding.
Technological advancements - The steel and iron sector advances continually by creating new technology and production techniques to increase productivity and lower prices. Popularity is growing in the use of renewable energy sources like wind and solar power to create steel, which will increase output and drive down costs. The iron and steel sector might expand as a result of these advancements.
Key Market Challenges:
Volatility in price - The price volatility that results from supply and demand, the state of the economy, and geopolitical events is one of the major market issues the iron and steel sector must deal with. Because of this, it may be challenging for businesses to prepare for the future, which might hurt their profitability.
Availability of the raw materials - The availability and pricing of raw resources, such as limestone, coal, and iron ore, which are necessary for the manufacturing of iron and steel, provide another difficulty. The price or scarcity of these resources can have a substantial impact on manufacturing costs, which can therefore have an effect on an industry company's profitability.
Key Market Opportunities:
Growing demand for the steel in emerging markets - As developing countries continue to grow in order to support building, infrastructure, and other sectors, demand for iron and steel products is increasing. This could give strong growth opportunities for iron and steel companies to boost their client base and share of the market.
Use of advanced technologies - The steel and iron industry has invested in innovative technologies such as machine learning, large data sequence analysis or the global Internet of Things (IoT) to optimize production processes, reduce costs and increase efficiency.
Growth in renewable energy - For iron and steel firms, the growing use of renewable energy sources, such as wind and solar power, to create steel offers a chance to lower their carbon footprint and increase environmental sustainability. Businesses may lower their energy expenses and increase profitability by investing in renewable energy sources.
Development of new products - New products can be created by iron and steel firms to meet the demands of expanding markets and shifting consumer tastes. For instance, accelerating the creation of lightweight, high-strength steel for the automotive sector may assist businesses in meeting new fuel economy and pollution rules while also enhancing vehicle performance.
Segments Insight:
Product Type Insights:
Flat products were the largest market share of both iron and steel markets, followed by long products, tube products as well as rolling products during the period 2022 onwards. Flat products are manufactured by rolling and shaping molten steel, which is turned into flat sheets. Flat products are commonly used in the construction of buildings, automobiles, and other industrial applications.
The flat product segment can be further classified into hot-rolled, cold-rolled, and coated products. Long Products are manufactured by shaping molten steel into various forms such as bars, rods, and wires. Long products are commonly used in the construction of buildings, bridges, and other infrastructure. The long product segment can be further classified into reinforcing bars, structural sections, wire rods, and other products.Tubular products, such as pipes and tubes, are used in the construction of buildings, infrastructure, and transportation systems, as well as in the energy industry for the transportation of oil, gas, and other fluids.
Application Insights:
In 2022, building and the construction category had the biggest revenue share at 46%, and it is anticipated that this pattern would hold throughout the projection period. Because of increased investments in building activities, the demand for steel is anticipated to rise. For instance, in April 2022, renowned real estate developer Alliance Group declared its intention to invest USD 1,125.8 million in building projects in Chennai, Hyderabad, and Bengaluru.
A typical car comprises around 53% steel, according to the American Iron and Steel Association. Many vehicle components, including chassis, frames, door panels and support beams, are made from this metal. Steel is still preferred in the production of automobile parts due to its durability, strength, and capacity for ongoing recycling, despite the fact that aluminum is often used as a substitute for steel due to its less weight.
Steel is extensively used in heavy industries such as shipbuilding, defense product manufacturing, and oil and gas. The increasing investments in these industries are expected to drive market growth over the forecast period.
Regional Insights:
The Asia-Pacific region is the dominant market for iron and steel, with a substantial share of the global market. This can be attributed to the high demand for iron and steel products in countries like India and China, which are major producers and consumers of these products. Furthermore, the demand for iron and steel products is being fueled by the growing construction and infrastructure activities in the region.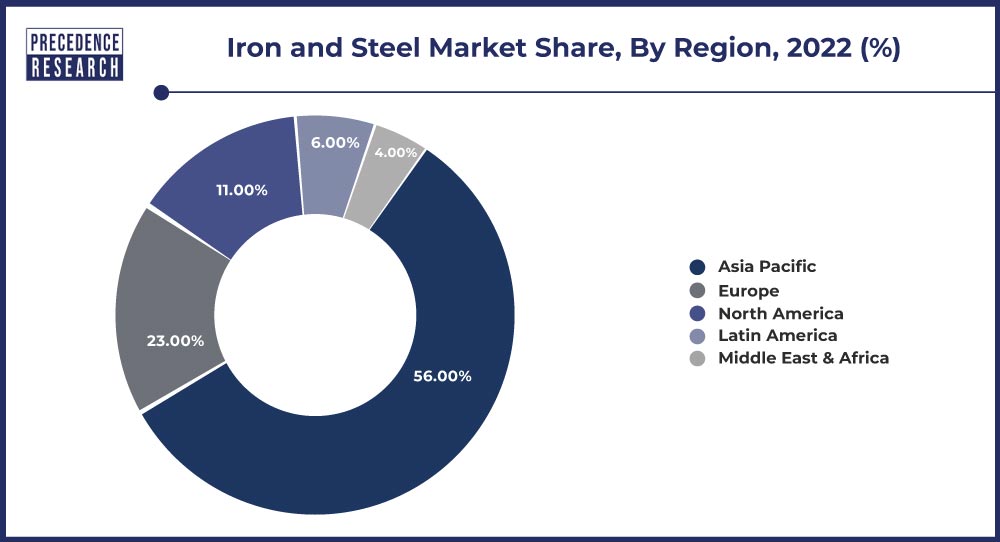 North America and Europe are well-established and consolidated markets for iron and steel, with established players. The infrastructure and construction industries are well-developed in these regions, which is driving the demand for iron and steel products. However, the growth of the market in these regions is expected to be moderate due to saturation in several end-use industries.
Latin America and the Middle East & Africa regions are considered emerging markets for iron and steel, with substantial growth potential. The demand for iron and steel products is being driven by the increasing population, urbanization, and rising construction activities in these regions. However, market growth in these regions is hindered by challenges such as political instability and lack of infrastructure.
Recent Developments:
As a highly versatile material, steel finds extensive usage across various heavy industries, such as shipbuilding, defense product manufacturing, and oil and gas. It is anticipated that the burgeoning investments in these sectors will drive the growth of the steel market during the projected period. For instance, in February 2022, the German government announced a plan to invest USD 112.0 billion in military equipment manufacturing, with the objective of dedicating over 2% of the country's economic output to the defense sector every year.
Key Market Players:
JFE Steel
Arcelor Mittal
TATA Steel
NLMK
Harsco
POSCO
JSW
ArcelorMittal
Kobe Steel
Steel Authority of India
Nippon Steel and Sumitomo Metal
Edw. C. Levy
Segments Covered in the Report:
(Note*: We offer report based on sub segments as well. Kindly, let us know if you are interested)
By Product
Flat Products
Long Products
Tubular Products
Semi-finished Products
Others
By Application
Building & Construction
Automotive & Transportation
Heavy Industry
Consumer Goods
Others
By Geography
North America
Europe
Asia-Pacific
Latin America
Middle East and Africa