The global maritime transport market from 2023 to 2032, provides a comprehensive overview of the industry, market segmentation based on a variety of criteria, and the current vendor landscape.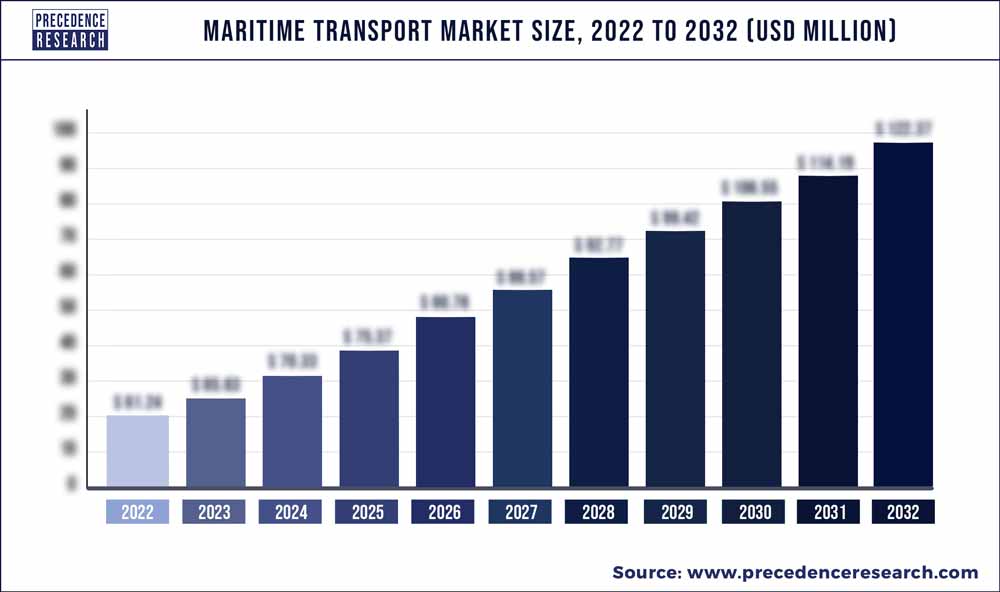 Market Overview:
The global trade industry heavily relies on maritime transport to move goods across borders. This market has seen significant growth due to the rise of emerging economies like China and India. The introduction of containerization has greatly improved the efficiency of handling goods. To achieve cost savings, larger vessels and mega-container ships are now being utilized. In response to environmental regulations, the industry has shifted towards cleaner fuels and sustainable practices. The implementation of digitalization and automation has further optimized operations, and initiatives like China's Belt and Road Initiative have enhanced connectivity. However, challenges such as geopolitical factors, infrastructure limitations, and fluctuating freight rates still exist. In summary, the maritime transport market is currently focused on improving efficiency, and sustainability, and embracing digital transformation.
The global trade industry relies heavily on the maritime transport market to move goods and commodities across borders. This market includes shipping, port operations, and logistics services, and is crucial for connecting countries, regions, and continents. The growth of global trade greatly impacts maritime transport. As economies expand and international trade volumes increase, there is a higher demand for shipping services. This demand has been driven by emerging markets like China, India, and Southeast Asian countries.
Growth Factor:
The container shipping industry is a key growth sector in the maritime transport market. Containerization has revolutionized global trade by making the transportation of goods efficient and cost-effective. As international trade and e-commerce continue to rise, the demand for container shipping services is expanding. This is particularly evident in emerging economies in Asia and Africa, where rapid industrialization and urbanization are driving increased import and export volumes. Furthermore, there are new opportunities for maritime transport providers in specialized cargo sectors such as refrigerated goods, pharmaceuticals, and hazardous materials. The integration of digital technologies and automation in container handling operations is also expected to enhance efficiency and stimulate market growth.
Report Scope of the Maritime Transport Market:
| | |
| --- | --- |
| Report Coverage | Details |
| Largest Market | Europe |
| Second Largest Market | Asia Pacific |
| Base Year | 2022 |
| Forecast Period | 2023 To 2032 |
| Segments Covered | By Cargo Type and By Vessel Type |
| Regions Covered | North America, Europe, Asia-Pacific, Latin America, and Middle East & Africa |

Market Dynamics:
Drivers:
Growth of E-commerce
The growth of e-commerce has become a strong force in the maritime transport market, changing the way global trade and supply chains work. The popularity of online shopping and e-commerce platforms has transformed the buying and selling of goods, which means there is a need for a reliable and efficient logistics infrastructure to meet the increasing demand.
E-commerce companies face the challenge of fulfilling orders from all over the world, and they heavily rely on maritime transportation to move goods in a cost-effective and reliable way. Maritime transport is ideal for transporting a wide range of products, from electronics to clothing to household goods, because it can handle large volumes of cargo in containerized shipments.
Maritime transport has an extensive network of shipping routes that connect manufacturing centers with consumer markets worldwide. This allows for the smooth movement of goods across continents, and ships can access various ports and terminals, making it possible for e-commerce companies to reach customers in even the most remote locations.
The adoption of containerization in the industry has further boosted the growth of maritime transport in the e-commerce sector. Standardized cargo handling practices have made supply chain operations more efficient, reducing transit times and overall transportation costs. Containerization also ensures that goods are well-protected during transit, minimizing the risk of damage and optimizing efficiency throughout the logistics process.
Restraints:
Volatility in fuel prices
Volatility in fuel prices is a major challenge for the maritime transport industry. Fluctuations, especially in marine fuel oil (MFO) prices, can have a significant impact on the operating costs of shipping companies. Since fuel costs make up a large portion of their expenses, sudden price increases can quickly reduce profit margins and negatively affect the financial viability of shipping operations.
When fuel prices rise sharply, shipping companies face a dilemma: either absorb the increased costs or pass them on to customers by raising freight rates. Both options have disadvantages. Absorbing the higher costs can strain finances, while passing them on to customers may make shipping services less competitive and potentially reduce demand. On the other hand, when fuel prices are low, shipping companies may benefit from lower operating costs. However, this situation can discourage investments in cleaner and more efficient technologies that aim to reduce emissions and improve sustainability. With lower fuel costs, there is less incentive to adopt alternative fuels or invest in fuel-efficient vessels, which hinders progress toward a greener maritime industry. According to times now news, the cost of marine fuel 'Low Sulphur High Flash High-Speed Diesel' has increased to Rs 1,21,000 per kilolitre from Rs 76,000 earlier. Similarly, the cost of 'Very Low Sulphur Fuel Oil' has increased to Rs 80,917 per kilolitre from Rs 40,608. Effectively the rise is more than 40 percent.
Opportunities:
Increasing globalization and international trade
The maritime transport market is benefiting greatly from increasing globalization and international trade. As economies worldwide grow and develop, the demand for goods and commodities continues to rise. To meet this demand, efficient and reliable transportation services are necessary, making maritime transport a crucial part of the global supply chain.
Maritime transport plays a vital role in international trade by enabling the movement of goods in large quantities over long distances. It offers cost-effective solutions for transporting various types of cargo, including raw materials, manufactured goods, and energy resources. The extensive network of shipping routes connects ports all around the world, facilitating the flow of goods between different countries and continents.
As emerging economies undergo rapid industrialization and urbanization, their demand for imported goods and raw materials increases. Maritime transport provides the capacity and efficiency required to handle these growing trade volumes. Furthermore, maritime transport offers economies of scale, allowing for the transportation of large quantities of goods in a single voyage. This efficiency reduces transportation costs, making goods more affordable for both consumers and businesses. The ability to transport goods in bulk also meets the demands of industries like mining, agriculture, and manufacturing that rely on a steady supply of raw materials and components.
Impact of COVID-19:
Before the pandemic, the maritime transport market was growing steadily due to globalization, increased trade volumes, and the expansion of supply chains. Shipping companies were investing in larger container vessels and expanding their operations to meet the growing demand for efficient transportation services. Ports were busy, and the cruise industry was thriving, serving a growing number of travellers. However, the pandemic brought unprecedented challenges. Lockdowns and travel restrictions caused a sharp decline in global trade and disrupted supply chains. Manufacturing activities slowed down, leading to reduced demand for transportation services. Many shipping companies suffered financial losses as container volumes dropped, resulting in a significant decrease in freight rates.
After the initial impact, the maritime transport market has shown signs of recovery, although it has undergone changes. The pandemic accelerated the adoption of digitalization and automation, with companies implementing remote operations, contactless transactions, and paperless processes to ensure business continuity. There has been a greater focus on health and safety measures, affecting vessel operations, port protocols, and crew arrangements.
The container shipping sector experienced fluctuations in demand and capacity utilization as economies reopened and trade gradually recovered. The disruptions in global supply chains prompted a revaluation of logistics strategies, with a focus on resilience and risk mitigation. Companies also faced challenges in managing crew changes and ensuring the welfare of seafarers amidst travel restrictions and health protocols.
Segments Insight:
Cargo Type Insights:
Dry bulk cargo refers to goods that are not packaged and are transported in large quantities. This category includes commodities like coal, iron ore, grains, and minerals. The growth of the dry bulk cargo segment is mainly driven by the demand for raw materials in industries such as construction, manufacturing, and agriculture. As economies grow and infrastructural development continues, there is an increased need for transporting bulk materials by sea, which in turn boosts the demand for dry bulk shipping services.
Containerized cargo, on the other hand, refers to packaged goods that are loaded into standardized shipping containers. This type of cargo includes a wide range of products, from electronics and clothing to consumer goods and machinery. The expansion of global trade, particularly in the e-commerce sector, has led to an increased demand for containerized cargo transport. As more businesses adopt e-commerce and supply chains become more interconnected across borders, maritime transport plays a crucial role in efficiently moving containerized goods between manufacturing centers and consumer markets.
Liquid bulk cargo consists of liquids or gases transported in large quantities, such as oil, liquefied natural gas (LNG), chemicals, and edible oils. The growth of the liquid bulk cargo segment is influenced by the energy sector's demand for oil and gas, as well as the chemical and food industries' need for bulk liquid transportation. International trade in energy resources and the increasing globalization of the chemical and food industries have contributed to the steady expansion of the liquid bulk cargo market.
Vessel Type Insights:
Ro-Ro ships, also known as Roll-on/Roll-off ships, are specifically designed to transport vehicles such as cars, trucks, and heavy machinery. These ships are equipped with ramps or doors that make it easy for vehicles to be driven onto and off the vessel.
LNG carriers, on the other hand, are specialized vessels used for transporting liquefied natural gas. These ships are built with advanced insulation and containment systems to maintain the cargo at extremely low temperatures. Similarly, LPG carriers are designed to transport liquefied gases like propane and butane. These ships have specialized tanks and safety features to handle these volatile cargoes.
The offshore support vessels play a crucial role in providing logistics and support services to offshore oil and gas platforms. These vessels include supply vessels, anchor-handling tugs, and accommodation barges, among others.
Regional Insights:
The European maritime transport market is one of the largest and most developed in the world, with a focus on container shipping and bulk transport. The region is home to some of the world's busiest ports, including Rotterdam, Hamburg, and London. The market is heavily regulated, with stringent environmental and safety regulations in place.
The Asia maritime transport market is the largest in the world, with a focus on container shipping and bulk transport. The region is home to some of the world's busiest ports, including Singapore, Hong Kong, and Shanghai. The market is characterized by intense competition and rapid growth, driven by the region's rapidly expanding economy. The North American maritime transport market is the smallest of the three major regions, but it is growing rapidly. The region is home to some of the world's busiest ports, including Los Angeles and New York The market is heavily regulated, with strict environmental and safety regulations in place.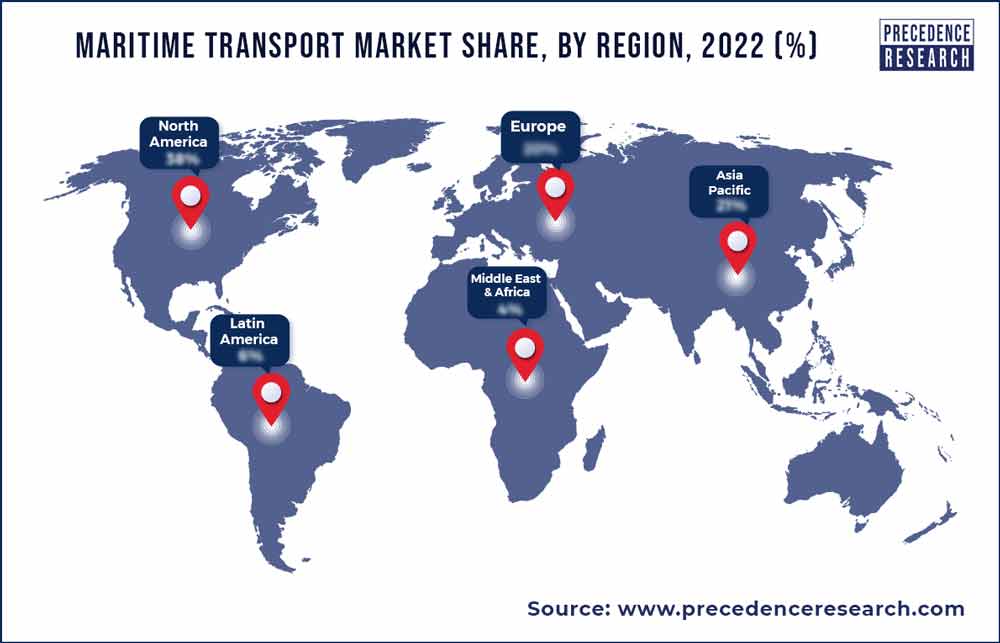 The South American maritime transport market is characterized by its vastness and diversity, with a focus on bulk transport and container shipping. The region is home to some of the world's largest ports, including Rio de Janeiro and Buenos Aires. The market is challenged by a lack of infrastructure and investment, as well as political instability in some countries.
The African maritime transport market is the smallest of the three major regions, but it is also the most challenging. The region is characterized by a lack of infrastructure, political instability, and a lack of investment. The market is also facing challenges related to piracy and security.
Recent Developments:
The International Maritime Organization (IMO) has introduced new regulations, known as IMO 2020, which will take effect in January 2020. These regulations aim to decrease the amount of sulfur oxide emissions produced by ships. To comply with the regulations, ships will be required to either use fuels that have a lower sulfur content or implement technologies that reduce emissions.
June 2023 The world's largest container shipping company, Maersk, has announced that it will invest $1 billion in sustainable shipping solutions. This includes the development of new ships that run on alternative fuels, such as methanol and ammonia.
Key Market Players:
Maersk
COSCO Shipping
AP Moller (Maersk)
Mediterranean Shipping Company S.A. (MSC)
CMA-CGM
China Ocean Shipping (Group) Company (COSCO)
Hapag-Lloyd
ONE - Ocean Network Express
Evergreen Line
HMM Co.
Segments Covered in the Report:
(Note*: We offer reports based on sub segments as well. Kindly, let us know if you are interested)
By Cargo Type
Dry bulk (e.g., coal, iron ore, grains)
Liquid bulk (e.g., oil, liquefied natural gas)
Containerized goods
General cargo (e.g., machinery, vehicles)
By Vessel Type
Container ships
Bulk carriers
Tankers (crude oil, product, chemical)
Ro-Ro (Roll-on/Roll-off) vessels
LNG/LPG carriers
Offshore support vessels
Cruise ships
By Geography
North America
Europe
Asia-Pacific
Latin America
Middle East and Africa