The global molten salt thermal energy storage market size is projected to surpass around USD 8.71 billion by 2032 from USD 3.5 billion in 2022, growing at a CAGR of 9.6% during the forecast period from 2023 to 2032.
It is promoted as a trustworthy option that may be included in a variety of applications, such as maintaining a secure power supply in various end-use sectors. Companies in the molten salt thermal energy storage business are seizing this chance to diversify their offerings since the energy sector is always working to lower its high CO2 emissions. Molten salt thermal energy storage is being used to stabilize the grid since renewable energies, such as wind and solar power, are associated with volatility in the supply of electricity.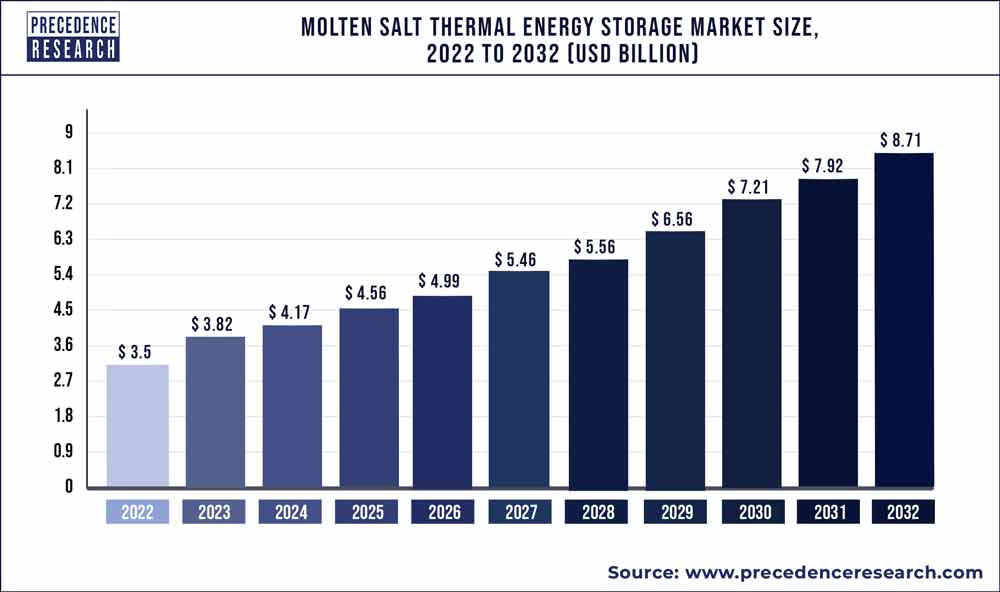 Access our Premium Real Time Data Intelligence Tool, Visit: Precedence Statistics
Growth Factors
Companies in the worldwide molten salt thermal energy storage market are analyzing micro- and macroeconomic factors to maintain company continuity in the face of the current coronavirus outbreak. Molten salts has a significant part in the optimization of energy in industrial operations.
Despite growing in popularity as a useful thermal energy storage alternative, molten salts tend to harden in pipes in the non-presence of heat due to their relatively high melting point. Because of this, market players s in the worldwide molten salt thermal energy storage market are starting to realize how crucial it is to implement an anti-freeze system. Molten salt nano-composites which are based on nanodiamonds offer fascinating potentials as fluids for heat transfer and thermal energy storage medium. They are innovative and economically advantageous. The development of the worldwide molten salt thermal energy storage market depends on the solar energy sector's growth. As the energy segment welcomes a variety of usage, new prospects for the generation of renewable energy have developed. The energy industry wants to provide more infrastructure for the production of renewable energy. The energy produced by these subsidiary platforms may be used by offshore wind farms, big solar facilities, and biofuel production facilities.
Since the energy industry is always working to reduce its huge CO2 emissions, companies in the molten salt thermal energy storage market are utilizing this chance to grow their services. Since renewable energies including wind and solar power are linked to changes in the electricity supply, the grid is stabilized using molten salt thermal energy storage.
Molten salts have the capacity to create dependable power generation or energy storage solutions, enabling customers to reduce energy costs and carbon emissions also enhancing the security of their energy supply.
Trends in decarbonized power generation and long-term storage of renewable energy are driving the growth of the market for molten salt thermal energy storage.
Government financing and research and development projects on high priority, notably for molten salt thermal energy storage, are boosting the need for variable renewable energy. Molten salts help in the storage of thermal energy for usage during times with little or no sunshine.
Thermal energy storage in molten salt has a unique benefit for the power industry. It can be utilized to strengthen or supplement existing energy transmission and distribution systems. Since there is a critical need for stronger electrical transmission and distribution infrastructure, this component is sought in many regions.
Report Scope of the Molten Salt Thermal Energy Storage Market
Report Coverage
Details
Market Size in 2023
USD 3.82 Billion
Market Size by 2032
USD 8.71 Billion
Growth Rate from 2023 to 2032
CAGR of 9.6%
Base Year
2022
Forecast Period
2023 to 2032
By Technology

Parabolic Troughs
Fresnel Reflector
Power Tower

Regions Covered

North America
Europe
Asia-Pacific
Latin America
Middle East & Africa

Key Market Drivers
Increasing demand for new sources of renewable energy
As fossil fuel sources continue to disappear, a serious energy crisis is affecting the whole planet. Environmentalists and energy experts have created reliable techniques for the production of renewable energy as a result of this aspect. As a result, it is anticipated that the worldwide MSTES market would grow at a healthy rate in the near future. The switch from non-renewable to renewable sources of energy may be credited to the MSTES market's remarkable yearly growth rate.
Molten salt thermal power stations have come under the limelight due to the necessity to supplement massive solar power facilities. It is anticipated that regional and international organizations would make large investments in the energy industry. Additionally, it is predicted that the MSTES market would be driven in the near future by an increase in the need for power throughout the industrial sector.
Service providers reducing carbon emissions to transform the energy sector
The deployment of effective storage systems by service providers helps to stabilize grids in varied places, improve base-load capacities, and supply dependable power in response to demand. To assist clients lower their energy expenditures and carbon emissions along with enhancing the security of their energy supply, molten salts have the potential to offer reliable power generating and energy storage technologies. Companies in the molten salt thermal energy storage sector are seeing revenue potential as a result of next-generation molten salt reactor technologies. By offering complete engineering, procurement, and construction services to clients, consumers, and partners, market participants have the potential to alter the energy industry.
Key Market Challenges
High cost
The cost of thermal energy storage solutions varies on the technology used for thermal insulation, the application, and the size. In general, the price of the storage capacity provided by molten salt thermal energy storage systems based on phase transition materials and thermochemical storage is greater. Approximately 30–40% of the system's overall cost goes toward the storage system. Molten salt thermal energy storage systems are anticipated to become more competitive in the near future as a result of further research on energy storage technologies to lower initial capital needs.
Key Market Opportunities
Development of power transmission systems
Progress in the area of power supply is a crucial factor in the expansion of the global MSTES market. The development of the worldwide MSTES market may be aided by the presence of a reliable energy transmission infrastructure. Additionally, reliable transmission and distribution networks inspire investors to place money in the renewable energy industry. Another important factor driving the growth of the global MSTES market is the speed of industrialization.
Anti-freeze system installation may be able to prevent the solidification of molten salts.
The most popular material for huge temperature applications, like storing thermal energy for electricity production in concentrating solar power facilities, is molten salt. The comparatively high melting point of these salts, despite their large volumetric capacity of heat, causes them to harden in pipes without a heat source. As a result, market participants are spreading more information on the fixing of anti-freeze systems.
Increases in the stable limit of nitrates' higher temperatures have not received much attention. Additionally, results obtained with cations other than those found in alkali metals result in a reduction in thermal stability. Researchers suggested a solution to this issue is to contain the molten salt in a regulated environment that permits a rise in the partial pressure of oxygen.
Segments Insight
Technology Insights
The parabolic trough, which competes with solar power tower technology, is one of the most effective methods for molten salt storage. 2019 has already seen the installation of several different parabolic trough molten solar energy storage systems throughout the world. Solar concentrating structures that use the shape of parabolic collectors are constructed of reflective materials. The salt melts as a result of the collectors' reflection of the solar energy that strikes it. The market is predicted to grow as a result of the push needed to lower the price of the energy produced from molten salt, which may be provided by various types of reflecting material and molten salt. In China's Gansu Province, a parabolic trough molten salt solar project is being built with an expected 100 megawatts of electricity production (MW). It can sustain electricity for seven hours without a source because to its molten salt storage system. With several concentrated solar power plants spread out across the nation and major solar industry players like Abengoa SA, Acciona, and, SA, Spain led the molten salt trough parabolic trough market in 2019. Therefore, it is anticipated that molten salt thermal energy storage with parabolic troughs would expand throughout the projected period due to the rise in power demand and the rising efficacy of molten salts and reflecting materials.
Regional Insights
The market for molten salt thermal energy storage in the Asia-Pacific region expanded the fastest in 2022 and is anticipated to do so again in the years to come. Large nations can effectively utilize solar energy projects in the region because it is located below the Tropic of Capricorn. With a 9-hour capacity for molten salt, Gujarat Solar One is the biggest parabolic trough in all of India. A two-tank indirect thermal storage method is employed. During the predicted period, molten salt storage is anticipated to be extended and constructed. One of the biggest users of the molten salt energy storage method worldwide is China. China had a share of more than half of the brand-new CSP projects around the globe in 2019 and increased its domestic capacity for power production by 200 MW. Therefore, due to a rise in power consumption and investments from both government and private players, molten salt thermal energy storage is anticipated to develop at the quickest rate in the Asia region throughout the projection period.
In terms of the total value of molten salt thermal energy storage units in 2021, Europe accounted for a sizable portion. Due to strict government rules governing emission standards and the utilization of renewable energy sources, the molten salt thermal energy storage business in the area was launched early. The market for molten salt thermal energy storage at the time was dominated by North America, with the other regions scarcely having a presence. The majority of European nations view the storage of thermal energy in molten salt as an efficient way to increase power production and delivery. The area has an advantage in terms of the most recent innovations and important player representation due to the great significance given to technology by the region. Molten salt thermal energy storage is anticipated to be used in large-capacity energy storage facilities for thermonuclear and latent heat in Europe in the near future.
Recent developments
A molten salt storage system will be constructed by MAN Energy Solutions in 2020 at the German Aerospace Center's Jülich solar research site. Salt is heated by the system to 565 °C.
Seaborg Technologies declared in December 2021 that it had developed a sodium hydroxide-based molten salt storage method that was more efficient. The compound uses less salt because it can store more heat per salt unit and is hence more effective at storing energy. Additionally, it costs around 90% less than the other salts that are employed in the business.
Key Market Players
Yara International ASA
Acciona S.A.
Abengoa SA
BrightSource Energy Inc.
SENER Grupo de Ingenieria S.A.
SolarReserve LLC
Engie SA
ACWA Power
KVK Energy Ventures Ltd.
Segment Covered in the Report
(Note*: We offer reports based on sub-segments as well. Kindly, let us know if you are interested)
By Technology
Parabolic Troughs
Fresnel Reflector
Power Tower
By Geography
North America
Europe
Asia-Pacific
Latin America
Middle East & Africa (MEA