The global non-invasive ventilators market size was valued at USD 2.66 billion in 2022 and is expected to hit around USD 4.85 billion by 2032, poised to grow at a CAGR of 6.2% during the forecast period from 2023 to 2032. North America region dominated the global non-invasive ventilators market.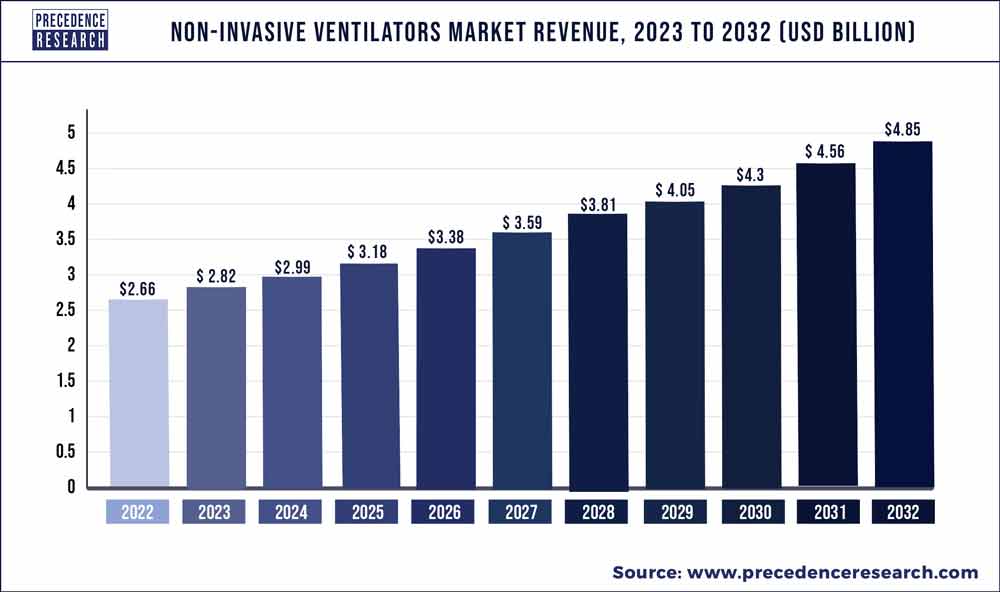 Access our Premium Real Time Data Intelligence Tool, Visit: Precedence Statistics
A ventilator is a life-supporting system that is used to inhale oxygen and exhale carbon dioxide from the body. it helps patients breathe easier who are suffering from breathing difficulty. A ventilator is also used during anesthesia, as anesthesia can disrupt normal breathing functionality, and the ventilator ensures that the normal breathing process is carried out efficiently during surgery.
Key Takeaways:
North America generated more than 56% of the revenue share in 2022.
By Application, the COPD and asthma segment is expected to expand at a remarkable CAGR between 2023 and 2032.
By End User, the hospitals segment captured more than 16% of revenue share in 2022.
Growth Factor:
The prevalence of chronic obstructive pulmonary disease (COPD) is on the increase, the elderly population is aging quickly, and technical advancements will likely push the market during the forecast era. The development of patient-friendly, cost-effective, and portable gadgets can further promote their utilization.
For instance, InnAccel Technologies revealed the release of a non-invasive ventilation device for ICU use with COVID-19 patients in April 2020. COPD and asthma are the most common respiratory diseases across the globe. 3.23 million people died from COPD in 2019, making it the third largest cause of mortality in the world, according to the WHO. A silent respirator for COPD patients, the respirator BiPAP A40 Expiratory Flow Limitation (EFL), was unveiled by Philips in November 2020.
As a result, doctors can accurately administer homecare treatment to hypercapnic COPD patients by detecting EFL at the point of care. In the upcoming years, it is expected that rising demand for home healthcare will favorably affect the market for home care ventilators.
The COVID-19 pandemic was beneficial for the industry and had a favorable effect on the market expansion. The COVID-19 outbreak's demand for ventilation facilities rapidly increased daily operational capacities. In order to provide respiratory technicians with training on using ventilators during COVID-19, the American Association for Respiratory Care collaborated with various groups. This has further encouraged market participants to boost their manufacturing capabilities in order to satisfy the increased demand.
During the epidemic, many producers were overrun with orders. Philips declared in March 2020 that it had increased the output of critical care goods and solutions to help with COVID-19 patient diagnosis and care. In order to address a variety of breathing disorders, the business also expanded the manufacturing of portable ventilators, patient vital sign devices, and consumables for both invasive and noninvasive ventilation.
During the projection period, factors like rising respiratory disease instances and a sharp rise in demand for minimally invasive treatments are expected to propel market development.
Other elements contributing to the growing popularity of the devices and the expansion of the market for non-invasive (NIV) ventilators include their benefits.
The prevalence of different respiratory illnesses is rising, as is the number of products getting clearance.
Report Scope of the Non-Invasive Ventilators Market:
| | |
| --- | --- |
| Report Coverage | Details |
| Market Size in 2023 | USD 2.82 Billion |
| Market Size by 2032 | USD 4.85 Billion |
| Growth Rate from 2023 to 2032 | CAGR of 6.20% |
| Largest Market | North America |
| Base Year | 2022 |
| Forecast Period | 2023 to 2032 |
| Segments Covered | By Application and By End User |
| Regions Covered | North America, Europe, Asia-Pacific, Latin America and Middle East & Africa |

Key Market Drivers:
High prevalence of persistent illnesses
A chronic condition is an illness or condition affecting human health that manifests itself over an extended period of time or whose symptoms are enduring. A chronic disease typically impacts several body parts, does not completely respond to therapy, and lasts a long time.
The CDC (Centers for Disease Control and Prevention) results indicate that 51.8% of the people in America had at least one chronic condition, & nearly 27.2% suffer from numerous chronic instances. Women, non-Hispanic white adults, individuals 65 and older, and people living in rural regions had the greatest prevalence rates.
Increasing the number of patients admitted to intensive care
Patients who need or are likely to need advanced respiratory support, patients who need the support of two or more organ systems, and patients who have chronic impairment of one or more organ systems who also need support for an acute reversible failure of another organ should all be placed in intensive care.
According to the Society of Critical Care Medicine, over 5 million patients are admitted to ICUs each year in the United States for invasive and intensive monitoring, airway support, breathing, or circulation, stabilization of various life-threatening medical issues, thorough management of injury or illness, & improvement in the comfort level for dying patients.
Key Market Challenges:
High price
Patients with COPD have few choices for therapy and care, which puts them at risk for expensive and frequent hospitalization. The American Thoracic Society (ATS) estimates that the expense of a ventilation system includes $4,298 for equipment, $10,805 for medical appointments, $758 for medicine, and $8,598 for exacerbation therapy.
Key Market Opportunities:
Technological progress
Innovation in the field of positive airway pressure (PAP) devices, mobility, and an increase in battery life are clearing the way for working efficiency. Due to the high demand for portable ventilators that can be used in a variety of situations, including ambulances, homecare, and remote medical centers, the portable ventilator market is expanding quickly. Research on the various ventilation techniques, such as Assist/Control ventilation (A/C), Pressure Support Ventilation (PSV), and Synchronized Intermittent Mandatory Ventilation, is increasing.
The increasing number of seniors
As you age, your body experiences a number of alterations that could reduce your lung capacity: Alveoli may sag and lose their form. Over time, the diaphragm may weaken and become less effective at both inhaling and exhaling. The elderly populace is significantly impacted by pulmonary illness. The American Lung Association's results show that people 65 years of age or higher account for the majority (86%) of deaths caused by chronic obstructive pulmonary disease.
Segments Insight:
Application Type Insights:
The prevalence of COPD and asthma is anticipated to rise significantly over the forecast period. Breathlessness is a symptom of COPD, a respiratory condition that worsens with exercise and puts a person at risk for exacerbations. Furthermore, a severe sickness may result in a long-term increase in the need for emergency care. In addition, among the target population's complicated heterogeneous inflammatory airway diseases, asthma is one of the most prevalent cases. Thus, it is anticipated that more NIV will be applied as a result of the high prevalence of respiratory crises like asthma and COPD, which will quicken segmental development.
Nearly 1 in 10 individuals worldwide are affected by COPD each year, according to a September 2022 piece in the American Journal of Respiratory and Critical Care Medicine. Additionally, according to data released on World Lung Day 2022 by the Global Initiative for Chronic Obstructive Lung Disease, an estimated 200 million people had COPD in the previous year, and asthma, one of the most common respiratory illnesses, affects roughly 262 million people each year. Numerous studies indicate that NIV is more advantageous for people with asthma and COPD. As a result, it is expected that the high prevalence of diseases will increase demand for NIV usage and propel the segment's development.
Additionally, ipratropium bromide combined with non-invasive ventilation is efficient in the therapy of people with COPD and respiratory failure, according to a study released in the American Journal of Translational Research (AJTR) in May 2022. The devices can greatly reduce circulatory inflammation, and enhance patient pulmonary function, blood gas levels, and therapy effectiveness. Thus, it is expected that the systems' advantages will support the segment's expansion during the forecast era. Therefore, it is expected that the benefits of the systems and apps in treating COPD patients will spur competition among the participants and aid in the segment's expansion.
End Use Type Insights:
With a revenue share of more than 16% in 2022, the hospital industry sector ruled. This is because institutions are spending more money, which enables the use of ventilators with cutting-edge technology. The segment is expanding as a result of the accessibility of qualified healthcare professionals who can run these ventilators, the growing focus on better health outcomes, and increased hospital efficiency. Additionally, the continuous supervision provided by hospital personnel is likely to increase patients' preference for these medical centers.
During the forecast period, the residential healthcare sector is anticipated to expand at the fastest rate. The market is expanding as a result of a growing number of government programs that encourage home healthcare in an effort to reduce healthcare costs. Value-based healthcare is a significant driver of industry expansion. Medicare payments in the US are very advantageous in delivering value-based healthcare for better patient results at a low cost. As a result, in-home care has emerged as a popular form of therapy and is predicted to expand significantly over the coming years.
Regional Insights:
In 2022, North America held a sales share of more than 56%, dominating the industry. The region's market is primarily driven by an increase in the number of severely ill COVID-19 patients in the United States and the existence of top manufacturers adopting output increases. In order to assist the government with the shortage issues of these devices, U.S. automobile titans like Tesla, Ford, and GM have shifted their manufacturing lines for medical supplies like masks, mechanical ventilators, and other medical devices. The local industry as a whole experienced considerable growth as a consequence.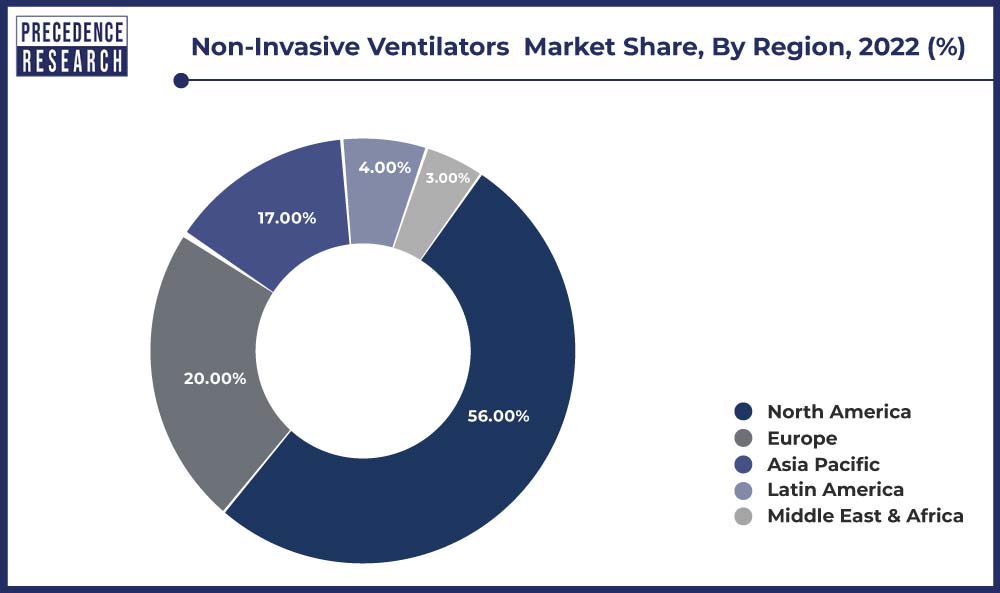 Due to rising COVID 19 cases, rising healthcare costs, numerous collaborations, new product launches, and strategic agreements made by regional players during the pandemic, the Asia Pacific market is expected to experience significant growth over the coming years. For instance, CSIR-NAL created the Swasth Vayu non-invasive lung pressure respirator in January 2021.
In a similar vein, Spicejet unveiled Spiceoxy, a lightweight, non-invasive ventilation system, in August 2020. In the upcoming years, their adoption is anticipated to increase as a result of the launch of such affordable goods. Additionally, the increase in this area can be attributed to the creation of infrastructure and healthcare regulations that support improved patient treatment. Growing lifestyle behaviors like smoking and genetic allergic research that hasten the occurrence of respiratory disorders further support market expansion.
Recent Developments:
Iraq placed a £1.3 million contract with Inspiration Healthcare in June 2022 for SLE ventilators and Viomedex supplies. The SLE ventilators are advanced neonatal ventilators with a variety of conventional settings in addition to non-invasive ventilation (NIV), high-frequency oscillation ventilation (HFOV), and high flow oxygen therapy. They are frequently used to heal sick and preterm infants in Neonatal Intensive Care Units around the globe.
Due to possible health risks, Philips Respironics issued a recall for specific Trilogy Evo ventilators with specific serial codes in January 2022. The Trilogy Evo ventilators in question had their silencer component made of non-conforming polyester-based polyurethane (PE-PUR) sound abatement foam. These devices may deteriorate and allow particles of the polyester-based polyurethane (PE-PUR) sound abatement foam to infiltrate the air passage. For individuals requiring artificial ventilation who weigh around 2.5 kg and require continuous or sporadic positive pressure breathing, the Trilogy Evo ventilator can be used.
Key Market Players:
ResMed Inc.
Teleflex Incorporated
Hamilton Bonaduz AG
HEYER Medical AG
Respironics
Airon Corporation
Fisher & Paykel Healthcare
Magnamed
Medin Medical Innovations GmbH
Mindray Medical International Limited
O-Two Medical Technologies Inc.
Phoenix Medical Systems Pvt. Ltd.
Phillips Healthcare
Smiths Medical
WILAmed GmbH
Segments Covered in the Report:
(Note*: We offer report based on sub segments as well. Kindly, let us know if you are interested)
By Application
Respiratory Distress Syndrome
Asthma & COPD
Others
By End User
Ambulatory Surgical Centers
Hospitals and Clinics
Others
By Geography
North America
Europe
Asia-Pacific
Latin America
Middle East and Africa