The global off-road tires market was valued at US$ 469.3 billion in 2021 and is expected to reach over US$ 882.2 billion by 2030, poised to grow at a compound annual growth rate (CAGR) of 7.3% from 2021 to 2030.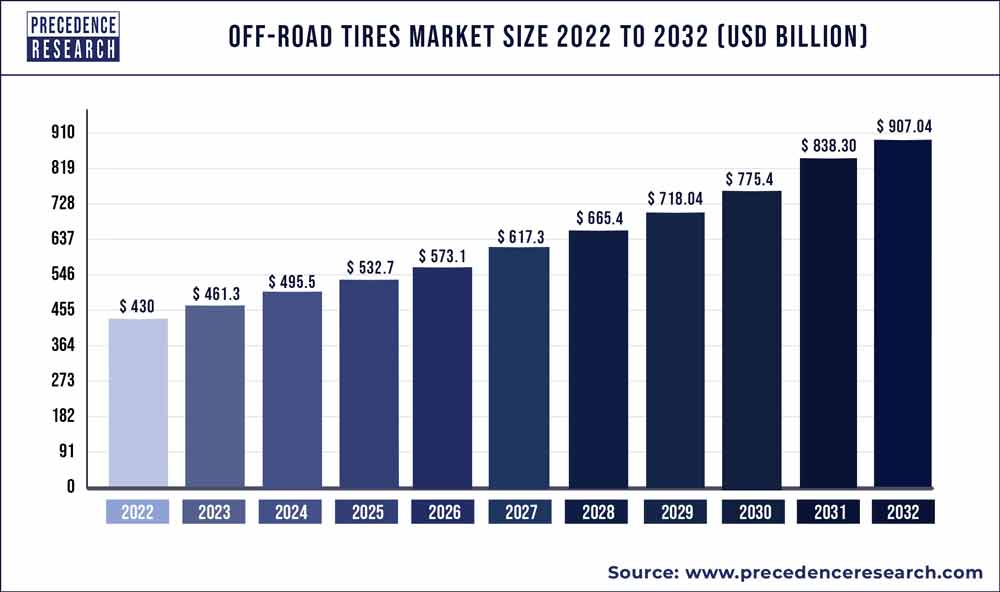 Growth Factors
The off-road tires are commonly used in heavy duty vehicles for off-road applications in the agriculture, mining, and logistics industries, as well as in the housing industry. The development of the housing industry in emerging nations has increased demand for construction and material handling equipment, which is likely to drive the significant growth in the off-road tires market. The increased use of off-road vehicles such as wheel loaders, cranes, telescopic handlers, special purpose vehicles, and tractors is further driving the off-road tires market expansion.
The increased sales of off-highway vehicles and increased farm mechanization are driving the global off-road tires market growth during the forecast period. Furthermore, the global off-road tires market's growth is hampered by adverse weather conditions and low-cost tires from an unorganized sector. However, the development of environmentally friendly off-road tires is expected to present a lucrative growth opportunity for the industry.
The key market players are diversifying their portfolios in the off-road tires market, as agriculture is expected to generate the highest revenue among all industrial types. The harvester and floater tires, among others, were introduced by Michelin to help maximize harvests.
The off-road tires manufacturers are increasing production capacity for high performance radial tires with long service life and excellent year-round traction. They're ramping up research and development to include strong and flexible sidewalls as well as self-cleaning connectors for maximum pulling force. In addition, harvester tires are being developed that deliver less pressure, resulting in reduced soil compaction.
The increased in medium-sized farms around the world is driving up demand for agricultural equipment, which in turn is driving up demand for agriculture tires. The transportation activities have increased as a result of increased industrialization around the world. Intercity transportation operations, such as business to business (B2B) and business to consumer (B2C) trade, are increasing, resulting in a demand for compact and rapid transport vehicles to get around the cities efficiently. The global off-road tires market is propelled by aforementioned factors.
The growing global population and increased consumer affluence are expected to push the agriculture sector toward mechanization, boosting the off-road tires market. Increasing technological advancements in tires, such as connected tires and the TeadStat rim management system, which provides information prior to a vehicle breakdown. The off-road tires market is expected to grow as a result of this.
The costing of bias tire is heavily influenced by rawmaterial price volatility. The natural rubber and synthetic rubber prices fluctuate due to a lack of natural rubber cultivation or a surge in the price of crude oil.
Scope of the Off Road Tires Market
| | |
| --- | --- |
| Report Coverage | Details |
| Market Size in 2021 | US$ 469.3 Billion |
| Growth Rate from 2021 to 2030 | 7.3% |
| Largest Market | Asia Pacific |
| Fastest Growing Market | Europe |
| Base Year | 2021 |
| Forecast Period | 2021 to 2030 |
| Segments Covered | Material, Tires Height, Vehicle, Region |
| Companies Mentioned | Hengfeng Rubber, Continental AG, GITI Tire, Triangle Group, Nokian Tires, Toyo Tire, Michelin, Hankook, Yokohama, Maxxis |

Material Insights
Synthetic rubber is the most extensively utilized material in off-road manufacturing, thus it's a major source of revenue. The synthetic rubber segment accounted for huge revenue share in 2021, and it is expected to expand at a significant rate until 2030. The widespread of butadiene rubber and styrene-butadiene rubber in mining and agricultural vehicles is a major element is the high market capturing ability. The material's high strength and abrasion resistance, as well as its low cost, are driving its adoption.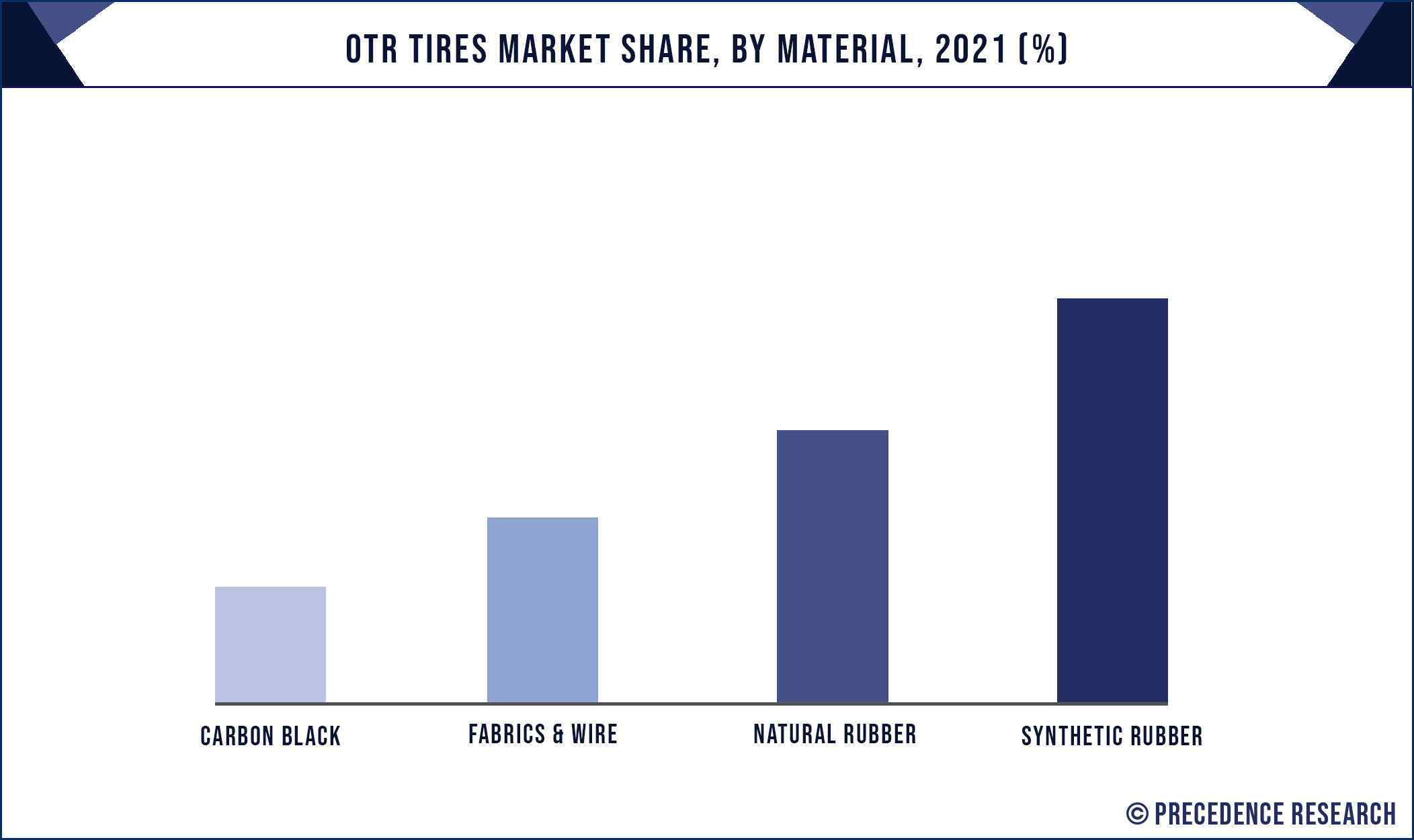 Tires Height Insights
By 2030, revenue from tires with a height of more than 45 inches is expected to grow at a significant rate. The growing demand for off-road tires and agricultural vehicles is the main driver of the market growth. Various trends, such as farming mechanization and automation, increasing adoption of heavy machinery, and growing mining activities, are expected to drive the segment penetration. This can also be seen in the steps taken by product manufacturers to meet the rising demand.
Vehicle Insights
The off-road tires market's UTV segment has a huge amount of potential and is expected to produce greater demand by 2030. UTV's functional adaptability when compared to heavier machinery like trucks and tractors is promoting their popularity for a variety of farm operations. The off-road tires market revenue will be driven by a movement in preference toward UTV vehicles because to their simplicity and mobility for completing different chores. Furthermore, the off-road tires market's growth will be aided by the increasing use of drones in adventure events and racing championships.
Region Insights
Due to various infrastructure development efforts in the region, Asia-Pacific accounts for the largest share in the off-road tires market in 2020. The China and India are leading countries of the Asia-Pacific off-road tires market. China and India's economic expansion, combined with China's significant investments in road and other infrastructure development, will fuel the Asia-Pacific regional market demand. However, rising demand from developing nations and strategic measures from key market players are expected to boost the off-road tires market's growth.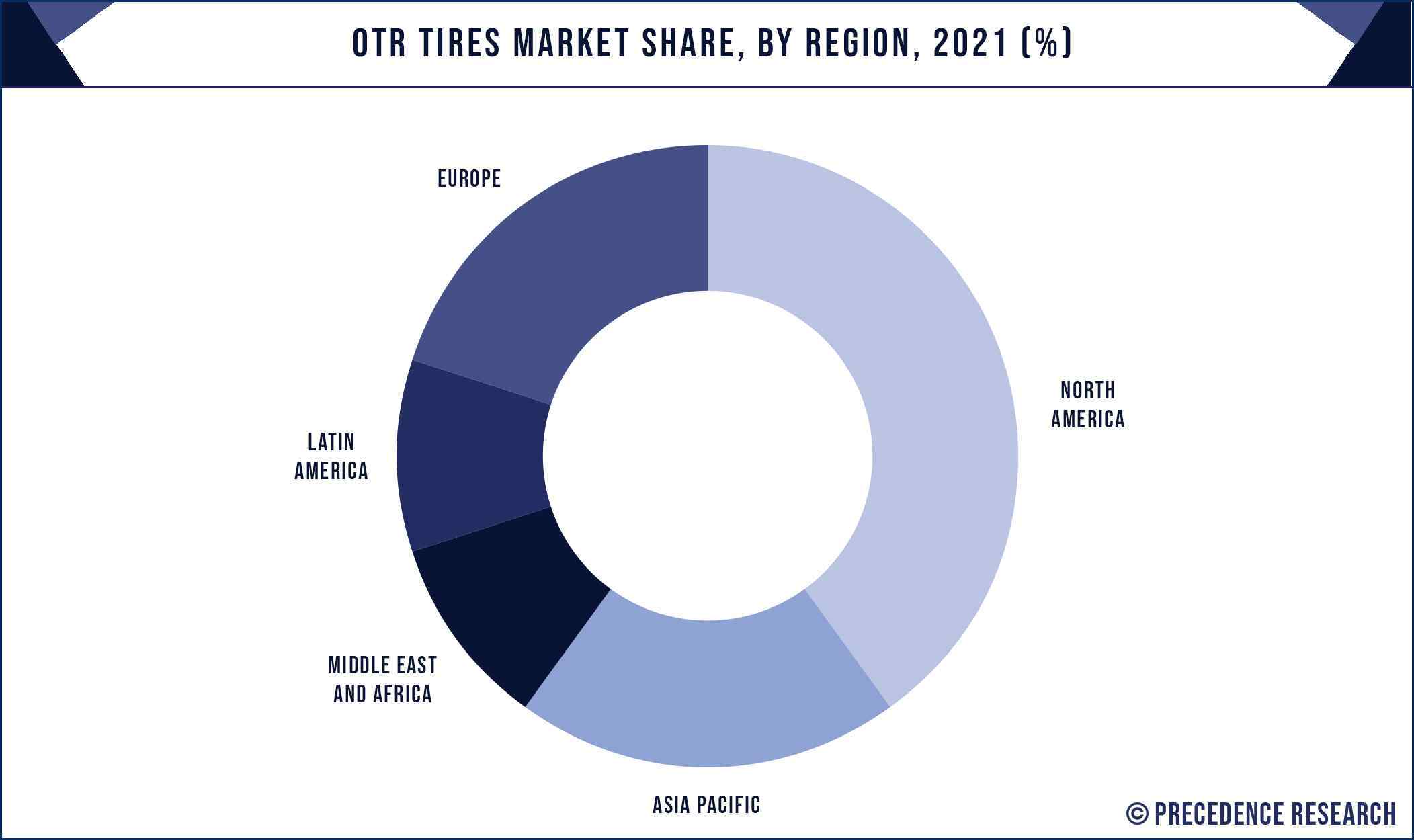 Key Developments
In 2019, Yokohama's Galaxy brand produced off-road tire versions for mining vehicles. These tires have cut and heat resistance materials, perhaps attracting more customers looking for long lasting off-road tires.
Apollo Tires introduced the nGR bias tire line in 2019. These new tires are fuel-efficient. The company is replacing not just its bias tires but also its PCR tires in light of the new BS-VI rule implemented in developing nations, which necessitated the launch of the new fuel-efficient tires.
MICHELIN bought PT Multistrada Arah Sarana TBK, an Indonesian bias tire producer and two-wheeler tires and has a capacity of 250,000 truck tires per year.
The market revenue, market shares, business strategies, recent developments, and growth rates of major businesses holding substantial market shares in the worldwide off-road tires market are all examined. Recent events for these firms, such as new solution, product launches, acquisitions, research activities, geographic expansions, and technological advancements, are taken into account when determining their position in the off-road tires market. All important stakeholders in the off-road tires value chain and technological ecosystem are expected to benefit the growth of the off-road tires market.
The key market players concentrate on developing new technologies that can be used to improve the off-road tires market's product portfolio. The market players are adopting various marketing strategies for the growth and development of the market during the forecast period.
Some of the prominent players in the global off-road tires market include:
Hengfeng Rubber
Continental AG
GITI Tire
Triangle Group
Nokian Tires
Toyo Tire
Michelin
Hankook
Yokohama
Maxxis
Segments Covered in the Report
(Note*: We offer report based on sub segments as well. Kindly, let us know if you are interested)
By Material
Synthetic Rubber
Natural Rubber
Fabrics & Wire
Carbon Black
By Tire Height
Below 31 inches
31-40 inches
41-45 inches
Above 45 inches
By Vehicle
4WD
HDT
SUV
UTV
Dirt Bikes & Quad
OTR
By Distribution Channel
Original Equipment Manufacturer (OEM)
Secondary/ Replacement
Distributor/ Dealer Equipped
By Application
Agriculture
Construction
Material Handling
Mining
By Construction Type
Solid
Radial
Belted Bias Tire
Bias Tire
Non-Pneumatic Tires
By Process
By Industrial Equipment
Forklifts
Aisle Trucks
Tow Tractors
Container Handlers
By Agriculture Tractors
<30 HP
31-70 HP
71-130 HP
131-250 HP
>250 HP
By Geography
North America
Europe
Asia-Pacific

China
India
Japan
South Korea
Malaysia
Philippines

Latin America

Brazil
Rest of Latin America

Middle East & Africa (MEA)

GCC
North Africa
South Africa
Rest of the Middle East & Africa