The global oncology information system market size was estimated at USD 3.19 billion in 2022, and it is expected to be worth around USD 7.03 billion by 2032, expanding at a compound annual growth rate (CAGR) of 8.22% from 2023 to 2032.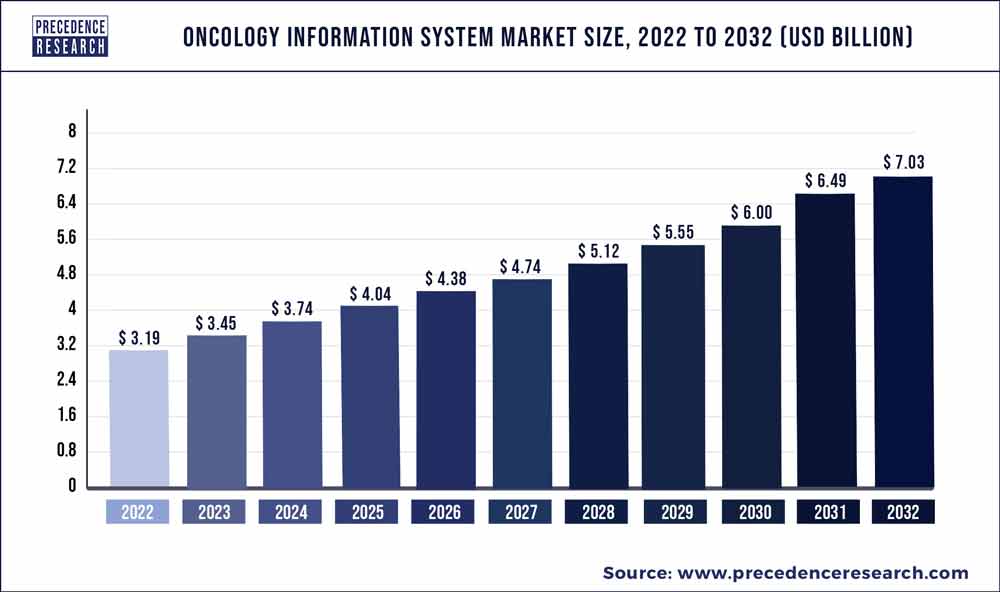 Key Takeaways:
North America generated more than 39% of revenue share in 2022.
By product, the solutions segment is expected to witness the fastest growth while being the dominating segment in the market.
By application, the radiation oncology segment is expected to be the most attractive segment of the market.
By end-user, the hospital segment is expected to acquire the largest share of the market during the forecast period.
Market Overview:
Oncology information systems, which also allow for the monitoring of several aspects of cancer patient care, provide systems for handling the information of cancer patients. Oncology information systems are used to improve patient care, documentation, resource allocation, and the cost-effectiveness of care services. As a result, it seems important to pay attention to how well these systems operate and how well they fit into workflows. The demand for various types of oncology information systems (OIS) software has grown in response to the growing need for software that can simplify the management of patient data and information. It is anticipated that increased investments in cancer research by oncology information systems market companies will fuel industry growth and future trends.
The major players in the market for oncology information systems are focusing on launching new campaigns and business plans to increase product exposure and brand awareness. Businesses are increasingly investing in the development of innovative, creative products as the market for cancer information systems is predicted to grow significantly over the next few years. This has a good effect on the market adoption trends for oncology information systems.
Growth Factors:
The growing incidence of cancer, especially among the aging population due to rising cigarette use and altering lifestyles, is the main factor driving the market for oncology information systems. The adoption of electronic health record (EHR) systems aims to facilitate the use of evidence-based decision-making by healthcare professionals and enhance workflow by efficiently coordinating patient care. OIS maintains electronic health records (EHR), which helps to enhance patient-based services, offers a better comprehension of the causes of illness, identify diseases earlier, and provides access to more effective treatment options. Along these lines, significant technological advancements—like the use of Blockchain and artificial intelligence (AI) to cut down on errors caused by paper-based prescriptions and treatment plans—are acting as another growth-promoting driver.
According to WHO, there is less geographical variation in death than there is in incidence, with mortality rates in 2013 being 15% higher for males and 8% higher for women in more developed countries compared to less developed ones.
The World Health Organization (WHO) reports that cancer is the second-biggest cause of death worldwide, accounting for 8.8 million fatalities in 2015. Globally, cancer is a factor in about one in six fatalities.
Report Scope of the Oncology Information System Market:
| | |
| --- | --- |
| Report Coverage | Details |
| Market Size in 2023 | USD 3.45 Billion |
| Market Size by 2032 | USD 7.03 Billion |
| Growth Rate from 2023 to 2032 | CAGR of 8.22% |
| Largest Market | North America |
| Base Year | 2022 |
| Forecast Period | 2023 to 2032 |
| Segments Covered | By Product, By Application, and By End User |
| Regions Covered | North America, Europe, Asia-Pacific, Latin America, and Middle East & Africa |

Driver:
Demand for streamlined workflow and efficiency
Oncology information systems streamline and automate various tasks and processes involved in oncology care, such as appointment scheduling, treatment planning, documentation, and reporting. By reducing manual work and eliminating paper-based systems, these systems save time and increase the productivity of healthcare providers. Clinicians can focus more on patient care, resulting in improved efficiency and throughput. Oncology information systems promote standardization and consistency in the delivery of oncology care. They provide access to evidence-based treatment guidelines, protocols, and best practices, ensuring that all healthcare providers follow standardized workflows. This minimizes variations in care and improves the quality and safety of treatments. The demand for streamlined workflow and efficiency in oncology care is driven by the need to optimize resources, improve patient care coordination, reduce administrative burdens, and enhance clinical decision-making. Oncology information systems play a vital role in meeting these demands, driving their adoption and growth in the market.
Restraints:
Limited access to a skilled workforce
The rapidly evolving field of oncology requires endless customization and innovation in oncology information systems to meet the changing needs of healthcare providers and patients. Skilled professionals must identify new trends, technologies, and best practices and incorporate them into the system. Limited access to a skilled workforce may limit the ability of healthcare organizations to keep up with the latest advancements, potentially hindering the system's growth and competitiveness. Oncology information systems require skilled professionals to effectively implement and configure the software per healthcare organizations' specific needs. Additionally, healthcare providers need to train their staff on how to use the system efficiently. Limited access to a skilled workforce can hinder the successful implementation and training processes, leading to delays and inefficiencies.
Opportunities:
The growing emphasis on the quality patient care
Oncology information systems facilitate seamless communication and care coordination among various healthcare providers involved in a patient's cancer care. These systems enable efficient exchange of patient data, treatment plans, and progress updates between different care settings, including hospitals, clinics, and laboratories. Improved interoperability and care coordination contribute to better care transitions, reduced gaps in care, and improved patient outcomes.
The rising emphasis on quality patient care creates a growing demand for oncology information systems that can support healthcare providers in delivering efficient, evidence-based, and patient-centric care; these elements present significant opportunities for the market players.
Segments Insight:
Product Insights:
The software segment is the market leader in the global oncology information system market due to the rising demand to reduce medical errors and control the surging costs of oncology care to improve the quality of oncology care services. Any oncology information system must include software because it serves as the interface between the database and the end user. The demand for software-based oncology information systems is growing with the rising radiation and chemotherapy sessions. Such systems place a greater emphasis on therapeutic data than on financial or billing information. The initial systems were designed in this way because different teams assigned to carry out specific tasks, like costs and payments, needed access to financial data. Systems housing clinical data allowed clinical teams to concentrate explicitly on readmissions, hospital-acquired conditions, and other clinical process indicators.
Application Insights:
During the forecast period, radiation oncology is anticipated to grow at a remarkable CAGR. Due to the rise in radiosurgery, there is a greater need for radiation oncology, and radiological departments are producing a lot of data about cancer. Radiation therapy involves precise treatment planning and simulation to deliver radiation doses accurately to target tumors while minimizing damage to surrounding healthy tissues. Oncology information systems provide specialized tools and modules for radiation treatment planning, including dose calculations, treatment simulations, contouring, and image fusion. These systems enable radiation oncologists to create optimal treatment plans and simulate the delivery process, ensuring the highest level of precision and safety. Along with this, the rising demand for radiation therapies as a treatment part for cancer across the globe acts as a driving factor for the segment's growth.
End-User Insights
The hospital segment used to have the biggest market share in 2022 and drove the market's growth. The segment will continue to share a significant share of the market during the forecast period. Hospitals typically offer comprehensive cancer care services, including diagnosis, treatment, surgery, radiation therapy, and supportive care. As a result, they require robust oncology information systems to manage and coordinate the complex workflows and multidisciplinary care involved in treating cancer patients. Larger patient populations, multidisciplinary collaboration and accreditation requirements by hospitals as an end-user boosts the segment's growth in the global market.
On the other hand, the specialty centers segment is expected to be the most lucrative segment of the market during the forecast period. Considering the complex nature of oncology care, specialized treatment modalities, and the emphasis on multidisciplinary collaboration and research, specialty centers have unique requirements that necessitate dedicated oncology information systems. These systems provide the necessary tools, functionalities, and data management capabilities to meet the specific needs of specialty centers, ultimately supporting them in delivering optimal cancer care outcomes.
Regional Insights:
North America dominated the global market in 2022, the region is expected to hold the dominating share of the market during the forecast period. The rising incidence of cancer and the presence of cutting-edge healthcare infrastructure act as growth factors for the market in North America. The rising geriatric population is another factor to supplement the market's growth in the region.
According to the National Institute of Health, 1,958,310 new cancer cases are projected to occur in 2023 in the United States. Such rising cases of cancer increase the burden of healthcare providers, which boosts the demand for more advanced oncology information systems.
North America is known for its technological advancements and innovation in the healthcare sector. The region has a strong presence of healthcare technology companies developing and offering oncology information systems with advanced features, such as clinical decision support, data analytics, and interoperability. These technological advancements contribute to the growth and adoption of oncology information systems in North America.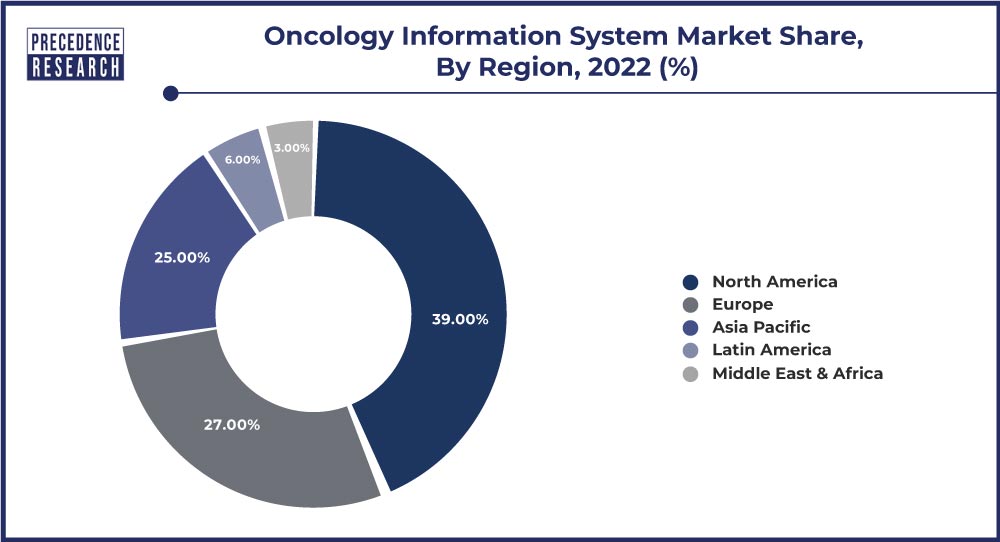 The governments in North American countries, such as the United States and Canada, have been promoting the adoption of healthcare IT solutions, including electronic health records (EHRs) and other clinical information systems. This support and emphasis on digital health initiatives create a favorable environment for the adoption of oncology information systems in the region.
On the other hand, Asia-Pacific is anticipated to experience the fastest growth rate during the forecast period because of rising healthcare spending, increased awareness of early diagnosis, rising population and increasing government efforts to improve the healthcare infrastructure. The Asia Pacific region is experiencing a rising burden of cancer, driven by factors such as population growth, aging populations, and changing lifestyles. This increasing prevalence of cancer creates a need for efficient and effective management of cancer care, driving the demand for oncology information systems.
There is a growing recognition of the benefits of healthcare IT solutions in the Asia Pacific region. Governments, private organizations, and healthcare providers are increasingly investing in healthcare IT infrastructure, including electronic health records (EHRs) and clinical information systems. This investment is likely to extend to oncology information systems to support the efficient management of cancer care.
Recent Developments:
In February 2023, New Jersey Cancer Care announced that it has started remote patient monitoring services. With the launch of this program, the cancer care center aims to drive oncology innovation. The new system by the cancer care center will integrate medical devices with patient apps.
In September 2022, the International Agency of Research on Cancer stated that it is launching a new research project totally funded by European Union (EU), the newly launched project aims to focus on strengthening cancer screening data collection systems across the region.
Key Market Players:
Elekta AB
Accuray Inc.
Varian Medical Systems
RaySearch Laboratories
Cerner Corp.
BrainLab
Philips Healthcare
Prowess, Inc.
DOSIsoft S.A.
ViewRay Inc.
MIM Software
Flatiron
McKesson Corporation
Siemens Medical Solutions, Inc.
Segments Covered in the Report:
(Note*: We offer report based on sub segments as well. Kindly, let us know if you are interested)
By Product
By Application
Medical Oncology
Radiation Oncology
Surgical Oncology
By End User
Hospitals
Research Centers
Specialty Clinics
By Geography
North America
Europe
Asia-Pacific
Latin America
Middle East and Africa