The global Plant-based API market size was reached at USD 30.12 billion in 2022 and it is expected to hit around USD 56.12 billion by 2032, registering a CAGR of 6.42% during the forecast period 2023 to 2032.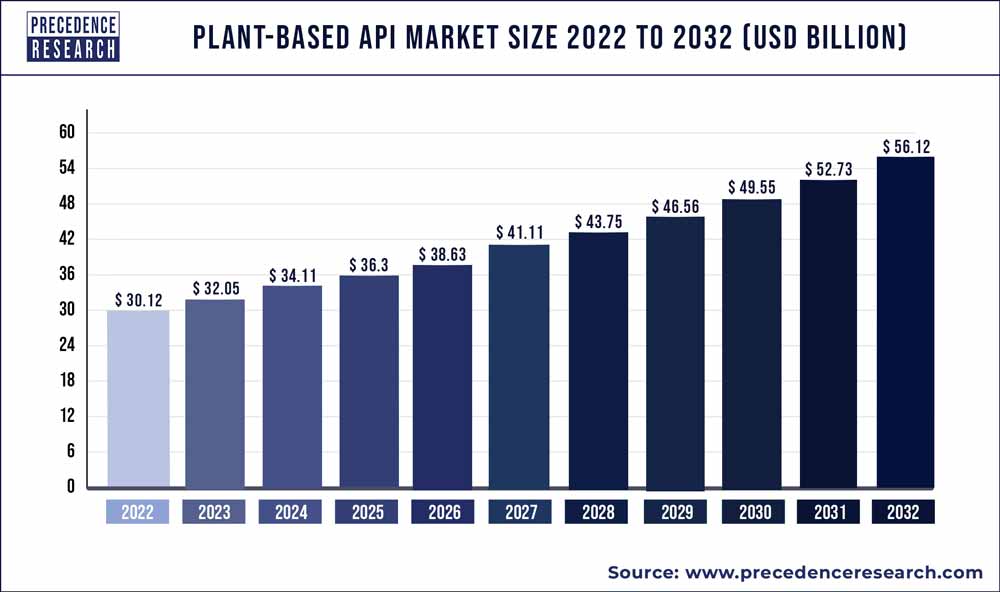 Key Takeaways:
North America led the global market with the largest revenue share of 36% in 2022.
Asia Pacific is expected to expand at the fastest CAGR during the projected timeframe.
By Molecule Type, the alkaloids segment captured more than 22% of revenue share in 2022.
By End-use, the pharmaceuticals segment contributed more than 65% of revenue share in 2022.
Market Overview:
Plant-based components market got highlighted with as the demand for novel and environmentally friendly meat, dairy, sugar substitutes, and food and beverage items rose in recent years. Similarly, the plant-based API market is growing globally while offering sustainable, environmentally friendly and organic options for the pharmaceutical industry. Natural medications, herbal supplements, and nutraceuticals can be developed using plant-based APIs, providing an alternative to synthetic drugs.
For instance, in January 2023, Fortimel Plant-Based Energy, a new plant-based, ready-to-drink oral nutritional supplement, has been introduced by Nutricia. It was created to address the dietary requirements of those undernourished or at risk of becoming malnourished due to sickness. It has a combination of high-quality plant protein derived from sources including pea and soy, making it nutritionally complete.
Growth Factors:
The need for plant-based APIs has been spurred by rising consumer awareness of and demand for diets composed of plants and goods. Plant-based API production is becoming more efficient and affordable owing to advancements in the biotechnology industry, especially in genetic engineering, fermentation, and extraction methods. Moreover, rising awareness of the health advantages of plant-based medications and their favorable environmental impact compared to conventional drugs are growing among consumers. The market for plant-based pharmaceuticals is expanding quickly because of increased funding and investment in research and development.
Governments and regulatory bodies are supporting and offering incentives for developing and manufacturing medications made from plants, fostering an atmosphere conducive to growth. Plant-based substitutes are becoming more popular as customer preferences shift toward natural and sustainable products. Research, development, and production of plant-based APIs are facilitated through collaborations between pharmaceutical corporations, academic institutions, and agricultural groups. In line with the global movement toward preventive healthcare, plant-based medications are being investigated for their wellness-enhancing and preventative qualities. The robustness and security of the supply chain for pharmaceuticals are improved by diversifying the suppliers of pharmaceutical ingredients, especially plant-based APIs.
Report Scope of the Plant-based API Market:
| | |
| --- | --- |
| Report Coverage | Details |
| Market Size in 2023 | USD 32.05 Billion |
| Market Size by 2032 | USD 56.12 Billion |
| Growth Rate from 2023 to 2032 | CAGR of 6.42% |
| Largest Market | North America |
| Base Year | 2022 |
| Forecast Period | 2023 To 2032 |
| Segments Covered | By Molecule Type and By End-use |
| Regions Covered | North America, Europe, Asia-Pacific, Latin America, and Middle East & Africa |

Drivers:
Rising emphasis on healthier and more sustainable options
More health-conscious consumers are looking for diets reduced in processed ingredients, cholesterol, and saturated fats. Diets focused primarily on plants are frequently seen as healthier and higher in nutrients, dietary fiber, and antioxidants. With the creation of plant-based substitutes that closely resemble the flavor and texture of conventional animal-based goods, food technology developments have made it simpler for people to switch to plant-based diets. With the rising demand of plant-based substitutes in diet, customers are encouraged to experience plant-based substitutes in medications and drugs owing to their accessibility. Many customers select plant-based pharmaceutical productions to lessen their involvement in the suffering of animals in the food sector due to the majority of concerns about animal welfare. All these factors collectively boost the adoption of plant-based APIs in the pharmaceutical industry while driving the growth of the market.
Rising environmental concerns
The environmental effects of conventional animal agriculture, which include deforestation and water pollution, are becoming more and more of a concern to consumers and businesses. Plant-based APIs, like those found in food goods, have a smaller environmental impact since they require fewer resources and produce fewer greenhouse gases. The market for plant-based APIs has seen investments and innovation due to rising environmental consciousness. This prompted the creation of novel products and technology as sustainable substitutes for conventional APIs obtained from animals. The demand for plant-based food items and APIs has increased due to the connection between animal-based diets, health problems, and environmental consciousness. Many buyers are motivated by ethical concerns about animal welfare.
Restraint:
Limited availability of plant sources
Specific plant species are the major sources of several APIs. For instance, plants extract flavonoids, terpenes, and alkaloids. However, only a few of these plants are easily accessible in significant numbers, which may cause raw material supply shortages. With these concerns, governments and regulatory bodies have applied multiple stringent quality and security standards towards the production of plant-based API, this can restrict the entry of new market players by hindering the overall market growth.
Extensive research and development efforts are needed to find and create new plant-based API. Finding plants with the needed traits may require a lot of effort and resources. Having access to legal sources may promote market expansion. Seasonal variations affect plants, and geography, soil type, and climate all significantly impact how they grow. Some plants only grow well in certain areas, making it difficult to find them year-round. Pests, illnesses, and environmental stresses can all be dangerous to plants. This may result in lower yields or the loss of entire harvests, which will affect the supply of raw materials for the manufacture of API.
Opportunity:
Increasing efforts regarding animal welfare and cruelty
Beyond vegetarians and vegans, the potential market for plant-based proteins has grown due to animal welfare concerns. Consumers are looking for moral and cruelty-free replacements for conventional animal-based protein sources as knowledge of concerns relating to animal welfare increases. The demand for goods containing plant-based protein has increased as a result. The sector for plant-based proteins has drawn investments and innovation as awareness of animal welfare has grown. More believable and delectable plant-based meat substitutes are being created by businesses to compete against conventional animal products. It appeals to a broader demographic, particularly flexitarians, and meat eaters trying to cut back on their intake of animal products. Plant-based proteins frequently have a more minor environmental impact than animal agriculture. Bringing attention to this factor and worries about animal welfare may help the market become more appealing.
Segments Insight:
Molecule Type Insights:
The alkaloids segment had the largest share in 2022, the segment is expected to be the fastest growing in the plant-based API market during the predicted period. Plant alkaloids, including those found in several botanicals and alkaloid-rich herbs, have demonstrated great medicinal promise. They can be utilized to create medications for various illnesses, such as cancer treatment, cardiovascular disease management, and pain control. The demand for natural and plant-based alternatives in pharmaceutical and healthcare products is rising. Alkaloids found in plants appeal to consumers' growing demand for natural cures. Alkaloids have a variety of pharmacological characteristics that make them suited for use in a range of therapeutic settings. Their adaptability makes them more appealing to pharmaceutical corporations.
The terpenoids segment shows significant growth in the plant-based API market during forecast period. Terpenoids, which have a variety of medicinal benefits are widely available. These include anti-inflammatory, antioxidant, antibacterial, and anticancer actions. It makes them desirable for pharmaceutical applications because of this. Terpenoids result in a sustainable and environmentally benign source of APIs that meet the rising need for natural and eco-friendly medications. Health and environmental concerns drive customer desire for natural and plant-based products, especially drugs. Thereby, the segment is observed to grow at a significant rate.
End-use Insights:
The pharmaceuticals segment is expected to dominate the global market throughout the forecast period. The demand for organic and environmentally friendly goods, especially pharmaceuticals, is rising globally. Plant-based APIs offer components with a sustainable and ecologically favorable alternative to meet this demand. Both consumers and healthcare professionals may find plant-based APIs enticing since they frequently have the impression that it's safer and more natural. This perception may increase demand in the pharmaceutical industry, where security and efficacy are crucial. It is essential to assure the safety and purity of components because strict regulatory regulations bind pharmaceuticals. In line with regulatory requirements, plant-based APIs provide a more controlled and predictable supply of raw materials than conventional chemical synthesis.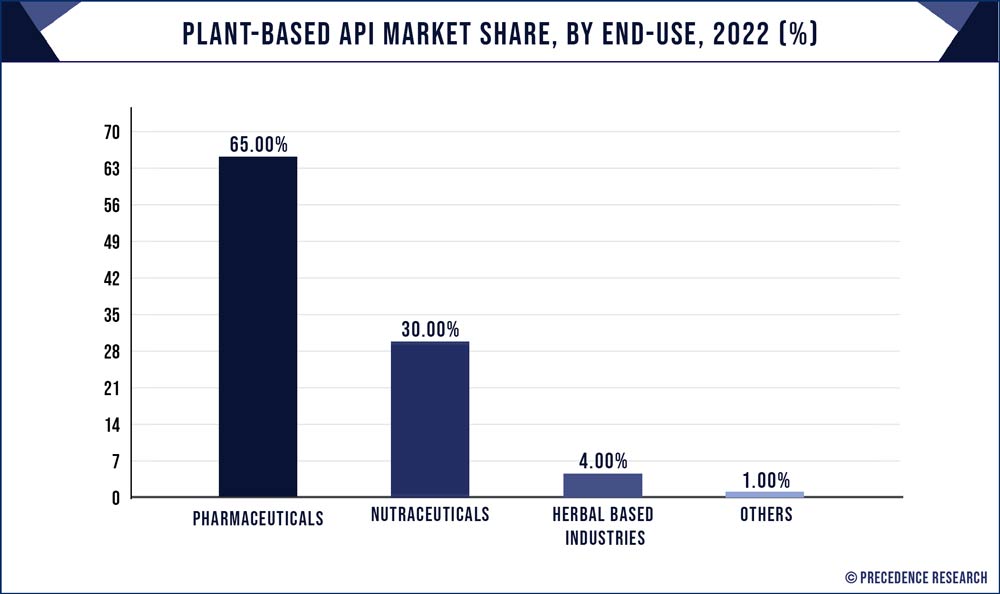 The nutraceuticals segment is the fastest growing in the plant-based API market. Due to concerns regarding synthetic chemicals and adverse effects, consumers seek natural and organic alternatives to conventional drugs. Nutraceuticals provide a supposedly healthier and more natural alternative. Demand for plant-based nutraceuticals has increased due to increased consumer education and informational access to information. With the growing interest in preserving health through diet and lifestyle, nutraceuticals frequently emphasize preventive health and general wellness. Plant-based nutraceuticals API demand has increased as a result of this proactive strategy.
Regional Insights:
North America had the largest share in 2022, the region is expected to sustain the dominance throughout the forecast period. Concerns about health, long-term viability, and animal welfare have increased the need for plant-based goods in North America, stimulating creativity and funding in the plant-based pharmaceutical sector. Plant-based enterprises and research have drawn substantial investment and funding, enabling businesses to quickly develop and expand their products. It has a strong culture of entrepreneurship and innovation, which has resulted in the establishment of an extensive variety of plant-based APIs for many different uses, including food, skincare, pharmaceuticals, and more.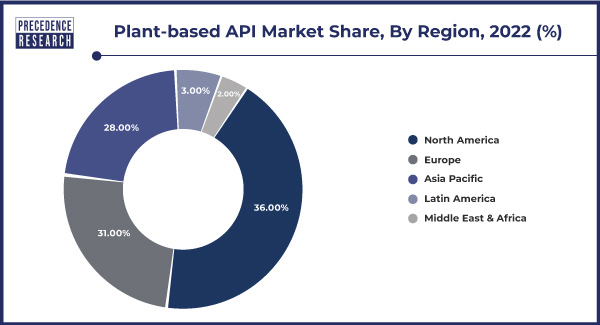 North America also has a well-developed ecosystem that encourages the growth of plant-based businesses. This ecosystem includes access to research organizations, regulatory agencies, a network of suppliers and distributors, and a strong culture of innovation and entrepreneurship. In North American society, the popularity of plant-based diets and environmentally friendly habits has influenced consumer choices and contributed to market growth.
Asia Pacific is expected to witness the fastest rate of growth during the forecast period. Issues about the environmental effects of conventional animal agriculture and growing knowledge of the health advantages of plant-based diets are pushing people and companies in the area to switch to plant-based alternatives. Asia Pacific is the ideal are for the production of plant-based APIs as it has easy access to various plant-based raw materials. Plant-based APIs meet demand for more environmentally responsible and wholesome options even in the pharmaceutical industry. Many nations in Asia Pacific are integrating laws and programs into place to encourage sustainability and lower greenhouse gas emissions. This involves advocating for animal-free farming and different protein sources. All these factors are observed to create substantial opportunities for the market to grow in the upcoming years.
Recent Developments:
In August 2023, In the Indian market, Mankind Pharma introduced 120 DMF (Drug Master File) Quality Medicines. This program aims to guarantee that all people have access to high-quality medications.
PanaNatra, a category disruptor from Haleon, was introduced through a recent ad from white- grey. The first biologically derived painkiller containing plant-based actives to hit the market is PanaNatra from Haleon. It establishes a new "naturals" segment from the producers of Panadol, the brand's top-selling painkiller.
In August 2023, Capitol Wellness Solutions and Southern University introduced the first chewable THC product in Louisiana with a 40-milligram (mg) THC dose. There may be a longer wait time for treating chronic pain for many people. A local dispensary and Southern University collaborated to introduce a high-dose medical marijuana candy.
Key Market Players:
Roquette Freres SA
EVONIK Industries, AG
Cargill, Inc.
Novartis AG
Sanofi SA
Kothari Phytochemicals & Industries Ltd
Centroflora Group
Arboris, LLCs
BASF SE
GlaxoSmithKline, plc
Segments Covered in the Report:
(Note*: We offer reports based on sub-segments as well. Kindly, let us know if you are interested)
By Molecule Type
Alkaloids
Phenolic Acids
Terpenoids
Lignin & Stilbenes
Anthocyanin
Flavonoids
Others
By End-use
Pharmaceuticals
Nutraceuticals
Herbal Based Industries
Others
By Geography
North America
Europe
Asia-Pacific
Latin America
Middle East and Africa