The global healthcare API market size was exhibited at USD 218.41 million in 2022 and is projected to attain around USD 309.86 million by 2032, growing at a CAGR of 3.56% during the forecast period 2023 to 2032.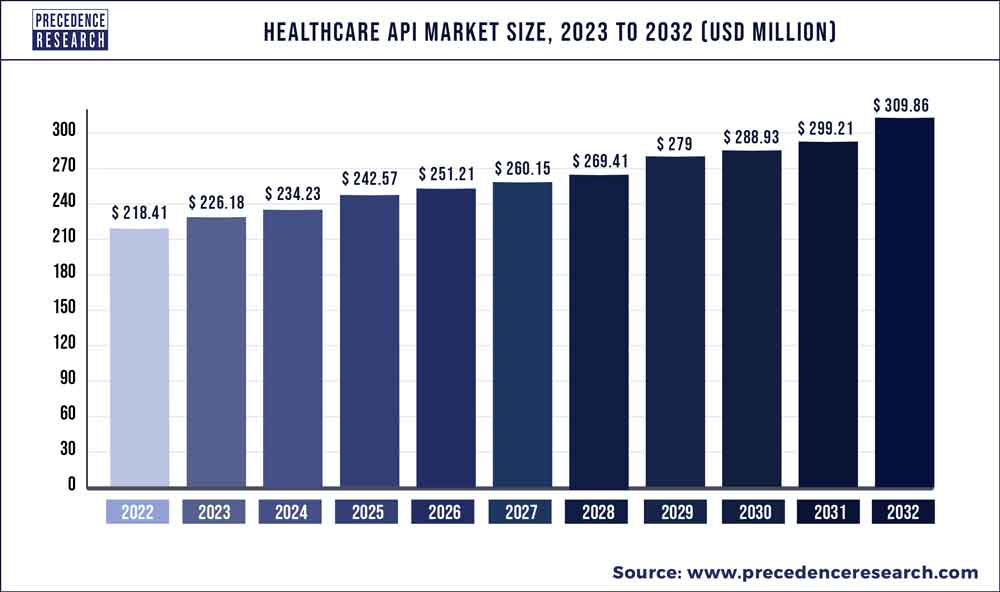 Access our Premium Real Time Data Intelligence Tool, Visit: Precedence Statistics
Key Takeaways:
On the basis of service, the EHR access segment dominates the market and captured a revenue share of over 32% in 2022.
On the basis of the deployment model, the cloud-based API held the largest market share of about 81.50% in 2022.
On the basis of end-use, the healthcare providers segment has the biggest revenue share of 48.6% in 2022.
On the basis of region, North America dominates the market with a revenue share of 36.5% in 2022.
Market Overview
The market is growing as a result of an increase in the use of Electronic Health Records (EHRs) with integrated Application Programming Interfaces (APIs), which offer simplicity and convenience of access to healthcare data. Furthermore, the market is booming due to improvements in patient outcomes, patient satisfaction, and treatment quality. In addition, the need is being driven by the growing need for healthcare integration.
One of the main factors driving the adoption of healthcare APIs is the incorporation of new processes between payers and providers, apps that can access data from EHRs, wearables and associated services, and seamless care flow. To make patient data accessible more simply, internal standardization for multiple products or workflows is recommended. For example, in June 2018 Apple health launched a healthcare active pharmaceutical ingredients from which developers can access the EHR data of patients from more than 500 hospitals in the U.S.
Development has been driven by an increase in financing and rising initiatives by key industry players to create a fully standardized API. For instance, in April 2019, Redox raised around USD 33 million in funding to develop a cloud-based API. The requirement for integrated healthcare API is growing as a result of the post-COVID-19 increase in demand for telemedicine and digital health solutions, which is expected to drive the market in the coming years.
Market Dynamics
The market is expected to be driven by technical developments with regular updates, a growing need for healthcare integration, growing activity from electronic health record vendors (EHR), and healthcare IT start-ups. Additionally, the industry is increasing due to the growing use of application programming interfaces (APIs) in connection with electronic health records, which has allowed access to streamlined health data.
The API market in the healthcare sector benefits from cost savings. Additionally, it avoids management mistakes in the medication supply chain and offers open access to test data for medical procedures. The healthcare industry gathers a lot of data about people's health, and the API helps with the effective administration of this data. In conclusion, the efficiency of the healthcare sector has significantly increased, which is expected to contribute to the market evolution throughout the analysis period.
However, the shortage of qualified specialists and concerns about data security involving sensitive patient health data is expected to limit the market expansion. Inadequate IT infrastructure, a lack of useful API tools, and bad network connectivity are other obstacles that are predicted to inhibit the market growth. Market players are broadening their reach into more and morevarious markets. Substantial adoption of healthcare IT solutions is considered a long-term potential for developing countries while public IT infrastructure in emerging economies has not developed as much as it should which limits market development.
Report Scope of the Healthcare API Market
| | |
| --- | --- |
| Report Coverage | Details |
| Market Size in 2023 | USD 226.18 Million |
| Market Size by 2032 | USD 309.86 Million |
| Growth Rate from 2023 to 2032 | CAGR of 3.56% |
| Base Year | 2022 |
| Forecast Period | 2023 to 2032 |
| Largest Market | North America |
| Fastest Growing Market | Europe |
| Segments Covered | By Services, By Deployment Model, and By End-Use |
| Regions Covered | North America, Europe, Asia-Pacific, Latin America and Middle East & Africa |

COVID-19 Impact
The COVID-19 pandemic has resulted in global lockdowns, therefore impacting every industry vertical as a result. As per the report of the United Nations Human Rights, the COVID-19 pandemic has threatened all members of society. In resultant, healthcare systems are highly affected, and the effective conveyance of medical treatment and care to all patients has become a global healthcare challenge. COVID-19 widespread is an unknown global public health challenge and is anticipated to have a positive impact on healthcare. Due to , social distancing, the COVID-19 pandemic is furnishing openings for telehealth and healthcare API results, social distancing is the only being result developed so far to be able to minimize exposure.
The COVID-19 pandemic had a favorable effect on the global healthcare API market since it presented several healthcare firms with profitable growth opportunities. Healthcare APIs (application programming interfaces) help to manage the labor shortage to assist hospitals and other enterprises with their healthcare operations. As an example, Google introduced the cloud healthcare API v1 in April 2020 to protect patient privacy while maintaining interoperability for COVID-19 research. Increased investment and increased efforts by industry participants to provide a completely standardized API are driving the growth of the healthcare API market.
Segment Insights:
By Service Insights
Based on service, the EHR access dominates the market and generated a revenue share of over 32% in 2022. The EHR may be readily integrated with other systems using API, facilitating easy data integration with third parties. Additionally, EHR companies are constantly developing APIs for their platforms to offer value-based patient care, which is increasing adoption significantly. For instance, Microsoft Azure introduced a cloud-based API for the FHIR standard to improve data sharing and interoperabilityin February 2019. Also, in June 2020, Cerner together with American Hospital Dubai opened the first artificial intelligence (AI) research center. The center would leverage electronic health records (EHR) to create centers of excellence for oncology, infectious diseases, and bariatric medicine. The AI research center will use big data analytics and machine learning capabilities to support data-based clinical research activities and data-driven operational improvement projects.Moreover, the service segment is further classified into remote patient monitoring, payment, EHR access, appointments, and wearable medical devices.
Additionally, over the analysis period, the market for remote patient monitoring is expected to grow at the highest rate. During the COVID-19 pandemic, connected health and remote patient monitoring receive a lot of interest for doctors and caretakers that they must treat patients remotely to lower the danger of infection. In order to give patients with improved treatment options and recommendations based on their prior medical information, the providers are providing a variety of patient interaction platforms with integrated API.
The medical equipment that customers can wear, such as activity trackers and smartwatches, are examples of wearables in healthcare. They're made to track and collect information on of a user's health and fitness. The growing investments, funding, and grants, as well as a growing preference for wireless connectivity among healthcare providers, are driving the growth of the wearable medical devices market. Wearable devices will gain popularity in the near future due to their numerous features, technological advancements, and wide range of uses in remote healthcare settings and at home. Furthermore, the rising frequency of chronic diseases is expected to drive wearable medical devices market growth over the forecast period.
Rising demand for remote patient monitoring devices along with home healthcare solutions is anticipated to positively influence the market growth for wearable medical devices. In addition, rising consumer focus towards fitness as well as effort for leading a healthy lifestyle is expected to be the other main factor that fuels the product demand. For example, in May 2020, Royal Philips, a global leader in health technology,received 510(k) clearance from the U.S. Food and Drug Administration (FDA) for its wearable biosensor (Philips Biosensor BX100) to help manage confirmed and suspected COVID-19 patients in the hospital. The next-generation wireless wearable biosensor enhances clinical surveillance in the Philips patient deterioration detection solution to help clinicians detect risk so they can intervene earlier and help improve care for patients in lower acuity care areas.
By Deployment Model Insights
Based on deployment, the cloud-based API held the largest market share of about 81.50% in 2022. Due to the increasing accessibility of free storage space for storing and organizing patient and hospital healthcare data during emergencies by medical professionals and providers. Due to its related benefits including data privacy and security, the on-premise healthcare application programming interface also had a significant revenue share in 2022. Also, complete control over healthcare software limits data breaches. Additionally, the program is easy to install, and the recorded data may be used for reprocessing in the hereafter.
By End-Use Insights
Based on end-use, the healthcare providers segment has the highest revenue share of 48.6% in 2022. Also, the healthcare providers segment is further classified into clinics, hospitals, and other distributing firms. The medical record storage, information of patients, data related to healthcare, and the history of patients which is available in emergency cases these all information stored by API.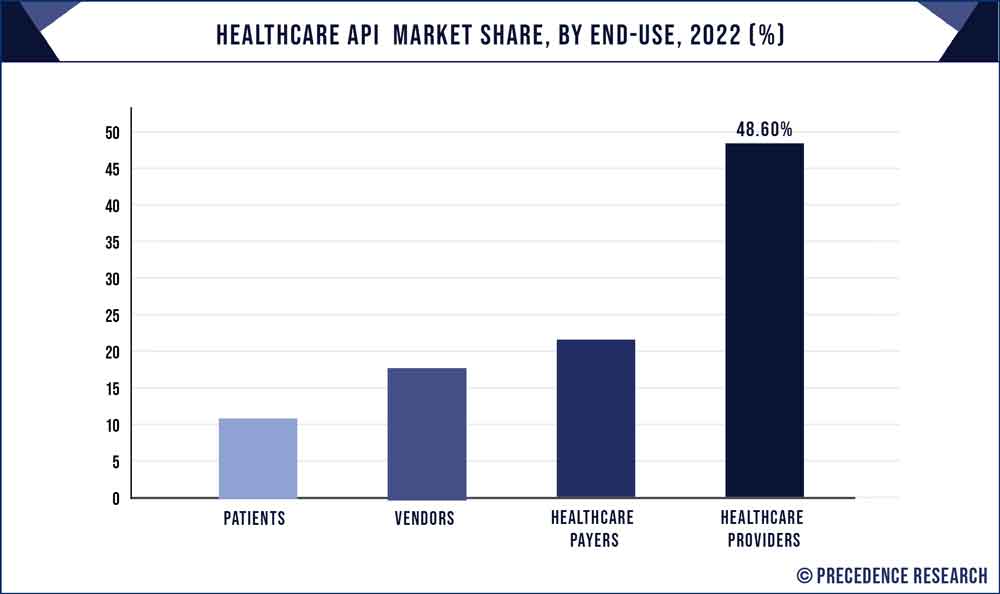 The healthcare payers segment shows a significant growth in the analysis period. The integrated API provides quick clearance and inspection of the needed data by healthcare payers and caregivers through the development of a customized process. API also makes it simple to manage to follow - up appointments and invoice patients. Payers may securely access patient health details and bills without having to deal with intrusive phone calls or receptionists.
Healthcare API Market Share, By Region, 2022 (%)
| | |
| --- | --- |
| Regions | Revenue Share in 2022 (%) |
| Asia Pacific | 23.5% |
| North America | 36.5% |
| Europe | 29.7% |
| Latin America | 7.1% |
| MEA | 3.2% |

By Region Insights
Based on region, North America dominates the market with a revenue share of 36.5% in 2022. Dueowing to high rates of digital literacy rate and supportive policies for the use of healthcare APIs. Moreover, another significant growth-promoting aspect for the industry is the existence of established healthcare infrastructure with integrated patient EHR. Greater adoption by large HCOs in the US is expected to increase regional demand.
Due to its existing healthcare infrastructure, the emergence of the Internet of Things (IoT), and other associated technologies, Europe is expected to witness the highest CAGR throughout the projection period. A regulation on data privacy and protection known as the General Data Protection Regulation (GDPR) became effective in the European Union on May 25th, 2018. The rule, which handles the transfer of personal data outside of the European Union, is stricter than HIPAA in the United States and is expected to lead to a rise in the use of healthcare API.
Recent Developments:
In June 2022, Elation Health, a cloud-based clinically-focused electronic health record solution provider teamed up with Dock Health. This partnership is aimed at creating a robust health API that enables the improvement of complex administration and the accuracy of patient information
In June 2022, Withings Health Solutions integrated with Athena Health Inc. With this integration, Athena health's growing network of healthcare providers is to leverage Withing remote patient monitoring to create a patient-focused remote patient monitoring service.
In May 2022, Samsung collaborated with Google to create a health API that allows Android developers to sync users' health and wellness data across apps. The new Health Connect API enabled users to manage and monitor their fitness and health data.
In June 2020, MuleSoft launched a new accelerator for healthcare with prebuilt APIs and common EHR systems like Cerner and Epic.
In August 2020, Cerner partnered with Amazon, a multinational technology company. The partnership was focused on making it easier for medical providers to obtain patient-generated health data from wearable technology. The partnership was focused on Amazon Halo, a new wearable from Amazon that can provide key patient metrics like activity levels, sleep quality, and body fat percentage.
In July 2020, Microsoft Corporation extended its partnership with Allscripts Healthcare, a healthcare company. The expansion enabled the expanded development and delivery of cloud-based health IT solutions. The expansion would support Allscripts' cloud-based Sunrise electronic health record, making Microsoft the cloud provider for the solution and opening up co-innovation opportunities to help transform healthcare with smarter, more scalable technology.
In July 2020, Epic Systems signed an agreement with The ACT Government for providing the territory's digital health record platform at a cost of $114.1 million. Under this agreement, Epic software would be deployed across Canberra's entire public health system, including public hospitals and community health centers. The platform will introduce a single health record that captures all clinical interactions with patients in one central repository for each of the territory's 400,000-strong population.
In March 2020, MuleSoft collaborated with Bridge Connector, a technology company offering data-driven workflow automation to solve health IT interoperability challenges. Following the collaboration, the latter company launched a new Salesforce AppExchange solution. Bridge Connector's no-code healthcare interoperability solution enabled organizations to quickly and easily integrate disparate healthcare applications such as electronic health record (EHR) and customer relationship management (CRM) solutions, patient engagement platforms, and more, utilizing its library of connectors.
In February 2020, Epic Systems teamed up with Atrium Health, a healthcare company. The latter company selected Epic as the standard, uniform platform for its electronic health records. Atrium implemented Epic for its clinical systems across three states. This would increase efficiencies, reduce complexity, and improve physician satisfaction. A single system aimed to allow the complete records of patients in any location to be easily accessed by clinicians consulting on cases hundreds of miles away.
In October 2019, Allscripts and Northwell Health partnered to produce artificial intelligence-based, voice-enabled, and cloud-based EHR. This is expected to enhance the company's penetration.
In November 2019, pCare partnered with Redox for better data integration of the pCare platform with HCO's existing HIT systems.
Company Profiles and Competitive Intelligence
The analysis covers the major market participants as well as the most effective plans and methods each firm used to hold top positions in the market. A competitive industry view is provided by the vendor landscape; hence it serves as a crucial insight. These observations were carefully examined, and leading business techniques and goods with great potential for income generation were determined. The key players operating in the Healthcare API Market are as:
Apple, Inc.
General Electric
athenahealth, Inc.
Oracle
Epic Systems Corporation
eClinicalWorks
Allscripts Healthcare, LLC
Greenway Health, LLC
Practice Fusion, Inc.
Salesforce, Inc.
Segments Covered in the Report
(Note*: We offer report based on sub segments as well. Kindly, let us know if you are interested)
By Service
Remote Patient Monitoring
Payment
EHR Access
Appointments
Wearable Medical Devices
By Deployment Model
Cloud-Based API
On Premise-Based API
By End-Use
Patients
Healthcare Providers
Healthcare Payers
Vendors
By Geography
North America
Europe
Asia-Pacific
Latin America
The Middle East and Africa