The global polymer emulsion market size reached USD 27.14 billion in 2022 and is projected to surpass around USD 51.67 billion by 2032, growing at a CAGR of 6.7% during the forecast period from 2023 to 2032.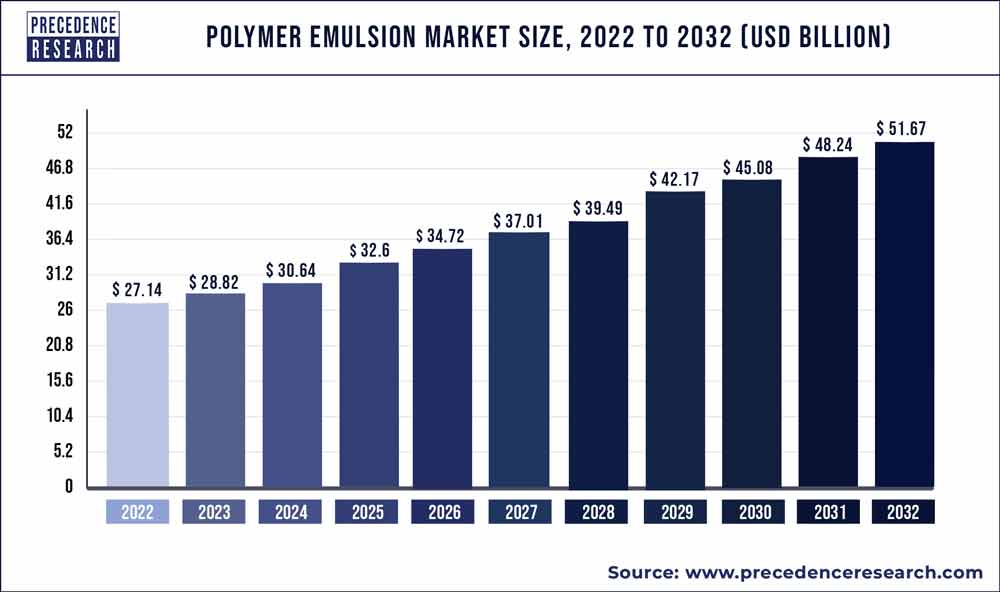 Access our Premium Real Time Data Intelligence Tool, Visit: Precedence Statistics
Polymer emulsion is a type of polymerisation reaction that begins with an emulsion that contains water, monomer, and surfactant. An oil-in-water emulsion is the most common type of emulsion polymerisation, in which droplets of monomer (the oil) are emulsified (with surfactants) in a continuous phase of water. Emulsion polymers have a high molecular weight, polymerise quickly, and are non-toxic to the environment.
In the paper industry, emulsion polymers make sheets, paper bags, boxes, cartons, and other items. As a binding agent, it is used in adhesives such as bands, stickers, glue, windings, and hygiene products. These end-user segments contribute significantly to the growth of the polymer emulsion industry.
Key Takeaways:
Asia Pacific dominated the global market and generated more than 34% of the revenue share in 2022.
By Type, the acrylic segment captured the maximum market share in 2022.
By Application, the paint & coatings segment generated the highest market share in 2022.
By End Use, the building and construction segment recorded more than 38% of revenue share in 2022.
Report Scope of the Polymer Emulsion Market:
| | |
| --- | --- |
| Report Coverage | Details |
| Market Size in 2023 | USD 28.82 Billion |
| Market Size by 2032 | USD 51.67 Billion |
| Growth Rate from 2023 to 2032 | CAGR of 6.7% |
| Largest Market | Asia Pacific |
| Base Year | 2022 |
| Forecast Period | 2023 to 2032 |
| Segments Covered | By Type, By Application, and By End Use |
| Regions Covered | North America, Europe, Asia-Pacific, Latin America and Middle East & Africa |

Market Dynamics:
Driver: Rising utilisation of polymer emulsion in the automotive industry
As polymer emulsions are used in LASD coatings and can be tailored for flexibility, adhesion, and filler content, the automotive industry is expected to increase demand for them. Another excellent feature for manufacturers is that they easily attach to metal components. Other advantages of using polymer emulsions include lower application costs and improved consistency and repeatability of placement. These coatings are made with styrene-butadiene polymer emulsions.
This is due to its ability to withstand high filler loadings, compatibility with anti-corrosion pigments, and range of strength and flexibility to meet the demands of harsh operating environments. With all of the facts stated above, it is expected that growth in the automotive industry will drive demand for polymer emulsion.
Restraint: Fluctuations in raw material Cost
Some raw materials used by industry operators are derived from petrochemical-based feedstocks, such as crude oil and natural gas, which are subject to significant price fluctuations. These price fluctuations could be exacerbated by global macroeconomic factors and supply and demand factors, such as OPEC production quotas and increased global demand for petroleum-based products. Significant changes in the cost and availability of raw materials may have a negative impact on industry operations.
Opportunity:
The rise in global residential and commercial development has boosted the demand for polymer emulsions used in architectural paints and coatings. With the growth potential and growing housing needs in Asia, large-scale residential and commercial development projects have been underway. Government initiatives in the Middle East to promote non-oil industries are encouraging investment in sectors such as tourism, hospitality, and healthcare, which has increased demand for and spending on commercial infrastructure.
COVID-19 Impact:
As a result of the COVID-19 outbreak, almost every country has tightened travel restrictions. Since March 2020, the increasing number of infected patients and total lockdown in major industrial hubs have halted the manufacturing industry. Workers have either returned to their hometowns or been quarantined to prevent the spread of the coronavirus. Due to potential upstream supply chain issues, construction, automotive, chemical, textile, and coatings companies have been forced to close locations.
The demand for residential building construction is expected to be low as people are discouraged from looking for new homes due to negative consumer sentiment and declining incomes. Due to the uncertainty of the future, demand for automobiles has dropped dramatically. The global impact on textile orders for clothing and accessories has decreased by 30%.
Chemical manufacturers have either ceased production or are operating at a low utilization rate. However, with the lifting of the lockdown, government bodies around the world are gradually encouraging construction, automotive, chemical, and textile & coatings companies to resume work, and companies are working towards market recovery with the expected increase in sales gradually in coming years.
Segments Insight:
Type Insights:
Based on type, the global polymer emulsion market is segmented into acrylics, vinyl acetate polymers, and SB latex. In 2022, the acrylic segment accounted for the largest market share. The growth of this segment is due to its properties such as low VOC emission and excellent durability, acrylic polymer emulsion is widely used in various applications.
In addition to its versatility, it is also preferred in multiple end-use applications. Acrylics can make rigid, flexible, ionic, non-ionic, hydrophobic, or hydrophilic polymers. They are transparent, resistant to breakage, have a high finish gloss, improved adhesion to non-porous surfaces, and have good flow and stability. They are also commonly known as polyacrylates.
Acrylic emulsion polymers can be easily incorporated into overprint varnishes and inks to provide water resistance, rub resistance, alkali resistance, and high gloss. They can also be used to improve oil, grease, and water resistance in barrier coatings for paper and paperboard products.
Application Insights:
Based on application, the global polymer emulsion market is segmented into paints & coatings, adhesives & sealants, and paper & paperboard. In 2022, the paint & coatings segment accounted for the largest market share. The growth of this segment is due to the high demand in industries such as construction and automotive. Polymer emulsion is widely used in paints and coatings due to its lower carbon footprint during manufacturing.
The high VOC content of solvent-based products, combined with the implementation of government air pollution control regulations, has fueled the development of low-VOC paints and coatings. This increased demand for water-based paints and coatings drives growth in the paints and coatings segment.
End Use Insights:
Based on end use, the global polymer emulsion market is segmented into buildings & construction, automotive, textile & coatings. In 2022, building and construction accounted for the largest market share of around 38%. The high demand for polymer emulsion in architectural paints, deck & trim paints, and elastomeric wall coatings, among others, is driving the segment growth. Its high-water resistance and durability drive its demand in the end-use industries.
Regional Insights:
In 2022, Asia Pacific dominated the global polymer emulsion market with a maximum market share of 34% and is expected to grow at a faster rate during the forecast period. Moreover, the availability of low-cost raw materials, land, equipment and skilled labour are some factors driving the growth of the Asia Pacific emulsion industry. The rapidly expanding Chinese and Indian markets are the primary drivers of this significant growth.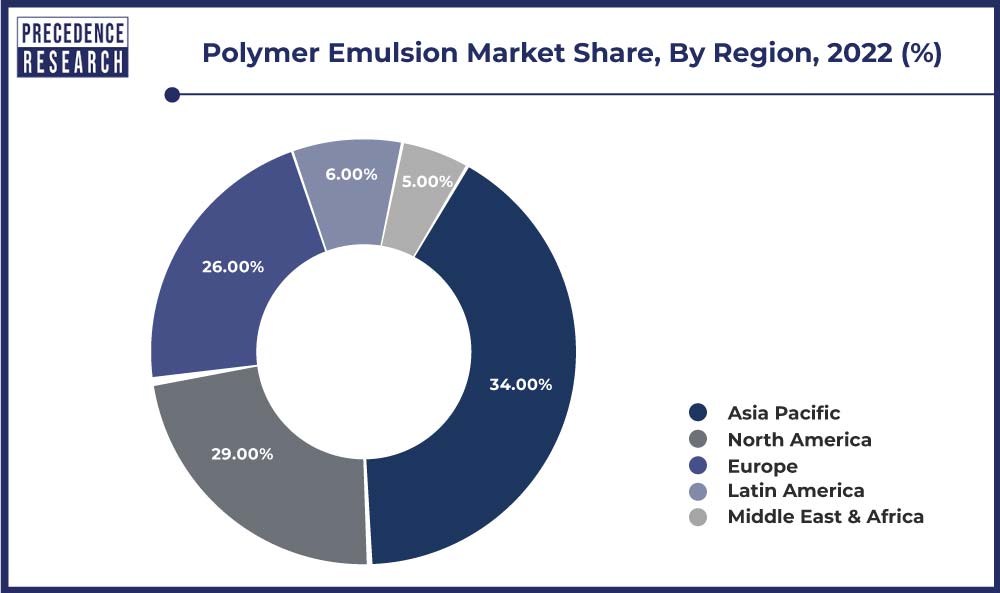 Many construction projects and investments are planned in India, China, the Philippines, Vietnam, and Indonesia, which is expected to increase demand for architectural paints, coatings, and adhesives. India, Thailand, Vietnam, Pakistan, and Malaysia have seen significant increases in automotive production. China, the world's largest automaker, intends to increase EV production to 2 million units per year by 2020 and 7 million units per year by 2025.
Furthermore, with cultural change, the influence of Western culture, increased cosmetic demand from the youth population, and rising women's employment, demand in the cosmetic & personal care industry is growing at a noticeable rate in the region. As a result, market players in this market are increasing investments and production, driving up demand for raw materials such as polymer emulsion. As a result, all of these favourable market trends are expected to drive the growth of the Asia-Pacific polymer emulsion market during the forecast period.
Recent Developments:
In 2021, LANXESS and Advent International formed a World Leader in High-Performance Engineering Polymers Joint Venture.
In 2020, Celanese Corporation signed an agreement with Megafarma, an Azelis company, to supply emulsion polymers in Mexico.
In 2020, Omnova Solutions Inc., a speciality chemical company and a significant supplier of water-based polymer solutions was acquired by Synthomer ple. With this acquisition, the company will be able to strengthen its polymer emulsion business and gain strong operational capabilities globally.
In 2020, Celanese Corporation announced plans to expand its global emulsion polymers business. Celanese began debottlenecking VAE production facilities in Nanjing, China, and Geleen, the Netherlands, as part of this expansion. Furthermore, the company announced plans to expand the Nanjing VAE production facility by 65,000 metric tons by 2022 and the Geleen facility by 50,000 metric tons annually by 2023.
In 2019, Synthomer pic, located in Worms, Germany, increased its acrylic dispersion production capacity by 30%. With a fully automated facility, the expanded production capacity is 36,000 tons. The company's position in end-use industries such as paints and coatings, construction chemicals, adhesives and sealants, and technical textiles is strengthened by this expansion.
Company Profiles and Competitive Intelligence:
Market players attempt to increase their market share through investments, partnerships, acquisitions and mergers. Businesses are also investing in the development of new products. Furthermore, they are concentrating on maintaining competitive pricing. Some of the prominent market players include:
Arkema S.A
BASF SE
Celanese Corporation
DIC Corporation
Dow Chemical Company
OMNOVA Solutions Inc.
Synthomer Plc
The Lubrizol Corporation
Trinseo S.A
Wacker Chemie AG
Segments Covered in the Report:
(Note*: We offer report based on sub segments as well. Kindly, let us know if you are interested)
By Type
Acrylics
Vinyl Acetate Polymers
SB Latex
By Application
Paints & Coatings
Adhesives & Sealants
Paper & Paperboard
By End Use
Buildings & Construction
Automotive
Textile & Coatings
By Geography
North America
Europe
Asia-Pacific
Latin America
The Middle East and Africa