The global polymer foams market size was estimated at US$ 135.22 billion in 2022 and is predicted to hit around US$ 236.5 billion by 2032, poised to grow at a compound annual growth rate (CAGR) of 5.8% during the forecast period 2023 to 2032.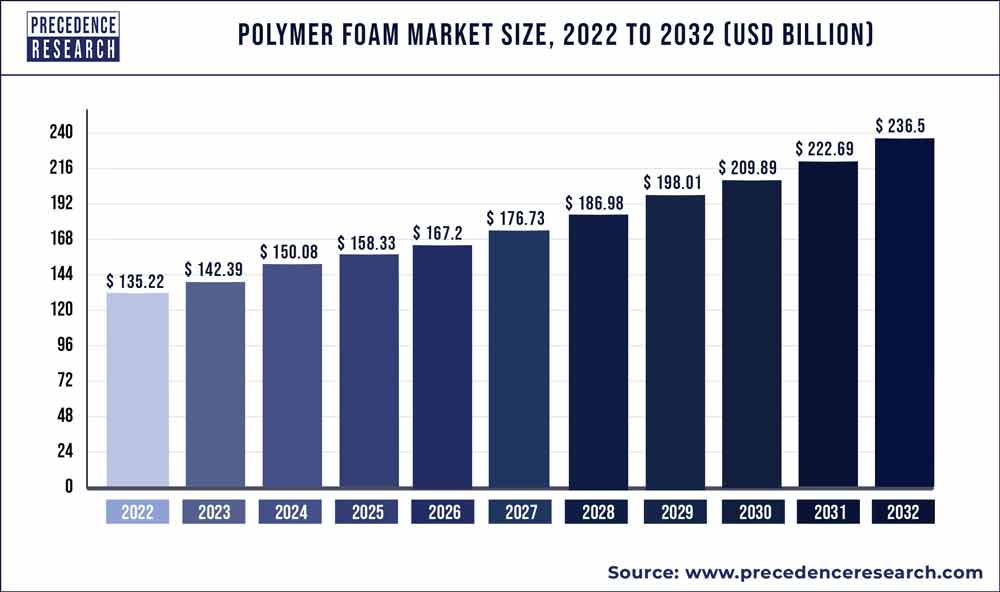 Vital factors responsible for market growth are:
Momentous rise in demand for numerous polymer foam in construction, furniture and automotive applications are expected to drive the polymer foam market growth.
Growing applications in various industries, such as packaging, furniture and bedding, and automotive industries, are expected to drive the type demand.
Huge adoption of polymer foam in industrial sector of Asian countries
Sustainability of the energy as well as conservation across the world
Key market Insights:
Polymer foam is a vital polymer material also recognized as a porous polymer material. It has polymer matrix that comprises a large number of tiny foam holes within. In comparison with bulky polymer materials, polymer foam offers several advantages including good heat insulation, low density, good sound insulation effects, good resistance to corrosion and high specific strength. Currently, polymer foam is one of the most extensively employed polymer materials and plays a very significant part in the polymer sector. Polymer foams are extensively utilized in construction, packaging, footwear, furniture & bedding, automotive, sports & recreational sectors.
However, during COVID-19 pandemic, decline in per capita income led to inferior demand for several electronics products, recreational and sports equipment; therefore, negatively affecting the growth of the polymer foam market. Additionally, on account of prolonged lockdown, huge number of construction ventures is on delayed for few months period. Such fluctuations negatively affected the demand of polymer foams for numerous insulation applications.
COVID-19 Impact on Global Polymer Foam Market
Outburst of COVID-19 has impacted many markets adversely; global polymer foam market is no exception. Polymers foams are majorly used in the construction, transportation, furniture and bedding, packaging industries. COVID-19 pandemic forced most of the leading as well as emerging economies in to the lockdown situations. Supply chain disruptions, issues in operating facilities at full capacity due to manpower, irregular raw material supply are among factors restricted growth of the polymer foam market. However, COVID-19 situation is resolving slowly and most of the industries are started their facilities at full capacity.
Future of Global Polymer Foam Market
Polymer foam is widely adopted in many end use applications in commercial areas across the globe. Demand for the polymer foam is expected to grow in the packaging and construction sector due to promising properties of polymer foam and the trend is expected to continue and will augment growth of the polymer foam industry in the next 10 years. Growing demand for bio-based polyols and carbon-dioxide based polyols are anticipated to create the opportunities for key players in the global market. The bio-based polyols and carbon-dioxide based polyols are environmental friendly. Also, they offer excellent environmental benefits such as improved performance in fire resistance and heat generation. Further, it offers reduction in volume and toxicity of smoke produced. All these factors will support and boost the global market in the near future. Polymer foams are primarily manufactured using various processes such as bead foaming, extrusion foaming, injection foam molding, and batch foaming. Development of cost effective and advanced manufacturing process by the companies can further propel target market growth.
Scope of the Polymer Foam Market
| | |
| --- | --- |
| Report Highlights | Details |
| Market Size in 2023 | US$ 142.39 Billion |
| Market Size by 2032 | US$ 236.5 Billion |
| Growth Rate from 2023 to 2032 | CAGR of 5.8% |
| Base Year | 2022 |
| Forecast Period | 2023 to 2032 |
| Segments Covered | Type, Application |
| Regional Scope | North America, Europe, Asia Pacific, Latin America, Middle East & Africa (MEA) |
| Companies Mentioned | Kaneka Corporation, BASF SE, Dow Inc, Recticel, Huntsman Corporation, Rogers Corporation, Covestro AG, Sealed Air Corporation, Others |
Segment Analysis:
Polyurethane Foam Segment Emerged Leading Segment in the Overall Market
In 2020, polyurethane foam conquered the global polymer foam market in terms of revenue and is anticipated to uphold its governance during the estimate period. This type of foam is employed in numerous applications such as cushions, furniture, and carpets. Expanded polystyrene foam is lightest materials and due to its high strength to weight ratio, it finds application for packaging because it offers in less fuel consumption and transport price saving.
PU Foam are Predominantly Employed in the Building & Construction Sector for Insulation
Polymer foams find widespread usage in the construction sector for pipe-in-pipe, forging, doors, roof board, and slabs. It has small heat conduction coefficient, less density, moderately good mechanical strength, low water absorption, and good insulating characteristics that are useful in the construction industry. However, COVID-19 pandemic has impacted many end-use sectors, and almost all segments of the supply chain endure to be pretentious that also involve the construction sector.
North America is Estimated to be the Largest Market for Polymer Foam
The research report offers key drifts and prospects of polymer foams products across diverse geographical regions such as North America, Latin America, Europe, Asia-Pacific, and Middle East and Africa.
Asia Pacific described biggest share of total revenue generated by market in 2020 on account of huge demand in packaging and construction sectors. The developing economies in Asia Pacific are obtaining numerous foreign equipment; therefore, refining the production competence. Furthermore, industry participants implemented numerous business expansion policies, which further enhanced the complete production capacity in this region. One of the prevalent applications of polyolefin foams is in the construction sector. These foams are perceiving a larger level of reception in the construction and buildings industries along with the aerospace sector. This influence is the utmost contributor to the growth of polymer foam market in the Asia Pacific as developing countries from this region are undergoing speedy growth in infrastructure creation and construction activities.
Top Players contending in the Market:
Major market participants are accenting on tactics such as novel product launch, business development, alliances and acquisition to withstand the strong market rivalry. Foremost competitors contending in global Polymer Foams market are as follows:
Kaneka Corporation
BASF SE
Dow Inc
Recticel
Huntsman Corporation
Rogers Corporation
Covestro AG
Sealed Air Corporation
Others
In order to better recognize the current status of acceptance of Polymer Foams, and policies adopted by the foremost countries, Precedence Research predicted the future evolution of the Polymer Foams market. This research study bids qualitative and quantitative insights on Polymer Foams market and assessment of market size and growth trend for potential market segments.
Key Market Developments:
In 2018, The Dow Chemical Company announced start of new facility of rigid PU in Thailand, which is raw material of polymer foam. This development is anticipated offers advanced solutions and will raise the capacity of the company.
In 2019, BASF has expanded its research and development campus at Shanghai and developed its regional capacity. This is in order to cooperate with the automotive industries and to strengthen the position in the target market.
Major Market Segments Covered:
By Type
Polyurethane (PU)
Polyethylene (PE)
Polypropylene (PP)
Ethylene-Vinyl Acetate (EVA)
Others
By Application
Furniture and Bedding
Transportation
Packaging
Construction
Others
By Geography
North America
Europe

Germany
France
United Kingdom
Rest of Europe

Asia Pacific

China
Japan
India
Southeast Asia
Rest of Asia Pacific

Latin America

Brazil
Rest of Latin America

Middle East & Africa (MEA)

GCC
North Africa
South Africa
Rest of Middle East & Africa