The global power-to-x market size reached USD 282.45 million in 2022 and it is expected to hit around USD 857.83 million by 2032, poised to grow at a CAGR of 11.8% during the forecast period from 2023 to 2032.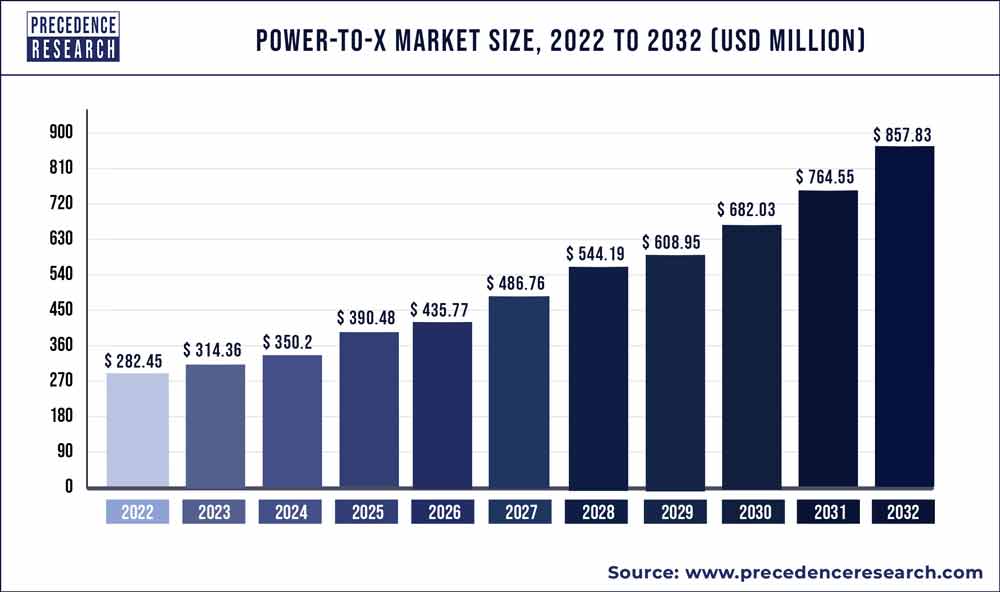 Access our Premium Real Time Data Intelligence Tool, Visit: Precedence Statistics
Power-to-x is a group of electricity conversion, energy storage, and reconversion pathways that require extra electricity, typically when the load exceeds the renewable energy supply, and the supply fluctuates. Power can now be employed outside of the electrical industry thanks to power-to-x conversion technologies. P stands for power, while X stands for the kind of energy gases, liquids, or heat that is changed from surplus electricity for storage. Additionally, renewable hydrogen can be used in secondary conversion processes, such as methanation and hydrogenation, to create a range of hydrocarbon compounds, as well as in the Haber-Bosch reaction to create ammonia. Power-to-X is a general term used to explain how energy changes into something else. Electrical heating, for instance, typically uses Power-to-X. utilizing electricity, like in the case of a boiler that generates heat for space heating or hot water.
Key Takeaways:
By Technology, the power-to-H2 segment has captured the highest revenue share of around 44.7% in 2022.
By End-use, the transportation segment has represented largest revenue share of 38.2% in 2022.

By End-use, the

agriculture segment has accounted revenue share of around 17.6% in 2022.
By Region, Europe power-to-x market has held revenue share of over 41% in 2022.
Growth Factors
The element hydrogen is the most prevalent on earth and holds great promise for innovation. It can be utilized as a fuel or energy source as well as a raw material in the manufacturing sector. Fuel-cell technology is already in use, and electrolysis technologies are about to become profitable. The power-to-x market is expected to grow at a significant rate owing to its demand.
The growing demand for energy.
Increasing demand of green hydrogen and ammonia.
Report Scope of the Power-To-X Market
Report Coverage
Details
Market Size in 2023
USD 314.36 Million
Market Size by 2032
USD 857.83 Million
Growth Rate from 2023 to 2032
CAGR of 11.8%
Base Year
2022
Forecast Period
2023 to 2032
Largest Market
Europe
By Type

Power-to-H2
Power-to-CO/Syngas/Formic Acid
Power-to-NH3
Power-to-Methane
Power-to-Methanol
Power-to-H2O2

By End Use

Transportation
Agriculture
Manufacturing
Industry
Residential
Others

Regions Covered

North America
Europe
Asia-Pacific
Latin America
Middle East & Africa

Key Market Drivers
The global market for green hydrogen will be driven by growing concern about reducing carbon emissions - Concern over carbon emissions and global warming is growing. Governments from all over the world have put in place a variety of laws and rules that demand a decrease in carbon emissions from different enterprises. During the electrolysis process, which yields hydrogen, water is split into hydrogen and oxygen using electricity. Resources, both renewable and nonrenewable, are used to produce electricity. Hydrogen can also be produced using electrolyzers that use electricity produced by solar or wind energy. This invention promotes the production of hydrogen which is good for the environment. In order to lessen their carbon footprint, many businesses opt for on-site electrolyzers with capacities ranging from 1 to 5 MW, which considerably fuels the expansion of the global industry.
Growing demand of energy - The requirement for the conversion of energy from one phase to another useable form is driving up the demand for Power-to-X technology from major businesses for heat, transportation, and energy generation. In the projected years, it's anticipated that the market for Power-to-X would rise because of the rising demand for hydrogen in sectors including steel manufacturing and refineries.
Advantages of energy storage - Power-to-advantages x's over currently being tested energy storage technologies like batteries and pumped hydro, which are scale, time, and site-specific and unable to transport energy over large distances, are a big factor in the market's revenue growth. P2X technology will make it simpler to incorporate renewable energy into other energy-intensive industries that are crucial to the world economy (including manufacturing, transportation, and agriculture), eventually replacing fossil fuels in these industries. Power-to-x fuels can aid in accelerating the process of decarbonization in various industries and achieving environmental objectives. This should accelerate the global market's revenue growth even more.
Key Market Challenges
A lack of knowledge regarding green ammonia - The development of green ammonia technology has only begun. Electrochemical synthesis, photochemical synthesis, or chemical looping are some of the methods used to directly produce ammonia from water and nitrogen. Nevertheless, these procedures come with a number of substantial technological difficulties, which call for time and R&D expenditures. For the most part, ammonia is still produced using traditional techniques. Among chemical makers, a lack of awareness is the biggest issue with green ammonia.
Moreover, the creation and storage of hydrogen has the potential to store extra renewable electric power for a long time, it is much less effective than alternative storage technologies. As a result, significant cost reductions in hydrogen production are required before it can compete.
Key Market Opportunities
Promoting the use of electric vehicles to expand the global green hydrogen market
Electric cars employ hydrogen fuel cells as its battery. Air pollution and, to a lesser extent, the use of fossil fuels, which are becoming increasingly scarce, are both decreased by electric vehicle reductions in carbon emissions. In order to promote the use of electric vehicles, several governments are providing consumers and manufacturers with a variety of rules and incentives. Governments all across the world, for instance, are putting in place electrified public transportation systems and building public infrastructure.
As the market for electric vehicles expands, it is also anticipated that the need for electrolyzes would rise as a result of the increased need for hydrogen. This means that during the projection period, these characteristics are anticipated to offer profitable chances for industrial expansion.
Segments Insight
Type Insights
On the basis of type, the power-to-hydrogen segment has dominated the market in 2022. Hydrogen generated from renewable resources can be converted into heat or electricity and used in a variety of ways to supply electricity and power homes. As a result, renewable energies will always be abundantly available in the event of weather-related power variations. Green hydrogen can be utilized as a bridge to transform green electricity or power into transportation fuel or to be used as a feedstock in industrial processes. Market participants will be able to incorporate wind energy into a container ship's fuel tank using green hydrogen and fuels created from it, including green ammonia. Hydrogen, therefore, has the capacity to significantly raise the decarbonization potential of renewable energy sources.
End Use Insights
On the basis of end-use, the transportation segment has dominated the market in 2022. The demand for eco-friendly automobiles with reduced environmental carbon emissions is predicted to increase, which will lead to growth in the transportation sector. The expansion of this market is being driven by the increase in the region's production and sales of electric vehicles that use rechargeable batteries. The inability of long-haul shipping, intercontinental aircraft, and heavy-duty trucking to convert power directly is also driving up demand for the Power-to-X industry during the projection.
Regional Insights
Geographically, Asia-Pacific is anticipated to remain one of the most enticing markets, accounting for the bulk of the market's revenue share throughout the course of the projection decade. During the projected period, Asia-Pacific is anticipated to be the segment with the most opportunity. In the Asia-Pacific green hydrogen market, China holds the greatest market share. China dominates the global market for green hydrogen, accounting for one-third of production with a 20 million-ton output. The demand for power-to-x technology is increasing as a result of the region's growing industrialization, urbanization, and support for renewable energy sources. These are some of the main drivers of the Asia Pacific industry's expansion.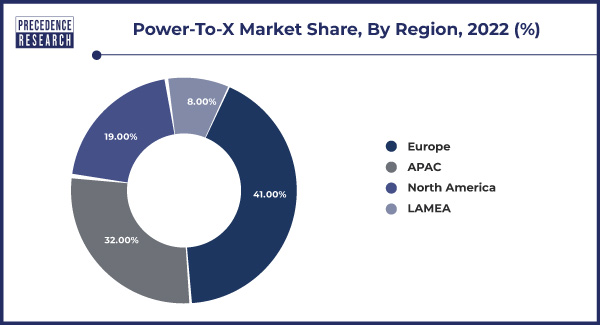 In 2022, Europe became the power-to-x market with the biggest revenue share. The region's growing reliance on renewable energy sources to achieve its vision of a carbon-free economy is largely responsible for the market's revenue growth. Additionally, the use of power-to-x technology to replace fossil fuels with carbon-neutral alternatives is anticipated to significantly contribute to market expansion. Due to the presence of key industry players in the area, including Linde, REFHYNE, and Ceres Power, the power-to-x market in Europe is predicted to experience strong revenue growth over the projection period.
Key Market Players
Air Liquide
MAN Energy Solutions
Linde
Mitsubishi Hitachi Power Systems
Air Products & Chemicals
Ceres Power
HPEM2GAS
FH2R
Thyssenkrupp
IRENA
Neles
Underground Sun Conversion
Weidmüller
Heat Smart Orkney
Copenhagen Infrastructure Partners
Jupiter 1000
Segments Covered in the Report
(Note*: We offer reports based on sub-segments as well. Kindly, let us know if you are interested)
By Type
Power-to-H2
Power-to-CO/Syngas/Formic Acid
Power-to-NH3
Power-to-Methane
Power-to-Methanol
Power-to-H2O2
By End Use
Transportation
Agriculture
Manufacturing
Industry
Residential
Others
By Geography
North America
Europe
Asia-Pacific
Latin America
Middle East & Africa (MEA)