The global prebiotic ingredients market was valued at USD 7.15 billion in 2022 and it is predicted to be worth around USD 22.71 billion by 2032, with a compound annual growth rate (CAGR) of 12.30% from 2023 to 2032.
Asia-Pacific region has garnered 44% revenue share in 2022.
Cereals segment accounted largest revenue share of 40% in 2022.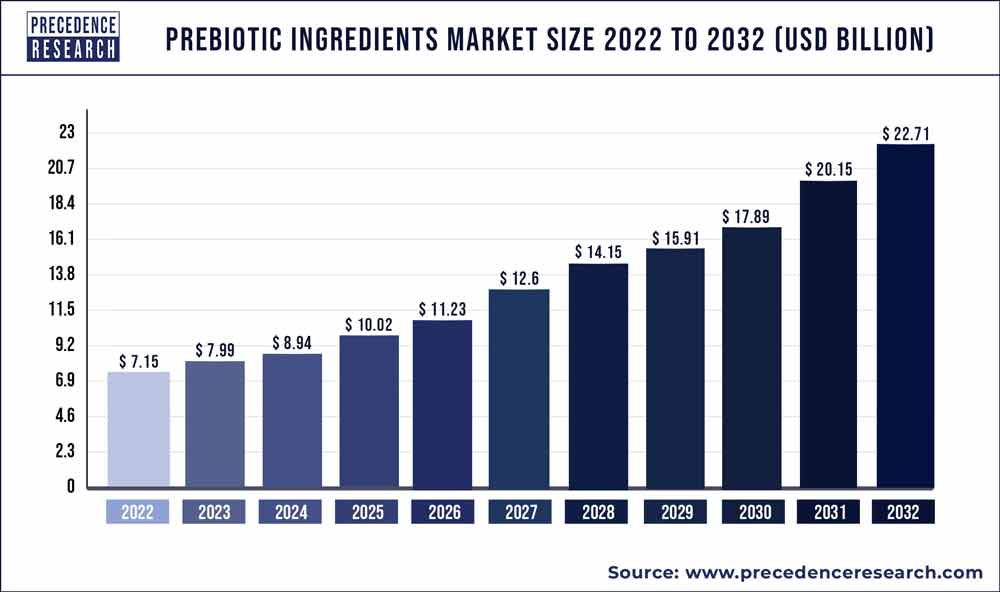 The expanding importance of nutraceutical goods, which have become a staple in consumer's dietary planning, is credited for this growth. Prebiotic substances are in high demand, especially in the food and beverage business, as consumers become more conscious of the need of living a healthy lifestyle. During the COVID-19 epidemic, there has been an increase in demand for prebiotics. Prebiotics are carbohydrates that are not digested by digestive enzymes and acids and support the growth and function of beneficial bacteria in the human intestine. They improve intestinal barrier function, immune system strength, reduce gastric inflammation, improve overall gastrointestinal health, reduce the risk of diarrhoea, increase calcium absorption and increase bone density, Reduces risk factors for cardiovascular disease. Studies show that over 1,300 foods and beverages contain prebiotic ingredients. These are used by manufacturers in various end-use sectors to create low-calorie products that drive the growth of prebiotic ingredients. The prebiotic ingredient market is expected to grow as the demand for healthy diets containing prebiotic ingredients increases. In addition, increasing global demand for dairy products is expected to have a significant impact on the prebiotic ingredients market. Increasing the multifunctional use of prebiotic ingredients in various industries is expected to create untapped opportunities for market players from 2023 to 2032.
Growth Factors
The size of the prebiotic food and beverage application market is expected to increase by almost 6.5% over the expected time frame. Increasing health concerns and increasing demand for functional foods such as almonds, fruit juices and soybean can drive business development. These are commonly used in drinks like kefir for immune regulation and lowering cholesterol. Spreading and raising awareness of prebiotics as a dietary supplement ingredient. These two points serve as the main drivers of growth for this market. In recent years, the trend towards prebiotics has been to incorporate these ingredients into foods and beverages. This has resulted in prebiotic ingredients market being the largest food and beverage segment in 2022. Increased lactose intolerance such as gastric spasm, flatulence, nausea and gas diarrhoea will boost demand for prebiotics. Furthermore, since 2020, the COVID-19 outbreak had a beneficial impact on overall prebiotic component increase. Because of increased health awareness and consumer comprehension of prebiotic advantages, prebiotic ingredients are in high demand in the dietary supplement and food and beverage industries.
Report Scope of the Prebiotic Ingredients Market
| | |
| --- | --- |
| Report Coverage | Details |
| Market Size by 2032 | USD 22.71 Billion |
| Growth Rate from 2023 to 2032 | CAGR of 12.30% |
| Largest Market Share in 2022 | North America |
| Fastest Growing Region | Asia Pacific |
| Base Year | 2022 |
| Forecast Period | 2023 to 2032 |
| Segments Covered | Type, Application, Source, Function, Geography |
| Companies Mentioned | Cargill, Incorporated, Jarrow Formulas, Inc., BENEO GmbH, Royal Cosun, Cosucra Groupe Warcoing SA, Nexira, Yakult Honsha Co.Ltd., Prenexus Health |
Type Insights
Fructo-oligosaccharide
Plant sugars are joined in chains to form fructo-oligosaccharides. They're derived from Jerusalem artichokes, soybeans and asparagus or they're created in a lab. These sugars are used to produce medication. Fructo-oligosaccharides move into the colon undigested, where they increase intestinal bulk and encourage the growth of bacteria that are regarded to be healthy. They are made up of linear fructose units connected by beta (2-1) bonds. The amount of fructose units varies from 2 and 60, and they frequently end in a glucose unit. Small intestine glycosidase do not hydrolyse dietary FOS, therefore it reaches the cecum intact. The intestinal bacteria break them down into short-chain carboxylic acids, L-lactate, CO(2), hydrogen, and other metabolites. FOS has a number of unique characteristics, including a low sweetness intensity, as well as being calorie-free, non-cariogenic, and classified as soluble dietary fibre. Fructo-oligosaccharide consumption has been linked to a number of health advantages. Their consumption boosts immunity and enhances calcium, iron, zinc, and magnesium absorption in the large intestine.
Oligosaccharides that isn't carbohydrate-based
Non-carbohydrate oligosaccharides are low molecular weight carbohydrates, essentially between monosaccharide's and polysaccharides. Carbohydrates tend to meet the criteria of the definition of prebiotics but, some substances, such as cocoa-derived flavanols, are not categorised as carbs but are recommended to be classed as prebiotics. Non-carbohydrate based oligosaccharides are said to act as dietary fibres and prebiotics, and they have crucial physicochemical and physiological features. Different populations around the world suffer from one or more forms of neurodegenerative disease, and NDO may be an adjunct complementary therapy option for these oxidative diseases.
Galacto-oligosaccharides
GOS are currently synthesised utilising lactose as a substrate by glycoside hydrolases. The conversion of lactose to GOS by GH results in a mixture containing GOS with different degrees of unreacted lactose, polymerization (DP) and monosaccharides. Due to the existence of carbon and C-C and C-H covalent bonds, Galacto-oligosaccharides are an organic chemical like the other carbohydrates. GOS are crucial storage oligosaccharides in species that can synthesise them. For other organisms that cannot produce them due to the lack of genes specific to the required enzymes, Galacto-oligosaccharides is primarily used as a source of soluble dietary fibre.
Oligosaccharides Derived from Starch and Glucose
When compared to other more frequent carbohydrates which are referred as disaccharide category, oligosaccharides are carbohydrates that contains single sugar residue and are not as common in the diet. Any sugar macromolecule can be used to make oligosaccharides, but fructooligosaccharides and galactooligosaccharides have received the most attention.
Inulin
Inulin segment accounted largest revenue share 47% in 2022 and is expected to reach at a CAGR 10% from 2023-2032. Inulin a sort of water-soluble fiber discovered in lots of vegetation has been proven to assist with intestinal health. Inulin is also fructans. It's a prebiotic, like different fructans, which means it feeds the wholesome microorganism for your intestine. Fructose is made from a sequence of fructose molecules related collectively. The molecules bond together to prevent the small intestine from being broken down, they waft to the lower intestine, in which they nourish beneficial gut microorganism.
Application Insights
Based on Food and beverage application
The food and beverages segment accounted market share of around 72% in 2022. The benefits of prebiotics for stimulating a healthy intestine are well known. From controlling pathogens to increasing natural gut bacteria, prebiotics are everything. As prebiotic research advances, new applications emerge on a daily basis, providing consumers with more options for living a healthy lifestyle. The benefits of prebiotics for stimulating a healthy intestine are well known. From controlling pathogens to increasing natural gut bacteria, prebiotics are everything. As studies into the usage of prebiotics increases, new makes use of are introduced daily, giving clients extra alternatives for wholesome living. The marketplace is gaining prominence from new and rising prebiotics, such as probability of emergence of polyphenols, neo-agaro-oligosaccharides as prebiotics, and the effects of human milk oligosaccharides. A new examine has found out the probable fitness advantages of human milk oligosaccharides (HMOs) via influencing the intestine barrier and immune function.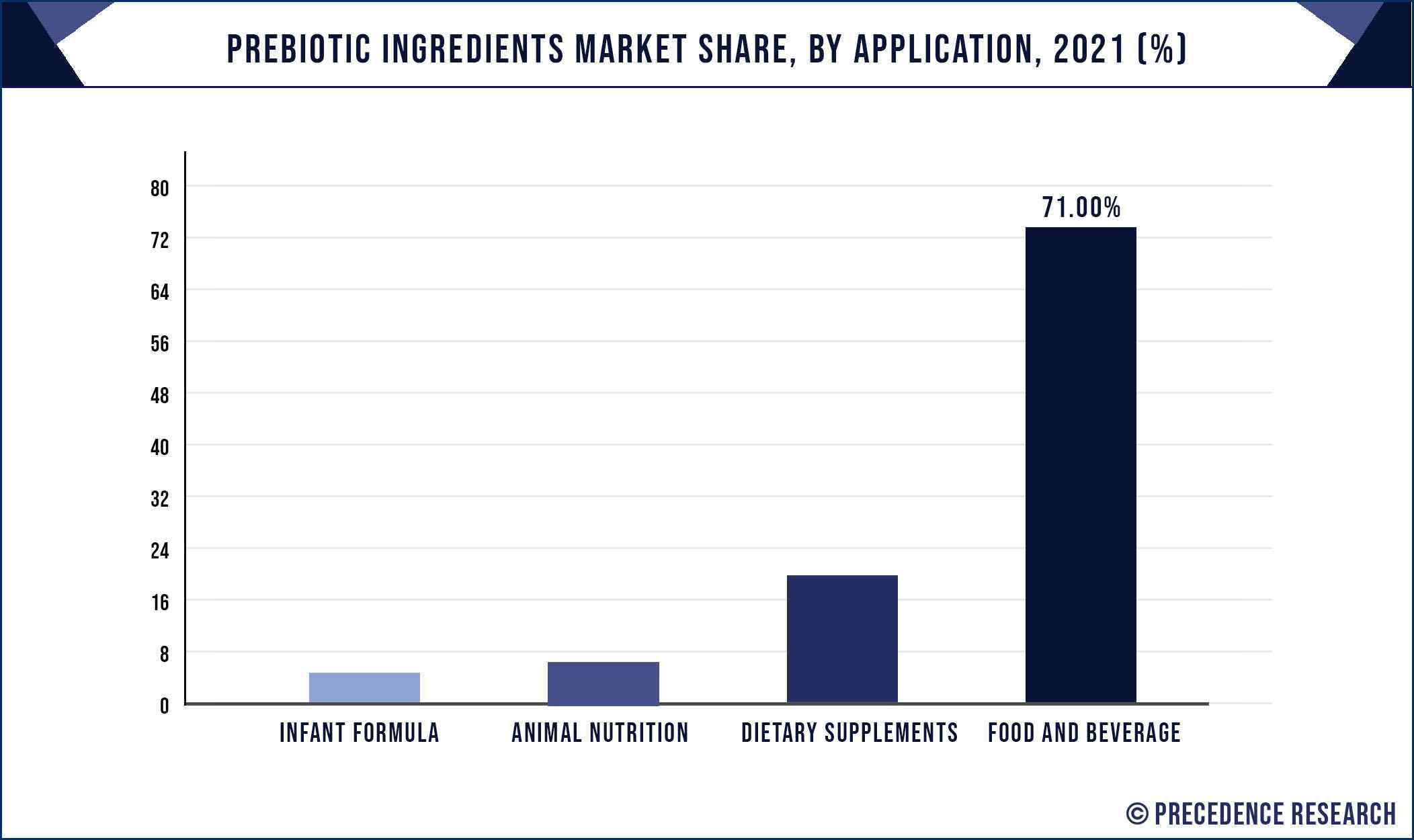 Based on Dietary Supplements
The dietary supplement segment is estimated to experience the fastest CAGR, by volume, during the forecast period. Increased demand in the production of symbiotic and increased application to infant formula is expected to increase over the next 10 years. Over the projected period, the increased use of FOSin dietary fibres and their capacity to prevent gastrointestinal illnesses is expected to boost market demand. Food supplements, nutritional supplements, specialist nutrients, and infant formula are all types of prebiotics dietary supplements.
Infant formula Insights
In 2022, the global market for baby infant formula surpassed USD 58.80 billion, with a readjusted size of USD 36350 million by 2032, with a CAGR of 3% over the review period, owing to the COVID-19 pandemic. Due to their considerable spending power, the middle class is the engine of development in many emerging economies. The global baby nutrition industry is predicted to grow due to changing lifestyles, female engagement in the workforce, a lack of time and inconvenience, and a low breastfeeding rate. Toddler baby formula is given to children from one to three years old, and it is also incorporated in the diets of young children. The segment benefits from a lack of acceptable alternatives, as only breast milk is a suitable substitute for conventional milk formula in China, Indonesia, India, Brazil, Philippines and other rising countries with a significant new-born population.
Animal Nutrition Insights
Animal nutrition is concerned with the dietary requirements of animals used in food production and agriculture, as well as zoos, aquariums and wildlife management. Increase in demand for safe and nutritious animal feed, restrictive use of antibiotics, and growing producer awareness of animal health are all propelling the animal nutrition market forward. With revenue exceeding USD 1325 million in 2022, China was one of the major regional markets for feed additives. Global rise in demand for animal-derived protein is expected to treble by 2050, according to the Food and Agriculture Organization.
Regional Insights
The Asia Pacific region dominated the prebiotic ingredients market and accounted largest revenue share 44% in 2022. North America region is expected to witness strong growth over the forecast period 2023 to 2032.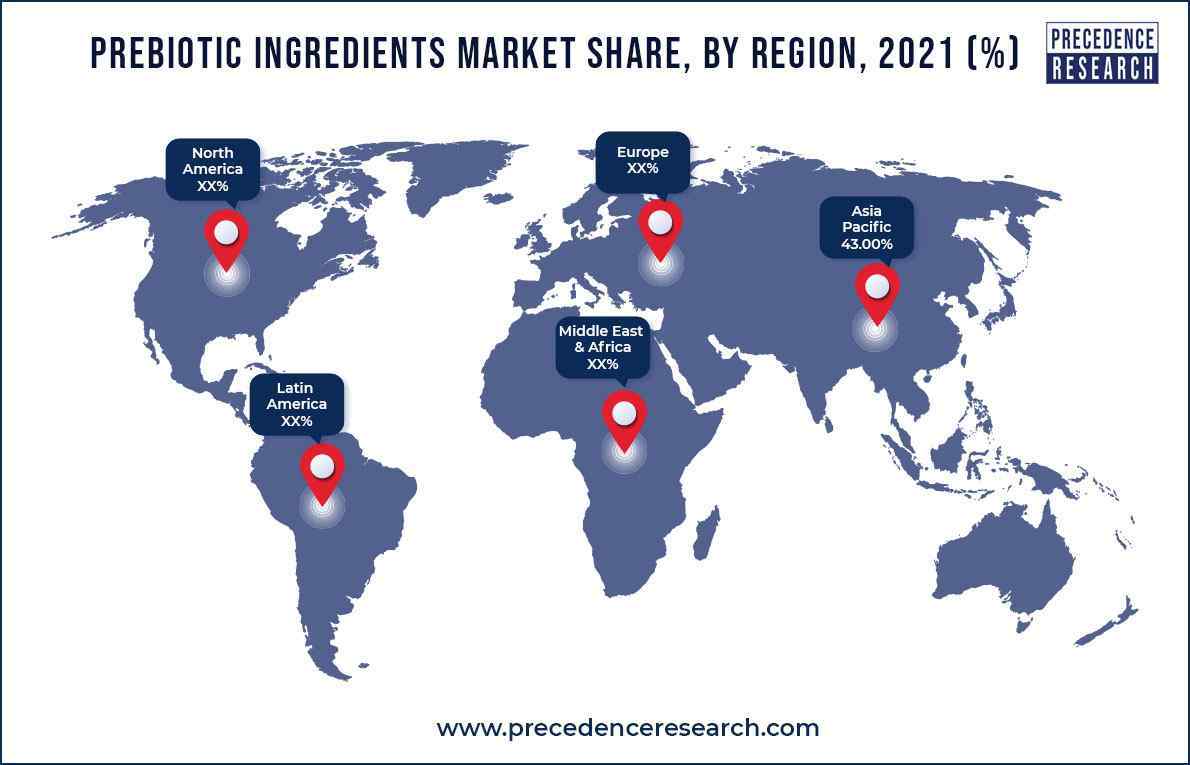 KEY MARKET PLAYERS
Cargill, Incorporated
Jarrow Formulas, Inc.
BENEO GmbH
Royal Cosun
Cosucra Groupe Warcoing SA
Nexira
Yakult Honsha Co.Ltd.
Prenexus Health
KEY MARKET DEVELOPMENTS
Tereos SA established an R&D centre in Singapore in 2018, offering innovative solutions to the Asia-Pacific food sector and using the group's vast product portfolio to meet regional demand for noodles, bakery items, confectionary, teas, sauces, snacks, and beverages.
Because 70 percent of immune cells are present in the gut, the COVID-19 pandemic has caused a shift in consumer food behaviour, with 56 percent of European consumers linking prebiotics with immune wellness. Furthermore, firms such as Kellogg's are diversifying their gut-health portfolios with the introduction of new prebiotic cereals, paving the door for more prebiotic ingredient expansion post-COVID-19. With 70% of immune cells present in the intestine, the COVID-19 pandemic promotes dietary changes in consumers, with 55% of European consumers linking prebiotics to immune health. In addition, companies like Kellogg have diversified their gut health portfolio with the launch of new prebiotic cereals, paving the way for further expansion of prebiotic components after COVID-19.
According to Census, 328 new products were introduced to the European confectionery market last year, with labels showing oligofructose, chicory root fiber, or inulin. The UK accounted for 11% of these launches. Increasing acceptance of dietary supplements among the elderly and increasing prevalence of lifestyle problems are driving the European dietary supplement industry. To address health issues, healthcare professionals in the region provide patients with dietary supplements containing prebiotic ingredients. Rising urbanisation and change in lifestyles of consumers are driving the bakery business. Over the last two decades, there has been a significant transformation in worldwide lifestyles and eating patterns. Emerging nations in Central and South America, as well as Asia Pacific, are proving to be lucrative markets for baked products.
SEGMENTS COVERED IN THE REPORT
(Note*: We offer report based on sub segments as well. Kindly, let us know if you are interested)
By Type
Fructo-oligosaccharide
Oligosaccharides that aren't carbohydrate-based
Galacto-oligosaccharides
Oligosaccharides Derived from Starch and Glucose
Insulin
Others
By Application
Food and Beverage
Dietary Supplements
Infant formula
Animal Nutrition

Ruminant
Poultry
Swine
Aquaculture
Other
By Source
By Function
Gut Health
Bone Health
Immunity
Heart Health
Weight Management
By Geography
North America
Europe
Asia-Pacific

China
India
Japan
South Korea
Malaysia
Philippines

Latin America

Brazil
Rest of Latin America

Middle East & Africa (MEA)

GCC
North Africa
South Africa
Rest of the Middle East & Africa