The global 3D printed surgical models market size is anticipated to reach around USD 2,147.65 million by 2032 up from USD 529.94 million in 2022 with a CAGR of 15.02% between 2023 and 2032.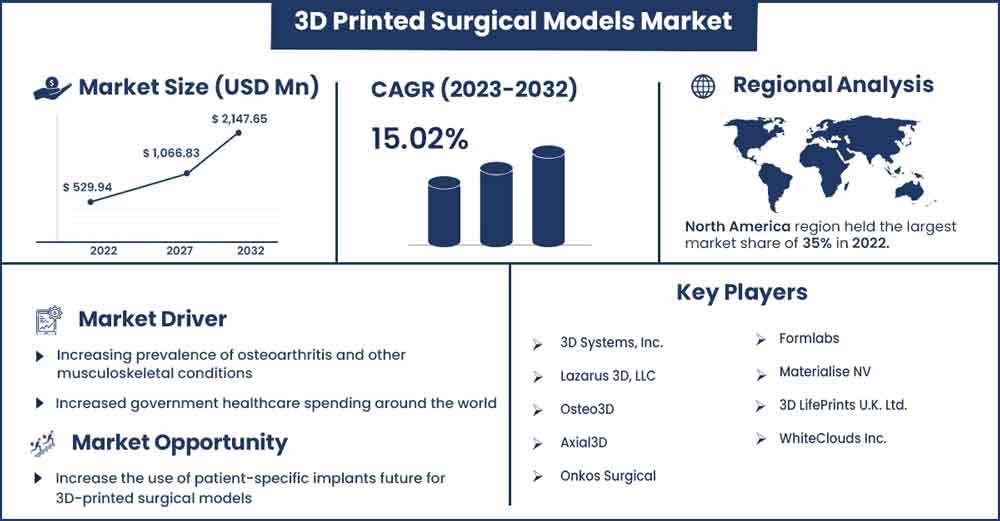 3D-printed surgical models offer a high level of precision and customization, allowing surgeons to plan and practice complex procedures before they are performed on the patient. This can help to improve surgical outcomes and reduce complications. By using 3D-printed surgical models, surgeons can reduce the time and cost associated with traditional surgical planning methods, such as manual modeling or cadaveric dissection. 3D printed surgical models can help to improve patient outcomes by enabling surgeons to better understand the anatomy of the patient and plan procedures more accurately. With advancements in 3D printing technology, the cost and accessibility of 3D printing have improved, leading to increased adoption in the healthcare industry.
Covid 19 Impact.
COVID-19 had a negative impact on the 3D-printed surgical models market due to supply chain disruptions and government restrictions. Moreover, because of the decrease in 3D-printed surgical model equipment production, the introduction of COVID-19 has hampered MRI and X-ray demand. As a result of the COVID-19 epidemic, key market players saw a significant drop in revenue. Healthcare resource reallocation, decreased patient visits, supply chain disruptions, and other essential factors influenced the sale of 3D-printed surgical model equipment. However, due to the earlier easing of restrictions, the market will resume its growth in the post-pandemic period.
3D Printed Surgical Models Market Report Scope:
| | |
| --- | --- |
| Report Coverage | Details |
| Market Revenue in 2023 | USD 609.54 Million |
| Projected Forecast Revenue by 2032 | USD 2,147.65 Million |
| Growth Rate from 2023 to 2032 | CAGR of 15.02% |
| Largest Market | North America |
| Base Year | 2022 |
| Forecast Period | 2023 to 2032 |
| Regions Covered | North America, Europe, Asia-Pacific, Latin America, and Middle East & Africa |

Market Dynamics:
Drivers:
Increased government healthcare spending around the world driving industry growth
Increased government healthcare spending around the world enables surgeons to perform surgery more accurately and effectively, resulting in an increasing number of successful surgeries. The demand for minimally invasive procedures has increased, and it helps fuel the market growth during the forecast period. Medical science technological advancements and innovations are helping to drive market growth.
The growing aging population and demand for minimally invasive surgical procedures are improving the global market for 3D-printed surgical models. The global surgical models market is driven by an increase in persistent disorders and the implementation of modern technologies such as blended deposition modeling and stereolithography to print curative models.
Restrains:
Ethical challenges
Clinical trial design will also be problematic: it would be unethical to test tissue-engineered organ transplantation on healthy subjects, and patient-specific cell populations would require the patient to act as their control, introducing a high degree of heterogeneity when attempting to assess treatment efficacy. This could be especially problematic when interpreting positive clinical trial results: how much of the effect is due to the patient's innate response to treatment, and how much is due to the printed products. Before beginning any clinical trials of value in this area, a valid and comprehensive method of evaluating the effect of published interventions must be formally defined.
Opportunities:
Future development
Researchers worldwide have noted the development of complex human tissue arrays and organoids to better create 3D models of complex diseases such as cancer. 3D vascularized tumor models, "organ on a chip", has been developed to better understand the complex interplay between cancer and multi-organ metastasis and paracrine signaling mechanisms in regulating breast cancer metastasis. This novel application of 3D printing has the potential to advance our understanding of complex diseases and develop novel personalized treatments for diseases like cancer, which currently kills one in every seven people worldwide.
The continued advancement and application of this foundational technology promises to make the creation of bespoke tissue-engineered constructs and "made-to-order" solid complex organs a reality one day. The last two decades have seen the development of intelligent bio-inks, the refinement of printing techniques, and the production of novel biomaterials to aid in creating custom scaffolds to support cellular growth. Since 2014, several 3D bioprinting companies, start-ups, and R&D spinouts have entered the market, helping to commercialize this novel technology and creating a projected market value based on the early success and novel applications of 3D printed products. With a market value estimated to be around $680 million in 2022, industry reports predict growth to exceed $1.9 billion by 2032.
Specialty Landscape:
Based on Specialty, the Orthopedic surgery segment dominated the market share. The main drives of market expansion for orthopedic surgery are the growing elderly population globally and the rising prevalence and incidence of orthopedic ailments over the forecast period. On the other hand, the neurosurgery segment is expected to grow with a CAGR in the forecast period due to an increase in neurological cases.
Technology Landscape:
Based on technology, 3D-printed surgical models were driven by the Color Jet Printing (CJP) category, which generated the most significant market share in during the projection period. This is due to CJP 3D printing labs saving money by using CJP printers. FDM technology belongs to the material extrusion technology class. It is office friendly, simple to use, quick, and allows low-cost development of a prototype, making it ideal for doctors interested in entering the field of 3D printing. It has good growth potential in the market for 3D-printed surgical models.
Material Landscape:
Based on the materials, Plastic materials dominated the market in 2022 with a market share for 3D printed surgical models The high market share for plastic materials is expected to be influenced by the relatively low cost. The availability of improved thermoplastics, the presence of biodegradable plastics, and the plastics are more flexible, compatible with 3D printing technologies, and reusable.
Regional Landscape:
North America is expected to account for the largest share of the 3D printed surgical models market due to the presence of leading medical device companies and the increasing adoption of 3D printing technologies by augmenting R&D capabilities. These medical firms in the United States focus on speed, accuracy, and value-added services for physicians and patients.
In the United States, for instance, there are over 6,500 medical device companies, most of which are small and medium-sized businesses (SMEs). Due to the rapid growth in medical additive manufacturing and the increasing cases of chronic diseases, Asia Pacific is expected to be the fastest-growing region in the 3D printed surgical model market. As a result, the Asian healthcare industry is constantly looking for new technologies, such as 3D printing, to provide quality care to patients at a reasonable cost.
Recent Development:
In 2021, the company's Mimics Enlight cardiovascular planning software suite will include new Left Atrial Appendage Occlusion (LAAO) procedure support technologies, expanding Materialize 3D printing capabilities in cardiology.
In 2020, Fast Radius collaborated with Axial3D to launch a new DICOM-to-print solution for surgeons and hospitals across North America.
Major Key Players:
3D Systems, Inc.
Lazarus 3D, LLC
Osteo3D
Axial3D
Onkos Surgical
Formlabs
Materialise NV
3D LifePrints U.K. Ltd.
WhiteClouds Inc.
Market Segmentation:
This report forecasts revenue growth at the global, regional, and country levels, as well as an analysis of the most recent industry trends in each of the sub-segments from 2023 to 2032. Precedence Research has segmented the global 3D printed surgical models market report based on specialty, technology, material, and region for this study:
By Specialty
Cardiac Surgery/Interventional Cardiology

Annuloplasty (mitral valve repair)
Repair Coronary Aneurysm
Replacement of Aortic Valve
Stent Insertion
Repair Congenital Heart Defects

Gastroenterology Endoscopy of Esophageal

Endoscopy of Esophageal lesion
Splenectomy

Neurosurgery

Repair Aneurysm
Transsphenoidal Excision of Pituitary Gland
Remove Brain Tumor

Orthopedic Surgery

Repair Scoliosis
Repair Clavicle Fracture
Hip Repair
Repair Intervertebral Disc
Hip Replacement Revision
Repair Leg Fracture
Osteotomy
Reconstructive Surgery
Facial Reconstruction
Hand Reconstruction
Breast Reconstruction
Mastoidectomy
Cleft Palate Correction

Surgical oncology

Removal of Adrenal Tumor
Removal of Liver Tumor
Endoscopic Removal of Cardiac Lesion
Thoracic Removal of Lung Tumor
Removal of Renal Tumor

Transplant Surgery

Cardiac Surgery/ Interventional Cardiology
Heart Transplant
Liver Transplant
Lung Transplant
Kidney Transplant
By Technology
Stereolithography (SLA)
ColorJet Printing (CJP)
MultiJet/PolyJet Printing
Fused Deposition Modeling (FDM)
By Material
Buy this Research Report@ https://www.precedenceresearch.com/checkout/2769
You can place an order or ask any questions, please feel free to contact at sales@precedenceresearch.com | +1 9197 992 333