The global advanced optics market size was evaluated at USD 254.4 billion in 2022 and is expected to touch around USD 594 billion by 2032, growing at a noteworthy CAGR of 8.9% from 2023 to 2032.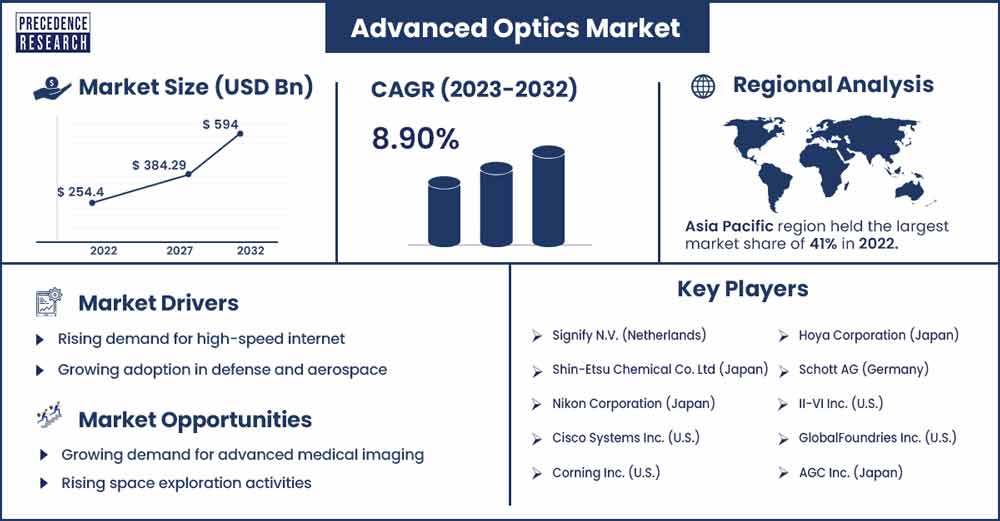 Market Overview
Advanced optics refers to the branch of physics and engineering that deals with the study and application of optical phenomena and technologies that go beyond the basic principles of classical optics. It involves the development and utilization of complex optical systems, materials, and techniques to achieve specific goals or to explore phenomena at a more advanced level. Advanced optics encompasses a wide range of topics and applications such as quantum optics, nonlinear optics, optical imaging, fiber optics, adaptive optics, laser technology and others.
The market growth of advanced optics is driven by various factors such as increasing demand for high-resolution imaging, the rising demand for high-speed internet and data transmission, growing usage of advanced optics in manufacturing and growing applications in the medical and healthcare sector. In addition, advanced optical sensors are used in environmental monitoring such as detecting air and water pollution, measuring greenhouse gases, and assessing weather patterns, increasing concerns about the environment and climate change are bolstering the market growth.
According to the Australian Competition & Consumer Commission's most recent figures, in December 2022, Australian internet users downloaded more than 12.2 million Terabytes (TB) via broadband and mobile data. Moreover, 83% of mobile data traffic, or around 10.1 million TB, comes from NBN connections.
The most recent ITU statistics show that the percentage of people who use the Internet increased from 54% in 2019 to 66% in 2022, when there were 5.3 billion users worldwide.
According to the Semiconductor Industry Association (SIA), sales of semiconductors worldwide in August 2023 were $44.0 billion, up 1.9% from July 2023.
Sony has a range of high-end mirrorless cameras called Alpha. Based on Euromonitor data, the business sold around 2.11 million units worldwide in 2022. Of them, 150,000 were sold in China, while the remaining 90% were sold overseas, indicating that Thailand has become the primary location for Sony's Chinese manufacture.
According to new statistics from OpenVault, broadband usage grew by 40% in the last year, the greatest annual growth rate in over a decade. People are said to have been using their smartphones more at home, mostly for streaming video, which has caused a huge increase.
Regional Insights
Asia Pacific is expected to hold the largest market share during the forecast period owing to the rapid economic growth. In the region, countries like China and India have been experiencing rapid economic growth. This growth has led to increased investments in research and development, technology, and infrastructure, which in turn, fuels the demand for advanced optics across various industries. Moreover, the region has a major producer of consumer electronics such as smartphones, tablets and televisions.
For instance, according to the data released by the government in China, from 64.6 million in August to 83.5 million in September, the number of smartphones exported increased by about 30%. In addition, the growing internet penetration along with rising government initiatives is expected to propel the market growth during the forecast period.
By 2025, more than 1 billion people are anticipated to be using the internet in India, making it the world's second-largest internet market.
The rising affordability of smartphones has contributed to India's expanding internet penetration. A smartphone in India costs around USD 150 on average in 2023, which is significantly less than it did the year before.
A contributing factor to the rise in internet penetration in India is the development of mobile broadband networks. More than 1.1 billion mobile phone connections existed in India in 2023, with over 900 million of those being 3G or 4G connections.
The Indian government has taken action to encourage digital literacy throughout the nation. The government started the Digital India Program in 2023 to provide broadband internet to every Indian hamlet and teach 500 million people digital skills.
Thus, the aforementioned stats support the market growth for advanced optics over the forecast period.
Advanced Optics Market Report Scope:
| | |
| --- | --- |
| Report Coverage | Details |
| Market Revenue in 2023 | USD 275.77 Billion |
| Projected Forecast Revenue by 2032 | USD 594 Billion |
| Growth Rate from 2023 to 2032 | CAGR of 8.9% |
| Largest Market | Asia Pacific |
| Base Year | 2022 |
| Forecast Period | 2023 to 2032 |
| Regions Covered | North America, Europe, Asia-Pacific, Latin America, and Middle East & Africa |

Market Dynamics
Drivers
Rising demand for high-speed internet
The growing demand for high-speed internet and data transmission is expected to propel the growth of the market over the forecast period. The utilization of advanced optical components in fiber optics is very critical. For instance, in 2023, the median mobile data download speed in Australia was 86.01 Mbps, which was marginally faster than the 53.06 Mbps fixed data connection speed. Thus, this is expected to drive the market growth over the forecast period.
Growing adoption in defense and aerospace
The defense and aerospace sectors utilize advanced optics for applications like targeting, surveillance, and missile guidance. The need for high-performance optical systems in these industries continues to drive market growth during the forecast period.
Restraints
High cost of advanced optics
Advanced optical systems often involve complex components and precision manufacturing, making them expensive. This expensive nature might limit the utilization in certain applications, especially in price-sensitive industries. Thus, the high cost of advanced optics is expected to be a major challenge to the market growth over the forecast period.
Lack of skilled workforce
The development and operation of advanced optics systems require a skilled workforce with expertise in optics, photonics, and related fields. For instance, the US manufacturers reported that there is 83% of skilled personnel shortages. Thus, the lack of skilled workforce is expected to limit the market growth during the projection period.
Opportunities
Growing demand for advanced medical imaging
With the growing prevalence of various diseases across the globe, the need for advanced medical imaging is critical, which in turn drives the market growth for advanced optics. For instance, in April 2023, the first product development order for a next-generation urological endoscopy program worth roughly $1.3 million was received by Precision Optics Corporation, Inc., a renowned designer and manufacturer of cutting-edge optical instruments for the medical and defense industries.
Precision Optics will become the developer of the whole endoscopic imaging system as a result of the development program, increasing the company's value-added solutions role from only providing componentry. The Company's special blend of knowledge in digital imaging, medical systems, micro-optics, and system integration is leveraged in this opportunity. Therefore, this kind of investment in the industry positively influences the market growth during the anticipated timeframe.
Rising space exploration activities
The space industry continues to evolve, offering opportunities for advanced optics in telescopes, space-based communications, and earth observation. Private and government funded space programs are creating a demand for advanced optical systems. For instance, the sum of money that governments throughout the world have spent on space initiatives has reached a record of almost 103 billion dollars. The United States Government is the nation with the largest space spending in the world, having invested almost 62 billion dollars on space initiatives in 2022.
Recent Developments
In June 2023, the world leader in metasurface optics, Metalenz, announced that it has joined forces with United Microelectronics Corporation, a top semiconductor foundry, to extend its direct supply chain to mass production and provide the optics sector access to the unparalleled size and accuracy of semiconductor manufacturing. With this development, Metasurface Optics will make its public debut. Metalenz has already won several design awards from top Asian OEMs.
In June 2023, the groundbreaking TRUVIEWTM digital microscopy platform, which includes the exclusive TRUprepTM system that automatically prepares slides and LiquiViewTM liquid lens technology that produces best-in-class images, was introduced by Zomedica Corp., a leading innovator in veterinary medicine that offers diagnostic and therapeutic products for companion animals.
In April 2023, Voyis Imaging Inc., a developer of subsea optical inspection technologies, unveiled a new product line called Discovery Vision Systems, promising to improve ROV vision systems and give operators a higher degree of situational awareness. This will enable real-time 3D perception and high-resolution video for applications involving piloting, inspection, and autonomy.
In February 2023, with a potential upgrade to 1.6 Tbps, Fujitsu announced the debut of its 1FINITY Ultra Optical System, an ultra-reliable optical transport platform that offers high performance and scalability with data speeds of 1.2 Tbps on a single wavelength. In the first half of 2023, Fujitsu plans to introduce the new platform to cloud infrastructure providers (CIPs) and communications service providers (CSPs) worldwide. The platform will initially be made available to customers in North America, Japan, and Europe, where Fujitsu has recently increased the availability of its entire portfolio of networking, optical, and wireless software solutions.
In June 2023, a new range of sophisticated, software-managed, temperature-and cyber-hardened layer 2 and layer 3 fiber optic switching devices has been introduced by Actelis Networks, Inc., a global leader in cyber-hardened, quick deployment networking solutions for wide-area Internet of things applications. With this update, Actelis will be able to serve hybrid fiber-copper networks that have a higher percentage of fiber by offering a far wider range of options for both small and big networks, at faster speeds.
Key Market Players:
Signify N.V. (Netherlands)
Shin-Etsu Chemical Co. Ltd (Japan)
Nikon Corporation (Japan)
Cisco Systems Inc. (U.S.)
Corning Inc. (U.S.)
Hoya Corporation (Japan)
Schott AG (Germany)
II-VI Inc. (U.S.)
GlobalFoundries Inc. (U.S.)
AGC Inc. (Japan)
Hamamatsu Photonics K.K. (Japan)
Gooch & Housego PLC (U.K.)
Excelitas Technologies Corp. (U.S.)
Imagine Optic SA (France)
Iris AO, Inc (U.S.)
Boston Micromachines Corporation (U.S.)
Flexible Optical B.V. (Netherlands)
Active Optical Systems, LLC (U.S.)
Northrop Grumman Corporation (U.S.)
Market Segmentation
By Technology
By Application
LiDAR
Lighting Solution
Optical Communication
Intelligence, Surveillance & Reconnaissance (ISR)
Medical Equipment
Camera
Metrology Devices
3D Scanner
Others
By End-Use Industry
Commercial
Industrial
Defense
Medical
Aviation (Drone)
Automotive
Space
Others
Buy this Research Report@ https://www.precedenceresearch.com/checkout/3298
You can place an order or ask any questions, please feel free to contact at sales@precedenceresearch.com | +1 9197 992 333