The global agricultural drones market size is anticipated to reach around USD 7.19 billion by 2032 up from USD 1.1 billion in 2022 with a CAGR of 20.7% between 2023 and 2032.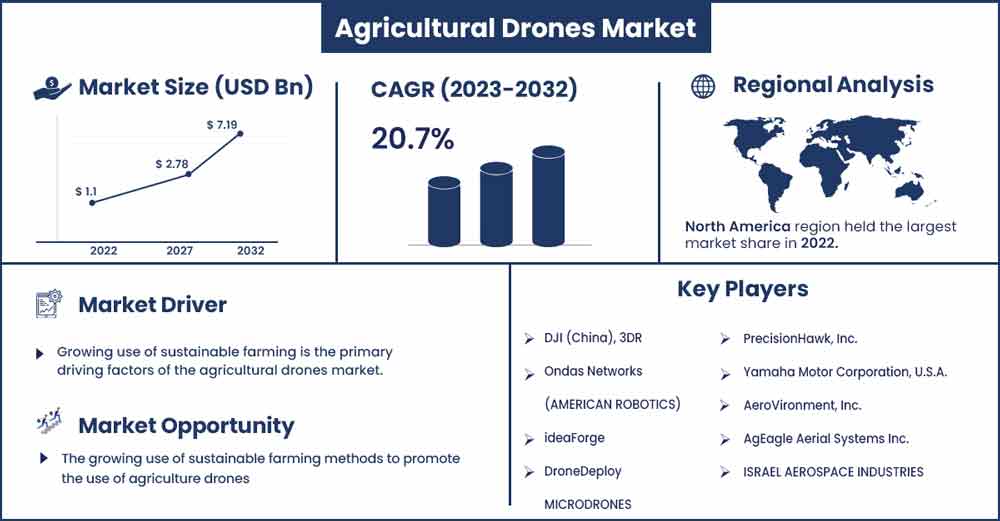 The pressure on the world's food supply brought on by population growth as well as an increase in venture capital funding for the development of agriculture drones are what are fueling the market's growth. Technology growth resulted in the creation of drones, which increased agricultural output. Another element boosting the market's growth is the popularity of software solutions for data analysis and field research. Drones for agriculture are unmanned aircraft used to monitor crop development and increase crop yield in order to enhance agricultural operations. Digital photography capabilities of drones offer a more thorough picture of the fields, increasing farm productivity.
It makes it possible to deal with problems like irrigation, fungus infestations, and different types of soil. It's used to monitor farmers, livestock, and other things. Unmanned aerial vehicles, or drones, are light aircraft that can carry up to 20 kg (50 lbs). Due of their size, a human body cannot board them. Drones can be operated in two different ways: manually by a person via a wireless remote control, or autonomously by the vehicle itself, which follows a course determined by GPS or other sensors. In agricultural, drones lessen pollution. The use of pesticides in the fields might vary. Drones in agriculture can help farmers decide where to evenly spray pesticides, as too much can result in a variety of health issues.
The amount of chemicals used by agricultural producers may be decreased if the drones were outfitted with the tools required to scan the ground and uniformly spray the chemical. The need for a contemporary agricultural solution is being driven by the rising need for food production and consumption, which has resulted in an all-time high in the global supply chain and an all-time low in commodity prices. Drones have also revolutionized the global agriculture sector by boosting productivity, bringing down costs, and boosting profits. The development of drone technology is expected to boost the industry's expansion even though the global market for agricultural drones is still in its infancy.
Report Highlights:
The hardware category is predicted to have the largest market share for agricultural drones, due to the growing need for drone hardware component replacement, upgrade, and modification to increase drone lifetime and performance as well as to gain a competitive advantage.
The rotary sub-segment is predicted to have a dominant market position in the global industry, growing at a CAGR of 19.5%.
The crop spray subsegment of the global agriculture drone market will rise at the fastest rate, approaching $748.1 million by 2028, up from $163.8 million in 2022.
It's projected that the Asia-Pacific market for drones used in agriculture will grow considerably throughout the forecast period. However, the North American region dominates the world market for agricultural drones.
Agricultural Drones Market Report Scope:
| | |
| --- | --- |
| Report Coverage | Details |
| Market Revenue in 2023 | USD 1.32 Billion |
| Projected Forecast Revenue by 2032 | USD 7.19 Billion |
| Growth Rate from 2023 to 2032 | CAGR of 20.7% |
| Largest Market | Asia-Pacific |
| Base Year | 2022 |
| Forecast Period | 2023 To 2032 |
| Regions Covered | North America, Europe, Asia-Pacific, Latin America, and Middle East & Africa |

Regional Snapshots:
The biggest and most developed market for the uptake of cutting-edge technology in agriculture is North America. With the introduction of cutting-edge technology and cutting-edge concepts in the modern age, North America has dominated the market for smart farming. With the use of IoT and AI, other farm tools were also upgraded. Farmers in an urban area are familiar with cell phones and the most recent technological advancements. With the use of sensors, farmers can ascertain when the plants in their fields are at their most productive.
In North America, drones are also more useful for spraying. For gathering plant data under outdoor settings, the precision approach is helpful. Precision farming technologies were first introduced in the United States, which is the main reason why the area holds the largest market share worldwide. Canada's broad adoption of contemporary agricultural techniques also contributes to the expansion of the sector.
Market Dynamics:
Drivers:
Growing Use of sustainable farming methods to promote the use of agriculture drones. Information and communication technologies (ICTs) are being used by agriculture more and more to address environmental problems. In order to feed the world's expanding population, farming communities must be able to adapt and become resilient in the face of significant challenges brought on by climate change. Utilizing the development and transformational power of ICTs offers a great platform for not only solving some of these problems but also accelerating the achievement of the 2030 Sustainable Development Goals (SDGs). When cutting-edge technology is used, traditional agricultural techniques will see changes in production and efficiency. Farmers that adopt sustainable agricultural practices may be able to expedite their production operations utilizing enhanced data analytics. The market for agricultural drones will rise as a result of increased investment in these devices and other supporting machinery.
Restraints:
Lack of standardization for agriculture drones devices to limit global industry growth. One of the main issues the global industry for agricultural drones is dealing with is the lack of standardization of communication interfaces and protocols. Agricultural drones and other intelligent farming equipment communicate with one another via a range of interfaces, technologies, and protocols. Due to the lack of standardization of multiple communication interfaces and protocols, data may be misinterpreted. Drones have been in chaos for years because there are no guidelines to govern the industry or its explosive expansion. However, the issue of standardization is projected to be resolved throughout the projection period due to improvements in drone innovation and their growing value in agricultural and other sectors.
Opportunities:
Precision farming provides several benefits for the agriculture industry. To usher in an era of precision farming, several technologies, are being developed. The market for precision farming and agricultural drones will continue to be driven by the agricultural sector's explosive expansion, which is incorporating technology developments into its agricultural operations. A greater dependence on precision farming instruments like agricultural drones was also a result of the manpower deficit in agriculture, which fell from 27.79% in 2017 to 26.69% in 2019. Larger farms in the US are using precision agriculture more frequently and implementing strategies despite technological obstacles. During the epidemic, fewer seasonal Mexican laborers crossed the border, which interfered with farmers' preparations for spring planting and prevented them from bringing in harvest-ready products including lettuce in California, berries in South Carolina, and tomatoes in Florida.
Precision farming techniques can boost yields by up to 5%. The Normalized Difference Vegetation Index (NDVI), a specialized imaging tool used by drones, uses precise color data to assess the health of plants.
With a team of two operators, drones can also plant considerably more effectively, and ten of them can plant 400,000 trees every day. There is ongoing pressure to boost agricultural productivity and preserve crop health because of the rising worldwide need for food, which might result in higher production.
Challenge:
Lack of uniformity is one of the biggest issues the agricultural drone market faces internationally. Agriculture drones are smart agricultural equipment that interact via a variety of interfaces, technologies, and protocols. Data misrepresentation may occur as a result of the absence of standardization of various communication interfaces and protocols. Drones have been placed in a state of uncertainty for years since there are no guidelines to direct the industry's rapid expansion. However, within the anticipated time frame, standardization will go beyond only communication interfaces to propel drone innovation to new heights.
Recent Developments:
In February 2021, DroneDeploy announced cooperation with Corteva Agriscience to use its agricultural drone fleets all around the world to generate year-round improved farming findings for precision farming applications.
DJI unveiled P4 Multispectral, the first fully integrated multispectral imaging drone for environmental control and precision agriculture, in September 2019. P4 Multispectral integrates information from six different sensors to assess the health of crops, from single plants to entire fields, as well as to find weeds, insects, and different types of soil conditions.
Key Market Players:
DJI (China), 3DR
Ondas Networks (AMERICAN ROBOTICS)
ideaForge
DroneDeploy
MICRODRONES
PrecisionHawk, Inc.
Yamaha Motor Corporation, U.S.A.
AeroVironment, Inc.
AgEagle Aerial Systems Inc.
ISRAEL AEROSPACE INDUSTRIES
Delair
senseFly
Sentera
Trimble Inc.
THANOS
Market Segmentation:
By Component
Hardware

Frames
Control System
Propulsion System
Navigation System
Payload
Avionics
Others

Software

Imaging Software
Data Management Software
Data Analytics Software
Others
By Application
Crop Monitoring
Soil & Field Analysis
Planting & Seeding
Crop Spray
Others
By Type
Fixed-Wing
Rotary-Wing
Others
Buy this Research Report@ https://www.precedenceresearch.com/checkout/2379
You can place an order or ask any questions, please feel free to contact at sales@precedenceresearch.com | +1 9197 992 333