The global airport biometric service market report provides a detailed analysis of the market and report sheds light on the current situation of the market size and forecast from 2023 to 2032.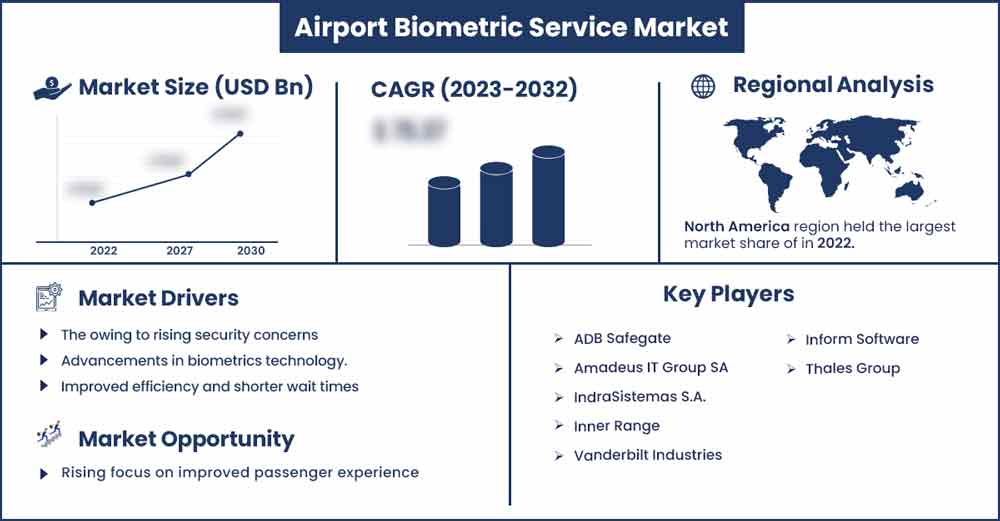 Market Overview:
Biometrics identify personal traits, such as fingerprints or facial scans, that are used to verify an individual's identity. Biometrics is promoted as a more reliable, secure method of traveler screening within the industry. By automating the process of confirming picture identification at the airport, biometric technology, such as face recognition, also significantly improves the quality of passenger screening. Many airports and airlines have invested in biometrics due to the technology's promise to improve passenger hygiene and enable contactless boarding. A biometrics-only airport screening method is ready to end the inconveniences that travelers now experience as the adoption and utilization of the technology continues to expand.
Regional Snapshot:
Asia Pacific is expected to grow at a significant rate during the forecast period. Changi Airport in Singapore, Kempegowda International Airport, Bengaluru, and Hong Kong International Airport, among others, have emerged as front-runners in Asia. All three have committed to significant biometrics-related projects that will be instrumental in determining how passengers will experience airports in the future. Asia Pacific has made significant investments in technology infrastructure, including advanced security systems, digital identity management, and data analytics. These advancements provide a strong foundation for the deployment of biometric services in airports.
Businesses and the government are developing and implementing paperless and biometric-enabled air travel plans. For instance, the operator of BLR Airport, Bangalore International Airport Limited (BIAL), has a contract with Vision-Box to implement paperless biometric self-boarding technology. In addition, the Hong Kong International Airport (HKIA) uses biometric technology. The most recent smart project developed by Airport Authority Hong Kong to improve the overall passenger experience is the biometric-enabled e-Security Gates.
Report Highlights:
By scanner type, due to its rapid and smooth scanning process, facial recognition is predicted to dominate the worldwide airport biometrics service market. The rapid adoption of advanced technologies and penetration of digital passports at airports across the globe are observed to promote the growth of the segment.
By contact type, the contact-less segment is expected to witness a significant growth during the forecast period. Airport authorities are shifting their focus on hygienic and contact-less passenger checking solutions, this element is observed to promote the segment's growth.
By software, the cloud software segment has experienced exponential growth in 2022, provided seamless boarding experiences and managed passenger data on a global scale. On-premises software is widely used in developing countries, requiring less expenditure.
Airport Biometric Service Market Report Scope:
| | |
| --- | --- |
| Report Coverage | Details |
| Largest Market | North America |
| Fastest Growing Market | Asia Pacific |
| Base Year | 2022 |
| Forecast Period | 2023 To 2032 |
| Regions Covered | North America, Europe, Asia-Pacific, Latin America, and Middle East & Africa |

Market Dynamics:
Driver:
Improved efficiency and shorter wait times
The days of long lines and repetitively presenting paper-based identification cards and boarding permits are history due to the development of biometric technology. Because of worries about touch in the post-Covid world, the technology relies on face recognition as the main authentication method, while fingerprint scans are utilized less frequently. This novel method eliminates manual inspections, which greatly reduces wait times and boosts productivity. As a result, efficiency and security have improved, and processing is completed more quickly as compared to the traditional security check methods. Considering the efficiency and quicker services offered by airport biometric services, the market's growth is expected to be fueled.
Restraint:
Technical limitations
Biometric systems may face technical limitations, such as accuracy, reliability, and interoperability issues. False positives or false negatives in biometric identification can result in inconvenience and delays for travelers. Biometric systems, such as facial recognition or fingerprint scanning, may experience inaccuracies and false matches. Factors such as variations in lighting conditions, angle of capture, or image quality can affect the accuracy of biometric identification. False matches can lead to inconvenience, delays, and potential security risks. Ensuring the accuracy and reliability of biometric systems in high-traffic airport environments can be challenging. Thus, such technical limitations with biometric services are observed to hamper the market's growth.
Opportunity:
Rising focus on improved passenger experience
Enhancing the passenger experience is one of the airport biometrics' most important advantages. Adopting technology for facial recognition makes it simple for travelers to navigate airport procedures. This results in shorter lineups, faster boarding, and a less stressful customer experience. No more searching through baggage for passports or boarding cards. By removing the need for paper papers and enabling domestic and international travelers to keep identity and boarding ticket information on mobile devices or face recognition software, biometric identification greatly simplifies the travel procedure. It reduces tension and anxiety associated with security by expediting the security screening procedure by swiftly detecting those whose travel documents do not match. Additionally, airport biometric service offers multilingual choices for travelers who struggle with language hurdles, preventing misunderstandings and misinterpretations in various languages. As airport authorities focus on improving the passenger experience, the adoption of biometric services is expected to grow.
Challenge:
Security concerns
The safety of face recognition data is a major issue for the airport biometrics market. Biometric data, including facial images and fingerprints, are highly sensitive and personal. The collection, storage, and sharing of biometric information raise concerns about data privacy and protection. If not properly secured, this data could be vulnerable to unauthorized access, misuse, or hacking, potentially leading to identity theft or other privacy breaches. Identity thieves are always coming up with new techniques to get through biometric security checks, this element is observed to create a major challenge for the market's growth.
Recent Developments:
In December 2022, the UAE introduced a biometric service at the Abu Dhabi airport, which uses a passenger's face as his boarding card, and neither a passport nor a ticket is needed. Therefore, travelers at the airport may obtain a boarding permit using their faces. The IT startup NEXT50, located in Abu Dhabi, developed this cutting-edge AI technology.
In May 2023, Berlin Brandenburg Airport implemented biometric access control for airports. According to Berlin Brandenburg Airport, digital technology enables visitors to access several airport procedures by biometric facial recognition without presenting any identification. This concept is now in a testing phase with FastID, a technology company, and the Lufthansa Group.
In February 2023, Digi Yatra, a digital boarding and check-in service, was made available at four additional airports, Kolkata, Pune, Vijayawada, and Hyderabad. The Ministry of Civil Aviation has inaugurated the Digi Yatra service, a biometric method of boarding that utilizes facial recognition technology (FRT). To deliver seamless and hassle-free experiences at Indian airports, it is a volunteer service. By eliminating the demand for ID and ticket verification at multiple points of contact and boosting throughput by utilizing the current system and a digital framework, it aims to enhance the passenger experience.
Major Key Players:
ADB Safegate
Amadeus IT Group SA
IndraSistemas S.A.
Inner Range
Vanderbilt Industries
Inform Software
Thales Group
Market Segmentation:
By Scanner Type
Fingerprint Recognition
Facial Recognition
Iris Recognition
Palm Recognition
Signature Recognition
Voice Recognition
Others
By Contact Type
By Software
Buy this Research Report@ https://www.precedenceresearch.com/checkout/2595
You can place an order or ask any questions, please feel free to contact at sales@precedenceresearch.com | +1 9197 992 333