The global amino acids market size was evaluated at USD 29.2 billion in 2022 and it is expected to attain over USD 61.8 billion by 2030, growing at a CAGR of 9.55% during the forecast period 2022 to 2030.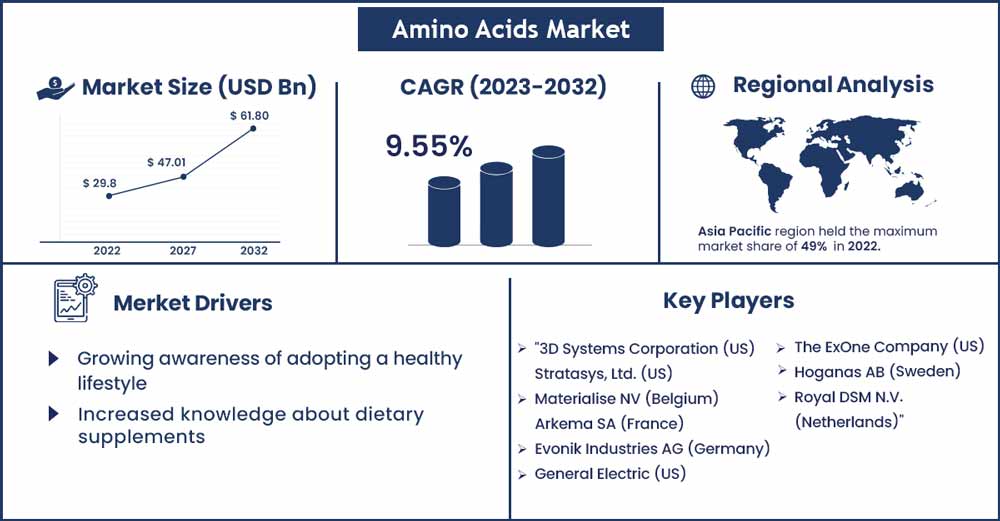 The amino acids business encountered a few issues during the onset of the COVID-19 pandemic since the mandated lockdown on industrial industries resulted in supply chain interruptions. As a result, the supply and demand for amino acid products became volatile. However, as the virus spread, the shift in people's preference for immunity-boosting medicines intensified, pushing the need for amino acid-based products. Protein hydrolysis, microbiological (biotechnological) and chemical synthesis, processes can all be used to produce amino acids. The technique used is determined by the available technology, the cost of raw materials, market factors, the expense of operating fermentation vs synthesis processes, and the approach's environmental effect.
Biotechnological approaches are commonly exploited to manufacture amino acids. Despite the fact that biotechnology-based manufacturing is capital demanding, it plays an important role in amino acid synthesis. Utilizing contemporary biotechnology increases production yield. For instance, strain enhancement uses genetic and metabolic engineering. However, the main method for generating amino acids and their derivatives will probably remain enzyme catalysis.
Most L-amino acids are produced industrially using the fermentation process. This approach makes use of the phenomena in which microbes transform nutrients into several essential components. Raw materials such as syrups are introduced to the growth media of microorganisms, and multiplying bacteria can create amino acids. Enzymes play a key part in the fermentation-based synthesis of amino acids. Because of their increased amino acid content and availability, plant-based natural resources such as soybean, grain, and corn are gaining appeal. To ensure a continuous supply of raw materials for manufacturing, prominent market participants are using forward and backward integration techniques targeted at ensuring a high-quality and reliable supply of raw materials. Such vertical integration processes provide greater reliability of raw material supply and chances for the development of new and creative products from current raw materials.
Report Highlights:
The plant-based raw material sector is predicted to be the fastest-growing revenue segment over the projection period.
In terms of product, the serine category is predicted to have the greatest volume-based CAGR of 12.6% from 2022 to 2030, owing to rising demand for sphingolipid manufacturing.
In 2021, Asia Pacific held the greatest share of the worldwide amino acid market, accounting for 51.3% by volume.
Asian nations, notably India and China, are expected to see significant expansion in this industry throughout the projection period.
Rising animal health awareness and increased demand for high-quality meat products are likely to enhance amino acid usage in animal feed applications.
Key market participants are primarily focused on innovation in order to increase service quality and match global customer needs.
Amino Acids Market Report Scope:
| | |
| --- | --- |
| Report Coverage | Details |
| Market Revenue in 2023 | USD 32.64 Billion |
| Projected Forecast Revenue in 2030 | USD 61.8 Billion |
| Growth Rate from 2022 to 2030 | CAGR of 9.55% |
| Largest Market | Asia Pacific |
| Base Year | 2022 |
| Forecast Period | 2022 to 2030 |
| Regions Covered | North America, Europe, Asia-Pacific, Latin America, and Middle East & Africa |

Regional Snapshots:
In 2020, Asia Pacific held the biggest market share, with Europe coming in second. Increasing meat consumption, along with rising animal output, is expected to boost the market in this area over the forecast period.
Countries such as the United Kingdom, France, Germany, and Italy have seen an upsurge in meat consumption in recent years. The increasing usage of animal feed additives containing a proportionate amount of significant amino acids for better animal growth performance is likely to drive this region's market. Furthermore, increased demand for high-quality meat products is predicted to fuel the region's feed additives market, which is expected to enhance amino acid usage in the feed sector.
Market Dynamics:
Drivers:
One of the primary reasons driving the market is the availability of various types of amino acids. Non-essential amino acids, essential amino acids and conditional amino acids are the three types of amino acids. These groups are composed of different types of amino acids based on customer needs. Because each necessary amino acid has a specific role in the body, the symptoms of deficiency vary accordingly. As a result of the availability of various types of amino acids and their variable needs, products containing various amino acids have been developed. As a result of the need for various types of amino acids, the manufacturing of various goods with various compositions and advantages has resulted in the rise of the amino acids market.
Furthermore, the availability of high-quality raw materials is critical for the production of amino acids. To assure a constant supply of raw materials, key market participants are employing forward and backward integration approaches aimed at assuring high quality and dependable raw material supply. Such vertical integration methods increase raw material supply reliability and create opportunities for the development of new and innovative products from existing raw materials. As a result, a strong supply chain is formed to enable the manufacturing of amino acids. The producers' strong and rapid direct and indirect distribution networks provide prompt delivery of products, resulting in rising demand for amino acids. As a result, the strong supply chain boosts market demand for amino acids by ensuring timely availability of amino acids.
Restraints:
The major factor impeding the growth of the amino acid market is the rise in the price of raw materials used in the acid's production. The growth in raw material prices is likely to raise production costs in the future years. The increasing manufacturing costs would eventually harm the firms' profitability, forcing them to postpone their expansion plans. As a result, product supply would be constrained, restricting market expansion to some extent.
Opportunities:
A rise in the number of initiatives done by the manufacturers for amino acids such as product launches, expansion, investments, and others would give a fantastic potential for the growth of the global amino acids market. The demand for amino acids is increasing in a variety of industries, including food and beverages, cosmetics, dietary supplements, pharmaceuticals, and others, due to their numerous health benefits, which include boosting the immune system, building muscle, assisting in the repair of body tissue, keeping healthy skin, nails, and hair, among others. With increased consumer knowledge of the health advantages provided by amino acids, demand for amino acids will rise, allowing producers to introduce new products, expand manufacturing facilities, and boost investments to manufacture diverse amino acid products for various end users.
Challenges:
The high competition among existing market players poses a significant challenge for new players wishing to enter the market, as several players are offering high-quality amino acids products to various end-users such as food and beverage manufacturers, dietary supplement manufacturers, the pharmaceutical industry, and others. Furthermore, some local companies and small-scale producers sell low-quality or counterfeit products at lower rates, hurting the global amino acids industry. Furthermore, an expansion in the number of producers supplying a diverse variety of amino acids for various purposes would create stiff rivalry for the market's other participants. The growing number of manufacturers delivering high-quality amino acids for various applications is posing a significant challenge in the global amino acids market.
Recent Developments:
Ajinomoto Co., Inc. will offer an RCT-backed amino acid supplement for cognitive impairment in July 2021. It is rich in seven important amino acids. This launch has assisted the firm in expanding its amino acid-based range.
In response to market demand for plant-based, transparent, and natural flavour ingredients, CJ CheilJedang Corp. launched FlavorNrich Master C in April 2021. It is the world's first natural cysteine. This has assisted the corporation in expanding its amino acid range.
Major Key Players:
3D Systems Corporation (US)
Stratasys, Ltd. (US)
Materialise NV (Belgium)
Arkema SA (France)
Evonik Industries AG (Germany)
General Electric (US)
The ExOne Company (US)
Hoganas AB (Sweden)
Royal DSM N.V.
Market Segmentation:
By Raw Material
By Product
L-Glutamate
Lysine
Methionine
Threonine
Tryptophan
Leucine
Iso-Leucine
Valine
Glutamine
Arginine
Glycine
Phenylalanine
Tyrosine
Citrulline
Creatine
Proline
Serine
Others
By Application
Animal Feed
Food & Dietary Supplements
Pharmaceutical
By Livestock
Swine
Poultry
Cattle
Others
By Form
Powder
Granules
Liquid
Pellet
Others
By Function
Fortification
Energy Booster
Flavour Enhancer
Preservative
Muscle Growth
Immunity Booster
Others
By Purity Level
Amino Acid 99%
Amino Acid More Than 99%
Amino Acid 90%
Amino Acid 80%
Amino Acid 70%
Amino Acid Less Than 60%
Buy this Research Report@ https://www.precedenceresearch.com/checkout/2201
You can place an order or ask any questions, please feel free to contact at sales@precedenceresearch.com | +1 9197 992 333