The global anti-inflammatory therapeutics market size surpassed USD 102.37 billion in 2022 and is projected to rake USD 127.5 billion by 2030, poised to grow at a CAGR of 4.5% between 2022 and 2030.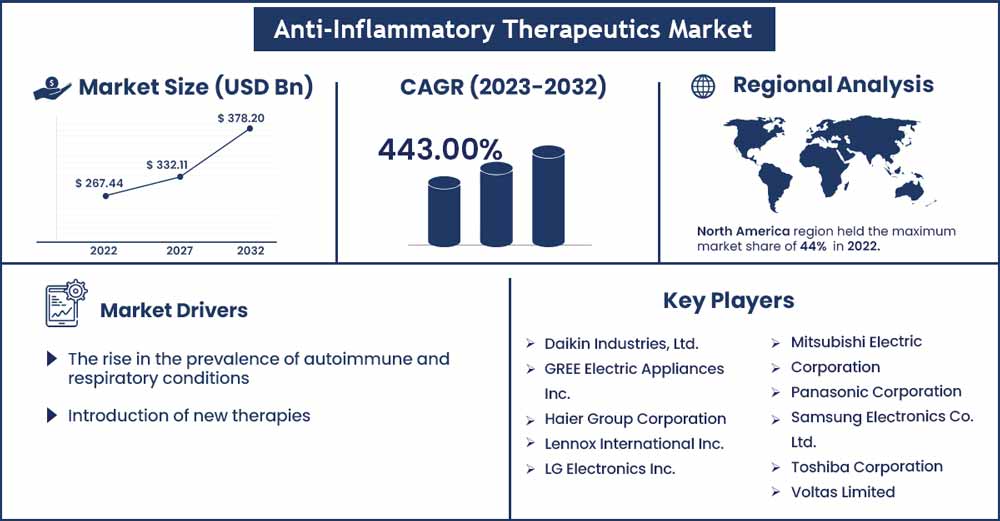 The global market for anti-inflammatory treatments is expanding as autoimmune illnesses and chronic respiratory problems are becoming more common, new medications are being developed, and anti-inflammatory drug use is increasing. Anti-inflammatory medicine side effects and patent expiration, however, limit market expansion. On the other hand, the creation of biosimilars for already available medications is anticipated to create lucrative new market prospects.
Humans have an inherent immune system that is largely stimulated by inflammation to remove damaged tissue and dead cells. However, there are occasions when the body inadvertently starts an inflammatory response to defend its own cells, which can result in autoimmune disorders including asthma, arthritis, COPD, and other conditions. An increase in the use of anti-inflammatory pharmaceuticals is due to the development of target-based anti-inflammatory biologics, which are efficient yet have fewer side effects than traditional medications.
Chronic obstructive pulmonary disease, asthma, and other inflammatory autoimmune disorders develop when the body's defensive mechanism inadvertently causes inflammation against its own cells (COPD). The World Health Organization (WHO) estimates that there are 235 million asthma sufferers worldwide. Patients with inflammatory autoimmune disorders get respite from their symptoms during the inflammatory phase. Despite the fact that several anti-inflammatory medications have been licenced for the market, better and new anti-inflammatory treatments are still required since they have fewer side effects and greater efficacy.
Chronic obstructive pulmonary disease (COPD), arthritis, and other disorders are all treated with anti-inflammatory medications. The primary driver of this market's growth is the illnesses' rising prevalence. Although documented side effect occurrences and the patent expiration of blockbuster medications are limiting the market's expansion, new research advancements in immunoselective anti-inflammatory derivatives (ImSAIDs), anti-inflammatory biologics, and other areas are working to make this class of medications as side effect-free as possible while maintaining the drug's efficacy and potency.
Report Highlights:
Physicians are using biologics more frequently, and developed nations are more likely to do so. Additionally, the market for biologics is primarily driven by the growth in the number of people with chronic diseases and the lack of access to appropriate therapies.
It is anticipated that rising healthcare spending and biologics awareness, particularly in emerging markets, will create new opportunities. Additionally, the most common class of biologics is monoclonal antibodies. Chronic anti-inflammatory disease symptoms are significantly reduced by biologics.
Due to rising healthcare costs, a rise in eye inflammation, and significant investments in R&D to create potent non-corticosteroid anti-inflammatory drugs to lessen pain and inflammation after surgery, the North American market is anticipated to contribute a comparatively larger revenue share than other regional markets during the forecast period.
An exponential rise in population, increased healthcare spending, and an increase in the prevalence of chronic, lifestyle-related, respiratory, and infectious illnesses are the main drivers of the anti-inflammatory therapeutic market in Asia-Pacific. Branded generics are gaining market share thanks to more effective therapy, strong marketing tactics, and promotions.
Anti-Inflammatory Therapeutics Market Report Scope:
| | |
| --- | --- |
| Report Coverage | Details |
| Market Revenue in 2023 | USD 105.22 Billion |
| Projected Forecast Revenue in 2030 | USD 127.5 Billion |
| Growth Rate from 2022 to 2030 | CAGR of 4.5% |
| Largest Market | North America |
| Base Year | 2022 |
| Forecast Period | 2022 To 2030 |
| Regions Covered | North America, Europe, Asia-Pacific, Latin America, and Middle East & Africa |

Regional Snapshots:
Market research on anti-inflammatory therapies is done for important nations in areas including North America, Europe, Asia Pacific, and the Rest of the World. In 2020, North America is predicted to rule the market. The market for anti-inflammatory therapies is expanding as a result of the significant R&D spending. The market for anti-inflammatory therapies is expanding thanks to the presence of significant important players. The market for anti-inflammatory treatments is expanding due to an increase in the use of over-the-counter non-steroidal anti-inflammatory medications.
Due to reasons like the developed healthcare industry with a big number of well-known firms, significant investment, and the desire for more potent and secure medications, among others, North America is the region with the greatest market for anti-inflammatory pharmaceuticals. In addition, the high income per capita, increase in doctor visits, and breakthroughs in research owing to high financing are some of the reasons boosting the North American market's expansion.
But Asia Pacific is predicted to develop at the quickest rate, propelled by a sizable patient pool, rising disposable incomes, an increase in healthcare spending, and growing health awareness.
Market Dynamics:
Drivers
The rise in the prevalence of autoimmune and respiratory conditions, the introduction of new therapies, and the overwhelming need for anti-inflammatory medications are some of the factors that have fueled the growth of the global anti-inflammatory therapeutics market. Additionally, due to the emergence of anti-inflammatory biologics, which are more targeted, effective, and have less adverse effects than traditional pharmaceuticals, interest in anti-inflammatory medications has been growing substantially. These elements, together with the introduction and acceptance of blockbuster medications, are projected to support market growth during the anticipated time frame.
Restraints
Both the high price of this medication and the lack of widespread knowledge about the efficacy of non-corticosteroid anti-inflammatory medications are predicted to impede the market's total revenue growth.
Anti-inflammatory medications suppress inflammation, which helps them lessen pain. These medications can reduce temperature, edoema, stiffness, and discomfort sensations. These medications' painkilling effects lessen inflammation's direct impact on pain-nerve activation and sensitivity as well as the indirect effects of anti-inflammatory heat, swelling in the knees, and joint pain. However, taking anti-inflammatory medications has potential adverse effects, which have become increasingly important over time. These medications' negative effects include fluid retention, decreased renal blood flow, and gastrointestinal bleeding. Additionally, eating them causes peptic ulcers, which are stomach ulcers.
Opportunities
Opportunities for market expansion are created by the rise in the number of anti-inflammatory therapies given through these retail pharmacies and the rise in the number of retail pharmacies in highly developed nations. Additionally, due to their accessibility, people prefer to buy their medications from retail pharmacies.
Numerous clinical procedures are being carried out, which fosters the market's expansion. For example, a number of clinical trials are presently being conducted to treat this harmful inflammation. One of these is the NLRP3 inflammasome, which focuses on a number of pathways linked to COVID-19 excessive inflammation. Thus, given the current global health crisis, these variables have a beneficial influence on market growth. As a result, it opens up opportunities for market expansion.
Challenges
The market expansion of anti-inflammatory therapeutics market will be fuelled by the enormous untapped prospects present in Eastern Europe in the upcoming years. However, the main inhibitors for the global autoimmune disease therapeutics market are factors like insufficient funding in developing countries, high costs associated with the disease's treatment, and non-availability of the treatment in developing countries, along with the rise of alternative technologies.
Recent Developments:
Exagen Inc., a significant provider of autoimmune testing alternatives, announced in October 2021 that its AVISE CTD and AVISE Lupus are covered services under a contract with Inland Empire Health Plan (IEHP), improving treatment for more than 1.4 million members. The addition of AVISE diagnostic testing as an in-network service is another advantage of the agreement.
The European Council approved MabThera (rituximab) to treat moderate to acute pemphigus vulgaris, a rare disease characterised by escalating severe blisters of the skin and mucous membranes, according to Roche's report in March 2019. PV is a rare, blistering infection that can be lethal, inflict intense agony, and leave patients with permanent deformity.
Major Key Players:
Eli Lily and Company
AstraZeneca PLC
Amgen Inc.
F. Hoffman
Abbvie, Inc
Johnson & Johnson
GlaxoSmithKline
Merck & CO., Inc
Novartis, Pfizer, Inc
La Roche AG
Ferring Pharmaceuticals
Bioventus
Zimmer Biomet Holdings, Inc.
Flexion Therapeutics, Inc
Market Segmentation
By Drug Class
Anti-inflammatory Biologics
Non-steroidal Anti-inflammatory Drugs (NSAIDs)
Corticosteroids
By Indication
Arthritis

Rheumatoid Arthritis
Osteoarthritis
Ankylosing Spondylitis
Psoriatic Arthritis
Gout

Respiratory diseases

Asthma
Chronic obstructive pulmonary disease (COPD)

Multiple sclerosis
Psoriasis
Inflammatory bowel disease

Crohn's Disease
Ulcerative Colitis

Other inflammatory diseases
By Application
Autoimmune
Inflammatory Diseases (Rheumatoid Arthritis Psoriasis)
Respiratory Diseases
By Distribution Channel
Hospital Pharmacy
Retail Pharmacy
Buy this Research Report@ https://www.precedenceresearch.com/checkout/2229
You can place an order or ask any questions, please feel free to contact at sales@precedenceresearch.com | +1 9197 992 333