The global automatic identification and data capture market size was exhibited at USD 55.2 billion in 2022 and is projected to attain around USD 134.7 billion by 2032, growing at a CAGR of 9.33% during the forecast period 2023 to 2032.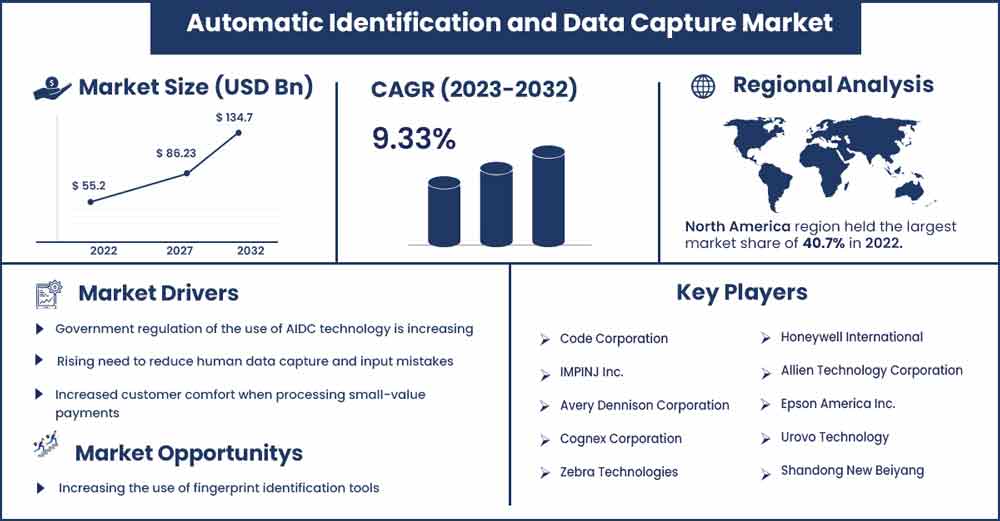 A technologically advanced technique known as "automatic identification and data capture" instantly recognizes the objects, collects the necessary data, and then stores and inputs the data into computer systems.
Hardware, solutions, and services make up the bulk of automatic identification and data capture offerings. Physical components that are connected to the internet by means of low-cost radio frequency identity (RFID) devices are referred to as hardware. The reading of barcodes and QR codes is done with hardware. The technology used includes biometrics, RFID, smart cards, optical character recognition (OCR), and others. The goods include scanners and readers, biometric scanners, printers, and cameras. The automatic identification and data capture is used by BFSI, manufacturing, retail, transportation and logistics, government, healthcare, hospitality, and other industries.
The market for automated identification and data collection is anticipated to expand as smartphone image recognition usage increases. Smartphones come with technologies that can recognize anything useful to clients and companies, including people, places, things, brands, and other things like structures and locations. Utilizing cellphones for picture recognition can improve automated identifying for better data gathering and analysis as well as data security. For instance, the number of mobile service subscribers is expected to reach 5.5 billion in 2022, according to a study released by The GSM Association, a trade organization with headquarters in the UK that represents mobile network operators around the world. By 2025, that proportion is expected to rise to 70%. Therefore, the market for automated identification and data capture will be driven by the increase in smartphone picture recognition usage.
Report Highlights:
In 2022, the electronics industry accounted for more than 64% of global revenue. The segment's biggest market share can be attributed to rising demand for AIDC hardware products like scanners, RFID bands, magnetic stripe cards, barcoding solutions, optical character recognition (OCR) systems, smart cards, and biometric systems.
In 2022, BFSI had the highest income proportion of over 19%. The largest segment share is attributed to the expanding demand for smart cards in the financial industry. One possible end-user of the AIDC products is expected to be the transportation and logistics industry.
In 2022, North America held a 40.7% portion of global revenue, dominating the market. This high share can be attributed to increased government financing and laws, particularly in the industrial, healthcare, and retail sectors, as well as increased awareness of and high adoption of AIDC devices. The widespread usage of cutting-edge technology and the technological development of numerous industries are other factors driving the growth of the regional market.
Automatic Identification and Data Capture Market Report Scope:
| | |
| --- | --- |
| Report Coverage | Details |
| Market Revenue in 2023 | USD 60.35 Billion |
| Projected Forecast Revenue by 2032 | USD 134.7 Billion |
| Growth Rate from 2023 to 2032 | CAGR of 9.33% |
| Largest Market | North America |
| Base Year | 2022 |
| Forecast Period | 2023 to 2032 |
| Regions Covered | North America, Europe, Asia-Pacific, Latin America, and Middle East & Africa |

Regional Snapshots:
Over the course of the forecast period, North America is anticipated to hold the lion's share of the worldwide automatic identity and data capture (AIDC) market. When it comes to technical progress, the U.S. has always been at the top of the global rankings. One of the factors boosting market expansion in North America is rising investment in automated identification and data collection. For instance, in December 2019, Cognex (US) will release its In-Sight Explorer program with compatibility for the OPC Unified Architecture standard. The introduction of biometric fingerprint readers, which are used to increase identification security, had also been revealed by BIO-key international. Many large, medium-sized, and small companies are making investments in this industry to preserve their total assets. In the end, this is generating enormous market value for automated recognition and data collection.
Market Dynamics:
Drivers:
One of the key reasons driving the demand for automatic identification and data capture (AIDC) in the warehouse automation business is the expanding e-commerce sector. The adoption of AIDC technology is assisting the e-commerce sector in both manually identifying the products and accurately and precisely compiling the data, as well as automatically putting these records into the computer system. This company has been significantly affected by the e-commerce industry, which has increased in viability. For instance, e-commerce in the United States increased by more than 40% in 2020.
Additionally, there are almost 3.4 billion internet consumers worldwide, and global cross-border e-commerce sales are projected to grow by almost 20% in 2020. These solutions have specific uses in the e-commerce industry and storage administration, including managing assets, inventories, and workflows; completing orders; and reducing transaction times and queues, among other things. Therefore, the global market for automated identification and data acquisition is expanding at a dynamic rate thanks to the booming e-commerce sector.
Additionally, a growing number of small and medium-sized companies are adding to the demand for automatic identity and data capture (AIDC) to handle warehousing more effectively across sectors. Additionally, the proliferation of options in this industry is promoting market expansion. For instance, on November 26, 2021, Handheld unveiled the portable RS60 ring scanner, a convenient hands-free scanning option for use in delivery centers, retail stores, and other settings where mobile scanning is necessary.
Restraints:
The market is somewhat constrained by high implementation costs for automated authentication and data capture systems as well as growing worries about malware assaults and security lapses.
Opportunities:
One of the key reasons fueling the expansion of the automated identification and data capture market is the global rise of e-commerce. The acceptance of AIDC solutions, which reduce transaction times and queue length and give consumers more ease when making small-value payments, spurs market expansion. The market is also influenced by the adoption of AIDC solutions by banking and financial organizations to guarantee client safety and security as well as data protection. Additionally, the market for automatic identification and data capture is positively impacted by the enormous amounts of data generated, the increase in Internet of Things adoption, rapid digitization, increased system availability, and widespread use of smartphones for QR code scanning and image recognition. Additionally, businesses' emphasis on implementing new and enhanced supply chain management tools creates lucrative possibilities for market participants in the forecast term.
Challenge:
The automated recognition and data capture products encounter a number of significant challenges, including security issues like malware assaults or data duplication, which eventually present difficulties for the market's participants. The goal of implementing automatic identification and data capture technologies, particularly biometrics, whose sole purpose is to provide enhanced and an additional layer of security, is undermined by these security flaws. An image capture and processing device, communication routes, and datasets make up a biometric system. These components are vulnerable to a variety of adversary assaults, including replay efforts. The biometric sample recorded in the access control application can be stolen and abused to allow fraudulent verification.
Recent Developments:
CipherLab, a US-based producer of systems and goods for automatic identification and data collection, joined with SATO in May 2022. Through this collaboration, CipherLab will take advantage of combined picking and checking system solutions that will improve storage and product management effectiveness while boosting organizational performance. A US-based business called SATO offers combined labeling and auto-identification options.
For an unknown sum, Zebra Technologies Corporation, a mobile computing business with headquarters in the US and a focus on real-time sensing, analysis, and action technology, purchased Matrox Imaging in June 2022. Zebra Technologies expanded its product line into Canada and grew its skills in data capture automation and vision technology solutions through this purchase. A technological innovator in the creation of cutting-edge machine vision systems, software, and components is Matrox Imaging, located in Canada.
Major Key Players:
Code Corporation
IMPINJ Inc.
Avery Dennison Corporation
Cognex Corporation
Zebra Technologies
Honeywell International
Allien Technology Corporation
Epson America Inc.
Urovo Technology
Shandong New Beiyang
Toshiba Tec Corporation
Denso Wave
Keyence
Panasonic
NEC Corporation
SATO Worldwide
Vitronic
cab Produkttechnik GmbH
SICK AG
Opticon Sensors Europe B.V.
Newland Europe BV
NXP Semiconductors
Godex International
TSC Auto ID Technology Co., Ltd.
Unitech Electronics Co. Ltd
Datalogic S.p.A
Bluebird Inc.
Better Online Solutions Ltd.
Axicon Auto ID Ltd.
Market Segmentation:
By Component
Hardware

RFID Reader
Barcode Scanner
Smart Cards
Optical Character Recognition Devices
Biometric Systems
Others

Software
Services

Integration & Installation Services
Support & Maintenance Services
By Product
Scanner & Reader

Barcode Scanners
RFID Scanner
Smart Card Reader
Magnetic Stripe Reader
Optical Character Recognition (OCR)

Biometric Scanners
Printer & Recorder
Others
By Technology
Biometrics
Radio Frequency Identification (RFID)
Smart Cards
Optical Character Recognition (OCR)
Others
By End User
Manufacturing
Retail
Transportation & Logistics
Hospitality
FSI
Healthcare
Government
Energy & power
Others
Buy this Research Report@ https://www.precedenceresearch.com/checkout/2730
You can place an order or ask any questions, please feel free to contact at sales@precedenceresearch.com | +1 9197 992 333