The global automotive 48V system market size was evaluated at USD 5.21 billion in 2022 and is expected to touch around USD 54.07 billion by 2032, growing at a noteworthy CAGR of 26.4% from 2023 to 2032.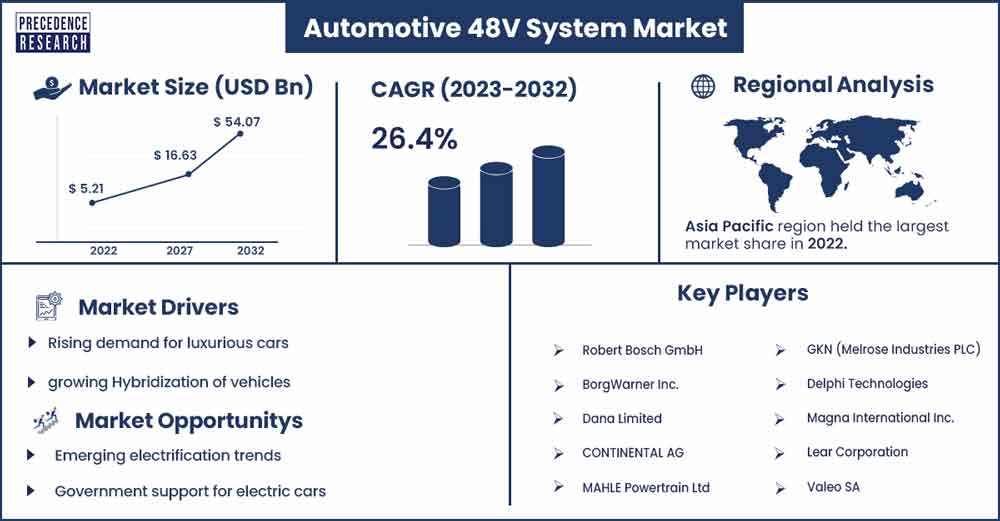 Market Overview
Automotive 48V is the electronic architecture is widely used in electronic or hybrid cars. Electric components in luxury or sports cars are approaching the limit of 12V power supply, so shifting to the 48V power supply will be beneficial to enhance the electrification in luxury cars, support connectivity, and safety features. Due to the use of 48V, the manufacturers of automobiles are now capable of meeting lower carbon emission targets.
The automotive 48V system market refers to the growing trend in the automotive industry to incorporate 48-volt electrical systems in vehicles. These systems offer a higher voltage compared to the standard 12V systems, which allows for more efficient energy management and can support features like regenerative braking, electric superchargers and more.
The global automotive 48V system market is witnessing growth at a robust pace owing to the expansion of the electric vehicle market across the globe. Moreover, substantial support from governments and regulatory bodies also promotes the expansion of the market. The automotive sector is focused on bringing innovations in the term of fuel efficiency owing to multiple environmental regulations, this factor is observed to boost the adoption of 48V systems in the upcoming period.
India reported selling 12,43,258 EVs in FY 2022–2023, a 154% increase from FY 2021–2022 EV sales figures of 4,90,210 units sold across all vehicle classes. Sales of electric vehicles (EVs) in FY 2022–2023 are more than 2.5 times higher than those in FY 2021–2022.
Audi has launched its TT Clubsport Turbo Technology Concept car in Austria with their development on the 48V front. The latest car consists of an electric biturbo which is supported by a 48V electrical subsystem. Bioturbo is the combination of an electric-driven compressor and a gas-driven turbocharger.
On the other hand, Hyundai also launched its new Tucson 48V Hybrid Concept at the Geneva Motor Show with 48V technology. The 48V hybrid consists of a 14hp (10kW) electric motor, a 2.0-liter diesel model with 134 hp (100KW), and a six-speed manual transmission which will drive the system power by 10% with the emission of 109g/km of carbon dioxide.
Regional Insights
Asia Pacific dominated the automotive 48V system market in 2022; the market is expected to sustain the trend in the upcoming period. The growth of the market in the region is expected to increase due to the substantial customer base and rising demand for electric and hybrid vehicles in countries like China, India, and Japan. China is the largest consumer market in the automotive industry which will help the region to sustain and growth of the automotive 48V system market. Rising environmental concerns due to the heavier carbon emissions have forced manufacturers to adopt 48V systems in automobiles. Asia Pacific, especially countries like China, Japan and India are hub for major automotive companies; the element promotes easy adoption of advanced automotive systems and components.
Honda Motors Co Ltd a leading automobile manufacturer from Japan stated that it will continue its investments in India. To achieve carbon neutrality by 2050, the company is accelerating the electrification of vehicles in line. Honda opens up partnerships with other organizations and offers a win-win situation for the development of the mobility industry.
India sold whopping 11,65,057 units of electric vehicles in March 2023 while hitting the milestone. Additionally, government subsidies to promote the adoption of electric vehicles is observed to boost the growth of automotive 48V system market. For instance, in Maharashtra, India, buyers get up to Rs.5000 per kWh subsidy on the purchase of an electric vehicle. Whereas the maximum subsidy could be getting from the government is INR 1.5 lakh for the first 10,000 buyers.
With the central government initiatives, the union government recognizes Faster Adoption and Manufacturing of Hybrid and electric, which promises to offer direct incentives of Rs, 15000 per kWh of battery capacity.
The market in Asia Pacific is fragmented with multiple players. Along with which, investments from foreign/international players in the automotive sector of Asian countries play a significant role in market expansion. In October 2022, Volkswagen stated its plans for electric vehicle business in China.
Automotive 48V System Market Report Scope
| | |
| --- | --- |
| Report Coverage | Details |
| Market Revenue in 2023 | USD 6.56 Billion |
| Projected Forecast Revenue by 2032 | USD 54.07 Billion |
| Growth Rate from 2023 to 2032 | CAGR of 26.4% |
| Largest Market | Asia Pacific |
| Base Year | 2022 |
| Forecast Period | 2023 to 2032 |
| Regions Covered | North America, Europe, Asia-Pacific, Latin America, and Middle East & Africa |

Market Dynamics
Drivers
Rising demand for luxurious cars
Luxury or modern cars consume higher electric energy due to the advancement in several features of the cars like driver-assistance computers, climate-control devices, and complex infotainment systems. The shifting of the automotive system from 12V to 48V system reduces the access loss of energy, allows greater current, and higher power delivery so that features like heated seats and window demisters work more precisely and rapidly. It is also fuel efficient and helps to reduce the carbon emission. Thereby, the demand for luxury cars is observed to boost the adoption of 48V systems.
Vehicle hybridization
Hybridization of vehicles, both two-wheelers and four wheelers has become a trend for the global automotive sector. The rising emphasis on vehicle hybridization is observed to drive the growth of automotive 48V system market. 48V allows hybridization in the vehicle which will result in a managed fuel economy and reduces carbon emission in the environment.
The use of hybridization in the vehicles helps to improve the internal combustion of the engine and increase effectively by driving auxiliary functions. It replaces the traditional starter motor with the motor generator unit that collects energy when recharging of battery in the vehicle and at the time of braking. The mild hybrid increases the fuel economy by 10-20% than the full hybrid type of vehicle.
Restraints
Unavailability of skilled labor force
Skilled mechanics are needed to diagnose and repair any issues that may arise with 48V systems in vehicles. Automotive 48V systems often need to integrate seamlessly with other vehicle systems, such as the conventional 12V electrical system or powertrains. Skilled professionals are required to ensure proper integration and a lack of expertise can lead to compatibility problems. Therefore, lack of skilled expertise is observed to restrain the growth of the market.
Cost and infrastructure
Implementing a 48V system in vehicles can be expensive, which may deter some automakers from adopting it widely. The need for infrastructure to support 48V systems, such as charging and servicing can be a limitation. Thereby, the cost and infrastructure factors are observed to create a major obstacle to the market.
Opportunities
Emerging electrification trends
As automotive manufacturers seek to reduce their carbon footprint and comply with emissions regulations, the demand for 48V systems is expected to grow. This trend creates opportunities for suppliers and manufacturers in the 48V system market. 48V systems can offer an electric boost to the engine, improving acceleration and overall vehicle performance. This enhancement can be a selling point for consumers.
Government support for electric cars
Government investments in charging infrastructure for electric vehicles can promote the adoption of hybrid and electric vehicles, increasing the demand for 48V systems in these vehicles. Government support for electric vehicle-related research and development can lead to innovations in 48V system technology. This can result in more efficient and cost-effective 48V systems that are attractive to automakers and consumers. Government incentives for fully electric vehicles can indirectly benefit 48V systems. As battery electric vehicles become more popular, automakers may invest in 48V systems for their hybrid and internal combustion engine vehicles to maintain a competitive edge.
Recent Developments
In October 2023, Mercedez-Benz announced its plans to launch GLE in India by November 2024. The official image of the upcoming mid-size luxury SUV was shared by the German marque on their social media handles. The upcoming GLE is offering different types of engines like a 2.0-liter, four-cylinder diesel engine in 300d trim and a 3.0-liter, six-cylinder petrol engine in the 450 variants.
In October 2023, Big 3 automakers announced that they are descending the prices of their electric vehicle, in the big three, General Motors GM 2023, the Chevy Bolt is declared as one of the most affordable electric vehicles in the market. The price for the retail starts at $25,500. The second in the big 3 automakers is Ford F down the price of all their electric cars like the F-150 Lightning electric pickup by about $10,000 in July and the Mustang Mach-E by up to $4,000 in May. The third company in the Big 3 automakers is Stellantis, the company announced that in July 2024 they launched the new entry-level Fiat Branded electric vehicle that will be priced at about $27,900 which is less than €25,000.
Major Key Players
Robert Bosch GmbH
BorgWarner Inc.
Dana Limited
CONTINENTAL AG
MAHLE Powertrain Ltd
GKN (Melrose Industries PLC)
Delphi Technologies
Magna International Inc.
Lear Corporation
Valeo SA
Market Segmentation
By Vehicle Class
By Architecture
Crankshaft Mounted
Belt Driven
Transmission Output Shaft
Dual-Clutch Transmission-Mounted
Buy this Research Report@ https://www.precedenceresearch.com/checkout/1088
You can place an order or ask any questions, please feel free to contact at sales@precedenceresearch.com | +1 9197 992 333