The global blood bank market size surpassed USD 17.29 billion in 2022 and is projected to rise to USD 24.78 billion by 2032, anticipated to grow at a CAGR of 3.66 percent during the projection period from 2023 to 2032.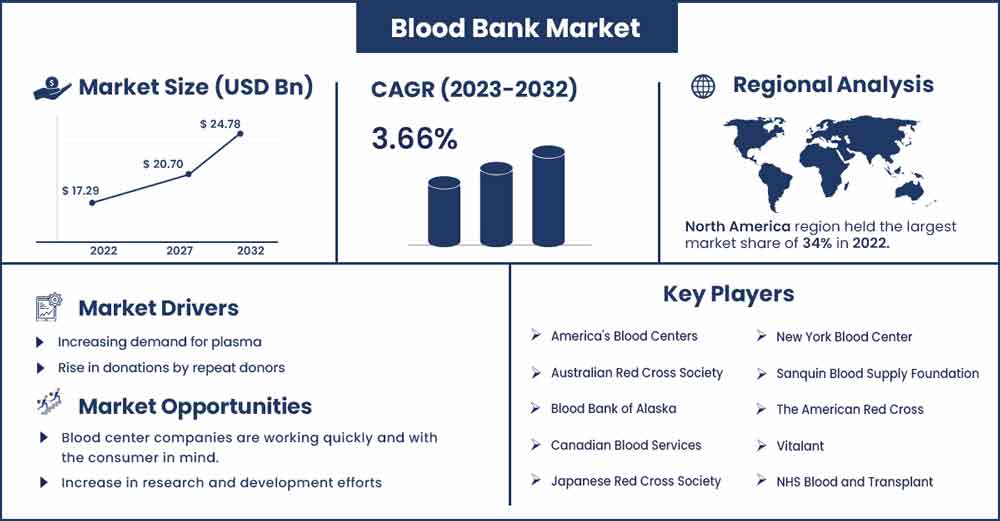 Most of the blood is donated voluntarily by unpaid blood donors. Throughout the COVID-19 period, every business, industry, social organization, and IT sector operated remotely. These areas often host outdoor blood donation camps, and their closure has led to a decrease in blood donations. Therefore, it is anticipated that the current situation's restricted blood supply would have an impact on market expansion.
A sharp increase in unintentional instances, a high frequency of hematologic illnesses, and an aging population are the main drivers of market expansion. The WHO said in Feb 2020 that road traffic injuries account for about 1.5 million fatalities worldwide each year. Each year, the cost of road accidents exceeds 3% of nation's GDP. Accidental incidents in sports are on the rise in addition to injuries sustained on the road. According to Sarah Megginson's report from February 2020, 62% of Australian people take part in sports at least three times per week. Overall, 89% of adults in Australia play sports annually.
In addition, the Australian Institute of the Health and Welfare revealed in 2017 that over 60 thousands Australians had been hospitalized due to injuries sustained while participating in sports. Therefore, these accident cases will add to the rising need for blood. The burden of the blood-borne diseases has also grew over the past few years, along with the prevalence of the transfusion-transmissible infections and surgeries, rising public awareness of blood donation benefits and a number of government initiatives related to blood donation, all of which are stimulating demand for blood banks and propelling the market as a whole.
Report Highlights:
When revenue was split down by product type in 2022, the red blood cell category generated the highest amounts. It is projected that this trend will continue throughout the whole projection period.
Due to the growing old age population, rising instances of blood diseases, rising number of trauma cases, and rising number of surgical procedures, North America is anticipated to account for the largest share in the blood bank market.
The testing function generated the most revenue in 2022, and it is expected that this trend would keep on going throughout the projected period.
Some governments are collaborating with different groups to create opportunities for blood donation by teaching and creating awareness among the youthful population, which is positively affecting the market's development.
Businesses are concentrating on expanding their product portfolios, diversifying their company operations, reducing expenses, increasing customer happiness, and enhancing Blood Bank's dependability due to the region's promising commercial possibilities.
Blood Bank Market Report Scope:
| | |
| --- | --- |
| Report Coverage | Details |
| Market Revenue in 2023 | USD 17.92 Billion |
| Projected Forecast Revenue in 2030 | USD 24.78 Billion |
| Growth Rate from 2023 to 2032 | CAGR of 3.66% |
| Largest Market | North America |
| Base Year | 2022 |
| Forecast Period | 2023 to 2032 |
| Regions Covered | North America, Europe, Asia-Pacific, Latin America, and Middle East & Africa |
Regional Snapshots:
With a market share of nearly 45% in 2022, North America led the blood bank industry. One of the reasons anticipated to drive the market expansion is an increase in the strategic efforts being implemented by government entities and market players to boost plasma donations throughout the area. Blood donation facilities throughout the nation are working harder to collect plasma from patients who have recovered from the illness.
Over the course of the projection, the blood bank market is expected to grow at the quickest rate in Asia Pacific. The increased frequency of chronic illnesses in emerging nations like China and India is a significant driver of the market's expansion. Additionally, a number of global corporations are making significant investments in this area. For instance, Siemens Healthineers said in October 2020 that it will double the capacity of its Indian production facility for COVID-19 and molecular tests. India will create antigen, antibody, and RT PCR tests for COVID-19 at its new facility in Vadodara, Gujarat.
Market Dynamics:
Drivers:
One of the main reasons propelling the market is the rising frequency of hematological illnesses, such as uncommon genetic abnormalities, anemia, and sickle cell disease brought on by problems with the blood and blood-forming organs. Additionally, there is a rise in the need for safe blood as transfusion-transmissible diseases (TTI) including HIV and hepatitis B are becoming more prevalent.
The market is expanding as a result of this as well as the growing geriatric population around the world. Red blood cells (RBCs) are increasingly in demand for amputation surgeries as well. This is helping to drive the industry along with other advantages of red blood cells (RBCs), such as their accessibility and affordability of storage and upkeep. In addition to this, governments from a number of nations are launching campaigns to encourage blood donation globally. In accordance with this, the booming healthcare sector is providing investors and end users with fruitful development potential. Additionally, the demand for packed red blood cells (RBCs) during blood transfusions is rising due to the increasing number of sports injuries brought on by subpar training techniques, structural abnormalities, and unsafe training environments.
Restraints:
Slower market growth is a result of blood drive cancellations and a decline in voluntary donations. The COVID-19 epidemic has had a detrimental impact on the market. The epidemic has reduced the amount of voluntary blood donations and disturbed the global medical device supply chain. During the crisis, a number of blood banks and hospitals faced significant difficulties including a decline in the number of donors, a lack of staff, a shortage of blood units, and public concern over the possibility that COVID-19 might be transmitted through transfusions. For instance, the American Red Cross said that it was predicted that the epidemic caused the organization to lose almost 46,000 blood unit donations. Additionally, a small number of donor centers saw a sharp decline in blood donations as a result of the lockdown and the suspension of blood drives.
Opportunities:
By 2030, the blood banking market for cancer patients will reach USD 6.7 billion, driven by an increase in the incidence of blood cancer. Over 720,000 fatalities from blood cancer are recorded each year from all over the world, with an estimated 1.2 million new cases. The use of cord blood in the treatment of blood malignancies is on the rise. Funding for stem cell treatments to treat cancer is provided by public and private institutions. Additionally, expanding financing, improving public knowledge of stem cell treatments for the treatment of numerous diseases, and rising lymphoma prevalence will all have a favorable impact on industry demand.
Challenge:
Lack of infrastructure and high instrument costs are limiting the development of blood banks in developing nations. There are several challenges inhibiting the market's growth despite the rising prevalence of chronic blood illnesses and the increased need for blood products and transfusions. Lack of investment in healthcare infrastructure and strict government regulations, particularly in emerging nations as compared to wealthy nations, are two contributing factors. Another factor restraining the blood transfusion diagnostics market during the projected period is the high cost of the tests, tools, and reagents coupled with the dearth of experienced people to handle automated diagnostic solutions.
Recent Developments:
In September 2020, Boekel Scientific unveiled the FS100, a new floor-standing, high-capacity platelet incubator and agitator for use in blood banks and hospitals.
A test for antibodies the body creates in response to SARS-CoV-2 was introduced by Genalyte as well as San Diego Blood Bank in May 2020.
Major Key Players:
America's Blood Centers
Australian Red Cross Society
Blood Bank of Alaska
Canadian Blood Services
Japanese Red Cross Society
New York Blood Center
Sanquin Blood Supply Foundation
The American Red Cross
Vitalant
NHS Blood and Transplant
National Blood Transfusion Council
Shire
Market Segmentation:
By Product
Whole Blood
Red Blood Cells
Platelets
Plasma
White Blood Cells
By Function
Collection
Processing
Testing
Storage
Transportation
By Bank Type
By End User
Hospital
Ambulatory Surgery Centers
Pharmaceutical Companies
Clinics and Nursing Homes
Others
Buy this Research Report@ https://www.precedenceresearch.com/checkout/2537
You can place an order or ask any questions, please feel free to contact at sales@precedenceresearch.com | +1 9197 992 333