The global blood pressure monitoring devices market size surpassed USD 1.77 billion in 2022 and it is expected to rake around USD 4.12 billion by 2030, poised to grow at a CAGR of 10.93% from 2022 to 2030.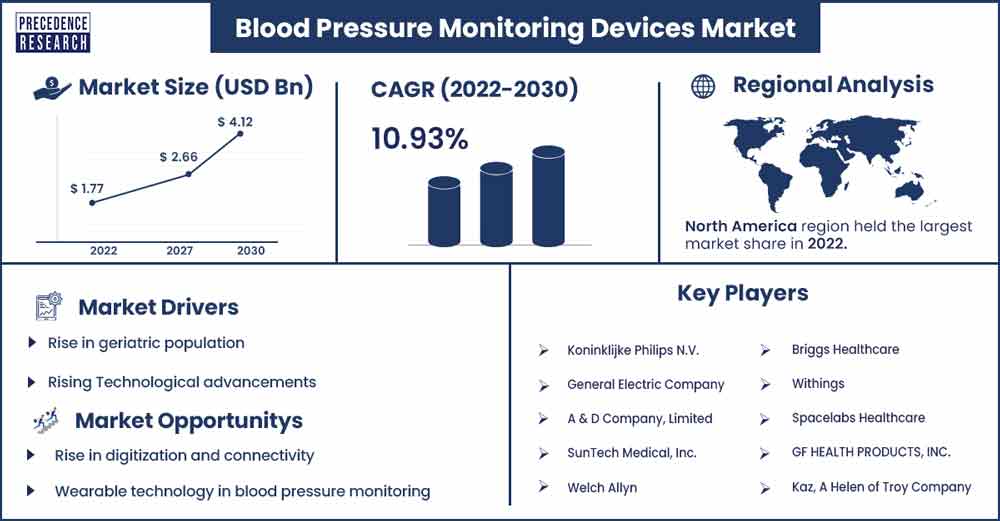 Market Overview
Blood pressure monitoring is essential in diagnosing general treatments, like high blood pressure and hypertension. High blood pressure causes several problems such as heart attacks and other health risks. Government initiatives for the rising awareness of regular health monitoring, changing lifestyles and continuous stress in the lifestyle result in higher cases of hypertension which is anticipated to boost the demand for blood pressure monitoring devices in the overall healthcare industry.
For the first time, the World Health Organization (WHO) released a report on the devastating number of blood pressure cases in the world. According to the report 4 out of 5 people with hypertension are not properly treated. Hypertension almost affects 1 out of 3 adults globally. Excessing hypertension leads to heart strokes, kidney damage, heart failure, etc.
Substantial technological advancements and the integration of advanced solutions in healthcare devices are promoting the growth of the blood pressure monitoring devices market. Technological advancements are observed to offer more accurate results in monitoring. Whereas robustly rising cases of hypertension and cardiovascular diseases, especially in geriatric population is observed to supplement the growth of the market.
Founder of Bloomberg LP and Bloomberg Philanthropies and the WHO Global Ambassador for Noncommunicable Diseases and Injuries since 2016 "Michael R. Bloomberg" invested $115 million in the cardiovascular health initiative and the overall investment since 2017 is $216 million and aims to continue preventing deaths from health attacks.
Regional Insights
North America dominated the global blood pressure monitoring devices market in 2022, the region is observed to sustain the trend in the upcoming period. The region's dominance in the market is attributed to the rapid adoption of advanced technologies by the healthcare sector. Well established healthcare sector of the region along with the growing number of awareness programs for heart-related disorders promote the market' growth in North America.
Countries such as the Unites States and Canada are observed to be the largest contributors to the market in the region. Factors such as rapidly growing adoption of telehealth or remote patient monitoring systems along with rising geriatric population support the market's position in North America.
The Unites States carries the higher number of hypertension cases. About 20% of the US adults are unaware of their heath condition with hypertension and blood pressure. Hypertension affects the US adults with 44.9 million in women and 40.8 million in men.
As estimated expenditure on hypertension compared to 2010, every year expenses are expected to increase by $130.4 billion by 2030.
SunTech Medical having a headquarters in North Carolina, United States, a Halma company, has been the leading supplier of clinical-grade blood pressure monitoring products and developing technologies for more than 30 years. SynTech Medical stated to have an annual revenue of $38.9 million in 2023.
Blood Pressure Monitoring Devices Market Report Scope
| | |
| --- | --- |
| Report Coverage | Details |
| Market Revenue in 2023 | USD 1.92 Billion |
| Projected Forecast Revenue by 2030 | USD 4.12 Billion |
| Growth Rate from 2022 to 2030 | CAGR of 10.93% |
| Largest Market | North America |
| Base Year | 2022 |
| Forecast Period | 2022 to 2030 |
| Regions Covered | North America, Europe, Asia-Pacific, Latin America, and Middle East & Africa |

Market Dynamics
Drivers
Technological advancements
Technological advancements along with the rising focus on awareness regarding health conditions across the globe is observed to act as a major driver for the expansion of blood pressure monitoring market. Multiple key players in the industry are focused on the development and launch of technologically advanced blood pressure monitoring devices with the integration of smart solutions and sensors. Additionally, the wide adoption of telehealth or remote monitoring is promoting the development of technologically advanced products in the overall healthcare industry.
Rise in geriatric population
The increasing geriatric population results in an increase in cases of hypertension, heart stroke, and other health-related issues. Aged patients are extensively advised to stay at home for the treatment purpose due to the complexities in regular hospital admissions, this brings a significant factor for the development of more advanced remote monitoring devices for regular health monitoring purposes. Thereby, the factor is observed to act as a major driver for the market.
Restraints
High cost of device
Integration of advanced technologies and the overall research and development cost can add up to the final cost of blood pressure monitoring devices. The higher cost of devices restrains the adoption of blood pressure monitoring devices, especially in underdeveloped areas. Lack of healthcare infrastructure and budget for healthcare services in such areas limit the expansion of the market.
Consumer skepticism
There is a constant skepticism regarding the adoption of advanced healthcare devices that can create a major restraint for the market's expansion. Patients, especially those are at-home care settings are observed to be more skeptical to use new devices for monitoring purpose. Lack of knowledge and education about such devices may also limit the expansion of the market.
Opportunities
Rise in digitization and connectivity
Increasing digitization and internet connectivity is one of the major trends in the blood pressure monitoring market. The technologically advanced devices are made to connect with internet and Bluetooth or Wi-Fi capabilities which is helpful to connect with smartphones, tablets, or any healthcare apps. Digitization shows various benefits in the blood pressure monitoring such as remote monitoring, data storage, alerts and reminders, and health insights all these factors improve the overall results obtained from the devices. Thereby, the factor is observed to offer a significant opportunity for the market.
Wearable technology in blood pressure monitoring
Wearable technology in blood pressure monitoring provides the convenience in terms of use. It is the best way to continuously track blood pressure. There are certain types of wearable blood pressure monitoring devices like wrist BP monitoring and armbands. Another one is ambulatory monitoring device it is designed for 24-hour monitoring, are worn on the body, and record blood pressure at intervals of time.
In October 2023, a technology startup "Muse Wearables" started at the IIT Madras Incubation Cell and developed the wearable technology named smart ring which weighs 5 gm. and is designed for cuffless blood pressure management, tracking health activities, and contactless payments.
In September 2023, Boppli launched highly advanced non-invasive blood pressure monitoring devices that are best for children in NICU. Boppli is specially designed to offer accurate blood pressure monitoring and it is an optional approach to intermittent cuff-based measurements and invasive arterial lines (IAL).
Recent Developments
In October 2023, Xiaomi announced the launch its wearable Xiaomi First Blood Pressure Watch. It is a revolutionary wearable health monitoring device that offers all-in-one services for users. Xiaomi had a strategic partnership with North China Medical Center including three hospitals and also committed to advancing medical health solutions. This commitment pushes to designing devices with medical-grade capabilities.
In October 2023, Apple Watch is planning to expand the more health monitoring features in the devices in the upcoming year 2024. According to the reports, the device will offer three more sensors that can warn the user if they have higher blood pressure, are prediabetics, or have sleep apnea.
Major Key Players
Koninklijke Philips N.V.
General Electric Company
A & D Company, Limited
SunTech Medical, Inc.
Welch Allyn
American Diagnostic Corporation
Briggs Healthcare
Withings
Spacelabs Healthcare
GF HEALTH PRODUCTS, INC.
Kaz, A Helen of Troy Company
Rossmax International Limited
Microlife Corporation
Market Segmentation
By Product
Digital Blood Pressure Monitor
Sphygmomanometer
Ambulatory Blood Pressure Monitor
Instruments & Accessories

Blood pressure cuffs
Others

Transducers
By End-User
Ambulatory Surgical Centers & Clinics
Hospitals
Home Healthcare
Buy this Research Report@ https://www.precedenceresearch.com/checkout/1090
You can place an order or ask any questions, please feel free to contact at sales@precedenceresearch.com | +1 9197 992 333